We use affiliate links. If you buy something through the links on this page, we may earn a commission at no cost to you. Learn more.
Step right up folks, it's the incredible shrinking iPod! The new Apple iPod shuffle makes their first generation shuffle look absolutely huge in comparison. Their slogan of "Put some music on" is fitting as this new shuffle has a built-in clip that you can use to fasten to your shirt, coat, gear bag, jeans, etc. Is this the end all be all mini DAP (digital audio player)? Let me tell you more about it and we can decide.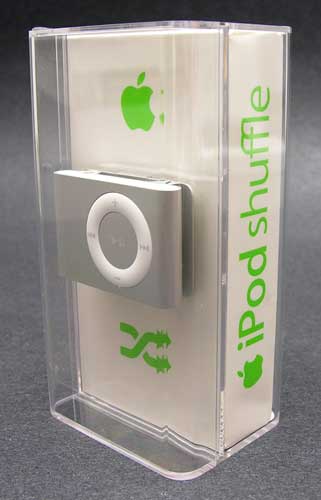 To start, I have to tell you that I like the new style of packaging that the shuffle and new nano are using. The cool reusable clear hard plastic container is so much nicer than the sealed plastic type of packaging that requires a blow torch and an ambulance on stand-by.
Hardware Specs
1GB flash memory
Frequency response: 20Hz to 20,000Hz
Audio formats: MP3 (8 to 320 Kbps), MP3 VBR, AAC (8 to 320 Kbps), Protected AAC (from iTunes Store, M4A, M4B, M4P), Audible (formats 2, 3 and 4), WAV, and AIFF
Audio: 3.5mm stereo headphone minijack
Power: Rechargeable lithium polymer battery
Size: 1.07 x 1.62 x 0.41in
Weight: .55 oz.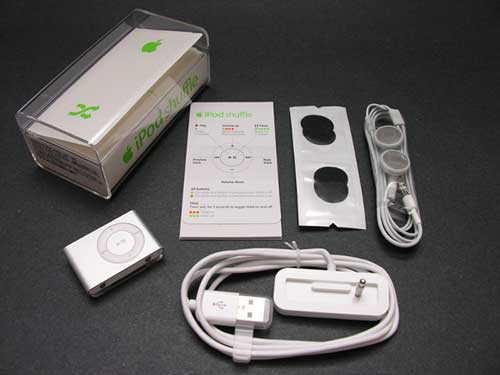 Package Contents
iPod shuffle
Earphones with 2 sets of earpads
USB Dock
Quick Start guide
Apple stickers
Hardware Design
Front and Back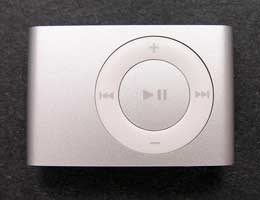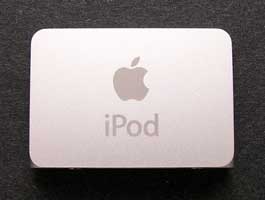 Smaller than a match book, this new shuffle is the perfect size for carrying with you all the time. I don't think there's anyone that can't find room to put this little player in a pocket, purse or gear bag.
The body of the player appears to be made of plastic, while the outside shell is a brushed aluminum. No case is needed, although I've already been seeing silicon skins on the market for it.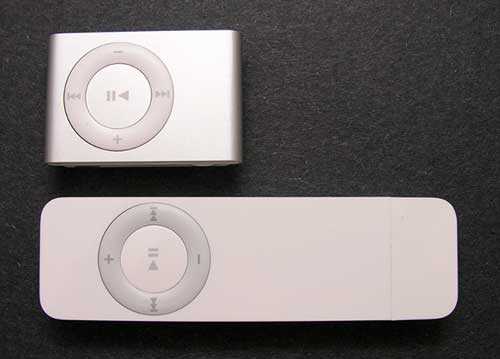 The style of the shuffle should be familiar to those of you that own or have seen the original shuffle. It has the same circular button configuration, that is your interface to the music stored within. There are controls to adjust the volume, play/pause, and go backwards and forwards through tracks. Some of the buttons have extra functions such as the play/pause button. If you hold this button down for 3 seconds, it puts the player into Hold mode. Hold mode will ignore button presses. Pressing and holding for 3 seconds will toggle it out of Hold mode. You can also press the play/pause button 3 times to go back to the first song in the playlist.
Top and Bottom

The top edge of the shuffle has two small metal switches and a tiny LED. The switch on the Left toggles between shuffle-play mode and play-in-order mode. The button on the Right is the power switch, and the small LED beside it, gives you status for battery, hold, pause, etc.

On the bottom you will find the 3.5mm earphone / sync / charge jack and the other side, the status LED. That's right, the LED is duplicated on both sides of the player. Pretty nice as you can clip it in either orientation and still view the status.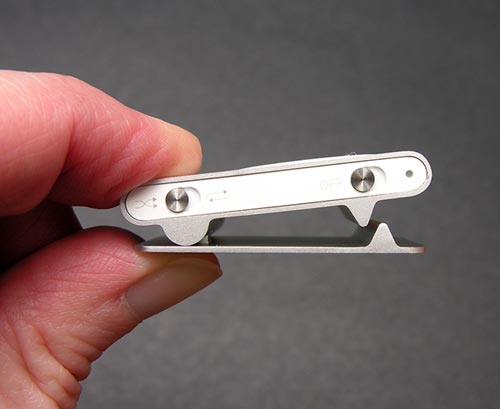 Speaking of the clip. The shuffle has a spring loaded metal clip built into the back side of the player. The spring isn't super strong, but the two offset teeth allow it to keep a relatively good grip on things.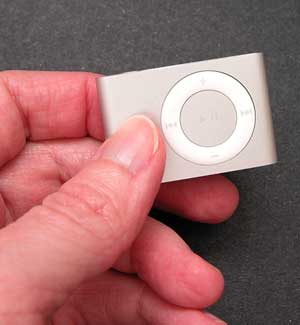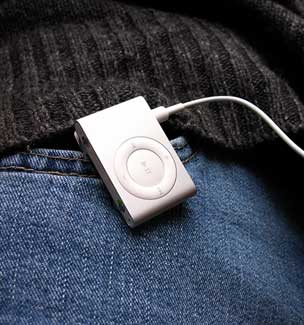 Most of the time, I keep the shuffle clipped on the neck of my sweater or my jeans. It's so light weight that I don't even notice it's there. This would make a great player for use while working out, running, etc.
Before you can start enjoying this player, you have to first charge the battery. This is done with the included mini USB dock. The dock has a 3.5mm plug sticking out. It looks like the same plug that most earphones use. In fact, it plugs directly into the earphone jack on the player. It uses this same connector for earphones, charging the battery and syncing with your computer. Pretty nifty huh?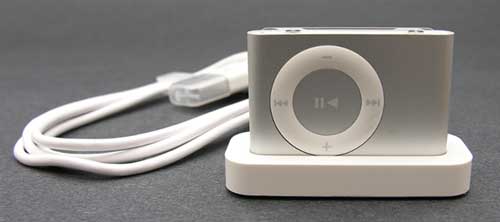 Isn't the dock cute? Admittedly, I would rather have a retractable cable instead of the little dock though. A cable is easier to pack in a gear bag in my opinion and I predict such a cable will be available soon.
Now let's get some music in this little puppy! In order to do so, you need iTunes. Fortunately for me, I already had it installed since I'm a self confessed iPod maniac. For those of you that don't have iTunes on your computers, you have to download it as it is not included with the player.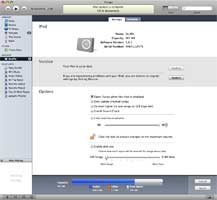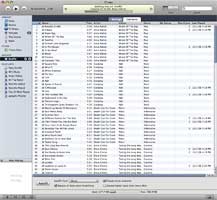 Click thumbnails to see full-size screenshots
After iTunes has been installed, all you need to do is plug the dock into a free USB port, plug the shuffle into the dock and wait for iTunes to recognize it. Then you can decide how you want to configure the player. You have the option of using all the memory (1GB) for music, or partioning it for part music and part data.
Other settings that you can customize have to do with your music. Do you want iTunes to pick a random selection of songs from your entire library and fill the shuffle? Or do you want to create a playlist of certain songs and just copy that over? You can also just drag and drop songs/albums. One nice feature is the ability to convert higher bit rate songs to 128kps AAC format before copying them to the shuffle. This allows you to cram more songs into the shuffle's memory. I always rip my music at 192kpbs, so this feature is useful to me and doesn't effect the original songs stored in my iTunes library. Without this using this feature, I was only able to copy 166 songs to the shuffle before the memory completely filled up. When I turned the convert to 128kpbs feature on, it converted and recopied all the music. Even though it takes some time to do the conversion and recopy, it was worth it when I had 317 megabytes of extra space to copy more songs into.
Sound quality with this player is on par with other players that I've tested in the past. It sounds good to me. Crisp, clear, and with enough bass to make thumpy songs sound good. It is interesting to note that the earbuds included with the shuffle are the original type and not the new improved ones shipping with the new iPod second generation nano.
A couple of random things… Just like previous iPod's, if you pull out the earphones while the player is on and playing, it will automatically go into pause mode. Also, if you turn off the player in the middle of a song, the music will start playing from where it left off when you power back on and press the play button. Nice if you have to stop in the middle of listening to a podcast.
I like everything about the new shuffle except for the fact that it doesn't have a display. I'm spoiled with my regular full-sized iPod in that respect. Of course this player isn't really being marketed as the ultimate media player, so I can't really complain. I'll just whine ever so slightly instead ;o) Seriously, for $79, the new shuffle would make a great player for a kid. There's not much on it that they can break. It's also good for athletes and anyone that wants a digital audio player that both super small and super easy to use.
Product Information
Price:
79.0
Manufacturer:
Apple
Retailer:
Apple
Requirements:

Mac OS X v10.3.9 or later, Windows 2000 with Service Pack 4 or later or Windows XP Home or Professional with Service Pack 2 or later
USB 2.0 port
iTunes 7.0.2 or later

Pros:
Cons:

No way to navigate to a specific song
Clip isn't super strong