We use affiliate links. If you buy something through the links on this page, we may earn a commission at no cost to you. Learn more.
If you are looking for my review of the Apple's 2nd generation iPod shuffle, you can find it here.

Product Requirements:
Device:
Windows 2000 with Service Pack 4 or later or Windows
XP Home or Professional with Service Pack 2 or later
Mac OS X v10.2.8 or Mac OS X 10.3.4 and later (Mac OS X 10.3.6 or later
recommended for use with low-power USB ports)
Although I haven't been an Apple iPod owner from its inception, I have been a big fan starting with the 3rd generation 30gb model. I followed that up with my current 4th generation 40gb model. I wasn't that excited about the mini or the photo versions, but the newer shuffle did intrigue me. I was curious if I could enjoy using a digital audio player that lacks a display. In order to answer that question, I enlisted the help of one of our readers, who just happens to be employed by Apple. Although she couldn't get them to send me one for free (ha!), when all stores seemed to be sold out in my area and online, she found me a 1gb version which I gladly purchased from her.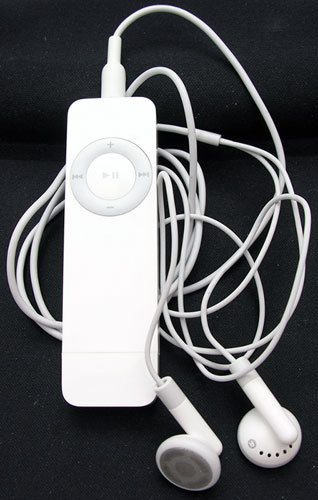 Hardware Specs
Storage capacity: 512MB or 1GB USB flash drive which holds 120 or 240 songs in 128-Kbps AAC format
Audio frequency response: 20Hz to 20,000Hz, MP3 (8 to 320 Kbps), MP3 VBR, AAC (8 to 320 Kbps), Protected AAC (from iTunes Music Store, M4A, M4B, M4P), Audible (formats 2, 3 and 4) and WAV
Headphones: headphones with 18-mm drivers using Neodymium transducer magnets
Frequency response: 20Hz to 20,000Hz
Impedance: 32 ohms
Operating temperature: 32 to 95 F (0 to 35 C)
Non operating temperature: -4 to 113 F (-20 to 45 C)
Relative humidity: 5% to 95% non-condensing
Maximum operating altitude: 10,000 feet (3000 m)
Power and battery: Integrated USB battery with playtime up to 12 hours when fully charged. Standby time 1 month when fully charged
Size: 3.3 x .98 x 0.33 in.
Weight: 0.78 oz (22 g)
Package Contents
shuffleEarbuds with 2 sets of foam covers
Lanyard
User's Guide, warranty info
iTunes software on CD
2 Apple stickers
The Shuffle has that unique Apple "Think Different" look and feel to it that all their products seem to possess. This player really does looks different than any digital audio player that has ever been on the market. It's simple and modern in design. But is it too simple?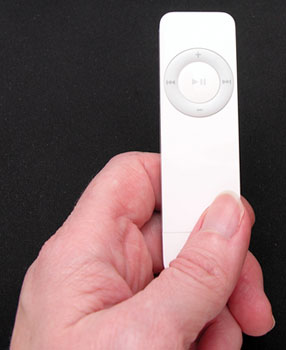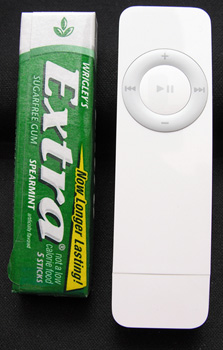 The Shuffle is made of bright white shiny plastic that has the same exact look and feel as a white LEGO brick. Size-wise, this player is small and very light weight. It's not much bigger than a pack of gum and you will definitely not notice it in a pocket or gear bag.


The front of the Shuffle has the control pad which consists of round dome shaped center Play/Pause button, with a 4 direction touch ring around it. The ring is also raised so that your thumb or finger tip will not have to guess where it is located. Pressing the ring up or down will adjust the volume level, while pressing the ring left or right will navigate through the stored tunes. The only problem that I have had with the buttons is with the Next Track/FF button. Although all the buttons have good tactile feedback, I found myself having to press that particular button repeatedly to skip to the next song. Sometimes it would require 3-4 presses before the press was recognized. This has been very annoying, but I'm going to assume that it's just a defect with my particular Shuffle.
There is also a status LED that is embedded above the + button. This LED will glow amber when the battery is charging, and green when charging is complete. It will also blink in certain modes such as hold and disk transfers.
A power switch and battery status button are located on the back side of the Shuffle. Ok, can I just get this out of the way right now and say that I really really really hate the power button? There, I said it. Not sure who came up with the bright idea to use a perfectly smooth button flush with the casing as a power button. There isn't a ridge or any other method to facilitate moving the switch from off to on to shuffle. I find it very difficult to slide when my hands are really dry. I end up squeezing the player in my hand hard enough to activate the buttons on the other side of the device. Grrrrr…
The little battery status button under the power switch works just fine. It can be pressed to obtain the current status of the battery. A tiny LED in the button will glow green when there is a good charge, amber when the charge is low, red when very low and won't glow at all when the battery is completely dead.
The internal battery is charged via a high-power USB port to computer system or power adapter. Full charging time is about 4 hours, with 80% charged in the first 2 hours. Rated for 12hrs of play time per charge, this player will get you through some really long flights with time to spare.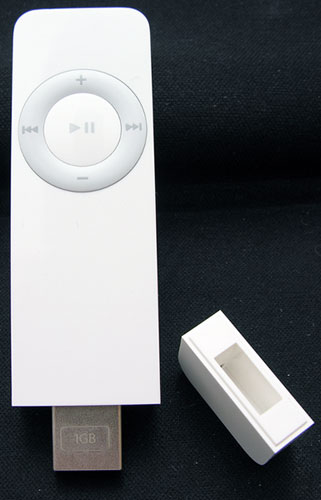 The top of the Shuffle has a standard sized earphone jack and the bottom of the Shuffle has a small cap that hides a standard sized USB connector.
The most obvious omission to the Shuffle's set of hardware features is an LCD display. Some may say that such a feature is really not needed if you use the player while running, or working out. But personally, I have found the lack of a display to be the biggest disappointment with this product so far.
To begin using this player, you first must charge it, and then install iTunes which is included on a CD. Since I already have iTunes, I skipped this step and just plugged the Shuffle into a free USB port on my PC. After doing so, iTunes quickly recognized the player and added it to the source list.

If you already have a collection of music in iTunes, you're ahead of the curve and ready to fill it up. You have the ability to do few different things at this point. You can fill the player with music from your entire collection, or fill from a play list. You can also fill randomly or in order. You can also set the player to auto fill with new music every time you plug it into your PC. This last method is really the whole concept behind this player, hence the name shuffle.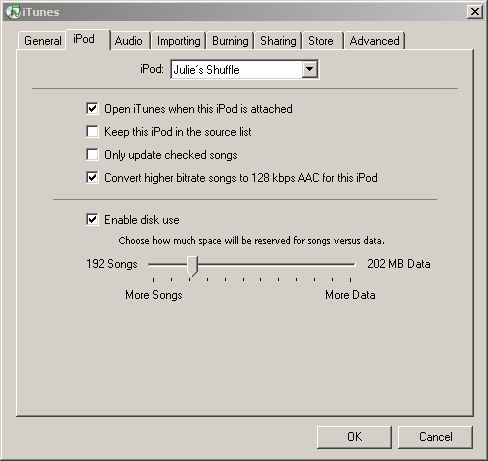 One nice feature is the ability to convert your music to leaner AAC files for the Shuffle, without converting your whole collection to this format. In the same dialog box that allows you to use the Shuffle as a disk, there is a check box to convert to 128kbps. The next time you auto fill the Shuffle, iTunes will automatically convert songs to 128 Kbps as it exports them to iPod shuffle. The original versions in your iTunes collection, meanwhile, will remain in your library at their higher encoding rate.
I have ripped my entire collection of CDs at 192Kbps in .MP3 format. Filling the Shuffle with these files only allowed me a total of around 180. Allowing iTunes to convert to 128 AAC let me transfer an additional 80 songs. The sound quality is still quite good.
In addition to using the Shuffle as a digital audio player, you can also use it as flash drive. To do this, you have to assign a chunk of memory to use just for file storage. This is easily accomplished through the settings dialog boxes. When you plug the Shuffle into a computer, it will automatically show up as a removable drive to which you can drag and drop files.
In everyday use, I found the Shuffle to have really good sound. I'm not an audiophile, but I think I have a pretty decent ear and can tell if something sounds crappy or good. The Shuttle does sound good. That said, it does have a few probs. I've noticed that volume levels between sounds can be seriously out of wack. I found myself needing to adjust volume up or down every other song
sometimes. This is strange since iTunes has a sound check feature built in. Go figure.
Volume levels through this little player are pretty impressive in my opinion. There aren't any user adjustable EQ settings though…
And now let's come back to my biggest gripe about this player… no display. I can't tell you how many times while I have been reviewing the Shuffle the last few weeks that I have heard a song I didn't know and looked down to see who was singing it, only to be annoying that the info was no where to be seen. The Shuffle could be sooooo much better if only it had a teeny weenie itty bitty display. Even one line that would scroll the artist name and song name would be terrific. As is, it just makes me grumpy whenever I discover some old tune that I've not heard in forever or ever and want to know who it is. I mean, I have over 40gb of music, and a nice chunk of that has be um… donated to me if you know what I mean ;o) So it's not unusual for me to hear something new.
I know I shouldn't really condemn the Shuffle for not having an LCD. It functions just fine as a basic player for those you that don't need to know artists and song titles. It's tiny. It will go with you anywhere and everywhere. Battery life is very good. Price isn't too terribly bad… I mean we're talking Apple here ya know. My opinion is that the Shuffle is great for runners,
joggers, or anyone else that is really active. It's not so good for someone in their car, or at the office because they might want to see the song info and there's no where to see it on this little player.
Price: $149.00 1GB ($99 513MB)
Pros:
Small size
Ease of use
Charges through USB port
Cons:
No display to view artist and song titles
Power button is hard to slide

Product Information
Price:
149.0
Manufacturer:
Apple
Pros:

Small size
Ease of use
Charges through USB port

Cons:

No display to view artist and song titles
Power button is hard to slide