We use affiliate links. If you buy something through the links on this page, we may earn a commission at no cost to you. Learn more.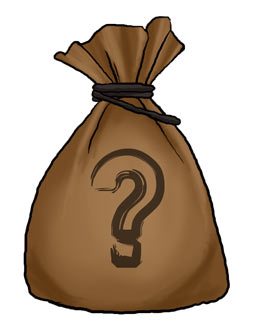 If you would like The Gadgeteer to continue to bring you fun and informative gadget reviews, then I would like to ask a favor of you. Please fill out our advertiser survey. It will only take you a couple of minutes (5 at the max) and the demographic information it collects will help bring relevant advertisers to the site. Running a large site such as The Gadgeteer requires a lot of expense and ads are what keeps the goodies flowing, so please click that link!
For those of you that do fill out the survey, you'll be entered into a random drawing to win a mystery bag of gadgets. What's in the mystery bag? If I told you, it wouldn't be a mystery, would it? 😉 I will tell you that the bag contains items that I've reviewed or talked about here on The Gadgeteer. So it won't include be a roll of Charmen toilet paper or a pack of chewing gum. There will be at least 5 items in the bag and the overall value will be at least $50.
This contest is open to anyone, living anywhere.
Contest Details:
1. Fill out the advertiser survey before Midnight EST 3/31/09. Be sure to enter your email address in the appropriate field in the survey. Don't worry, I solemnly swear that the address will only be used to contact you if you win the mystery bag of gadgets.
2. After you fill out the survey, come back here and leave a comment to this post.
3. I'll choose a winner at random some point on Wednesday 4/01/09 (no, this isn't an April Fools Day joke).
Update 4/1/09:
The winner is Dustin (post #126). If Dustin doesn't respond to my email within 48hrs, I'll choose another winner.
Here's a picture of the mystery bag items: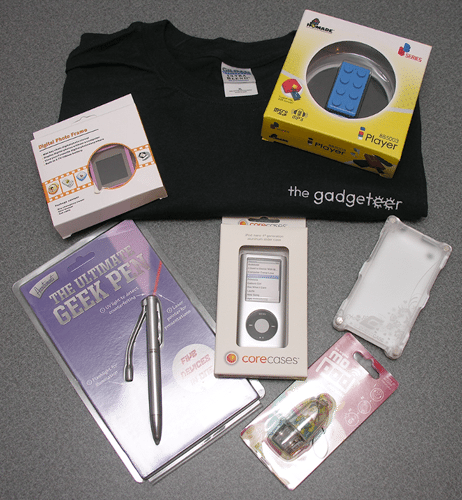 A highly fashionable and collectible Gadgeteer T-shirt