We use affiliate links. If you buy something through the links on this page, we may earn a commission at no cost to you. Learn more.
When I was a kid, I remember looking in the Sears Christmas Wish Book at LEGO sets. Unfortunately for me, I never had any of those fun building bricks. But as an adult, I'm not ashamed to say that I've purchased a set or two. Or three :o) Who can't help but love them? As a huge LEGO fan, I knew that I had to review the HOMADE iPlayer MP3 player when Brando started selling them.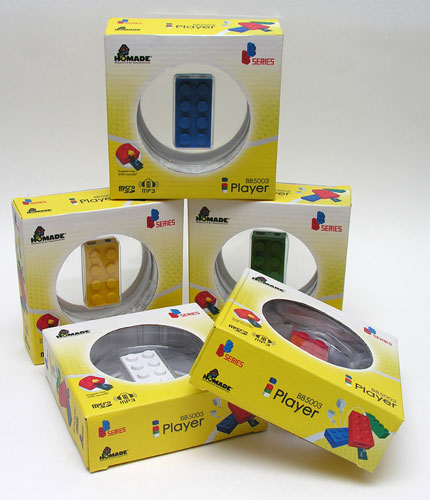 Available in Blue, Yellow, Green, White and Red, the iPlayer is shaped just like the familiar LEGO brick.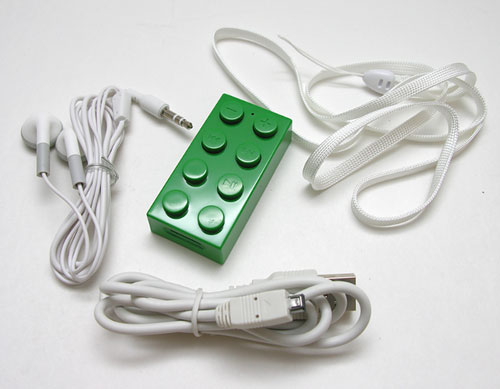 Package Contents
iPlayer
Instruction sheet
Earbuds
Neck lanyard
USB charging / syncing cable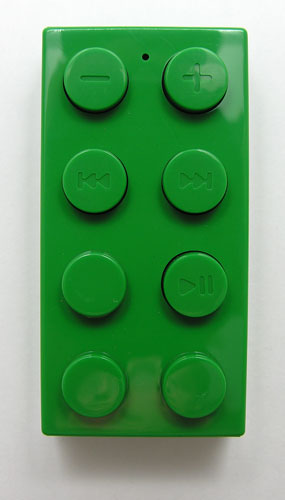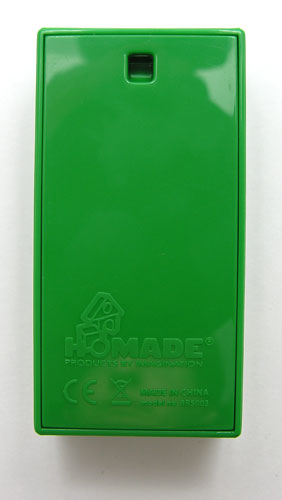 Larger than a real LEGO brick, the iPlayer is 28 x 58 x 17mm. The top surface has eight nubs, five of which are buttons that control volume and music playback. The buttons are large, easy to press and have excellent tactile feedback.
On the back side of the player, there is a pass through hole to attach the included neck lanyard.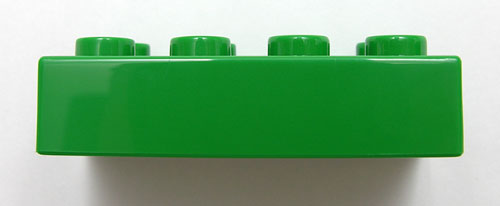 The iPlayer is powered by a rechargeable lithium ion battery.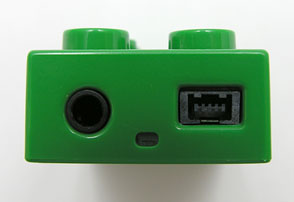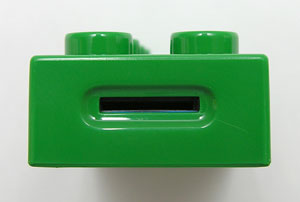 This battery is charged via the included USB cable. The USB connector on the player is very small, but not a standard mini size. I've been seeing this connector on various devices lately. I'm not sure what it's being called.
Next to the USB connector is the 3.5mm stereo earphone jack. Included with the player is a set of earbuds that look almost identical to stock Apple iPod earbuds.
On the bottom of the iPlayer is a microSD card slot. The iPlayer doesn't have any internal memory of its own. You have to supply your own microSD card (max size 2gb).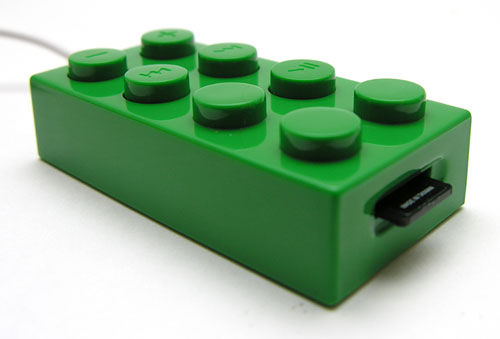 The card slot is spring loaded…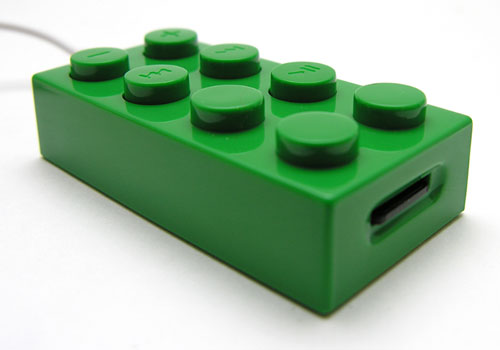 So inserting and removing cards is not difficult.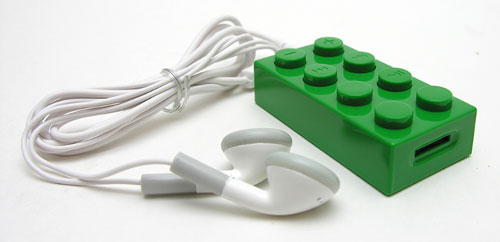 When you connect the iPlayer to your computer via the included USB cable, it will charge the internal batteries as well as allow you to copy files to and from an inserted microSD card. The player is compatible with .MP3 and .WMA formats. Music files can be copied to the root of the card or organized in folders for better ease of use.
Using the player is very easy. Holding down the Play/Pause button for a few seconds will power it on. From there, you can use the Play / Pause button to start playback. There are also buttons for next and previous tracks, as well as volume control. This is a very simple player. There isn't an LCD display to show you what song you are playing. It plays songs in order of storage and the sound quality isn't any better or worse than other inexpensive audio players that I've tested.
The HOMADE iPlayer is a fun little audio player that is sure to get some attention from people when they see you using it. It won't replace an iPod or a Zune, but as a novelty player, it will bring some smiles.
Product Information
Price:
45.0
Manufacturer:
HOMADE
Retailer:
Brando USB
Requirements:

MicroSD card 2GB or smaller

Pros:
Cons:

No display
No built in memory