We use affiliate links. If you buy something through the links on this page, we may earn a commission at no cost to you. Learn more.
If you are in the market for a digital photo frame, I have one to show you today that so far beats the pants off of all the frames I've reviewed to date. The ADMPF311F 11″ Digital Photo Frame from Aluratek is impressive both in size and style.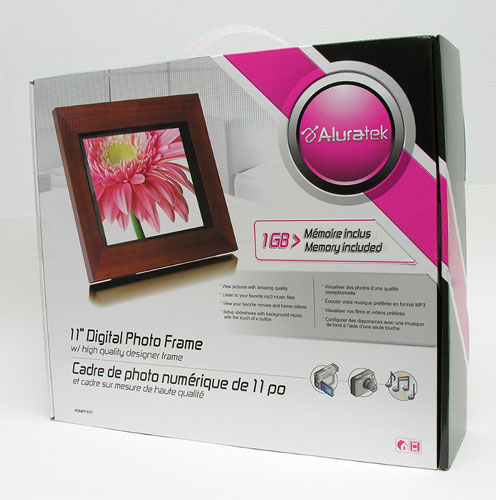 Hardware Specs
11 inch display
800 x 480 Screen Resolution
Supports card formats: CF, MS, SD, MMC and XD
Supports image / video / audio formats: JPEG, MPEG, AVI, MP3, BMP and WMA
AC Adapter 110-240 VAC Voltage Range
13.25″ x 10″ inches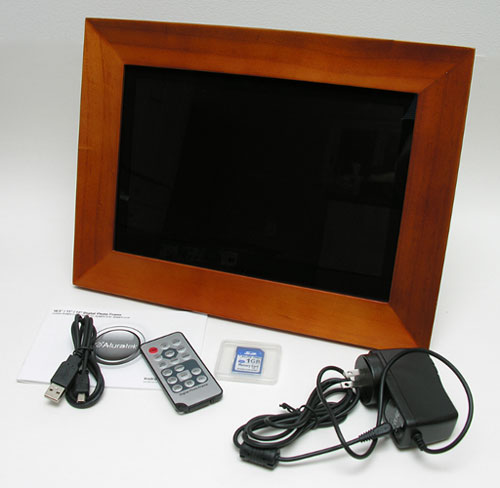 Package Contents
Digital Photo Frame
1GB SD memory
Remote Control
USB 2.0 Cable (Type A to mini-B)
Power Adapter
Instructional Manual
Warranty / Registration Card
This is the largest digital photo frame that I've reviewed so far and I have to say that bigger is definitely better…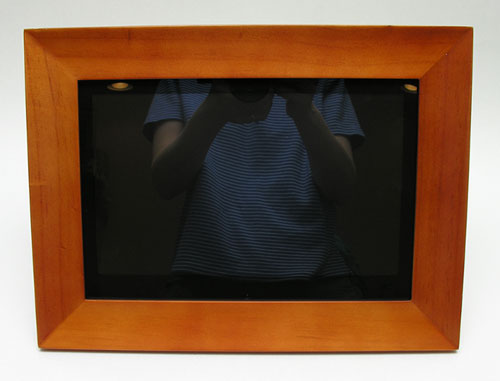 It has a wonderful wood frame that gives it a very classic style that I can appreciate. This particular model only appears to be available in what appears to be an Oak finish, so it might to fit into everyone's decor.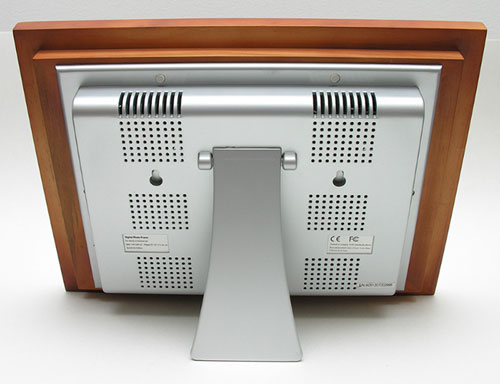 The back of the device is made of a Silvery Grey plastic. The stand only allows you to position this frame in a landscape position. There are also nail holes if you prefer to mount the frame on the wall.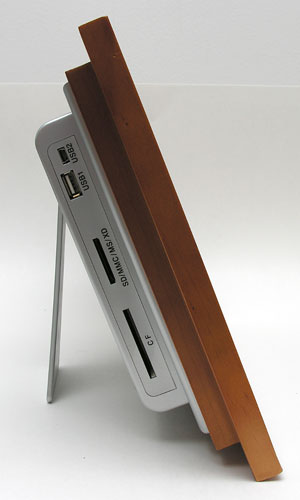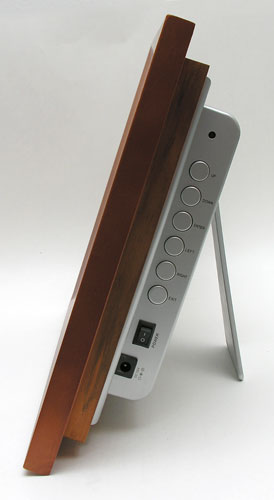 On the left side of the frame, you'll find two USB connection points and two media card slots. On the Right, is the power status LED, six navigation buttons, the power switch and AC adapter port.

The mini USB connector allows you to plug the frame into your computer in order to use the frame like a card reader for copying images, movies and audio. The full sized USB connector gives you the ability to use flash drives with the frame.
The two media card slots can accommodate CF, MS, SD, MMC and XD cards. The frame itself does not have any internal memory of its own. Your images, music and video have to be stored on cards or USB storage devices. Don't worry though, a 1GB SD card is included with the frame.

The navigation buttons on the Right side of the frame give you some of the same functionality that the included remote provides. Unfortunately, not all of the functionality is there, so it is very important that you don't lose the remote.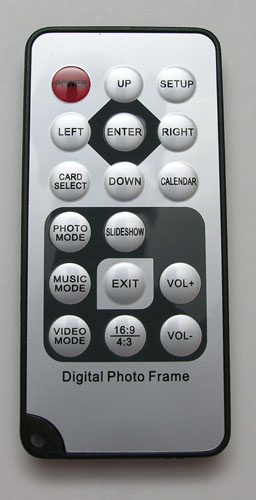 The plastic membrane style infrared remote has 17 buttons. It's easy to operate and understand. I didn't need to refer to the instruction manual in order to immediately start using this frame to view my images.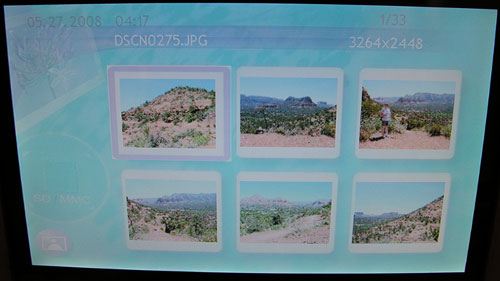 After you power on the device, it will display a brief splash screen with the Aluratek logo, and will then go into the default image viewing mode. Thumbnails images from the installed media cards are displayed and can be scrolled by using the up and down buttons on the remote or the frame. It will default to the CF slot first, then the SD slot and lastly, the USB slot. To switch between different cards to see all the images, you have to press the Card Select button on the remote to toggle through them.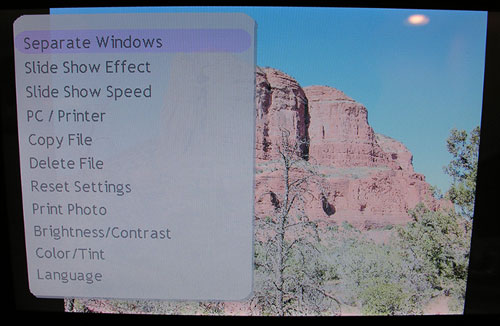 Pressing the Setup button will show you a short menu of settings that can be customized.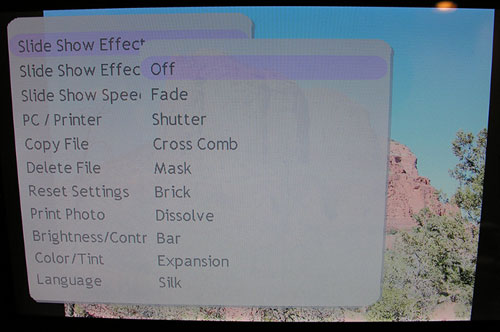 There are 10 transition effects that you can choose from.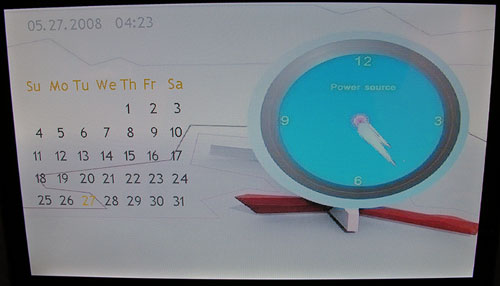 One of the best features included in the frame's software is the ability to set automatic power on and off times. This is done through the calendar screen. You can't set individual on / off times for specific days though.
In photo mode, you can view view by individual images or as a slide show. If you view by slide show and have .MP3 or .WMA music files stored on the same media card as the images, a song will play in the background while images are cycling. Besides turning the volume all the off, I wasn't able to find a setting to turn off the feature of background music.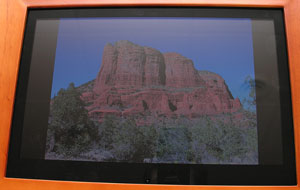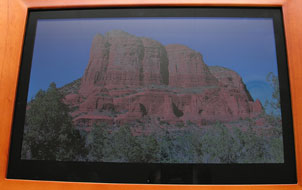 Images can be viewed in 4:3 or 16:9 format. In the image above, the Left image is in 4:3 and the Right is in 16:9. Changing modes is done using the remote control. Widescreen looks significantly better in my opinion as it uses the whole display. I don't like all the Black space around the image in 4:3 mode. One caveat though… the format setting isn't retained after a power off.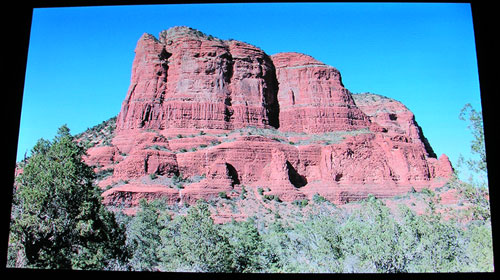 I have to say that the image quality with this frame is fantastic. Easily better than any other frame I've ever reviewed. Pictures are clear and crisp and colors are vivid and brilliant. I asked the PR person that sent me the frame what the max resolution is. She told me 800 x 480. But I notice that lots of sites selling the frame claim that the resolution is 1024 x 768. It's really hard to photograph a display, but the image above was taken without a flash and has only been cropped and resized. Otherwise, it looks pretty true to what the frame is capable of. Nice huh?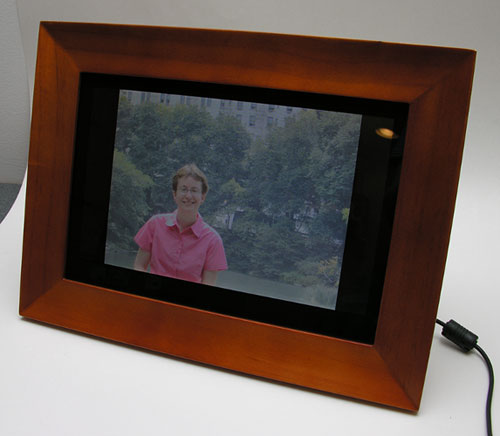 The frame has a very good viewing angle, so you don't have to be directly in front to see the image clearly.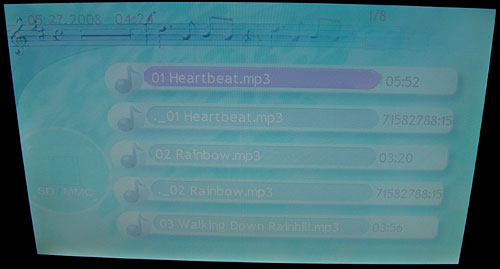 Music and video modes show the files in a list like you see above. For the most part, the interface is very simple and easy to navigate. I didn't find any of the modes to be confusing or hard to use.
The speakers built into the frame are decent. Music sounds pretty good. It's not going to replace your iPod and speaker combo, but for a very simple audio player, it works fine.
Playing video through this device will not win any awards. For one thing, it only supports .AVI format. I tested a few .AVI files and didn't have any issues or problems playing them, but this isn't the device that I would want to use to play those times of files all the time.
No one that buys a digital photo frame is going to buy one for it's audio and video capabilities, so I don't really even count those features as important. At least they aren't to me. But as a digital image viewer the ADMPF311F does a very nice job as far as image quality. This frame would be significantly better if it had a WiFi mode to allow for wireless image copying. I'd also like it if it would allow you to do a slideshow with images on all cards instead of having to manually switch between each one. But other than those 2 requests, I can't think of much else I would want in a frame. The Aluratek looks great with the wood frame, displays great images and even comes with a 1GB card. If you're in the market for a digital photo frame, this is one to consider.
You can find this frame for sale on various retail sites from $159.95 and up.
Product Information
Price:
195.95
Manufacturer:
Aluratek
Pros:

Gorgeous 11" display
Easy to use
Can schedule automatic on and off times

Cons:

Can't find option to not have background music for slide shows
Volume adjustment needs to be finer
IR remote needed for all functions