We use affiliate links. If you buy something through the links on this page, we may earn a commission at no cost to you. Learn more.
Here's an offbeat little gadget that is currently popular in Asia and the United Kingdom. MoPods are little characters that spin and flash to alert you to a call on your GSM phone. This way, you can keep your phone in a bag or pocket, with the ringer turned off, but still know when you're receiving a call.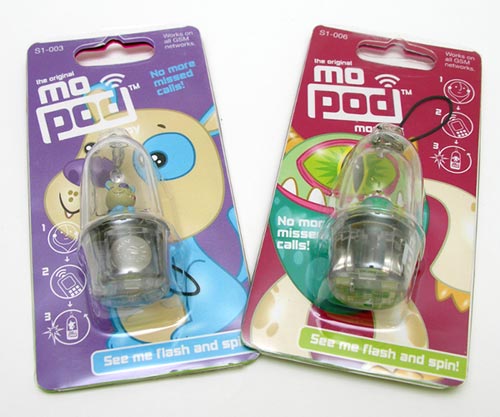 MoPods are currently available with six different characters, including a devil, monkey, puppy, monster, penguin and kitten. The folks at MyRedPacket.com sent me the puppy and monster versions of the MoPod.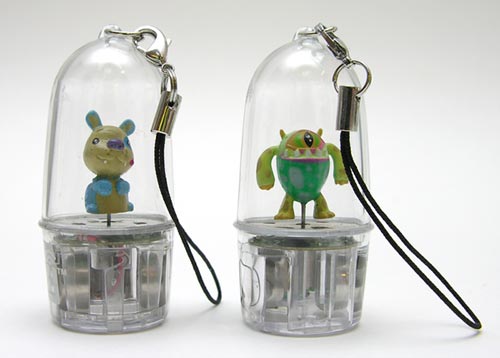 These little devices are 2.25 inches tall and 1 inch wide. They are made of plastic and are powered by two L1154 coin cell batteries, which are replaceable.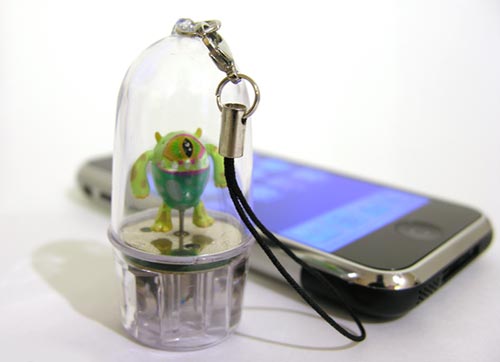 There are no buttons or switches on the MoPod. Their entire purpose is to detect a call to your GSM phone (sorry Verizon, Sprint and other CDMA guys…). When a call is detected, the little guy inside the dome will start spinning, and multi-colored LEDs in the base of the MoPod will flash.
The information on the packaging states that the frequencies that can be detected are 800-1600 MHz. Interestingly, that leaves out T Mobile's 1900 MHz, which it lists as being compatible along with O2, Orange, Virgin, and Vodaphone. It does say that the Three network carrier is not compatible. I've never heard of Three… I tested the two MoPods with my iPhone running on AT&T (850MHz), which worked fine.
Never miss one of our posts again. Sent MON, WED, and FRI with the latest gadget reviews and news!
See it in action…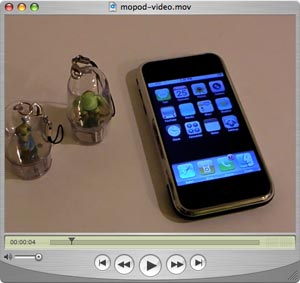 Click on image to play the QuickTime video (45sec,
4.3mb). The video is encoded in the H.264 codec. You will need the latest version of
Quicktime to view it.
VLC is another free viewer.

The MoPods seem to be a bit too sensitive at times as they would start spinning even when no calls were coming in or sometimes they would activate when I would be making a call using my phone. The distance between the phone and the MoPod also made a big difference in call detection. From my brief testing, I found that there really could be no more than 2 feet between a MoPod and my iPhone in order for calls to be detected.
MoPods are inexpensive little gizmos that tweens and teenage girls will appreciate more than adults. They make a unique gift that has at least a little useful benefit.
Questions for all of you
Other than cases and skins, do you use any add-ons similar to the MoPod for your phone?
Product Information
Price:
9.99
Manufacturer:
MoPod
Retailer:
MyRedPacket.com
Requirements:
Pros:

Unique
Alerts you to a call on your GSM phone when you might not hear the ringer

Cons:

Sometimes activates when a call isn't coming in, or when a call is being made