We use affiliate links. If you buy something through the links on this page, we may earn a commission at no cost to you. Learn more.
For someone as dedicated to protecting my tech-toys as I am, I carry them around
in a VERY antiquated leather bag. Which provides little to no protection for
my Macbook. When I went from a 15" to 17" laptop, I had to abandon
my old Waterfield sleeve for something that was sized to fit my new laptop.
I considered buying another sleeve from Waterfield, but decided to try something
new in form and construction. So, I decided to try the Proporta
Protective Laptop Sleeve.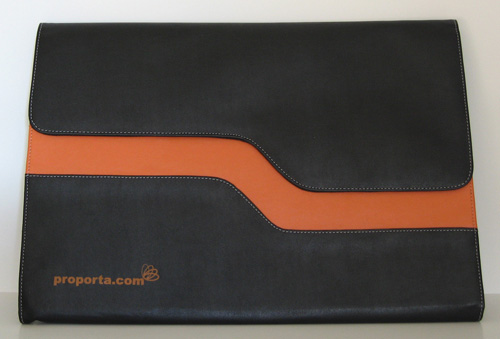 The exterior of the Proporta sleeve is constructed of a smooth leather-like
material. The interior is lined with a ballistic nylon material. There is a
stiff layer between the exterior and the interior lining, making the case very
rigid.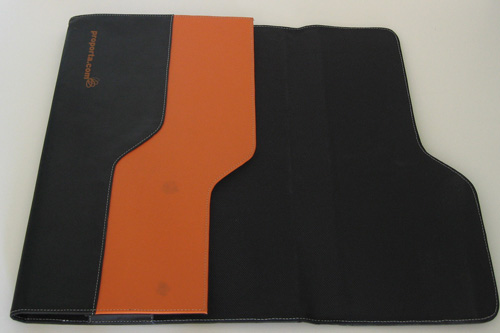 The sleeve comes in a single color scheme, black and orange with white stitching.
It is definitely distinctive. The flap is held firmly in place by several embedded
magnets, Proporta did a good job engineering this magnetic closure.

The sleeve comes in three sizes:
Small: 27.5mm (1.08in) x 325mm (12.78in) x 227mm (8.92in)
Medium: 29.5mm (1.00in) x 357mm (14.10in) x 243mm (9.6in)
Large: 29.5mm (1.00in) x 392mm (15.40in) x 265mm (10.4in)
The large sleeve fits my 17" Macbook Pro very well. Initially it was,
to say the least, snug. However, the elastic sides stretched a little with time. Although,
it still takes a bit of pushing and pulling to get my Macbook in and out of
the sleeve. But this does not seem to affect or mar my laptop at all. According to the Proporta website, the elastic sides are designed
to accommodate a wide range of widths and thicknesses, and I would agree.

The top, bottom, front and back of the laptop is covered but a majority of the sides are
exposed. I definitely would not allow my car keys to rattle around the same
compartment as my Macbook, in or out of the sleeve. I would classify the Proporta
Protective Laptop Sleeve as minimalistic; it adds a decent amount of protection
without a great deal of weigh or bulk. I do not believe the case would provide
much protection from a drop.

The Proporta Protective Laptop Sleeve provides some protection but not a lot.
Whether or not this is this laptop sleeve for you is truly dependent on your
needs. The Proporta sleeve costs a bit more than the average sleeve but makes
up for it in quality materials and construction.