We use affiliate links. If you buy something through the links on this page, we may earn a commission at no cost to you. Learn more.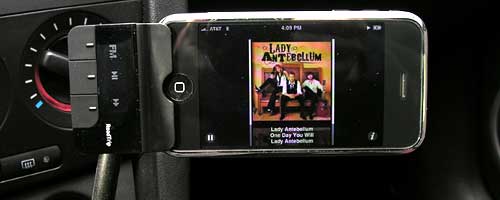 Unless your car has an integrated iPod / iPhone dock, pretty much the only other ways to listen to tunes through your vehicle's speakers is with a line-in connector or an FM transmitter. Line-in connectors mean cables. FM transmitters are wireless. Most people probably won't argue with me when I say that anything wireless is more convenient than something wired. The RoadTrip from Griffin happens to be one of the most convenient FM transmitters that I've had the opportunity to review. If you have an iPhone or iPod, you'll want to take a look.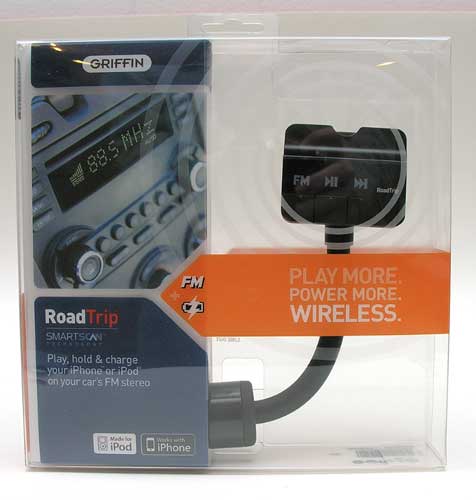 Grumble mode ON
The first thing that I'm going to do is complain about the packaging. This product is contained inside a plastic box, with another plastic box inside it. It was a real pain in the you know what to open it and retrieve the items.
Grumble mode OFF
Specifications
Antenna: Built-in
Power: Provided by your cigarette lighter or 12 volt power outlet (no batteries required)
RF Output Range, US: 88.1 MHz -107.9 MHz
Radio Frequency Increments, US: 0.2 MHz per step
Input Voltage Range: 12 – 16 volts DC
Maximum Current: 2 amps
Output Voltage: 5 volts DC at 1 amp
Fuse Type: 2 amp blade-type automotive fuse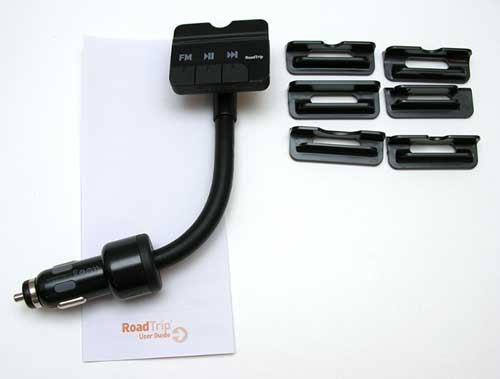 Package Contents
RoadTrip FM Transmitter
7 Dock adapters
User Guide
The RoadTrip comes with dock adapters that allow you to connect the iPhone 3G, iPhone, iPod Touch (2nd gen), iPod Nano (4th Gen), iPod Classic (80GB, 120GB), iPod Touch (1st Gen), iPod Nano (3rd Gen) and iPod Nano (2nd Gen).
Alas, there isn't an adapter for the iPod Classic (160GB). 🙁 Oh well, I decided to review this FM transmitter with my iPhone…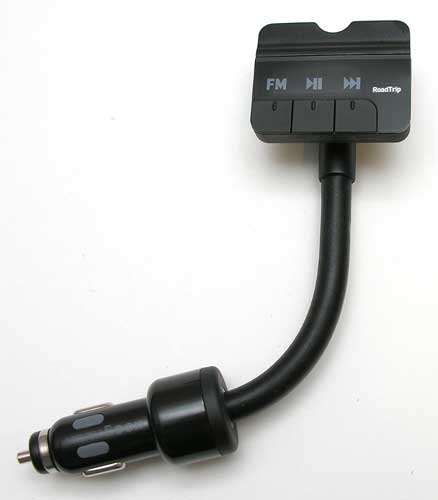 The RoadTrip is really designed well. It has a 12V plug on one end that fit perfectly in my 2006 Mazda 3's cigarette lighter port. Not pictured, is the 3.5mm line-out connector built into the 12V connector. You can use this with a 3.5mm stereo patch cable (not included) to connect to a line-in jack on your stereo, if you prefer to use the RoadTrip just as a charger.
The 12V plug is connected to the dock connector module by a 3.75 inch flexible neck.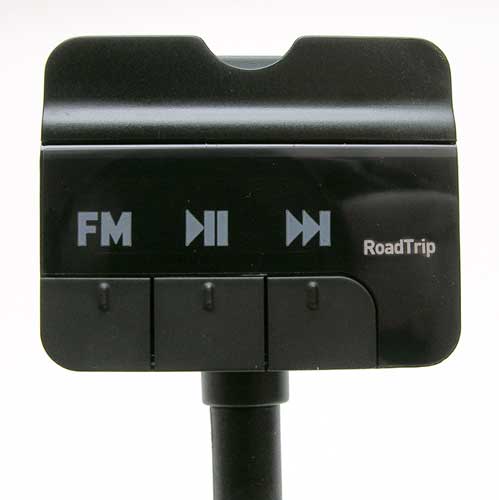 The dock part of the transmitter has a White on Black backlit display, three buttons and a snap in base for the included adapters.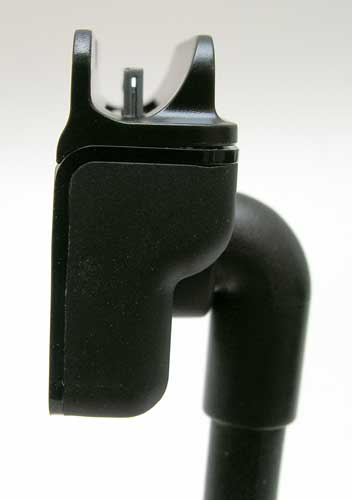 Side view of dock adapter.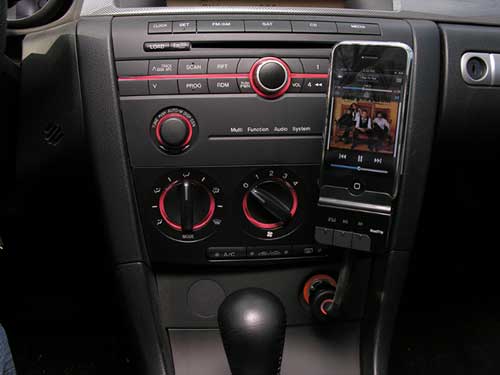 Here's the RoadTrip installed in my car. I really like the flexible neck and how you can orient the display of your iPod or iPhone so that you can easily see it.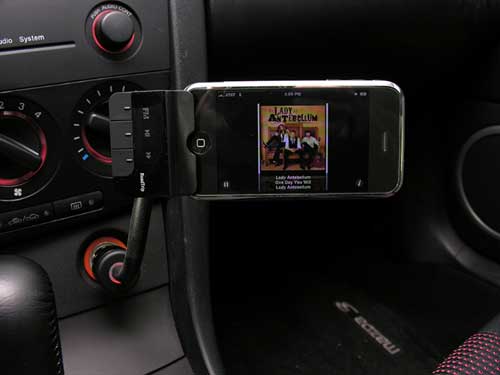 The dock can even rotate, which is pretty cool. This is a great feature that can allow passengers to watch videos while driving.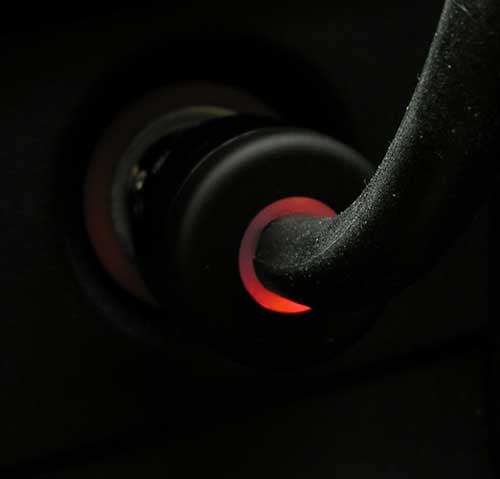 The 12V connector has an LED built into it that shows you the charging status of your device. It glows Red when the FM transmitter is plugged in and powered on, but there isn't a device connected to the dock. It will glow Amber while a docked device is connected and charging. The LED will be Green when charging is completed.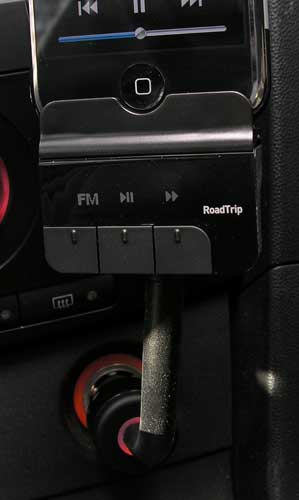 When the RoadTrip is powered up, it will show FM, Play/Pause and Next track icons on its display. The buttons below the icons will perform the function designated by  the icon.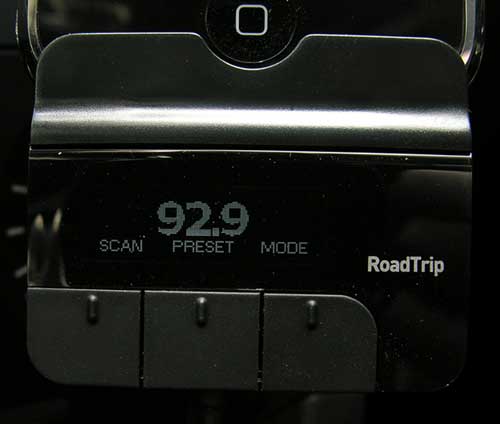 In the function mode, you can see the current broadcast frequency and the three options for the mapped buttons.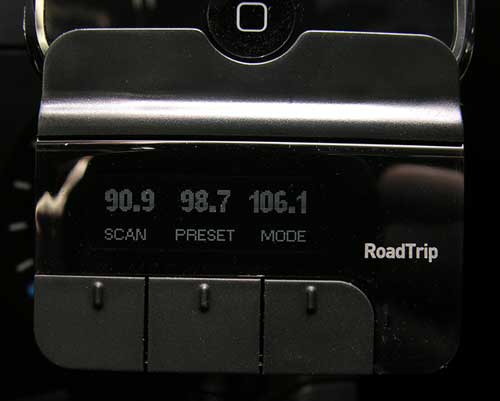 If you press the Scan button, the RoadTrip will use its SmartScan feature to show you the three best FM frequencies in your area to broadcast through and set them to the three presets. This action is instantaneous. All you have to do at this point is tune your car stereo to the first frequency, start the tunes and enjoy.
You can also manually set frequencies and save them in the three presets.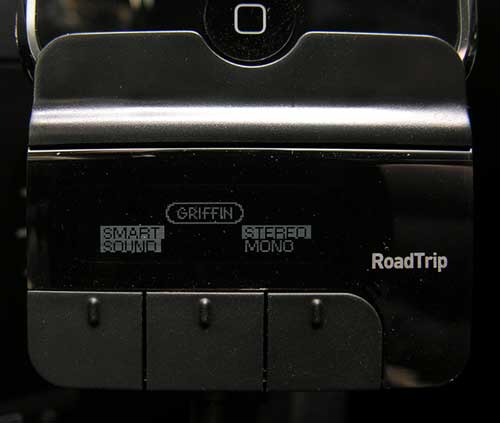 The RoadTrip also uses a feature called SmartSound to optimize the transmission strength and sound. You can toggle between Stereo and Mono. You might wonder why you'd want to use mono in the first place. If you live in an area with a crowed FM spectrum, changing to mono will result in a stronger signal than stereo. This works great for podcasts and audiobooks, where you normally don't care if the audio is in stereo anyway.
The RoadTrip worked remarkably well with my iPhone. Sound quality through my car's speakers was very good. If you have had good luck with FM transmitters in the past, you should not have any issues with the RoadTrip.
If you use this transmitter with your iPhone and someone calls you while you're listening to music, the music will fade out and you will hear the ringtone through your car's speakers. When you end the call, the music will fade back in. The only issue here is that if you wish to take the call, you'll either have to disconnect the iPhone from the dock, or use a Bluetooth headphone. It would be really cool if the RoadTrip had an integrated microphone built into it. Maybe that's a feature that Griffin will consider for their next version 🙂
I really do like this transmitter quite a bit. It is easy to use, charges my iPhone or iPod while I'm using it, and allows me to easily see the display and skip tracks. The only gripes that I have with it are that there isn't an adapter for my 160GB iPod Classic and the price. $99.99 seems like a lot of money to pay for an FM transmitter. Even if it is a really nice one. If it had a built-in microphone like I mentioned above, a price of $99.99 would seem more worthy. As is, I'm not so sure… If the price is not a problem for you, go for it, otherwise wait for it to go on sale.
Product Information
Price:
$99.99
Manufacturer:
Griffin
Pros:

Easy to use
Smartscan feature
Charges iPod or iPhone
Backlit screen
Rotating dock

Cons: