We use affiliate links. If you buy something through the links on this page, we may earn a commission at no cost to you. Learn more.
Apple has been particularly
busy these past few months. We've seen updated aluminum iMacs, the new
iPod classic,
new iPod nano
fatty and of course, we can't forget the mega hyped
iPhone. Redefining
both mobile phones and digital media players, the iPhone has made a definite
dent in tech history. Now we have the iPod touch. This device takes all the
music and video related features that have made the iPhone so popular, and made
them available to people that don't want to switch carriers or phones.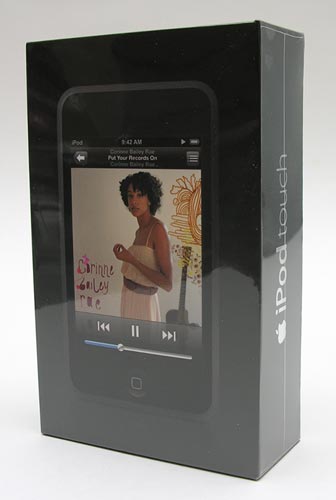 Hardware Specs
Storage: Available in either 8GB or 16GB Flash drive capacities
Display: 3.5-inch (diagonal), 480 x 320 pixels at 163 DPI
Frequency response: 20Hz to 20,000Hz
Audio formats: MP3 (16 to 320 Kbps), MP3 VBR, AAC (16 to 320 Kbps), Protected AAC (from iTunes Store), Audible (formats 2, 3 and 4), WAV, and AIFF
Video formats: H.264 video up to 1.5 Mbps, 640 x 480 pixels
WiFi (802.11b/g)
Audio: 3.5mm stereo headphone minijack
Power: Rechargeable lithium polymer battery (up to 22hrs of audio playback time and
5hrs of video playback time)
Size: 4.3 x 2.4 x 0.31in (110 x 61.8 x 8mm)
Weight: 4.2oz (120)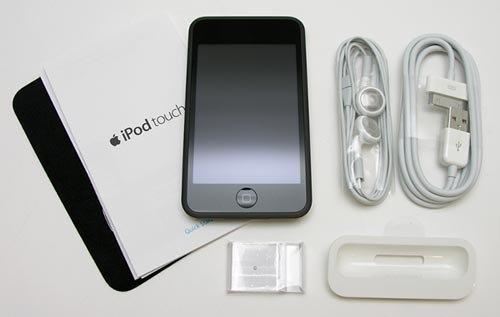 Package Contents
iPod touch
Earphones
USB 2.0 cable
Dock adapter
Polishing cloth
Stand
Quick start guide
Apple stickers
To say that the iPod touch is just an iPhone without the phone,
really isn't an accurate description. At first glance, the touch does look like an iPhone, I'll give you that. But once you look a little closer, you'll see that it's an entirely different device. One that just happens to look like the iPhone…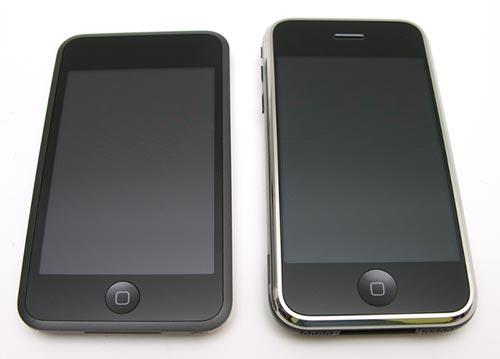 The touch is almost half the thickness of the iPhone. It's also a little bit shorter and the select button is smaller in diameter. You will also notice that the rim around the display is Black instead of chrome like the iPhone.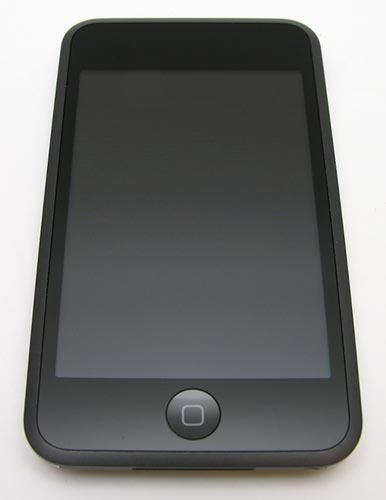 After carrying around my iPhone for the past few months, the touch feels considerably thinner. It is comfortable in hand although a bit on the slippery side. Squeezing it yields no flexing creaking or cracking. It's definitely a solid device.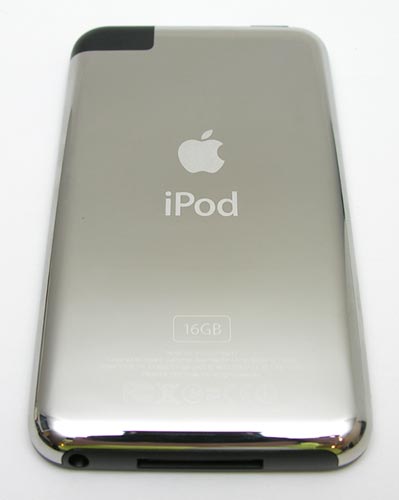 Oh look, it has a chrome back. Yay. Not. Apple, please stop this madness!!! Chrome is smudgy and way too susceptible to scratching. It's time to move on. Really!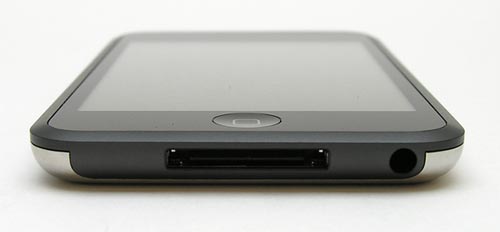 Along the bottom edge, you'll find the universal dock connector and a stereo earphone jack. Unlike the iPhone's earphone jack, this one can accommodate any type of 3.5mm earphone connector.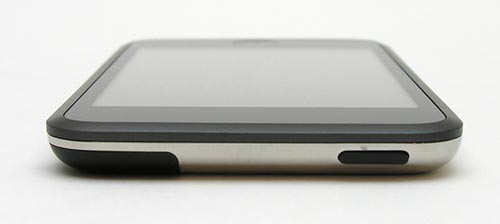 The only other button on the touch is located on the top of the device. This thin button turns the screen on and off. The lack of hardware buttons to adjust volume, pause playback, and navigate forward and backwards through tracks was immediately evident. Without such buttons, you have to turn the display on and use the onscreen touch buttons for these functions. This can be a bit annoying.

To give you an idea how the touch compares to the iPhone size-wise, take a look at the image above. The touch is on top, iPhone on bottom.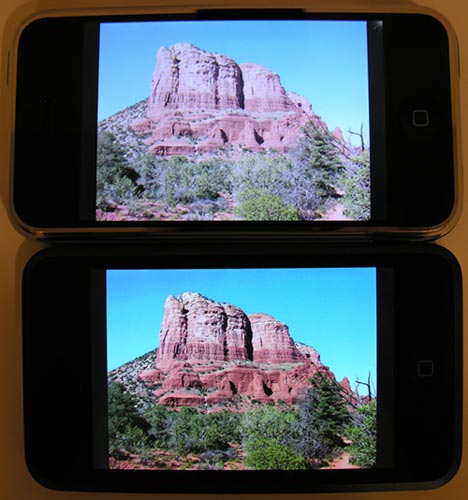 Top: iPhone, Bottom: iPod touch
The touch's color display is the same size and resolution as the iPhone's display, but it has a slightly higher density of pixels. The iPhone's DPI is 160, while the touch's DPI is 163. Is this difference noticeable? Only when viewing images side by side like you see here. Comparing the exact photo on both devices, I think the touch has a slightly sharper picture and brighter colors. That said, some people have been complaining about issues with their touch's display. They are saying that they have negative Black problems when viewing video with dark scenes. The picture will wash out and be hard to see. I've also heard reports of dead pixels. Luckily, I've not seen either of these issues on my own iPod touch.
User Interface
As soon as you turn the touch on, you are greeted with the same screen that you would see on the iPhone. It's obvious that the iPhone's interface has been stripped down and pumped into the touch.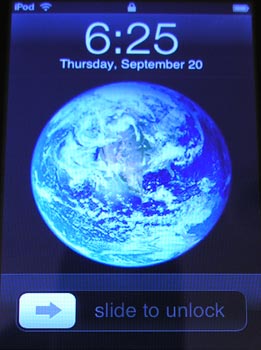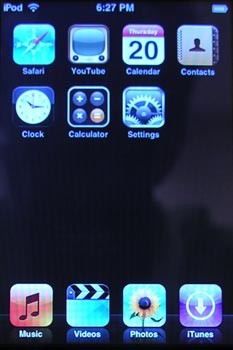 Don't like the earth wallpaper on the opening screen? You can change it to one of your own photos using the settings dialog.
The built in features / applications are represented by 11 icons. In my opinion, Apple should have created larger icons and filled the entire screen. The way it is now, it just looks lame to me. It's like, what happened to the rest of the apps? It's too iPhone-ish.
Let's take a look at each one… First up, Safari.
Safari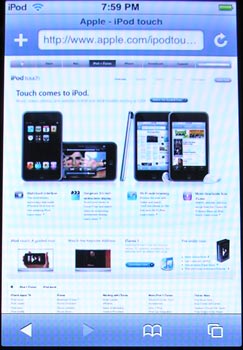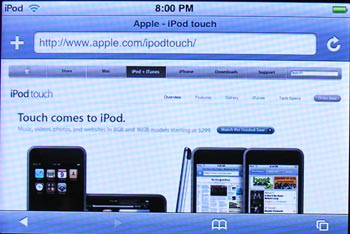 The touch has WiFi built in, which makes it a great little surfing device. Safari is the best web browser for small devices, that I've ever used. With those remarkable pinch and spread finger gestures, that allow you to shrink and enlarge sections of the page for easier viewing, surfing is a lot of fun. There's also the automatic changing from portrait to landscape mode when you physically rotate the display. The two images above are the same web site shown in both portrait and landscape orientations.
YouTube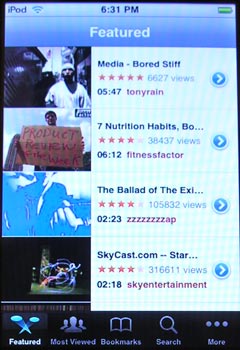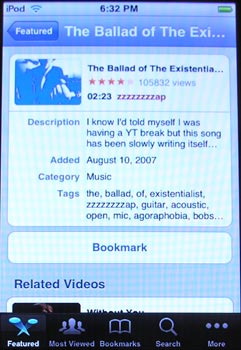 If you're addicted to watching user submitted video content, then the YouTube app will keep you busy busy busy. You see thumbnails of featured and most viewed videos, and also have the ability to search for other videos.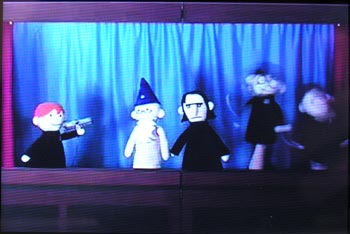 Oh joy! A Harry Potter puppet show video on YouTube. Can life get any better than that? I think not!
Calendar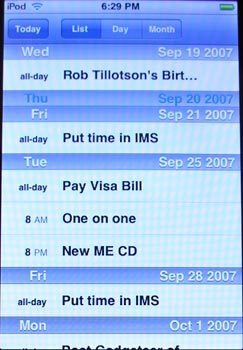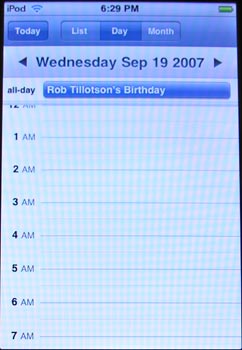 Just like the iPod classic and nano, the iPod touch also has a calendar app. It looks like the same calendar app that you find on the iPhone, minus one important feature: the ability to edit and add new events. I guess since the touch is an iPod, that means that it is not privileged to have those features. Grrrrrr…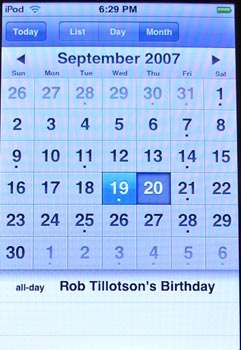 You have three views, agenda (List), Day and Monthly views.
Contacts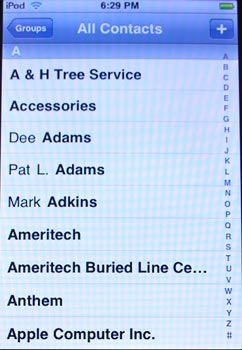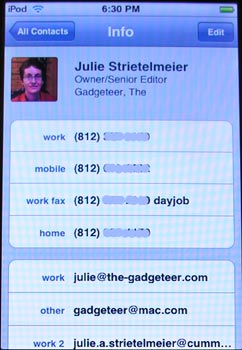 The touch makes a nifty rolodex for all your addresses. Pictures even sync with Apple's desktop contacts app (Not sure how and what it syncs with for Windows users).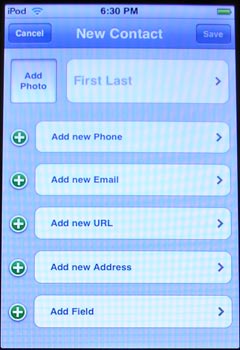 Hmmmm, look what we have here! The ability to add and edit new contacts records. What is up with that? Doesn't it seem odd that Apple says it's ok to edit and add new addresses on your touch, but it's not ok to edit and add new calendar events? Are you as confused as I am?
Extras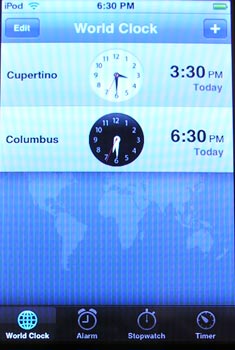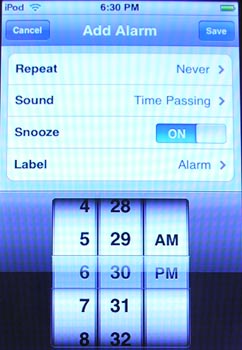 You also get a world clock, alarms, stopwatch and a timer.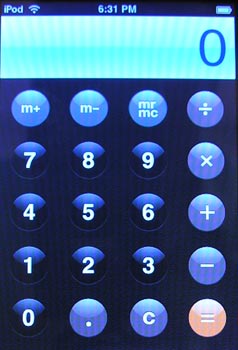 We can't forget the calculator too.
Music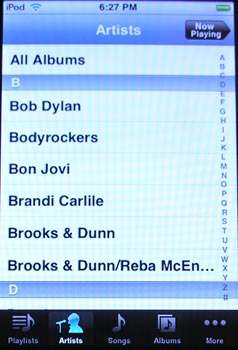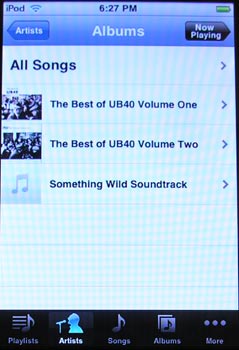 The touch interface on the touch (sorry) makes finding music almost as fun as listening to it. Scrolling through lists of artists with a flick of your finger has the be the greatest way to navigate content ever invented. The music interface on the touch has been lifted directly from the iPhone. I haven't noticed any differences.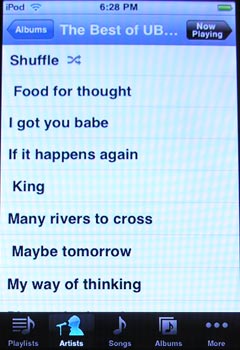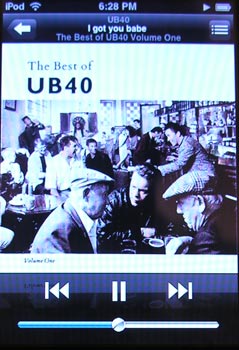 While music is playing, you can see the album cover art.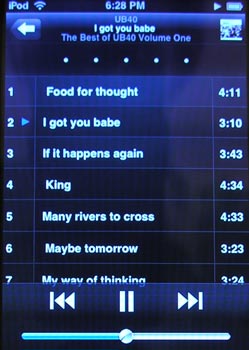 Tapping on the list icon in the upper right corner of the now playing screen, will pop you into the album song list screen. From there, you can rate the song by tapping on the 5 dots at the top of the screen. You can also jump to a specific song by tapping on it.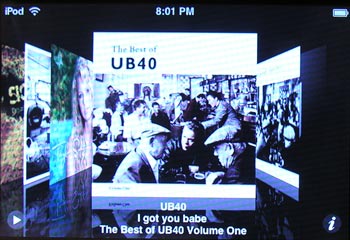 Rotate the iPod touch into landscape orientation while in music mode, and it will convert to cover flow. In this mode, you flip through your albums by their cover art.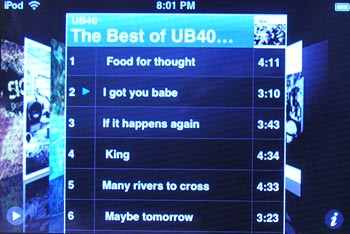 Tapping the small i in the lower right corner will display the songs in the facing album.
The touch's audio quality is very good. I rip all my music at 192 kbps VBR (Variable Bit Rate) and am more than happy with the way music sounds through even the stock earbuds.
Video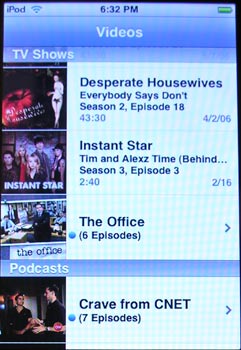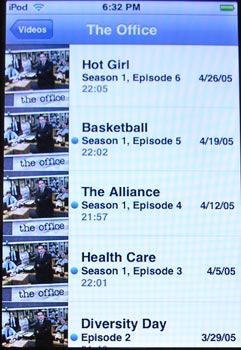 Watching video on your touch is very enjoyable. The screen is large, bright and vivid.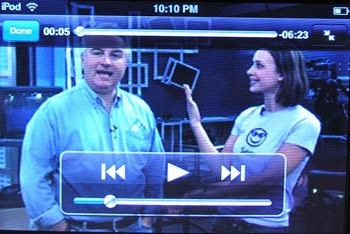 I had no problem watching an entire movie on this device. My eyes never got tired.
Photos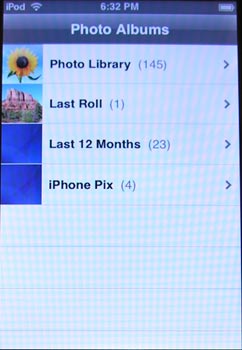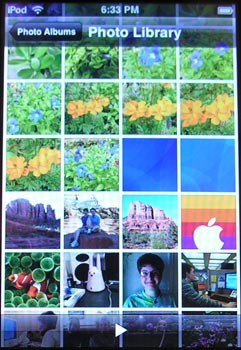 The iPod touch does not have a built in camera like the iPhone, but you can sync your photos to it and view them.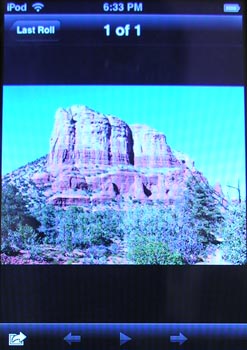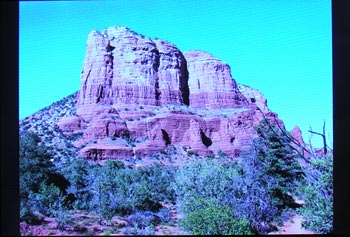 The touch makes a great little digital photo frame when you put it in slide show mode and set it up on the itty bitty plastic stand that comes with it.
iTunes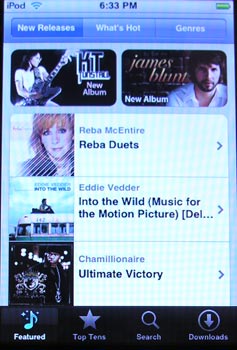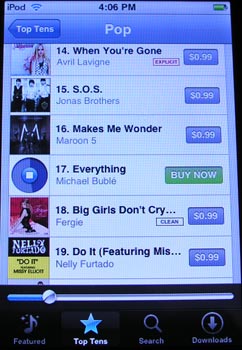 Finally, a feature that the iPhone doesn't have (yet), but the touch does… iTunes! Yes, you can now browse, preview and purchase music directly from your iPod touch using a WiFi connection. It's extremely easy… too easy really… which of course, Apple is banking on.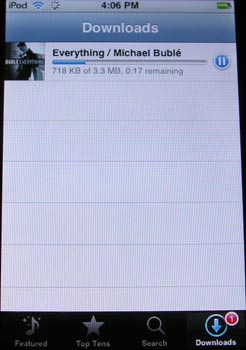 When you find a song (or album) that you want to purchase, you just tap the BUY NOW button with your finger. You're then prompted for your iTunes password. After you type it in using the on-screen keyboard, your song will download directly to the device.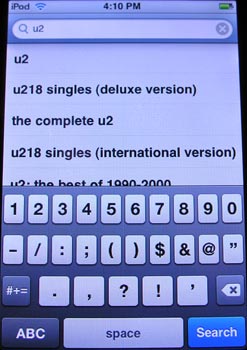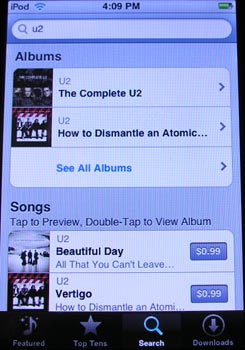 You can also search for artists, songs, and albums.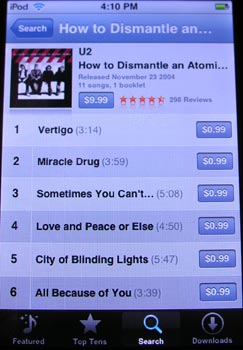 Entire albums can be purchased, or individual songs. At the moment, you can only find and purchase music. Videos, TV shows and movies are not available. Of course you can purchase them with your desktop version of iTunes and sync them to your touch.
Unlike other iPod models, the touch does not come with any games. :o(
Final Thoughts
I have to confess something to you guys… Until I purchased the iPhone, I felt like I had to always have my entire music collection with me on one device. All 60GB of it. That's why I was happy to buy the new 160GB classic. I knew I'd be able to have all my music and lots of video too. But after using the iPhone for these past few months, I've come to love the touch-screen interface and large display so much that now I really don't care that I can't carry everything with me. Now I just create a playlist and cycle various new music in and out of it on a daily / weekly basis. I sync unplayed videos and podcasts too. It's working out great for me. I have enjoyed using my iPhone as an iPod so much that I am really not sure that I'll ever go back to using a regular old iPod again… I say all of this because I have a feeling that the iPod touch will dwarf the classic and nano in sales and that eventually, the regular non-touch screen iPods will be discontinued. We'll see how it plays out…
The touch's largest capacity is 16GB and is priced at $399. This is the same price as the iPhone, which does make it pretty pricey for a media player. If you're already an iPhone user, I don't believe that there is anything that should compel you to buy the iPod touch. But if you don't have the iPhone and don't intend to buy one, by all means, I'd go for the iPod touch over the classic and the nano. If the physical size of the device is a non-issue for you, if you enjoy surfing via WiFi and especially if you watch a lot of video content on the go. The large display is so much nicer than the ones on the other iPods.
Questions for all of you
If you've tried the iPod classic, nano and touch, which did you like best and why?
Product Information
Price:
399.0
Manufacturer:
Apple
Pros:

Great display
WiFi
Purchase music through iTunes on the device

Cons:

Main menu is too iPhone-ish. Needs bigger icons
No hardware buttons to adjust volume, pause and navigate tracks
Can't add or modify calendar events
No games