We use affiliate links. If you buy something through the links on this page, we may earn a commission at no cost to you. Learn more.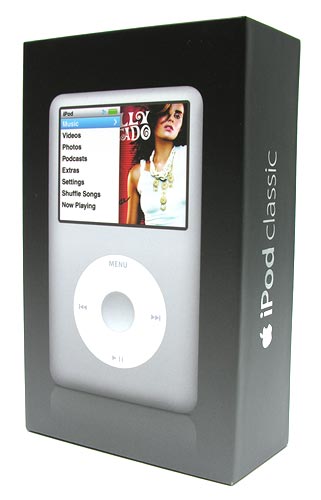 The globally popular Apple iPod video has been updated with a new face, a new interface, higher storage capacity and even a new name. It's now called the iPod classic, which may sound like a name that would be given to a low end model, but this isn't the case with the new iPod classic. This classic may not be tiny like the new "fatty" nano, or have a touch screen like the new iPod touch. But neither of those devices are available in capacities of 80 or 160GB, enabling you can carry your entire music and video library with you in your pocket. Today I'm going to tell you about the 160GB version of this device.
Hardware Specs
Storage:80GB-160GB hard drive
Display: 2.5-inch (diagonal), 320 x 240 pixels
Frequency response: 20Hz to 20,000Hz
Audio formats: MP3 (16 to 320 Kbps), MP3 VBR, AAC (16 to 320 Kbps), Protected AAC (from iTunes Store), Audible (formats 2, 3 and 4), WAV, and AIFF
Video formats: H.264 video up to 1.5 Mbps, 640 x 480 pixels
Audio: 3.5mm stereo headphone minijack
Power: Rechargeable lithium polymer battery (up to 40hrs of audio playback time and 7hrs of video playback time)
Size: 4.1 x 2.4 x .53in (103.5 x 61.8 x 13.5mm)
Weight: 5.7oz (162g)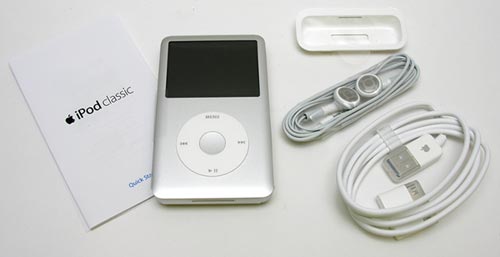 Package Contents
iPod classic
earphones
USB 2.0 cable
Dock adapter
Quick start guide
Apple stickers
I've been waiting for what seems like forever (ok, almost 2 years) for Apple to come out with a new full-sized iPod so that I could replace my fifth generation 60GB iPod video that was "borrowed" by Jeanne (the person I live with). I didn't really want to buy an 80GB version of the same device as the replacement because the 60GB was already totally full and I was afraid that it wouldn't take long to fill an 80GB model. There was also the fact that as soon as I would have ordered one, Apple would have
probably announced a product refresh. That's why I was so happy when I learned that Apple
was offering the new classic in a 160GB model. That's huge! I really can't think of any other audio / video player on the market right now that is as small as the classic and has the same capacity (please correct me if I'm wrong).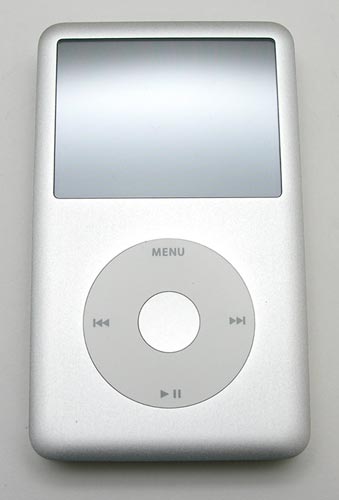 Hardware Changes
The classic now has a brushed aluminum face (Silver or Black) like the nano and shuffle. The top has edges that are slightly rounded instead of being completely flat. Another update is that the middle select button, also made of aluminum, is slightly indented instead of flat. The back is still made of shiny chrome and still attracts smudges and scratches. I think mine scratched as soon as I breathed on it. I sure wish they would have used the brushed aluminum on the back as well as the front. :o(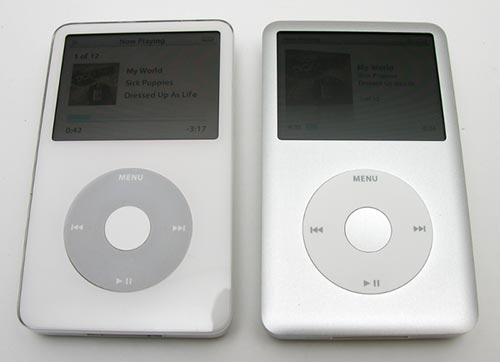 Left to Right: 5G iPod video, 6G iPod classic
Here we see the previous version 60GB iPod video next to a new iPod classic. The 160GB classic has almost the exact same dimensions as the 60GB model. I'm guessing that cases might fit without any modifications.
In hand, the classic feels familiar and has no problems passing the Gadgeteer squeeze test. This thing is solidly built, with absolutely no flexing, creaking or cracking.
Never miss one of our posts again. Sent MON, WED, and FRI with the latest gadget reviews and news!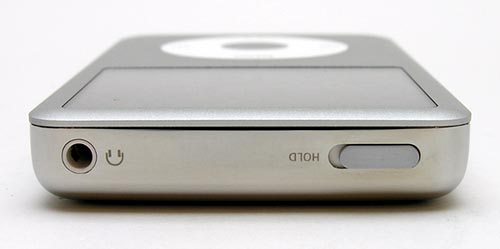 The top of the iPod has the Hold switch and headphone jack.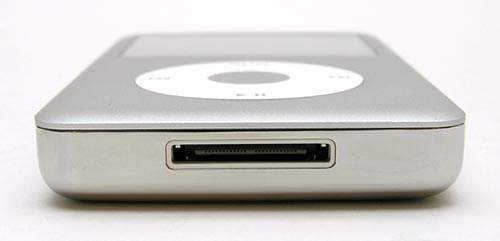 On the bottom you will find the universal dock connector. Nothing has changed with this connector, so most existing accessories will continue to work with this new iPod. I say most because there is an issue with accessories that have a video out feature. More about that in a bit.
User Interface Update
Besides the new aluminum shell and 160GB storage capacity offering, the biggest difference between the prior iPod video and the new iPod classic is the updated user interface.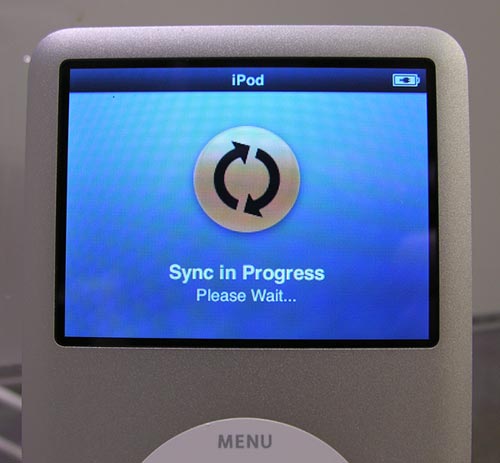 I noticed the difference immediately upon plugging the iPod into the dock to sync with my iMac. The status screen looks completely different and is even animated.

The menu system is basically the same as it was before, as you will still
navigate to your music and videos in the same way that you have been accustomed
to doing for years. The menus are just a bit prettier now. Check out the image
above. On the Left you see the previous iPod video's Music menu. On the Right the same menu
is displayed on the iPod classic.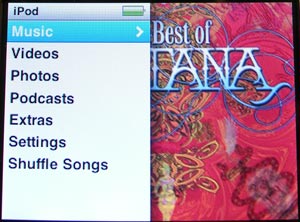 To the Right of the menu, you can see a random slide show of album cover art,
video art, photos, etc., that use a Ken Burn's style transition effect.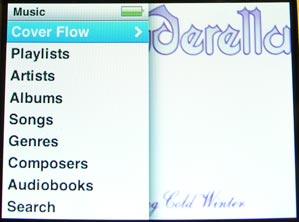 One of the new features to be added to the music menu is Cover Flow. This feature was first introduced in iTunes and then recently on the iPhone. It's a graphical method of viewing your music collection by flipping through album covers.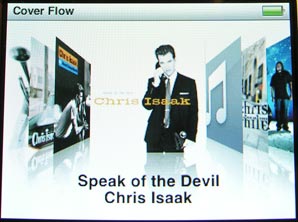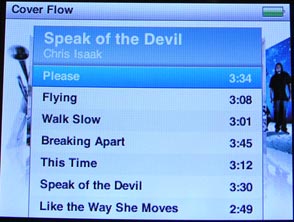 To scroll, you just run your finger around the touch wheel. Pressing the select button will display the songs contained in the center facing album. From this screen you can start playing the desired album or individual songs inside it.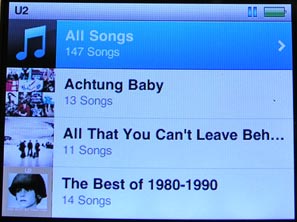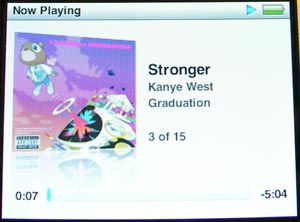 When you search via artist, you will see thumbnails of the albums for that artist and their titles. The interface can feel a bit slow loading these thumbnails. The same is true for the cover flow feature. Sometimes you'll just see a musical note icon as a place holder until the thumbnail is loaded from the hard drive. If a thumbnail doesn't exist for an album, the musical note icon will be displayed in its place.

Not a lot has changed on the Now Playing status screen from the old version of the interface. You will notice in the image above that the album art on the classic is a bit larger and has a mirror effect. The text is arranged a bit differently as well.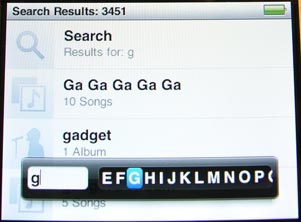 There's a new search feature that you can use to search for artists, albums and song titles. As you type words, the search list filters to show only the items that match what you've typed. When you see what you want, you just hold down the select button to get out of input mode. From there you can select items in the search list.
There is no learning curve to using the classic to listen to your tunes. It's as intuitive as it has always been. Audio quality seems to be the same as far as I can tell and I have no complaints in that area.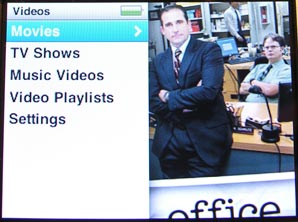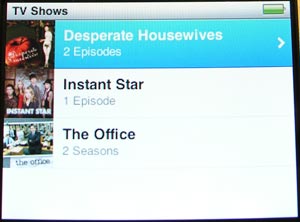 The video menus are setup up similarly to the music menus in that they have the same thumbnails and Ken Burn's style previews.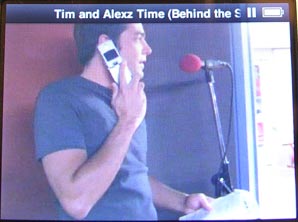 When a video is paused, the title of the show is displayed at the top of the screen.
Speaking of the screen, I will say that the classic's display is noticeably brighter than the iPod video's display when both are set to max brightness. Clarity and color are very nice as well. All of the screen shots that you see in this review were taken with the display set to only 75% brightness.
Remember earlier in the review when I said that existing accessories that have video-out features
and were made for previous iPods won't work with the classic? At the moment, only the old universal dock (with s-video) will allow you to connect your iPod classic to your TV to view video. Third party stuff doesn't work. The old video cable (the one with a headphone connector and video plugs) available from Apple does not work by itself on the new iPods, because the new iPods don't have the video output in their headphone jacks any more.
Apparently, there are now two models of the universal dock. One of them has supposedly been discontinued… The previous version is the one called "iPod Universal Dock" has a S-video jack on the back. The new version is called "Apple Universal Dock" and does not have an S-video jack. If you have a "iPod Universal Dock" you can get video out to your TV from the S-video jack or from the old video cable using the iPod Universal dock's headphone jack. If you have the "Apple Universal Dock" you can get video out using the new $49 cables that Apple will be selling soon (they are not available yet). The new video cables work either with the "Apple Universal Dock" or directly on the classic/new nano through the dock connector. The new video cables come in Composite and Component. S-video is no longer available from the new hardware, so you either have to use crummy old composite, or jump up to component 480p. Confusing huh?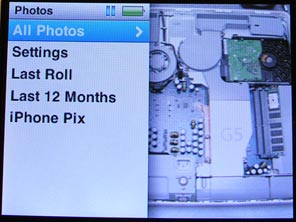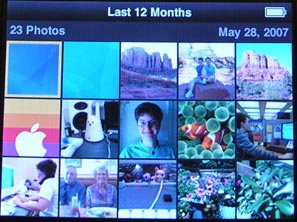 Like the previous iPod video, you can also sync your iPhoto images to the iPod classic.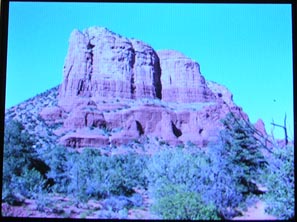 For some reason Apple cut back on the types of transition effects for slide shows. Now you can just choose from Random, Cross Fade, Fade to Black, Zoom Out, Wipe Across and Wipe Center.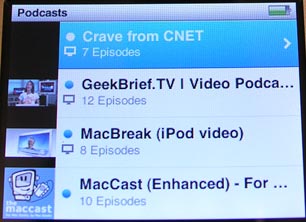 The Podcast menu has been moved out of the music menu and into a menu all its own, which combines video and audio content into one list. Items with Blue dots next to them indicate content that has yet to be viewed or listened to.
Now let's check out all the changes to the Extras menu.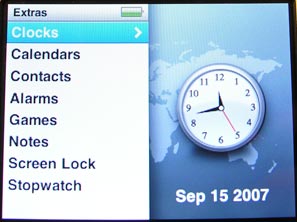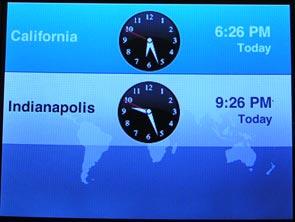 The Clocks feature is prettier now, but has the same basic function of listing the time in various locations.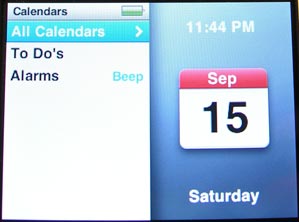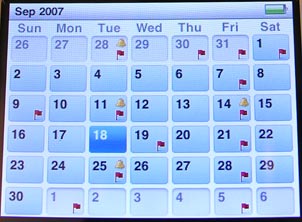 The Calendars feature remains unchanged. You can still sync your desktop calendar with the iPod, creating a sort of pseudo PDA.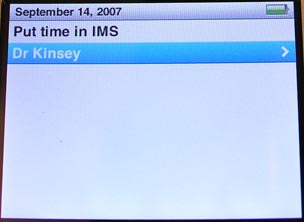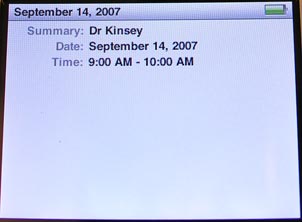 Clicking on a date that has a flag on it, will show you the appointments and associated info for that date.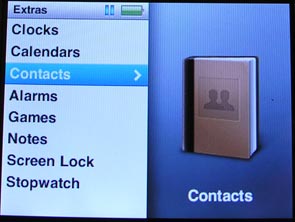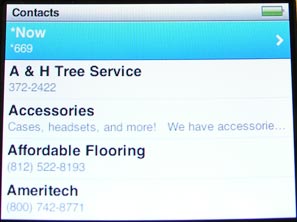 The Contacts feature also remains pretty much unchanged. Too bad that the search function doesn't find
contacts entries too.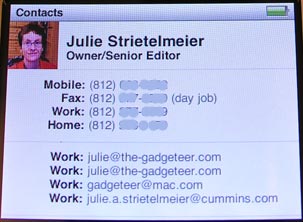 Contact photos sync as well as all the contact info.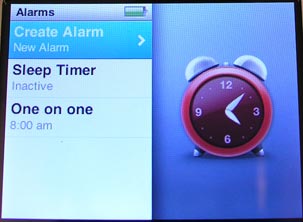 The timer feature was buried down in the old clocks menu. In the new interface,
it's been pulled out to be in its own stand alone menu. It's now much easier to
access.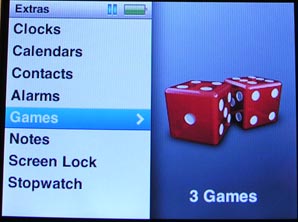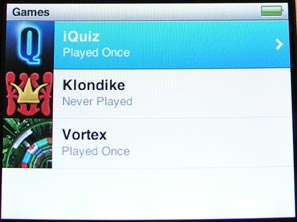 Yay, games! The classic comes with three games: iQuiz – a music, TV show and movie trivia game, Klondike – a solitaire game, and Vortex – an arcade style game. There is some bad news regarding games though… I've not tested this, but apparently, any games that you may have purchased for your previous iPod, will not work on the classic. You have to buy them again. Not good Apple…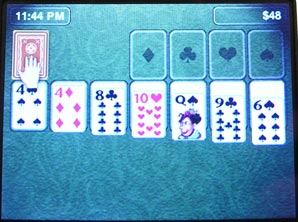 Of all three games, I'm best at Klondike :o)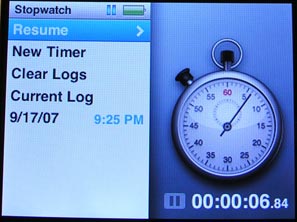 The Stopwatch feature has the same abilities as before, it's just been graphically updated to match the rest of the interface changes.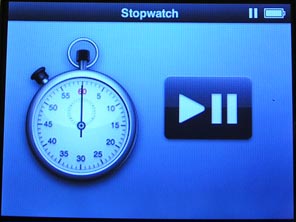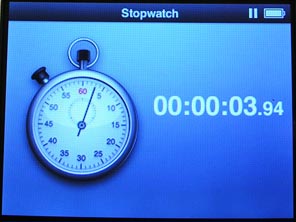 This feature has actually come in handy for me on numerous occasions.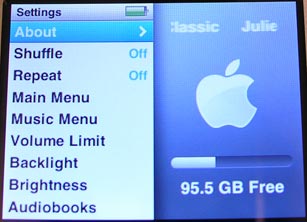 The Settings menu has also been beautified.
Battery life on the classic has been greatly improved. Apple states that you should get up to 40hrs of audio playback time and up to 7hrs of video playback time. That's a big improvement over the iPod video. I've not done any real testing with regards to battery life as I've had the classic in and out of the dock all week during my review. I hope to do some tests soon and will report back if the claims of 40hrs are greatly inflated.
Bottom Line
While I do like all of the graphical updates to the user interface, I have to say that navigating through the menus now feels considerably slower than before. I also notice the hard drive clunking as I maneuver through the menu structure. It's like it's trying to keep up with my travels. That makes me curious to know if the 160GB hard drive has a slower RPM than the older 60GB drives in the iPod video. I'd also be interested in hearing if new 80GB classic owners also notice sluggish performance. Besides the somewhat slow interface, I'm happy with the iPod classic so far. And at a whopping 160GB capacity, I don't think I'm going to outgrow it anytime soon.
Questions for all of you
What kind of iPod user are you? One that wants your entire media collection with you, or one that only carries a subset?
If you also own an iPod classic, do you find the interface to be sluggish?
Update 03/19/17
I gave this iPod to Jeanne years and years ago. I don't even remember when at this point. I just know that she continues to use it almost every day with the mStation Orb speaker that I also reviewed. The iPod contains our music library from back in the day when we actually bought CDs and ripped them to MP3 format. We no longer add new songs to this iPod or sync it to a computer, but she likes being able to listen to her favorite albums anytime she likes while she's at work.
Product Information
Price:
349.0
Manufacturer:
Apple
Requirements:

Windows or Mac PC with iTunes

Pros:

Updated user interface
Available in 160GB capacity

Cons:

New user interface seems sluggish
Chrome back scratches too easily
Most (if not all) of the games purchased for previous iPods will not work on the classic