We use affiliate links. If you buy something through the links on this page, we may earn a commission at no cost to you. Learn more.
If you're looking for an easy way to enjoy the music, photos and videos on your iPod through your television, then DLO's HomeDock Deluxe is a solution that you should definitely consider. With this product, you don't need a network connection, PC or Mac. You just need a television with good old RCA composite inputs (if it has S-Video, it can use that too).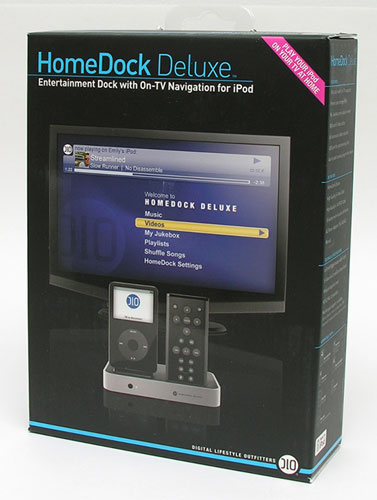 I've reviewed a few different products like this one (Kensington Entertainment Dock 500, Marware's iPod Dock with Remote and Keyspan TuneView for iPod), and each time I came away with the same set of complaints. #1, no on-screen navigation menu and/or #2, they wouldn't allow me to play music on the iPod through my TV. The HomeDock Deluxe claims to fix both of these issues, so I was anxious to test it out.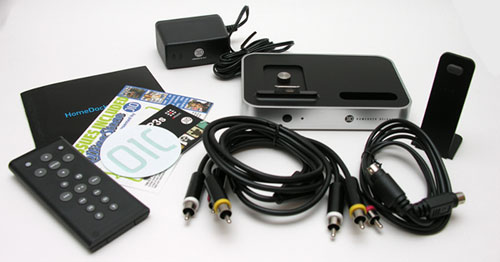 Package Contents
HomeDock Deluxe Dock
iPod support stand
User manual
DLO sticker
Postcard for 12 free issues of RollingStone magazine
Card with 35 free MP3s from eMusic.com
Remote control
Composite cable
S-Video cable
AC Adapter
I automatically give DLO extra credit for including an S-Video cable in the package. I think their product might be the first video product I've reviewed to actually have that cable included. Thanks DLO! Everything you need to connect to most current television sets is included with the HomeDock.

The dock is a light weight (a little too light…) plastic base that has the familiar iPod docking connector on top. On the front face there is an IR window for the included remote control and next to it is a small power indicator LED.

All the A/V connections can be found on the back side. From Left to Right you see S-Video, Composite Audio and Video, AC and a USB port. The HomeDock can be used as an iPod dock for your PC or Mac by using the USB connector and a USB A-to-B cable (not included).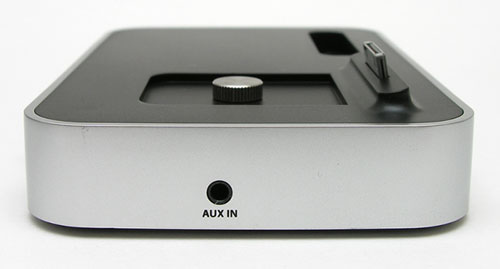 The Left side of the HomeDock has a Aux Input. So you can use it to pipe audio from another device into your TV.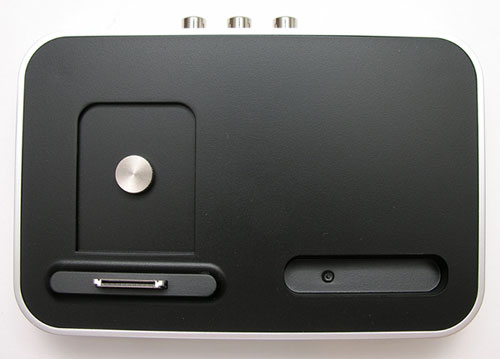 If you look down on the dock, you'll notice a thumb screw. It holds the adjustable support stand in place.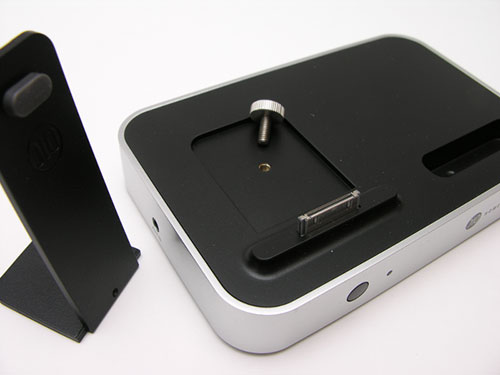 Take out the screw and set the support in the indention, put the screw back and volia…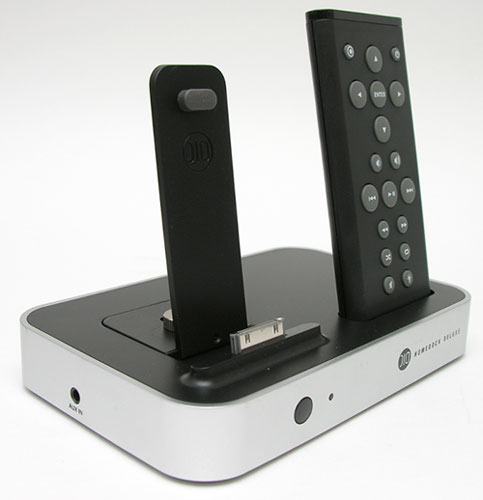 The support slides back and forward to accommodate iPods as thin as the nano or as thick as a iPod video.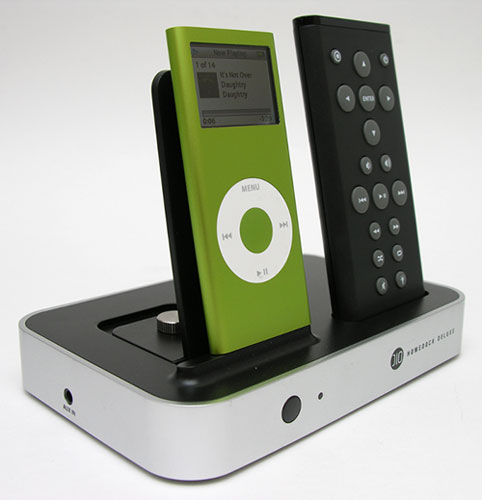 Next to the dock connector, there's a slot that you can use to keep the remote in while it's not in use. An added benefit of the HomeDock is that it charges the iPod while it's docked. Even when the dock itself is not powered up.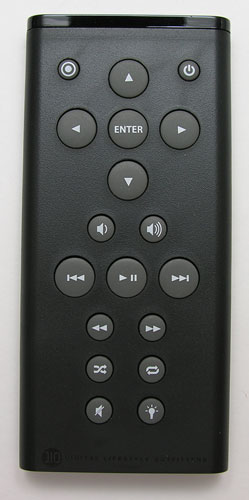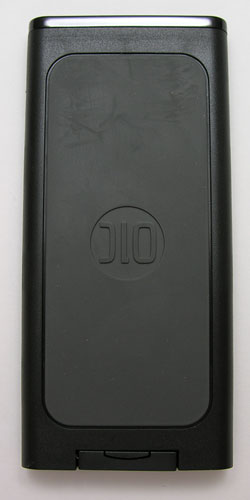 The remote is the nicest one I've seen for a product like this. It has real buttons (rubber) with good tactile feedback. It is powered by a 3V, type CR2032 coin cell.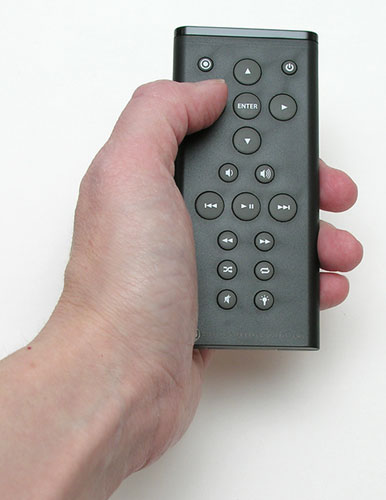 It's a great size and has a nice heft to it. Too bad the buttons aren't backlit though.
Hooking the HomeDock Deluxe to your television shouldn't take you more than a minute or two… unless you have to get behind your TV to find unused inputs first. Lucky for me, I have a set of inputs on the front panel of my rear projection TV.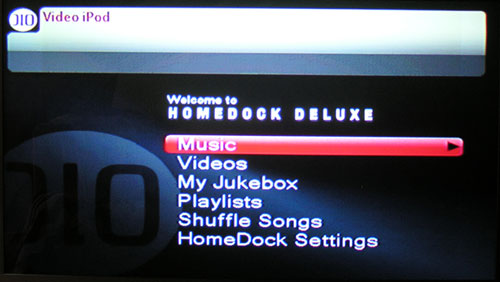 Pressing the little power button on the remote turns on the dock and places you at the root of the menu system. As you can see, you can play Music, Videos and two types of playlists.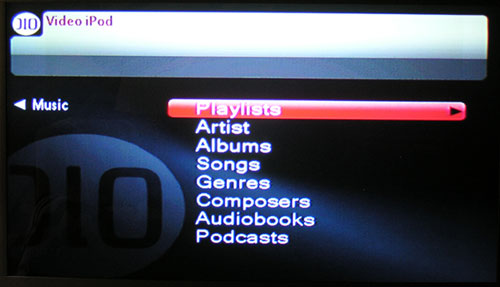 The navigation system should feel familiar as it is pretty much identical to what you're used to on the iPod itself. Music is separated into Playlists, Artists, Albums, Songs, Genres, Composers, Audiobooks and Podcasts.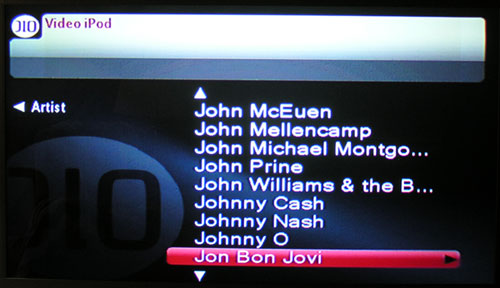 Scrolling through a large library can take awhile. Holding down the up / down button will quicken the scrolling, but it's not near as nice/quick as on the iPod itself.
Using the HomeDock to play music through your TV is worth the pain of scrolling through the lists though as the sound quality is quite nice and just having the ability to play anything in your library is great.
You can customize what you see on the TV while music is playing. There are several screensavers available.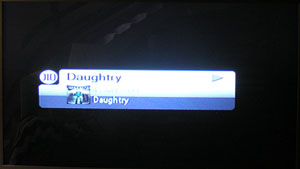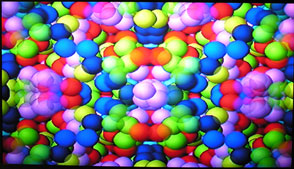 Two such screensavers can be seen above. I'll have to say that all but the most basic ones tend to annoy me as they are gaudy and weird…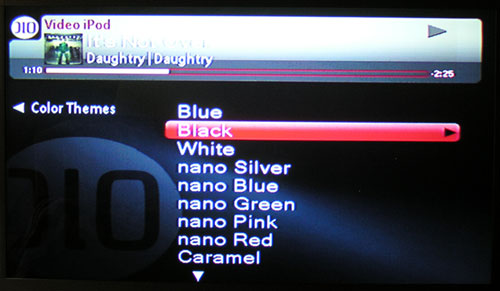 Speaking of customization, you can also change the color of the menu system if you so desire.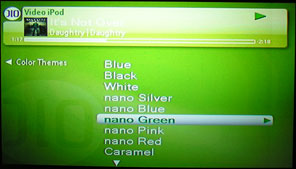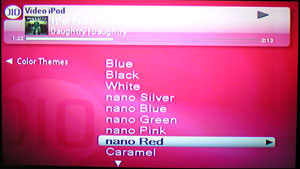 I like Black, but there's also a whole rainbow of color options (12 in total) that you can choose from.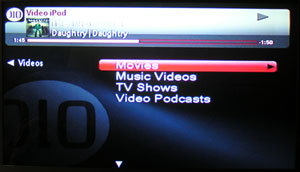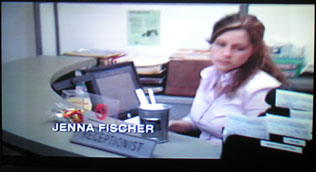 Playing video through the HomeDock yielded the same results as all the other iPod-through-your-TV products that I've reviewed so far. The video quality is ok. It's not going to knock your socks off. How could it when the best connection scheme offered is RCA / S-Video. It's probably on par with VCR quality. I'd like to see an HDMI version of the HomeDock sometime in the future. :o)
Ok, you can play Music and Videos through your TV using the HomeDock. But what about viewing your Photo slide shows? That feature is available too, but unfortunately a GUI interface to do so is not offered in the HomeDock menus. To view your photos, you have to press the little mode button on the remote to toggle into iPod mode. At that point, you have navigate to the Photo slideshow feature directly on the iPod and start it there. I find it a little odd that there isn't a way to allow interactivity through the HomeDock for this feature… FYI: photo playback is not supported with iPod nanos.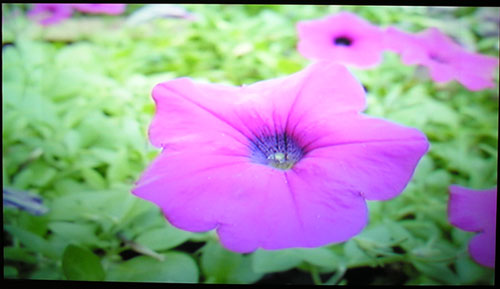 The photos look good on a TV though…
One last feature I want to tell you about is the on-the-fly playlist which is accessed through the My Jukebox menu pick. To build a playlist, you just navigate to a song and hold down the Enter button on the remote until the status bar blinks. That song is now in your playlist. It's important to note that the My Jukebox playlist is not saved though. It will be lost if the iPod is disconnected or power is toggled on the HomeDock.
All in all, I have enjoyed testing DLO's HomeDock. It is easy to setup and easy to use. Improvements that I would like to see in future versions would be photo slideshows integrated into the menu system and faster remote response. As is, this is a good product for those of you that want to output your iPod media to a TV in an easy and convenient way.
Product Information
Price:
149.99
Manufacturer:
DLO
Retailer:
DLO
Requirements:

iPod, iPod with color display, iPod Video, mini, 1st and 2nd gen nano

Pros:

Plays music and video through your TV
Easy to use
Nice remote
Doesn't require a network connection
S-Video cable is included

Cons:

Video connection limited to RCA / S-Video
Remote control performance is sluggish