We use affiliate links. If you buy something through the links on this page, we may earn a commission at no cost to you. Learn more.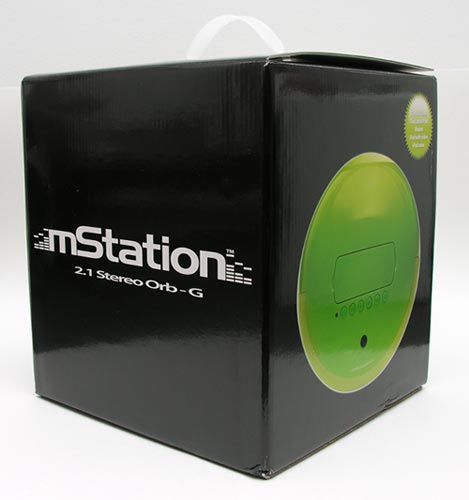 Are square speakers just not your thing? Then I have a "Made for iPod" speaker system just for you. It's mStation's Orb. Available in seven colors (White, Grey, Green, Blue, Red, Black and Pink) this bowling ball sized speaker has a fun look, but does it have a good sound? Let's see…
Hardware Specifications
Drivers: (1) 3″ Subwoofer 3ohm Shielded, (2) 2″ Midrange 6ohm Shielded
Subwoofer: 15 W RMS @ 3ohm
LR Speakers: 2 x 7.5 W RMS @ 6ohm
Subwoofer: 50Hz to 200Hz ± 5dB
LR Speakers: 200Hz to 20kHz ± 5dB
S/N Ratio (A-weighted): >70dB
THD (kHz, 1W): <0.5%
Channel Separation (1kHz): 40dB
Stereo Channel Balance: ±1dB
Inputs: iPod Dock Connector
USB Mini B
IEEE1394 6-pin
Stereo Mini Jack (3.5mm)
Supply Voltage: 120V AC
Height: 7.4 inches / 188mm
Width: 7.8 inches / 200mm
Weight: 4 lbs. / 1.8 kg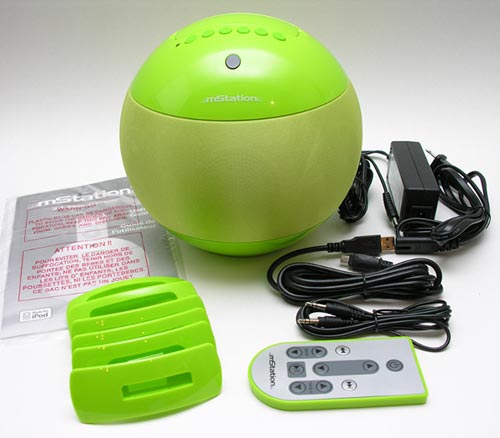 Package Contents
mStation Orb speaker
10 Key IR Remote
6 Cosmetic Docking Cradles
Cables Includes USB and Stereo Mini
User guide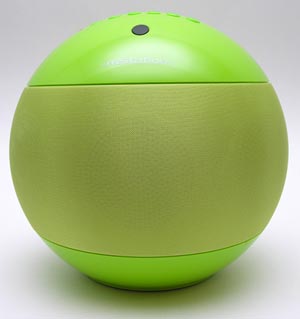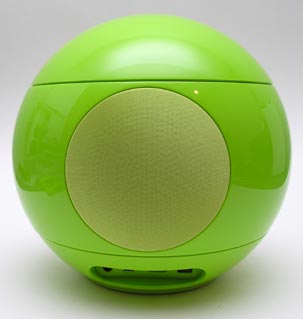 The Orb is constructed of plastic with a matching knit fabric covering over the front speakers and rear sub-woofer. The design is relatively clean. There aren't any flashy logos or gaudy buttons to detract from the smooth surface.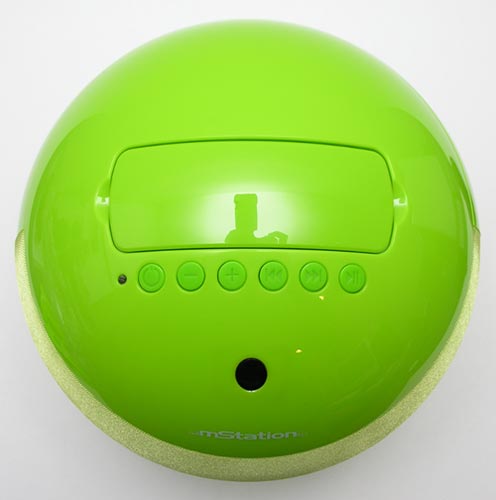 All of the control buttons are located on the top of the Orb and are arranged in a neat line under the dock connector area. There are six buttons that map to Power, Volume -, Volume +, Previous Track, Next Track and Play / Pause. The buttons are made of hard plastic and have good tactile feedback. To the Left of the buttons is the power status LED. It glows Blue when the speaker is powered on and Red when the speaker is powered off. In actuality, the speaker is never actually 'off'. It's just in standby mode and will charge the batteries for the docked iPod in this mode (as well as when powered on).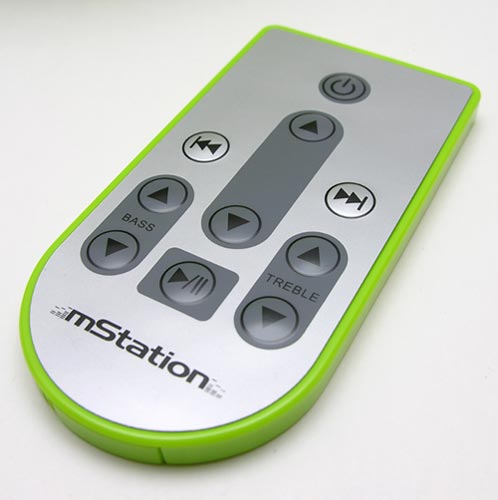 Below the function buttons on the Orb is the infrared eye. The Orb comes with a handheld remote that you can use to control power, volume, tracks, play/pause and will also allow you to adjust bass and treble. Settings for bass and treble are saved when powering the Orb off by using the power button on the speaker itself, or on the remote. However, these settings will not be saved in the event of an actual power loss or if unplugged from the wall outlet.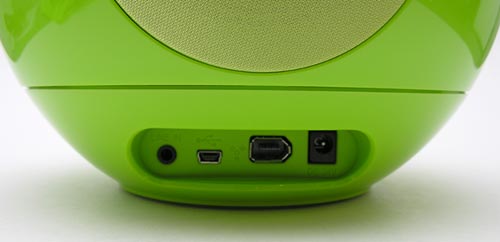 Connections are located on the base in the back of the speaker. From Left to Right, there is a 3.5mm line-in jack, mini USB, Firewire and DC power in. You might be surprised by the USB and Firewire connector. You can connect this speaker to your computer and it can be used as a charging / syncing dock for your iPod.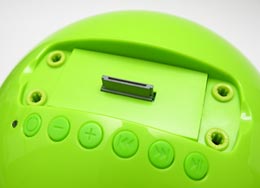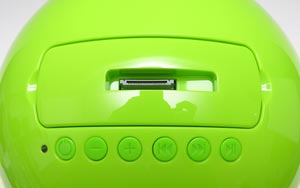 The iPod dock is located on the top of the Orb. Shipping with this speaker are six adapters that are customized for the iPod mini, iPod nano (2nd generation) and older iPods like the Video. Don't worry though, if you have the new 3rd generation nano, the iPhone, or Touch, you're not out of luck. They all fit fine by using one of the wider adapters.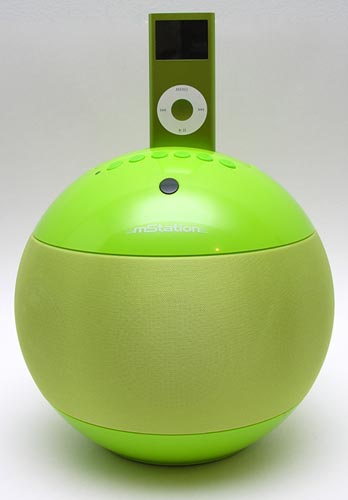 Of course, it was only appropriate that I should test the mStation Orb with my 2nd generation Green iPod nano :o) I tested with the iPhone and latest iPod classic too though.
Controlling the various functions with the built-in buttons or the buttons on the remote was easy. I didn't have any problems using the remote from across the room. Whenever the Orb does receive a command from the remote, the power status LED will blink.
Of course what you really want to know about is how well the Orb sounds when playing tunes. Ok, first of all, just by the design of the Orb, you have to know that it's not a speaker for an audiophile. I'm not saying that round brightly colored speakers can't sound fantastic, I'm just saying that the Orb sounds ok. Not great, not crappy, just ok. It has good volume and the treble / bass adjustability is helpful. But the mStation Orb won't win any awards for high fidelity and tweens, teens and people that like their speakers without sharp edges won't mind.
Update 03/19/17
Jeanne has been using this speaker for quite a few years on her desk at her job. She uses it exclusively with her Apple iPod Classic (6 generation). She says it works great and has never had a problem with it. It also charges her iPod while she's listening to music, so she never actually has to manually charge the iPod.
Product Information
Price:
129.95
Manufacturer:
mStation
Pros:

Can double as an iPod dock for your computer
Charges iPod
IR Remote

Cons: