We use affiliate links. If you buy something through the links on this page, we may earn a commission at no cost to you. Learn more.
When I was a kid, I had a portable multi-band radio. I can remember plugging an
earphone (this was before earbuds) into it at night and slowing scanning up and
down the frequencies, trying to tune in foreign stations. I would always get
excited when I would tune to a station and hear people talking in a language
that I didn't understand. Multi-band radios are still being sold these days, but
I have an alternative for you… The USB Internet Radio Jukebox from Aluratek is
a plug and play 'radio' that claims to will quickly allow you to enjoy music and
news from all over the world. Let's give it a try…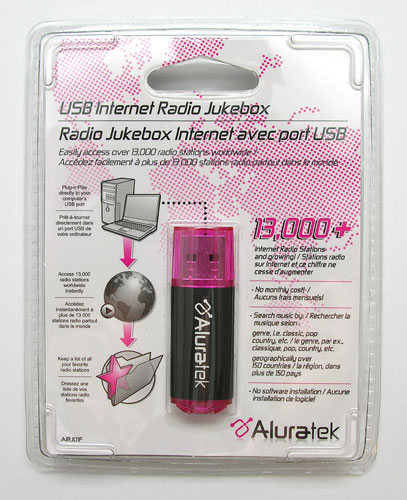 The USB Internet Radio Jukebox looks just like an ordinary USB flash drive.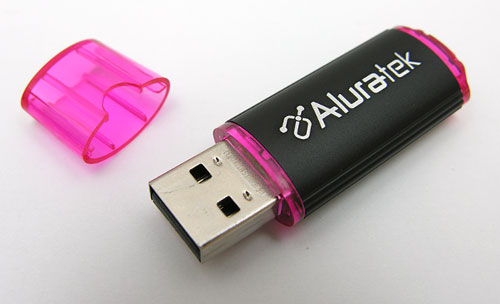 It has a plastic cap and a wrap around metal body.
To use it, just plug it into an open USB port on your Windows XP or Vista
desktop or laptop (sorry, this product is not compatible with OS X). It will start out by prompting you to install something (I believe something to do with ActiveX) on the host computer and will then requires a reboot. Ugh.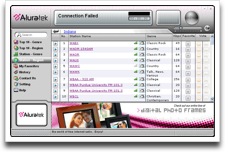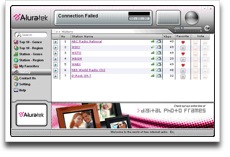 Click thumbnail to see full sized screenshot
After you reboot and double click the USB drive letter, it will launch the Aluratek player. The top part of the screen is devoted to status information and playback controls, while the rest of the screen is used to display all the various stations available to you. The bottom of the screen shows Aluratek ads.
You can filter the list of stations by genre and region. According to the packaging information, there are 13,000 different internet radio stations that can be accessed by this product / software. When you click on a station name, it will connect and start playing music… if it can connect. Sometimes, it will connect to a station very quickly, and other times it will fail after a few seconds or several minutes.
If you enjoy listening to a station that you are able connect to, you can mark it as a favorite. What's nice is that if you plug the USB dongle into another computer, it brings all your history and favorites along with it.
This product is easy to use, just plug it in and start listening… the thing is that you can listen to internet radio for free and not have to lose one of your USB slots. There are all kinds of web based radio players. One that comes to mind is Slacker Radio. You can also listen to internet radio through iTunes, Pandora, Live365, etc. As a result, I'm not really sure why you would buy this product when you can get the same features for free. The only way I think this product would be worth the price would be if it had some advanced features such as allowing you to add more stations, timed recordings, etc. As it is, I think I'd just save my $40 for another gadget purchase…
Product Information
Price:
39.99
Manufacturer:
Aluratek
Requirements:

Microsoft Windows
Open USB port

Pros:

Plug and play
Easy to use interface
13,000 stations

Cons:

Can't add extra stations
Can do everything it can do for free with web based players