The Gadgeteer is supported by readers like you! If you buy something through links on our site, we may earn an affiliate commission. Thank you! Learn more.
Introduction
In January I reviewed Tom Bihn's Aeronaut and a gazillion and one little packing cubes, pockets and organizer pouches. As you may have gathered from the review, I was very keen on the packing cubes. Over the last year I've used these accessories, in many combinations on every trip I've done. I also use them to corral cables in my desk drawer.
About a month ago another package arrived from Tom Bihn; their Convertible Packing Cube/Backpack. I've used this little gem on three trips since, and its extraordinarily useful. The idea is simple. Tom has combined his "Large Packing Cube" with an "End Pocket," and added some shoulder straps. The result is a small daypack and a dual-size packing cube.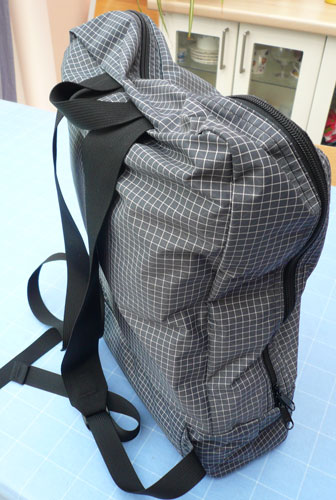 Detail
All Tom Bihn's packing cubes are made from an attractive charcoal grey and silver-checked material and use No. 5 YKK zippers. This one has a small webbing carry handle, and simple webbing backpack straps. The straps are adjustable. Inside, and at the top end of the main compartment is a d-ring for keys etc.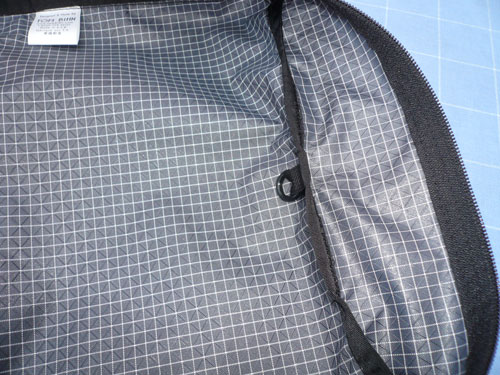 The pack weighs 255 grammes, and the material is soft and flexible but still built to Tom Bihn's usual "bullet proof" standards. As I've said before, I think flexibility is important; when you are not using the pack its handy to be able to fold it up tight and compact. In backpack form the pack is: 44.5 x 34.5 x 10.5 cm (17.5″ x 13.5″ x 4.25″). That's just over 16 liters.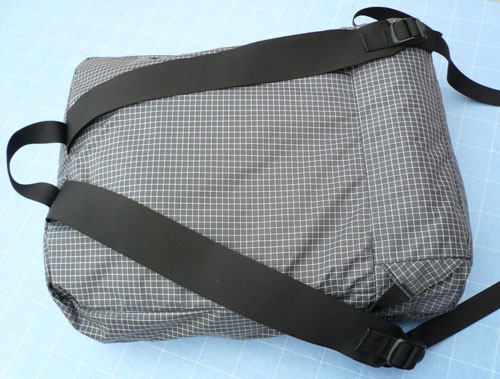 In use
On the back, with light loads its surprisingly comfortable, though you have to be careful to avoid sharp-edged contents.
As a packing cube you can use it in many ways. The large compartment takes trousers and shirts for example – pack them in fairly tight and you'll avoid creases. The end compartment will take a pair of business shoes (mine are UK 10.5) but is a little small for my gym shoes.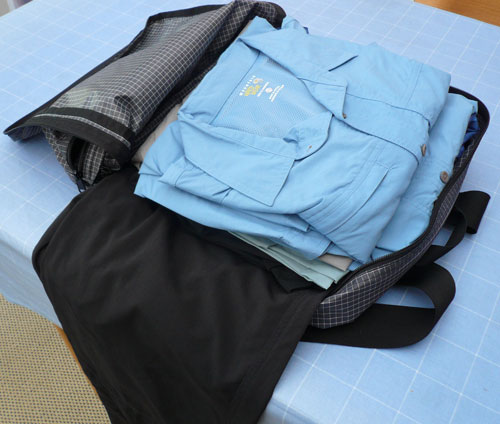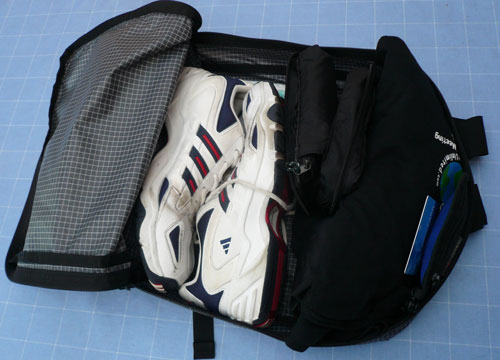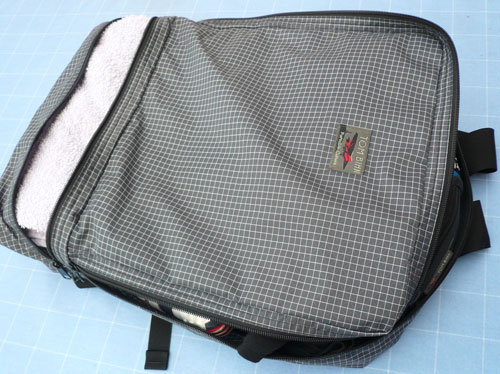 You can reverse the main compartment and the pack becomes pretty much a standard large packing cube with dimensions: 34.5 x 34.5 x 10.5 cm (13.5″ x 13.5″ x 4.25″).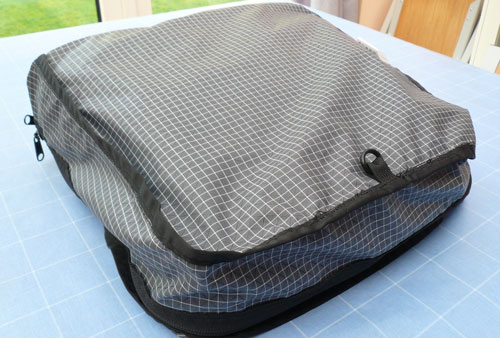 I found this pack to be very useful for trips to the hotel gym or pool. Shoes, shorts, t-shirt and wash-bag went into the main compartment, and I used the small compartment for my towel / swim-kit. Its handy to have this wet stuff separate from shorts and shirt.
Coming back through Brussels AIrport the other day I bought some very heavy Belgian Beer. I whipped this pack out from my Aeronaut and in went the beer, saving my hands on that long trek to the gate.
Summary
If you are going to buy a Large Packing Cube and End Pocket from Tom Bihn, then seriously consider this pack as its just $5 more than the price of the two combined. For that $5 you get lots of extra functionality. My only gripe is that the end pocket could have been a little bigger – to accommodate some muddy running shoes. Overall though, nice work again Tom Bihn. Well done.
Product Information
| | |
| --- | --- |
| Price: | 35.0 |
| Manufacturer: | Tom Bihn |
| Pros: | |
| Cons: | End pocket not quite big enough for male running shoes |