We use affiliate links. If you buy something through the links on this page, we may earn a commission at no cost to you. Learn more.
With the nearly endless number of usernames, passwords, web logins, bank accounts, credit card numbers, software licenses, and other sensitive/personal data everyone has to have these days to keep up in the digital age, I long ago turned towards a secure/encrypted password manager. It is the ONLY way I can keep track of all the electronic accessibility and critical information I need to keep with me 24/7. Plus the fact one must keep personal information secure with the constant threat of identity and cyber theft, I do not see how folks can live without a (mobile &/or desktop) program like these.
I will be up front about using SplashID since my early Palm days, through Windows Mobile (back to Palm) and now on my Blackberry. That said, when the flood of new applications for the iPhone/Touch hit iTunes, not only did I want to try SplashID but some of the other leading password managers as well. This article will be a comparative look at how SplashID, eWallet, and 1Password stack up against each other.
Quick Look Comparison Table:
SplashID

Yes*

1Password

Yes*

eWallet

Yes*

*via the desktop application.
I will not go into every nuance of each of these iPhone applications or their desktop companions but their overall usage and capabilities.
I first want to state that I believe the three main features of a good password keeper are:
Password protecting and encrypting your data/information
Allowing you to organize/tweak your information in a manner that best suits your use
Having the ability to input or modify information/data on one device and have it sync those modifications everywhere else you keep this information.
SplashData's SplashID
Like previous versions, SplashID for the iPhone/Touch gives you a great deal of control over the record types, field design, and data content. It allows you to organize and tailor your data in a manner suited best for you. To make input quick and easy, SplashData provides templates for all standard categories.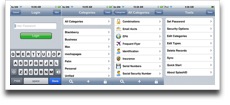 Click thumbnail to see full size image
SplashID uses 256-bit Blowfish encryption to protect its database. Like the desktop version, SplashID for the iPhone uses a single password to access your confidential information. Within this application you have a majority of the function and ability to tailor the categories, fields, and data right on your iPhone that you do on the desktop versions. SplashID on the iPhone allows you to create new, edit, and/or delete categories and individual entries.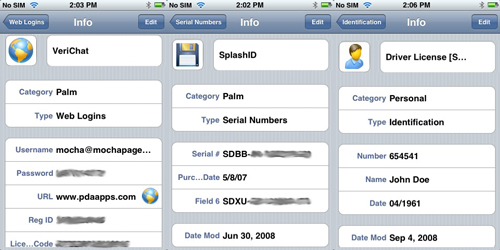 I was able to export all of the data from my Windows version of SplashID for the Blackberry and seamlessly import the vID file into the Mac desktop version.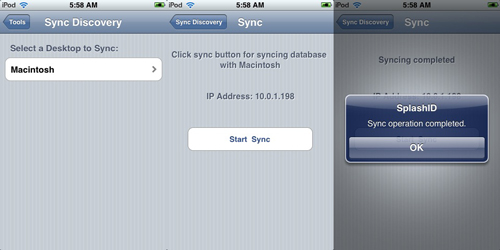 Once you have your data in the desktop version of SplashID, you can wirelessly sync (as long as both platforms are within the same wireless network) the data from/to your iPhone/Touch to/from your Mac (or PC).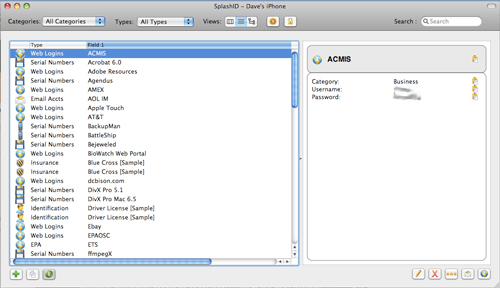 You will need to have the latest desktop version of the application ($20 or a free upgrade if you already have version 4). The wireless sync process was easy and surprisingly quick. Currently, SplashID is the only secure password/information keeper application that has both a PC and Mac desktop companion versions.
Once the data is on your iPhone/Touch, navigation through the various categories is quick and intuitive.
Agile Web Solution's 1Password
1Password for the iPhone is an application that enables you to log user names and passwords for websites and securely save them on your iPhone. Along with its primary function, the program has the ability to store other types of sensitive information (i.e., credit cards, bank accounts, social security numbers, etc.) as well. That said, 1Password for the iPhone is a definitely a 'scaled down' iteration of the desktop version. It can not auto populate log-in and password fields in the mobile version of Safari. This fact, in combination with the iPhone's current inability to copy & paste if you have complex user names and passwords, means you will need to write them down and then hand enter them into mobile Safari. But if you are recalling them to enter them on your desktop, you obviously can view the info on your iPhone and enter it on your keyboard. This is very similar to SplashID and eWallet but for those of you currently using 1Password on your Mac be forewarned.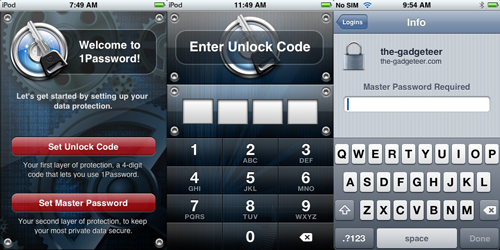 Both the desktop and iPhone versions of 1Password has two tiers of password protection, a four digit log-in to get into the application and a master password that can be added to individual (or all the) entries. The master password adds an additional level of security to your critical information (something eWallet and SplashID do not have).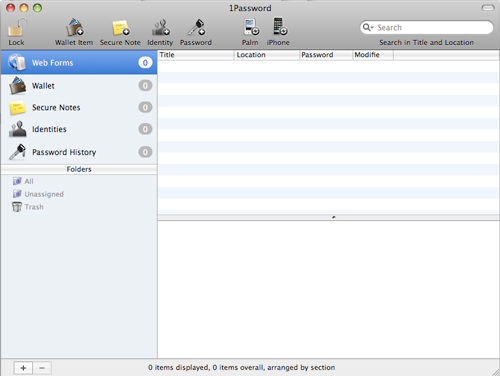 1Password for the iPhone can wirelessly sync with 1Password for the Mac ($40), an application that enables you to auto populate website login information into your favorite browser. Currently, there is no PC version of 1Password.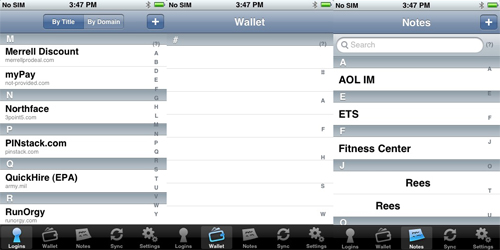 I was able to export my data from SplashID and import the csv file into the desktop version of 1Password.
Since this application was primarily designed to keep web login information, its ability to input and display other types of sensitive information is more limited than other secure information keepers. 1Password gets the job done but it is definitely not as polished (at least in terms of non-web log in/passwords) and robust as the other two applications in this review.
Ilium Software's eWallet
Ilium has done a very nice job of creating a great user interface for eWallet (iPhone/Touch) in terms of both looks and usability. The application comes with many pre-loaded graphics, allowing you to visually spruce up your data. Functionally, data is broken down hierological into Wallets, Categories, and Cards. eWallet comes with many (very helpful) pre-made templates, to help lead you through the data input process.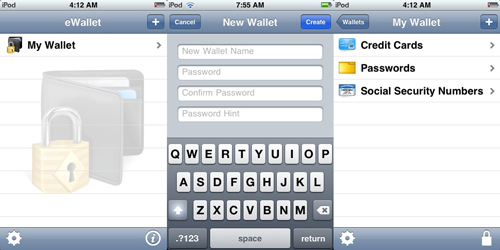 Ilium uses 256-bit AES encryption to secure your data. Like the PC desktop version, eWallet for the iPhone uses a single password to access your confidential information. eWallet enables you to create many different 'Wallets', each with its own password.
Within each 'Wallet' you can create many different 'Categories' to further organize your data/information.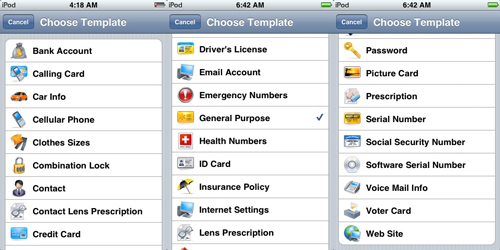 Illium provides a large selection of templates to easily input the data and keep information organized.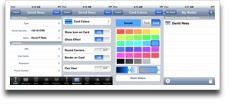 Click thumbnail to see full size image
Also, within each 'Category' you input each entry on its own 'Card' based on the provided templates.


Click thumbnail to see full size image
If you wanted to spend the time and effort, you can make each Card be completely individualized. From the color and background to curved or non-curved edges to the icon you associate with the entry.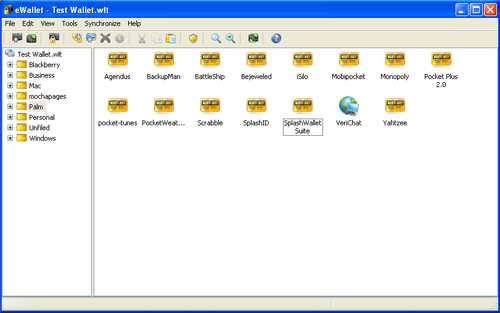 Initially, the iPhone application was released as a standalone product with no desktop sync capability. But on 8 Sept 08, Ilium released updates to both their Windows PC (6.1.2.24688)
and iPhone (6.1.2.115) versions of eWallet which enables you to sync via WiFi.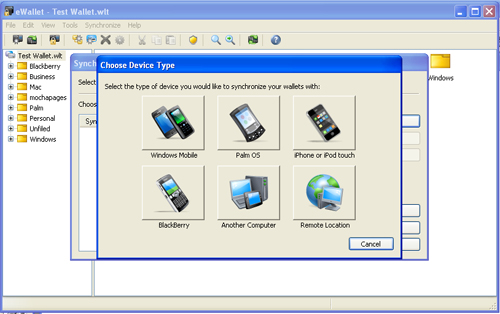 The sync process required Bonjour for Windows to be loaded on your PC before the wireless sync will work. Once again, the computer and device need to be on the same wireless network.
If I did not have a Windows machine lying around, this really would be a deal breaker for me. I can not imagine the amount of time it would take (and the hassle it would be) to input all of the data directly onto your iPhone/Touch.
eWallet for the iPhone is $9.99, half the cost of the Palm or Windows Mobile versions and according to Ilium it may be a limited-time introductory price (they are not sure). The desktop software (Windows only) costs $9.95 or a free upgrade for those who already own eWallet 6.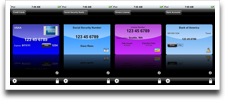 Click thumbnail to see full size image
Since the beginning, Ilium has promised a syncable desktop version for Mac 'sometime this year'. In my opinion, Ilium released eWallet (iPhone) before it was ready for primetime. With the bar set at wireless desktop syncing for a majority of applications, it seems like Ilium was rushing to get eWallet out the door and into iTunes. That being said, I am looking forward to trying out the Mac version of their desktop software. I am planning on taking the time to organize and tweak the look of each of my data entries (and hopefully clean out all my old/useless info in the process).You can keep up-to-date via Ilium's eWallet iPhone blog site.
Conclusions
Overall, all three of these iPhone applications do a good job of securely protecting your sensitive information. Which one you will ultimately prefer really depends on where you are coming from (i.e., the type of data, how you are using it, and the desktop platform you use). I am not going to tell you which one is best overall. All I can tell you is that I will continue using SplashID for the time being. Primarily due to my being use to it, all my data is tweaked the way I like it, and its always been a rock-solid performer for me. However, once Ilium releases a Mac version of eWallet that will sync with the iPhone/Touch, I will be giving eWallet another try. I like the graphical interface and hierological tiers of data keeping.
Just the iPhone/Touch applications range from free (1Password) to $10 (SplashID & eWallet). To make these iPhone/Touch applications (no matter which one you choose) truly useful and easier to manage/use, I highly recommend buying the desktop counterpart as well. The combined price of the iPhone/Touch application plus desktop companion ranges from $20 to $40 dollars, very reasonable for the safety and security of your critical data/information.
I have to mention the fact that since I suggested the concept of this review to Julie, the number of secure password/data keepers has increased many fold. I searched iTunes and here are a half dozen: Keeper ($0.99), Lockbox (Free), Lockbox Pro ($1.99), Mecrets Password Manager ($9.99), Saphir – The Password Manager ($7.99), Memengo Wallet ($1.99) and My Eyes Only ($8.99) to name a few.
Product Information
Price:
Requirements:
Pros:

Securely keeps your sensitive data with you all the time
Wirelessly sync to desktop counterpart
Assists in organizing your data and important information

Cons:

Few (discussed in the separate reviews)