We use affiliate links. If you buy something through the links on this page, we may earn a commission at no cost to you. Learn more.
I purchased the MSI Wind Netbook specifically for an upcoming vacation to Treasure Island, Florida. I usually take my Macbook Pro with me while traveling, but this time I wanted a laptop that was both light weight and small sized. After I had the Wind for a couple of weeks, I decided to try my luck at putting OS X on it. The process was pretty painless and as a result, I now had an itty bitty macbook to take with me to Florida. No more heavy gear bag digging a groove in my shoulder as I dragged it through the airport. Yay! Well, that was the dream…
Fast forward to the night before our flight… I decided to add a few apps to the Wind that I thought might come in useful. While I was installing these apps, the automated software update process started and popped up to tell me that there were updates. I am so used to installing new updates on all my other macs, that it didn't even occur to me at the time NOT to do this on the Wind. Everything would have been ok except that one of those updates just happened to be a new OS build. After rebooting the netbook, all I was greeted with was a Blue screen and a mouse pointer. At that point I immediately knew I was a moron for doing the update and started getting a sinking feeling in my stomach. A quick search on some of the MSI forums confirmed the fact that yes, I had done a no-no. I tried a few suggestions to recover and none worked. I figured I'd just do a completely new OS X install since I'd done it before with no issues. This was around 9pm. By 11:30pm, things weren't looking good. The install seemed to work fine until it stalled at one point. I left it over night thinking maybe it was just way slower than I had remembered. Nope, when I woke up the next morning, it was still stuck in the same spot. I decided to try a 2nd install. This time everything worked great. I had about 20 minutes before we had to leave for the airport and all I had to do was the last reboot. Guess what? That reboot resulted in a Blue screen with just a mouse pointer. ARGH!!! To say that I wanted to cry would not be that far from the truth. :o( I had to leave the MSI Wind behind and take my Macbook Pro with me instead. I wasn't a very happy camper.
I got over my sadness though and had a great time in Florida. The weather was great, Treasure Island beach was great too. I love that beach this time of year because it's not crowded at all.
Besides walking on the beach, shopping, eating and relaxing, we also did some crazy stuff like parasailing 1200 feet above the ocean!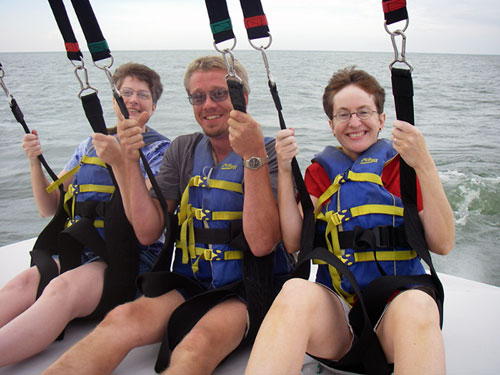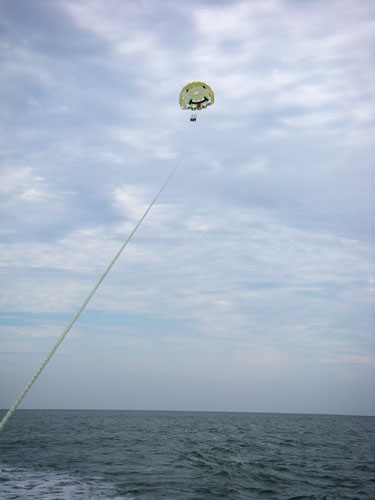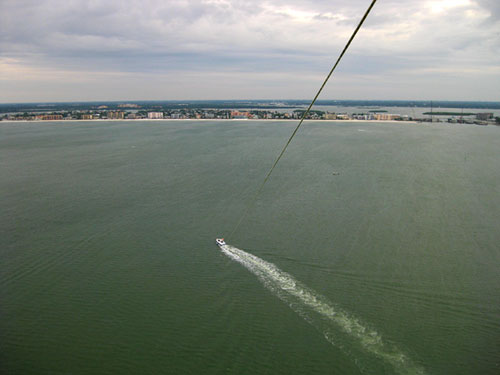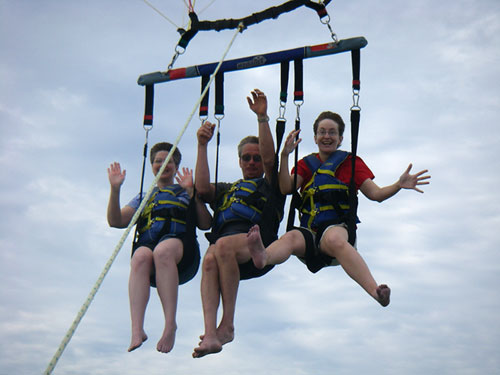 That's me on the right acting like a dork…
As for the MSI Wind, I don't know what I'm going to do with it. I may try to install OS X for a 3rd time and see if it will work. Or, I might go ahead and try Ubuntu on it. I've even thought about just putting Windows XP back on it. Since I don't have any immediate trips planned though, I am not in a big hurry to fix it.