We use affiliate links. If you buy something through the links on this page, we may earn a commission at no cost to you. Learn more.
A comments to my recent review of the Maximo iMetal iPhone Headsets suggested that I might want to try a similar iPhone compatible headset from Altec Lansing. Jody, a PR person for them, saw that comment and emailed me asking if I might like to try their inEar Earclips-S model iPhone headset with microphone. I said I would be happy to, and a few days later, a package from them arrived in the mail.
Hardware Specifications
Driver: 15mm High Power Neodymium Drivers
Input sensitivity: 110 dB / mW
Impedance: 32 Ohms
Cable: Long 46″ (1.2m) Tangle-free Cloth Cable
Weight: 0.85 oz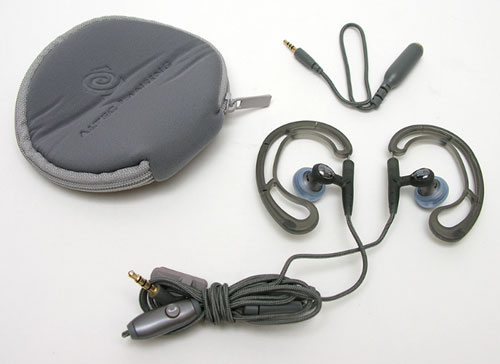 Package Contents
UHS307 headphones
Neoprene zippered carrying pouch
2.5mm stereo adapter
The UHS307 inEar EarClips have a design very similar to the Bang and Olfusen A8 headphones which I used to use all the time with my iPod. But I never use them with my iPhone due to the fact that they lack an in-line microphone.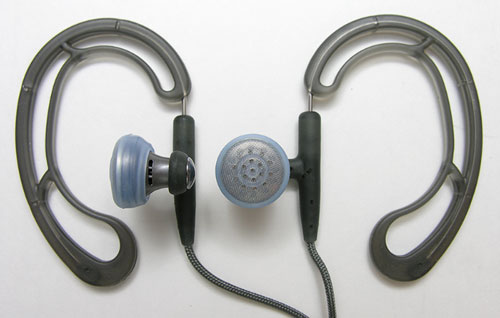 Like the B&O's, these also have an ear clip that goes around your ear like a pair of glasses, while the earbud can swivel in and out. This clip is springy metal with a Grey rubbery covering. The outside edge of the clip is firm, while the inside / bottom edge is more like a rubberband. This allows a very comfortable fit.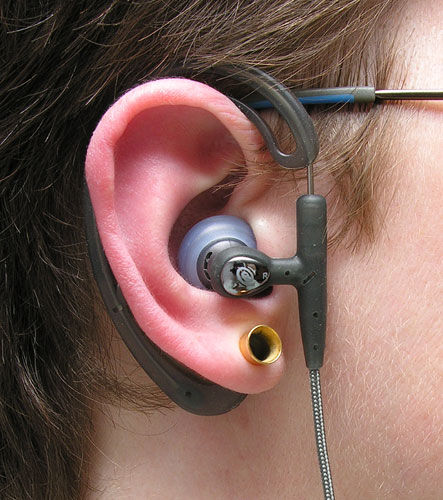 The ear bud rests just inside your ear, without going down into your ear canal. The fit is secure and would be great for both sitting at your desk listening to music, or working out / running. I have to say that these headphones are probably the best feeling ones I've tried in a long long time. I didn't have any problem with them interfering with my glasses and even after wearing them for over an hour at one time, I had no discomfort at all.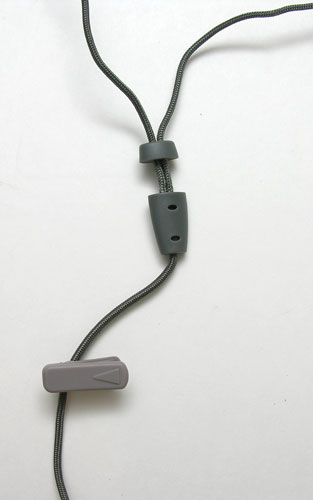 It's interesting that the cable has a cloth covering. This makes it feel a little stiff, but is supposed to prevent tangles. You can adjust the length of the Y section of the cable by moving a plastic slider. There's also a small plastic clip that you can use to clip the cord to your shirt if you like. If you don't like, you can just remove the clip.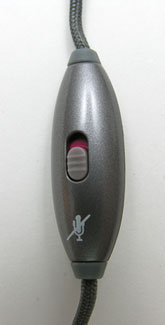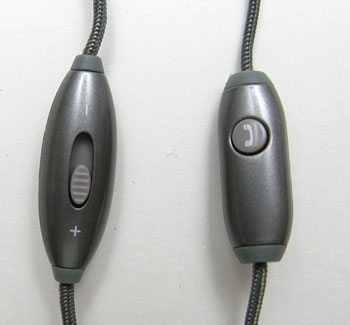 The cable has two switches built into it. Four inches below the Right earphone is the call answer / end / pause button and microphone. There is a small round push button built into this switch. It works fine, but I prefer the stock iPhone earbud switch because you can just squeeze it anywhere and it will activate. With this one, you need to press the actual button. Six inches below the Y in the cable, is the microphone on / off switch and volume adjustment slider.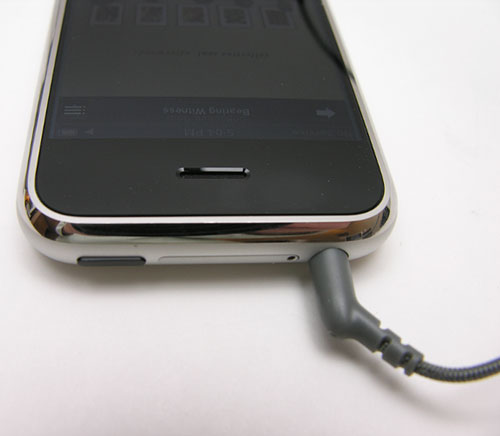 The gold plated 3.5mm plug fits the iPhone perfectly. If you want to use these headphones with a phone that uses a 2.5mm jack, you can use the included adapter. When used with phones other than the iPhone, the call answer / end / pause switch will not work. The volume slider is operational though.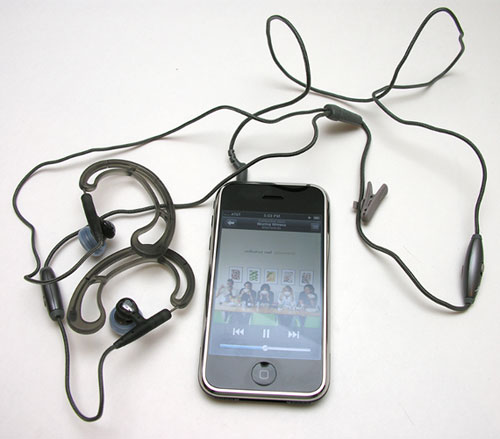 I found using these headphones to listen to music very enjoyable. While they really don't sound any better to my ears than the stock iPhone earbuds, they are infinitely more comfortable to wear for an extended period of time. The only gotcha is that these headphones take a few seconds longer to put on than the stock buds, since you have to situate them over your ears.
When used for phone calls, the headphone / microphone combo doesn't perform as well as the stock buds. I found the call audio to sound flat. People that I talked to remarked that I sounded ok, but a little quiet. When I switched to the stock iPhone earbuds and called them right back, they immediately recognized an improvement, as did I. I don't want to give you the impression that call audio with these headphones is terrible, because it isn't. It just is not an improvement over the stock buds and is somewhat worse.
The bottom line is that you'd need to decide if you're willing to deal with the trade off of gaining ear comfort, while losing some call audio performance. For me, I'm happy to recommend the Altec Lansing inEar Earclips-S because with a price tag of $40, they are both comfortable to my wallet as they are to my ears.
Product Information
Price:
39.95
Manufacturer:
Altec Lansing
Requirements:
Pros:

Very comfortable on your ears
Good sound quality for music
In line volume control and mic mute switch

Cons:

Call audio quality slightly worse that stock iPhone headset