We use affiliate links. If you buy something through the links on this page, we may earn a commission at no cost to you. Learn more.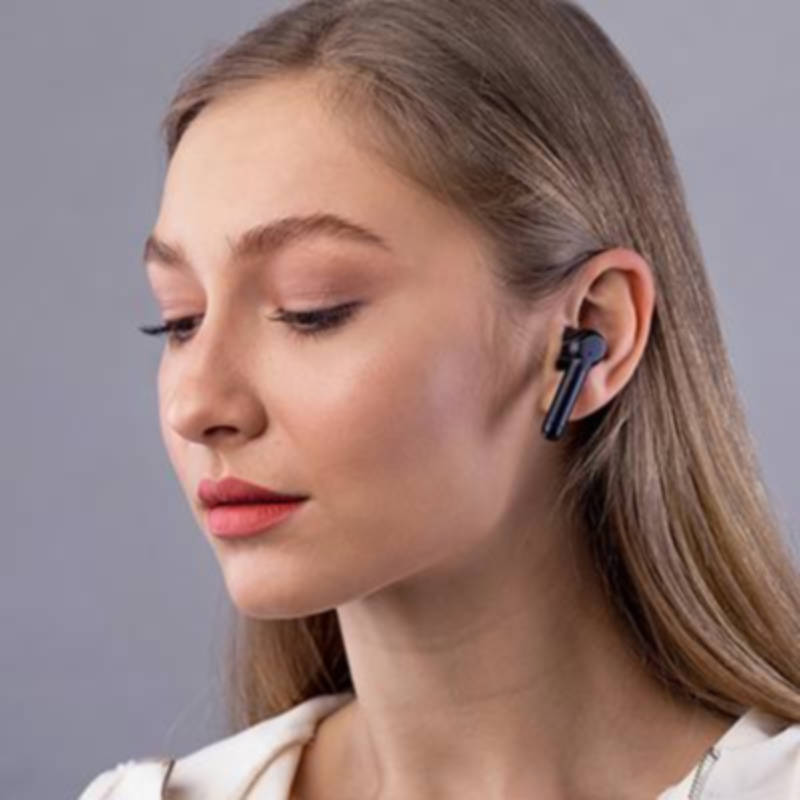 REVIEW – The xFyro ANC Pro earbuds are this reviewer's first wireless earbuds. There, I've said it. I have some high-end 'over the ears' for comparison, and some name brand in-ear types, so head-to-head (did he say that?) should make for a good test. Did the xFyro ANC Pro buds perform well with accurate sound production? Ne-Yo says 'yes' at the xFyro website but I had to test for myself.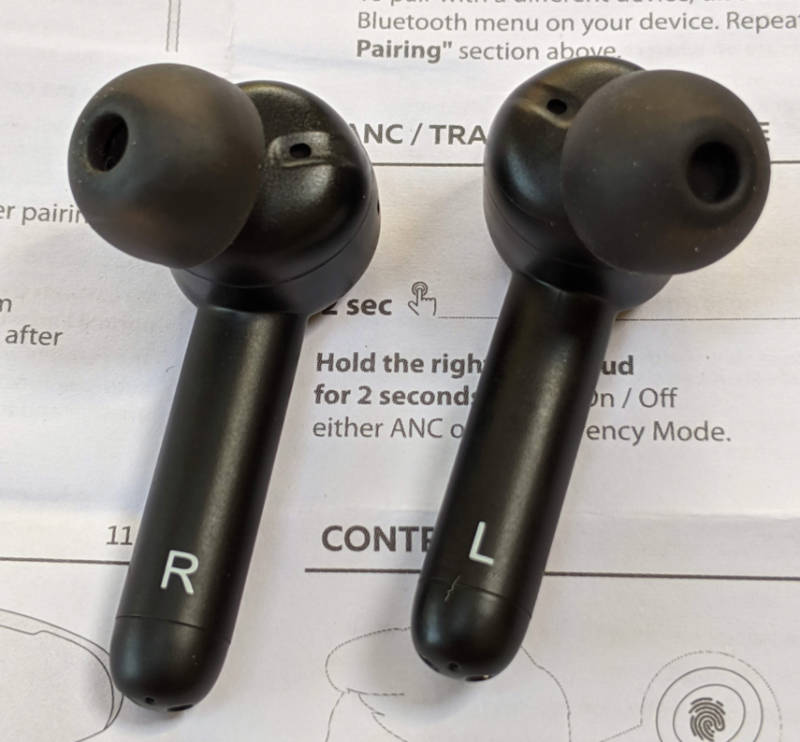 What is it
The xFyro ANC Pro earbuds are lightweight, water-resistant earbuds with long battery life and excellent bass tone production.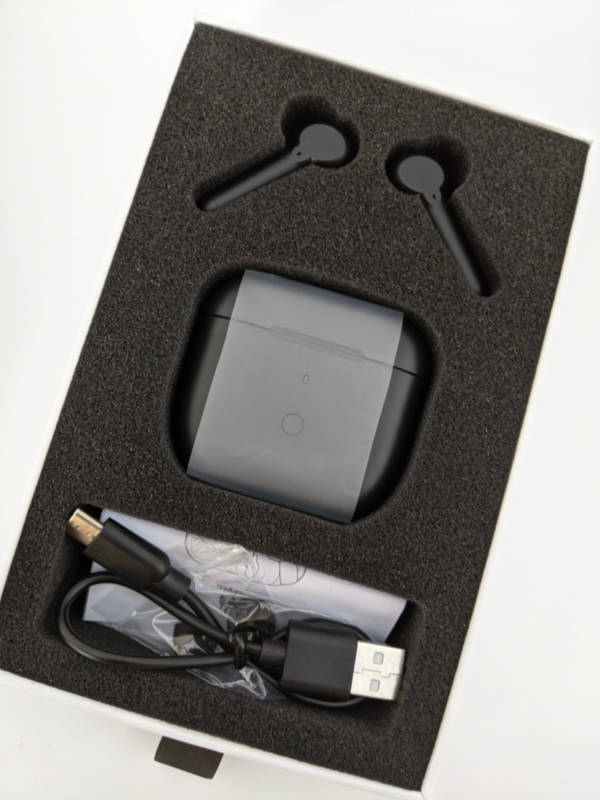 What's in the box
xFyro earbuds
3 sizes of in-ear tips
Charging/storage case
Charging cable – USB-A to USB-C
Instruction sheet

Specs
AI-Powered Noise Cancelation: Toggle between ANC (automatic noise cancellation), AI Transparency Mode, or standard audio settings.
Bluetooth 5.0: Auto-pair from 30 ft. No lag or loss.
Studio Quality Audio: 7mm graphene drivers. Dual-beamforming mic for clear calling.
Ergonomic Fit: Includes 3 ear tip sizes.
All-Day Battery: 100 hours listening time. 10 hours per charge. 90 hours in the carrying/charging case.
IPX5 water resistance.
Shockproof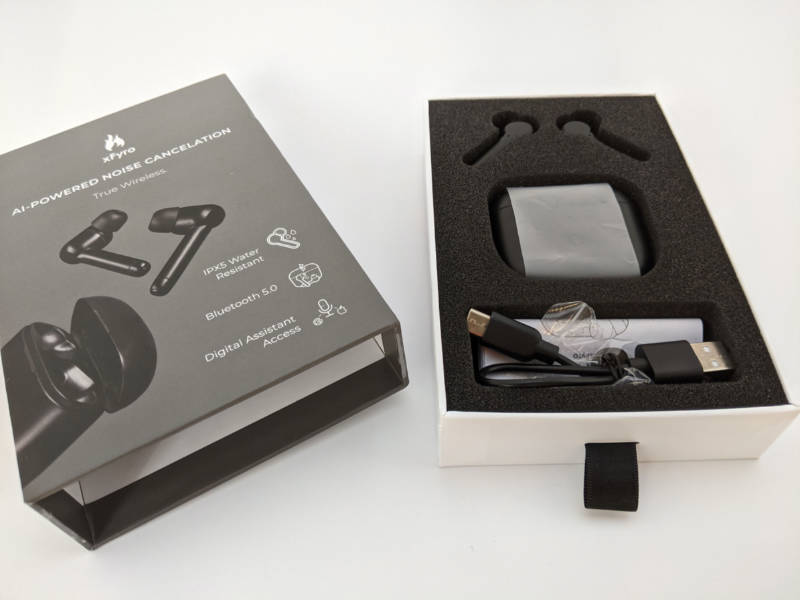 Design and features
xFyro ANC Pro earbuds are a true wireless system using one bud per ear. I specify because there are tethered earbuds, earbuds on headbands, neckbands, etc.  These are constructed of durable plastic that feels solid and 'professional', not toy-like.  Controls are associated with long or short taps or holds on the flat, round piece that sits outside the ear.  The buds can be set to cancel ambient sound or pass it through.  I call 'transparency mode', 'marriage saving mode' as it allows me to hear voice commands as they are issued.
Here's xFyro's direction on 'How to shower with waterproof earbuds':
https://www.xfyro.com/blogs/news/how-to-shower-with-waterproof-earbuds-1
I probably won't, even though these are IPX5 rated which means they can take a few minutes of spritzes of water.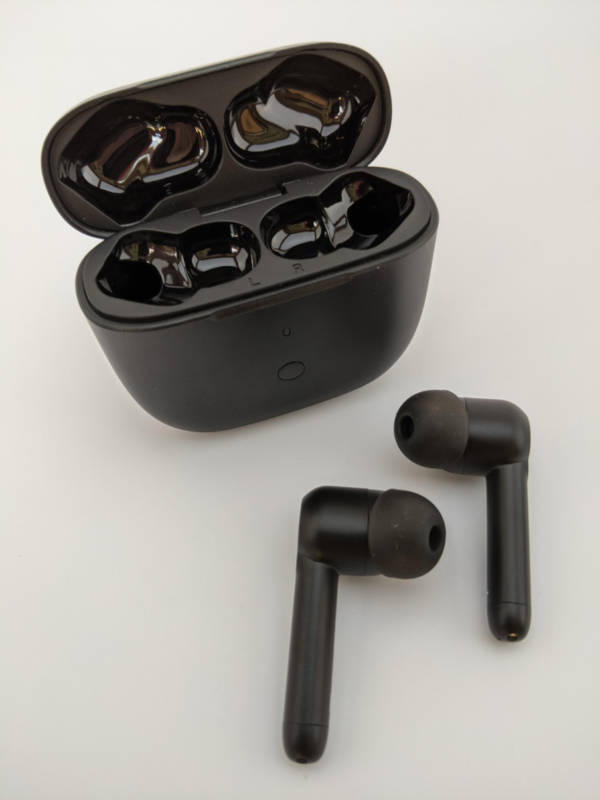 Setup
Pairing the xFyro ANC Pros to my phone was faster than most devices I've paired before. That was very welcome. Once the xFyros were paired with my phone and the other devices I wanted to pair them with, I only had to select 'xFyro ANC Pro' when I chose a device to use them with. I sometimes had to turn off Bluetooth on a device if two devices to which I'd paired the buds were in close proximity. I am testing 3 audio devices at once so that adds a tad of complication to my phone's Bluetooth delivery.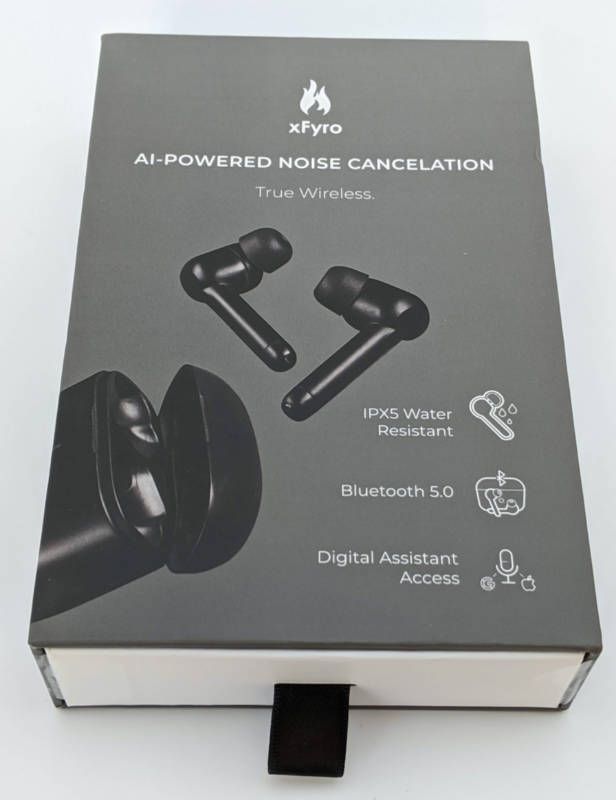 Testing and observations
xFyro claims the ANC Pros have "AI powered noise cancellation."  The website says "xFyro's AI filters the sounds you need to hear from 6000+ distinct sounds in its memory." Would the AI allow a sound not among the 6000+ to pass through to be heard? Sometimes we just trust.
A voice tells you when you're in ANC mode (automatic noise cancellation) or in 'transparency' mode. The difference is, the mic is either on or off which allows ambient sound to be muted or heard through the earbuds. The voice also says "pairing", "earbuds connected", etc.
For testing I used a variety of mostly rock music and some classical.
Call me retro but the song 'Breathless', by The Coors, has a prominent kick drum intro and the hi-hat follows. (The hi-hat is the drummer's instrument that has two cymbals that open and close together.) It was a good piece to use to check lows and highs through an audio device.
The Fleetwood Mac album 'Rumors' on Spotify is listed as a 'Super Deluxe' remaster and seems to have more defined and clearer sound than standard Spotify or YouTube music recordings. It was also a good album for sound equipment testing.
Kick drums sound deep and punchy through the ANC Pros, but hi-hat, tambourine and cymbals are not as clear as they should be. There should be a well defined 'chick chick' or 'tik tik' from the hi-hat but it's more distant or in the background with these earbuds. This indicates the xFyro ANC Pros handle mid and bass sound ranges best.
Overall sound from the ANC Pro earbuds is, to my ears, very good, but not quite excellent. In most music I played, low-end frequencies had more emphasis than did higher end frequencies. I want to emphasize that the bass tones were surprisingly good through the ANC Pros, so if bass is your major interest in music, take note. (sorry)
I sometimes had a hard time getting the xFyro buds out of their charging case due to the matte finish of the plastic. Maybe it's dry-handed me? I actually think a shiny finish would be easier to grip. I sometimes found it necessary to pinch the earpiece to pull the buds from the case. I laughed when I got a call, knew it would be a long one so I tried to get the right earbud out before the ringing stopped. I couldn't get it out of the case and missed the call. The buds don't shake out of the case with rational force due to magnetic attachment when they're in the case so I had to learn to pinch the exposed plastic as firmly as I could then remove the buds. That usually worked.
The ANC Pros did great during indoor or in-car phone calls. Outdoors in slight wind made for bad audibility while speaking to my better half.
It is necessary to learn the earpiece taps that execute the functions of the earbuds. Apologies to those I hung up on as I tried to adjust the position of the buds in my ears. There are no moving parts on the buds but long and short taps on the back of the bud part in the ear do things like increase/decrease volume, change to next song, and change to noise cancellation (ANC) or back to 'transparency' modes. It is best to hold the long thin part of the bud to adjust in the ear because that section has no touch actions.
The buds fit comfortably and were stable throughout my testing.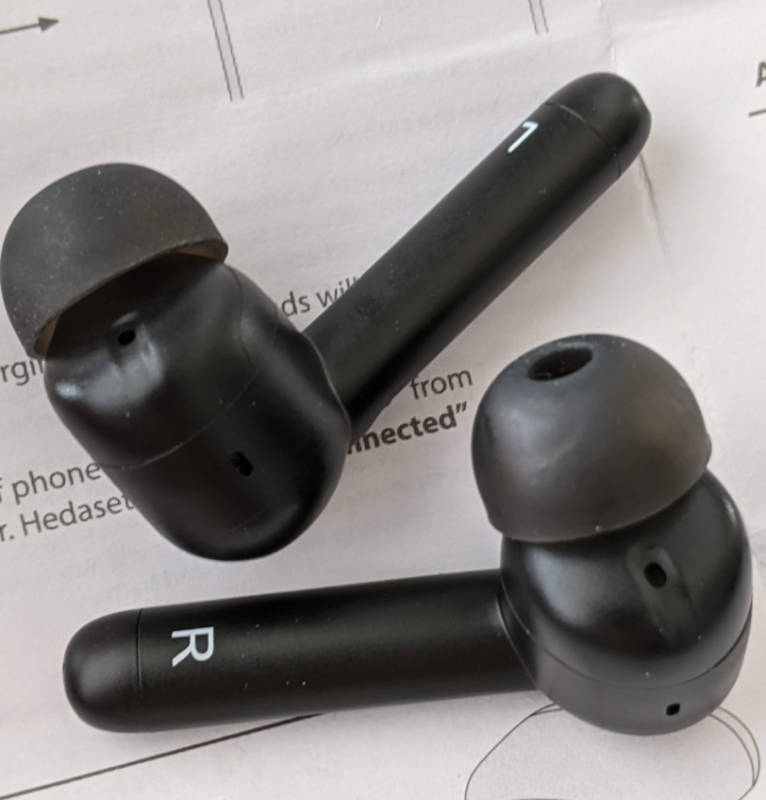 What I like
Either earbud can be used independently. For phone calls or Zoom meetings I don't always enjoy having both ears occupied. The right earpiece seemed to have more control functions than did the left so I defaulted to wearing the right bud when I was out and about making and expecting calls. The biggest risk in using one ANC Pro earbud is, volume up is done with the right bud, volume down with the left. I found I could turn the volume all the way up on the right bud and control downward volume with my phone or other paired device.
'In use time' was excellent. In my testing I never ran the ANC Pros down to a low battery warning. Placing the buds back in their storage box charges them.
When I called people they reported my voice sound was excellent while using the ANC Pros.
I never lost an earbud and they never slipped out of my ears, even when exercising.
The combination of the ANC function and fit of the earpiece tips ensured good sound isolation and protection from ambient noise, in my experience. I have a loud vacuum and I did not have to increase volume much when I used the ANC mode during vacuuming. These wouldn't provide appropriate hearing protection on a tarmac or shooting range but for carpet cleaning or loud children, thumbs up!
What I'd change
The finish of the xFyro ANC Pro earbuds makes them sometimes difficult to remove from the case.
I wish these earbuds reproduced high frequencies as well as they do lows.
90 days seems a brief warranty period.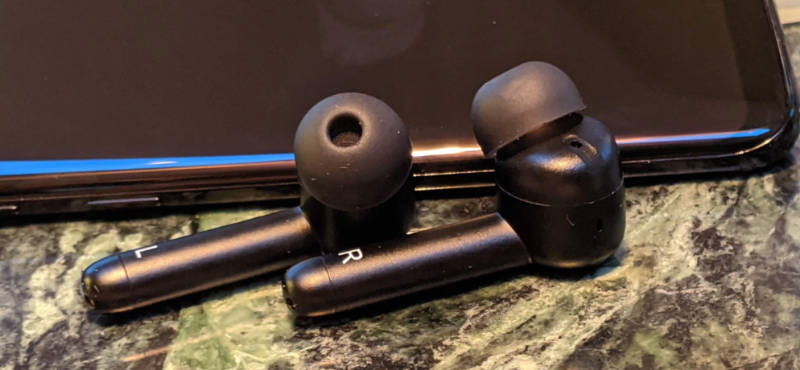 Final thoughts
If bass is your thing when you listen to music, the xFyro ANC Pros may be a great match for your style of listening. If you need an in-ear set mainly for phone calls and Zoom meetings the ANC Pros will be top-notch performers.
Update 8/26/21
For some months I am unable to count on the xFyro ANC Pro earbuds to sustain lengthy phone conversations. It isn't battery life. I've unpaired and repaired them a couple of times with no change. I can listen to music or podcasts through the xFyros for long times but something odd eventually causes people to not hear me during phone conversations at some point on calls longer than a few minutes. Sometimes the call gets back to normal but I usually have to quickly turn off Bluetooth on the phone to carry on the conversation.
Price: $125
Where to buy: xFyro
Source: The sample for this review was provided by xFyro.