The Gadgeteer is supported by readers like you! If you buy something through links on our site, we may earn an affiliate commission. Thank you! Learn more.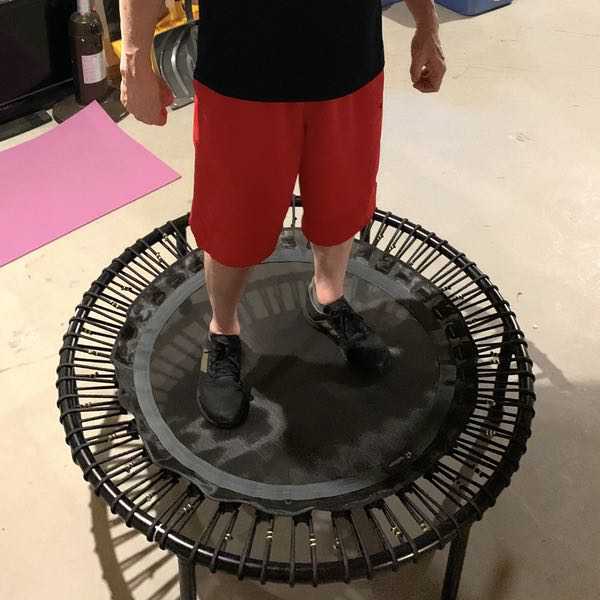 REVIEW – I did not have "rebounding" on my list of fitness things to try in 2021…. but here we are! I'm testing the Bellicon GO exercise trampoline and their online video services. Let's get ready to bounce. To the review!
What is it?
It's an exercise trampoline used for rebounding (low-impact fitness programs based around a mini trampoline).
What's in the box?
You'll get the trampoline including the frame, mat, and bungees. A pair of grippy socks are also included. Assembly is required.
Hardware specs
I'm reviewing the Bellicon GO model, which has the following specs:
44″ diameter
14″ tall
UV resistant woven polypropelyne mat
High gauge steel
Patented bungee technology
Supports up to 440 pounds (with different bungees)
3 part round frame
Customizable configuration
Design and features
Bellicon manufactures a whole lineup of customizable exercise trampolines/rebounders. The new GO series that I am testing is the "value" brand (none of these products are inexpensive!) and requires home assembly. Bellicon also offers two different subscription-based online services with a whole bunch of programs to keep you moving.
This review takes place in 3 parts. I'll start with the assembly process. Then I'll walk you through their premium Bellicon Live app. After that we'll talk about the overall experience.
Setup
While the original Bellicon products comes pre-assembled, you'll put together the Bellicon GO yourself. But don't be intimidated by that; assembly is a pretty simple affair. Everything comes nicely packed & organized to get you started.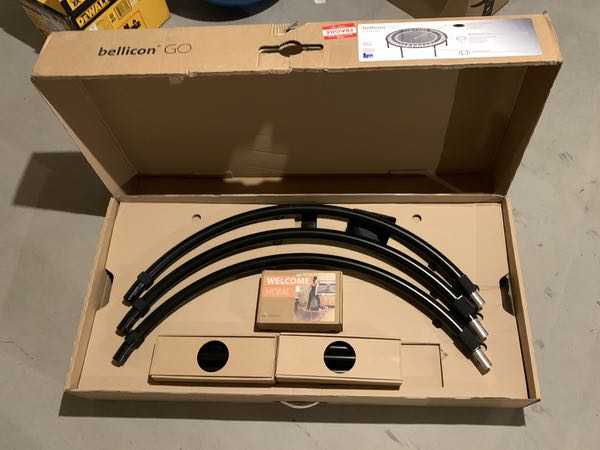 Right out of the box you'll get a sense for the quality of the Bellicon GO. This German-engineered trampoline rocks heavy steel construction, beefy bungees, and a thick multilayered mat surface that is built to gym-quality specifications.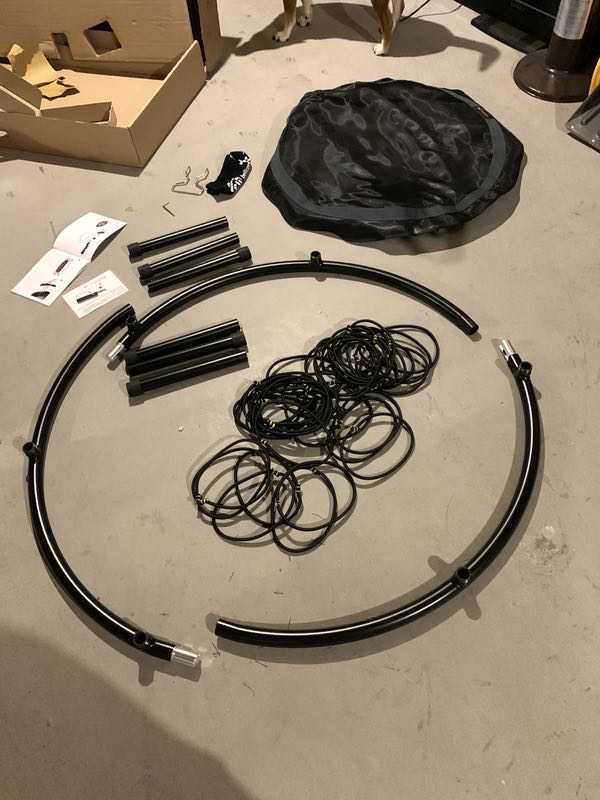 The assembly instructions provide clear, detailed illustrations.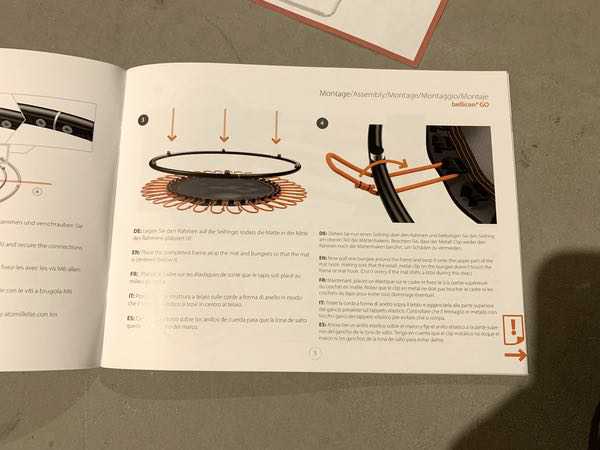 You'll start by attaching the bungees to the underside of the mat on those heavy plastic clips. There are 30+ bungees to be connected before you're done.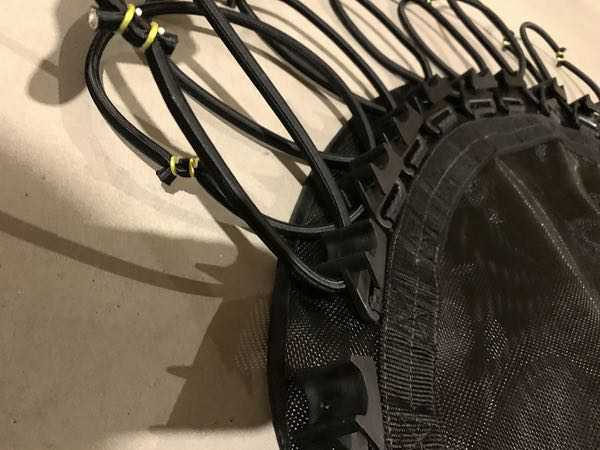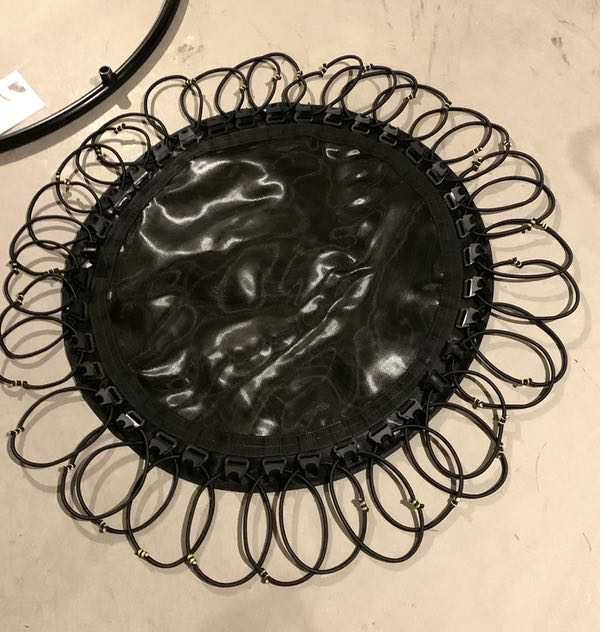 The steel frame comes in 3 parts that you'll assemble into a ring, after which the bungees are looped around the frame to connect back to those clips on the underside of the mat.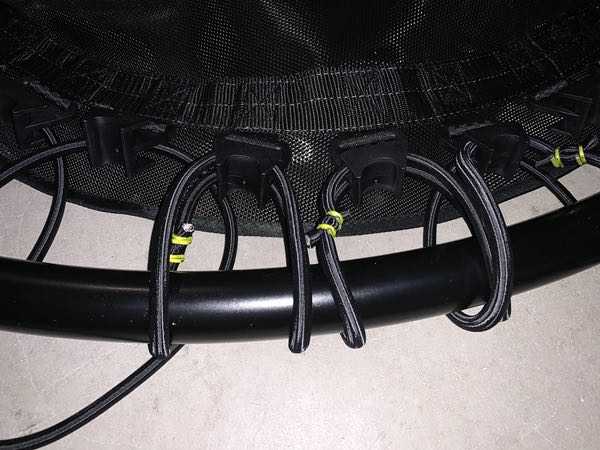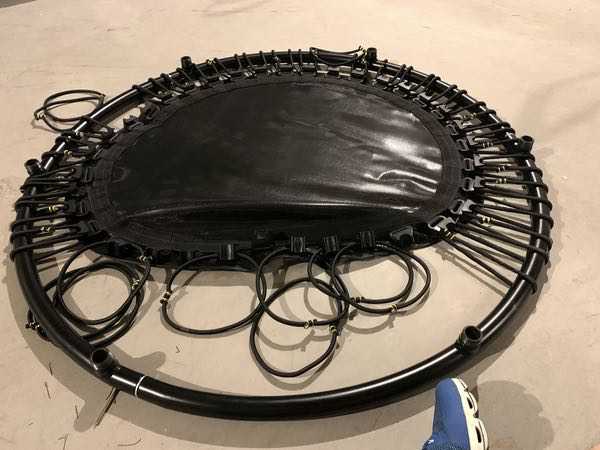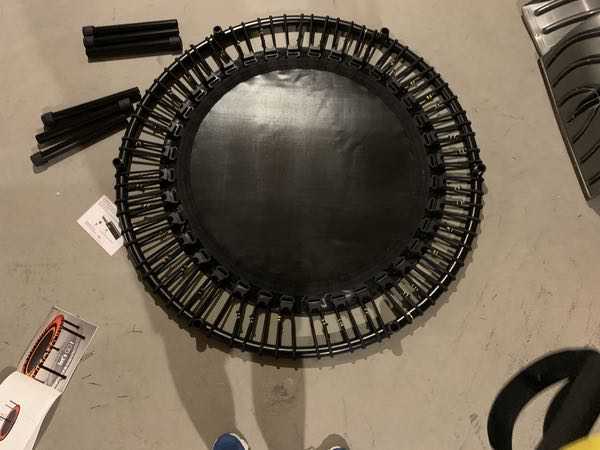 Finally, you'll screw in the 5 posts included in the package. These posts have rubber feet to help with stability when you start jumping on the trampoline.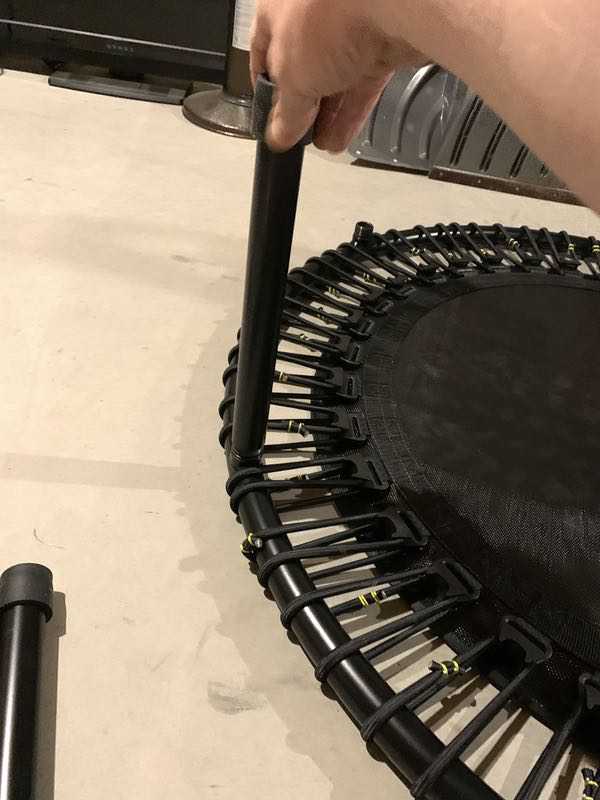 And here it is fully assembled. It took me about 30 minutes to put together. Bellicon also includes a pair of grippy socks in your package.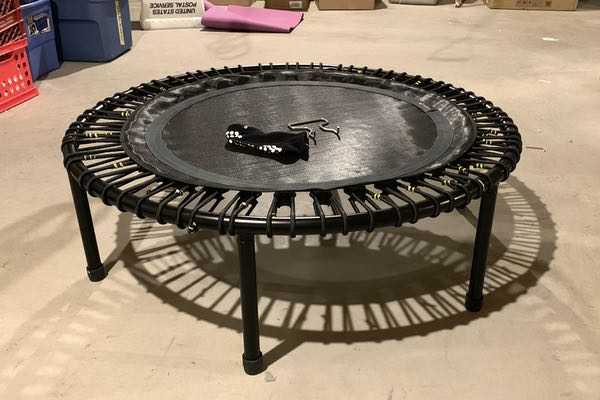 There's a guide on their website to match the right bungees to your weight and training type. We have the "strong" bungees here, designed for intense training up to 200 pounds. You can also select options for different colored mats, and there are even more configurations and add-ons (like a T-bar for advanced workout) with some of the models.
This is not an inexpensive piece of gear (the model I am testing starts at $499), but the build quality is exceptional. The frame is rock solid, and the multilayered mat is built for both easy cleaning and durability. Not only is this beast in the "buy it for life" category for the build, but it gives you a lot of confidence that it won't fail while you are using it.
The Bellicon Live
Bellicon offers two different subscription-based online offerings with hundreds of workout videos designed for your trampoline. Bellicon Home is a browser-based, video-on-demand system that is updated weekly. Bellicon Live, which I am reviewing here, is app-based and includes access to multiple live classes daily. Both services offer get-started videos, fitness plans, and progress tracking.
Log into the Bellicon Live app and you're presented with a schedule of live classes all day hosted by instructors in different countries and time zones. Bellicon also e-mails you a weekly schedule if you want to plan ahead.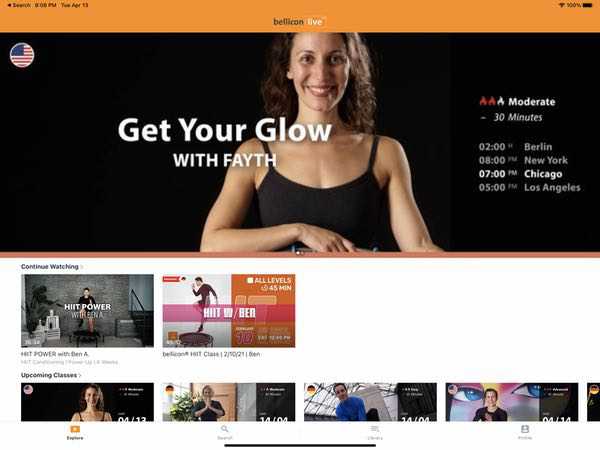 The Bellicon Live app offers multiple methods for browsing its ridiculously deep content catalog. Here I have selected HIIT as the exercise type, and I'm presented with the live schedule for upcoming HIIT classes as well as a back catalog of on-demand videos available.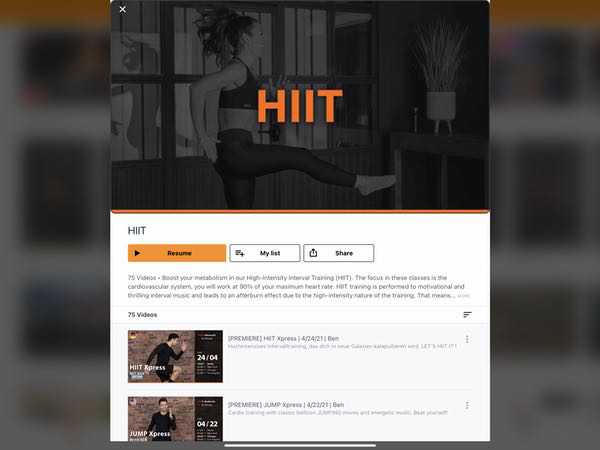 Below is a sample I pulled when I browsed by workout intensity. You have options that range from low-intensity programs for newbies & those with physical limitations up to the hardcore stuff for fitness fiends. There are also programs available for different time lengths to accommodate your schedule.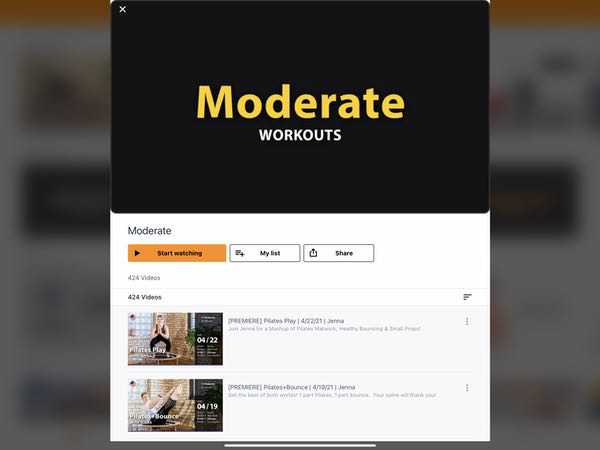 You can also browse by instructors, each of which has a particular specialty and style. Some programs are also offered in different languages. You can add any program you like to your own list of favorites for quick retrieval, or download videos for offline use.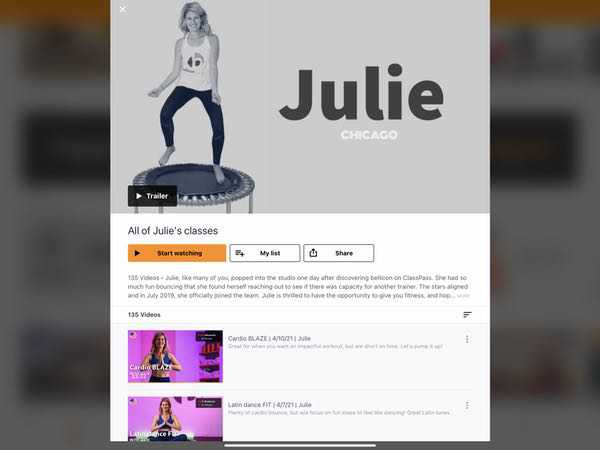 There's a massive amount of content here! With a little exploring, you can find just about anything you need to match your training and time requirements.
When you choose your workout (live or recorded), you can go into full screen mode to follow along with the instructor. If you've done any sort of live or recorded training video before you'll be familiar with the format. Most programs start with a warm up, varying levels of intensity, and spirited coaching by the instructor that offers alternative techniques if you have physical limitations. A timer in the corner counts down the duration of the program.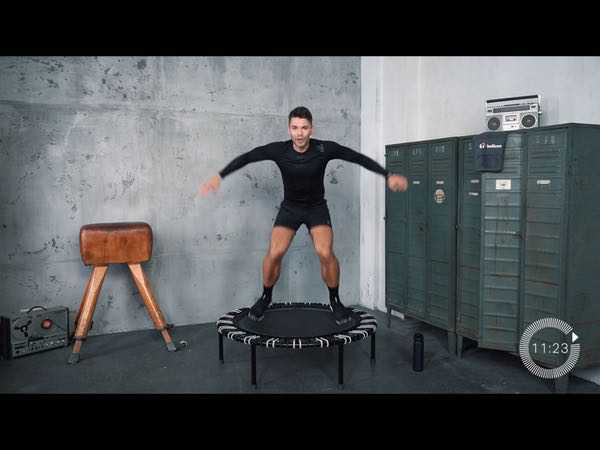 I was pleasantly surprised to find that the bouncy-bouncy stuff wasn't all to be had here. There's a bunch of content that's related to building strength, developing stability exercises, core training, mobility, and even Yoga as seen below. Everything incorporates the trampoline in one way or another.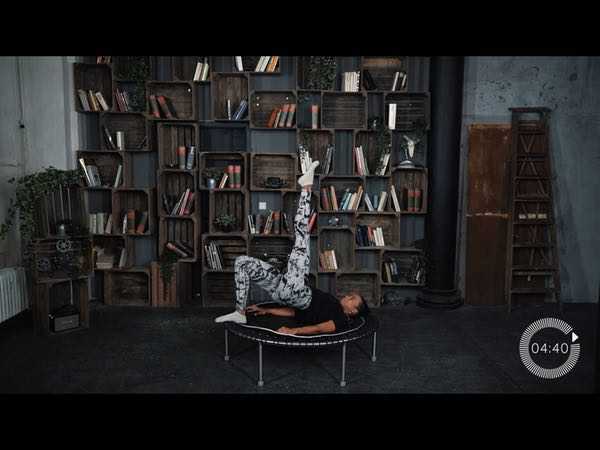 I counted 17 different instructors available through the live app with multiple languages available. Live classes are streamed from all over the U.S. and Europe, with different time zones enabling you to find live events that fit your schedule.
You'll probably spend a lot of time browsing the hundreds of videos, but Bellicon Live's extensive catalog makes it pretty easy to experiment with different programs to find what moves you. You can also run the app on third-party TV services like ROKU, Apple TV, and Android TV (Amazon Fire is in development).
I did not spend as much time with the Bellicon Home service, but the content pulls from the same catalog. The big difference is that the Home service is browser based and doesn't offer live classes. Updates are also made weekly as opposed to daily with the Live app (I believe the Live app offers more content overall).
There's also a price difference. The Live app costs about $20 a month, while the Home service is about $10 a month. Both do offer discounts for yearly subscriptions. Both offerings include a trial period with your purchase.
Performance
If you had told me that my chunky & uncoordinated self would be doing trampoline exercises a year ago, I would have called you crazy. But you know what? I'm digging it!
My lack of coordination comes with a pair of bad knees, so I have to be careful about high-impact workouts. The trampoline is lovely for enabling you to build cardio and stability with low-impact exercises. Here I'm doing high knees, something I would probably avoid on a flat surface.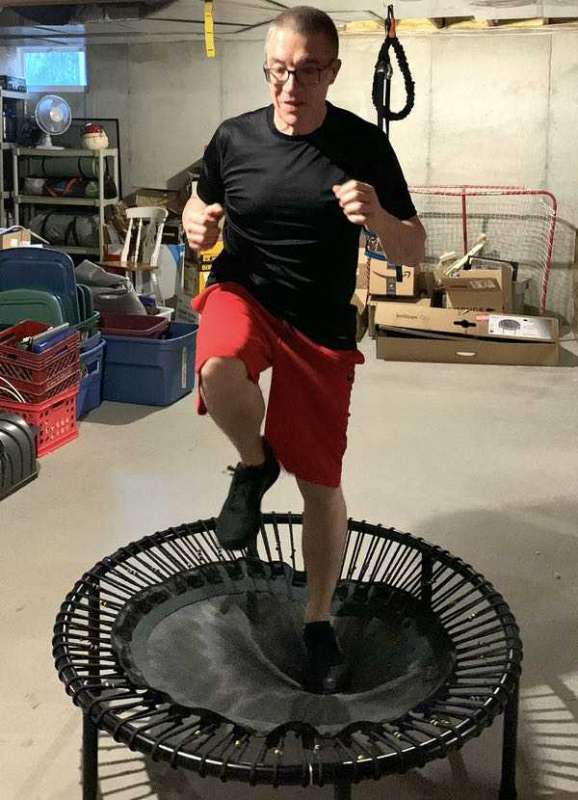 I really like the breadth and depth of the programs offered on the Bellicon Live app. Some basic tutorials and programs enable you to start slowly while you get used to using the trampoline, setting you up to build the intensity as you get used to it. And you can get intense quickly. I'm somewhere in the middle of an interval program here that alternates between jumping jacks, lateral jumps, running, and a whole bunch of other stuff.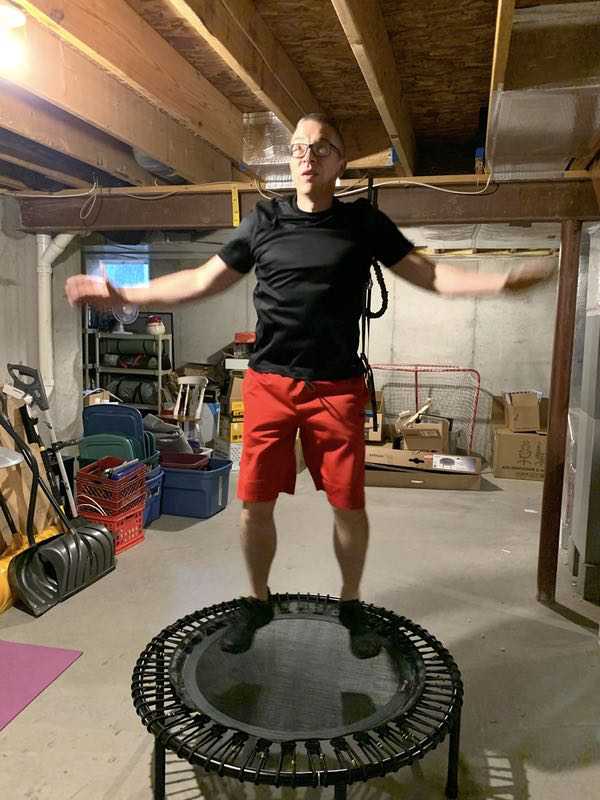 The beefy construction of the Bellicon GO gives you confidence as you get used to the moves; it's ridiculously stable and strong even when doing aggressive lateral movements or high jumps like I am going here. You DO have to work on your balance, but you'll never feel like the thing is going to collapse on you. And I would know. I'm a lumbering oaf.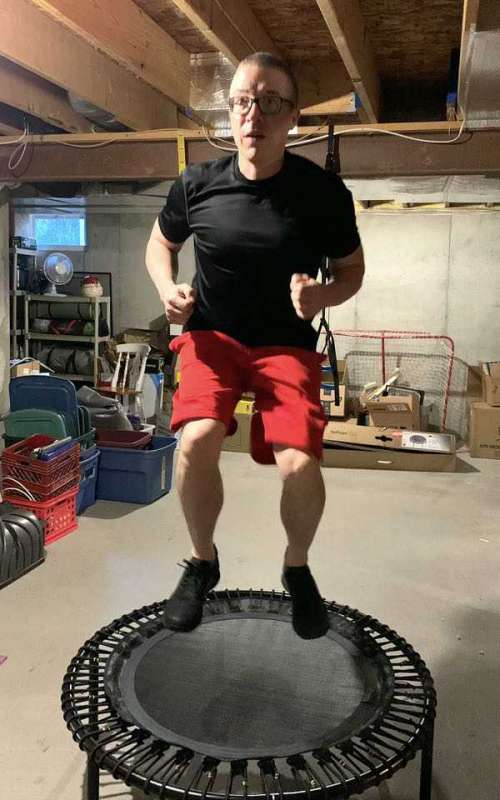 I was pleasantly surprised by the program variety. There are programs and trainers that focus on low-intensity work for people with physical limitations, cardio fiends, dance style programs, high intensity training, core stability, upper- and lower-body strength and even stuff for kids. I really think that the app shines here. It may be an investment at $10 or $20 a month, but they do a great job of continuously adding new content to challenge you and mix things up.
There's also the accessibility factor to consider. You can set up the trampoline just about anywhere in your house, do your work, and stash it in a corner or closet when you are done. In addition to the long programs, I like to pull it out when I am doing strength training for some quick-hit work between sets. It's convenient and there's no setup required to get to work.
One note about footwear: Bellicon recommends that you use the rebounder barefoot or wearing grippy socks. Sneaker are alright too, but plain socks will present a slipping risk.
What I like
Buy-it-for-life quality
Superb construction that inspires safety and confidence
Excellent app with a great interface and impressive variety of content
What needs to be improved
Final thoughts
I'm enjoying rebounding more than I expected to with the Bellicon Go. I'm a big fan of the improvements I'm feeling in my stability, core strength, and cardio endurance without the aching knees. It ain't cheap, but I believe the quality of the Bellicon GO is in alignment with the price point as an exercise tool that's going to be reliable for a very long time. The online services are not inexpensive either, but you're getting your money's worth out of the quality and variety of content if you're planning to do rebounding as a regular part of your exercise routine.
Price: Pricing starts at $499 with optional upgrades
Where to buy: Go to the Bellicon Web Site
Source: The sample of this product was provided by Bellicon.
Support The Gadgeteer
:
The Gadgeteer is supported by readers like you! If you buy something through the links on our site, we may earn a small affiliate commission. Thank you! Learn more.