We use affiliate links. If you buy something through the links on this page, we may earn a commission at no cost to you. Learn more.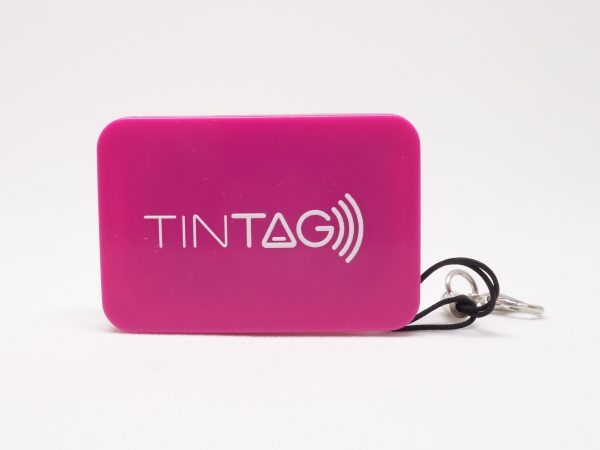 It's been a few years since the first wireless trackers seemed poised to make lost keys and other items a thing of the past. Having tried and been disappointed by several of the foremost available devices, I was excited to see if Tintag could deliver on the promise.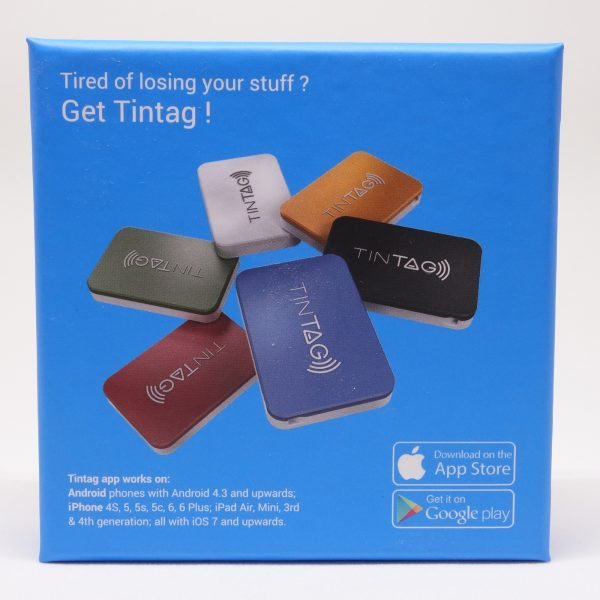 First funded on Indiegogo in November 2014, Tintag is similar in purpose and function to many of the other available trackers. Its most distinguishing feature is that it is rechargable. Otherwise, most of the features are ostensibly similar to the competition's.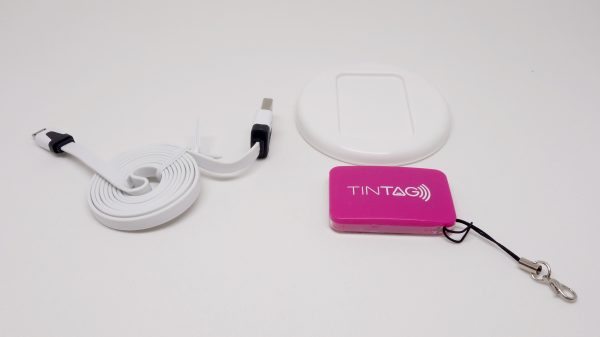 The Tintag comes well-packaged with everything you'd expect. There's the tracker itself, an attachment loop, a flat micro-USB cable, and a white charging base.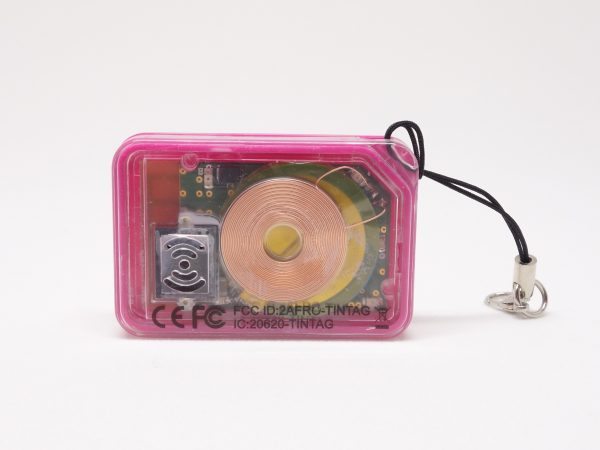 The tracker measures about 1.7 x 1.1 x 0.5 inches and comes in an assortment of colors including black, white, blue, pink, red, orange, and green. On the front, there is a button beneath the "G" in the TINTAG logo. On the back, there is a small speaker. Overall, the tracker was light and unobstrusive, and it fit comfortably on my keys (my sample product was unfortunately of the pink variety, but I did not let this deter me from displaying it prominently). Tintag is advertised to be waterproof, but beyond some light rain, I did not seriously test this claim.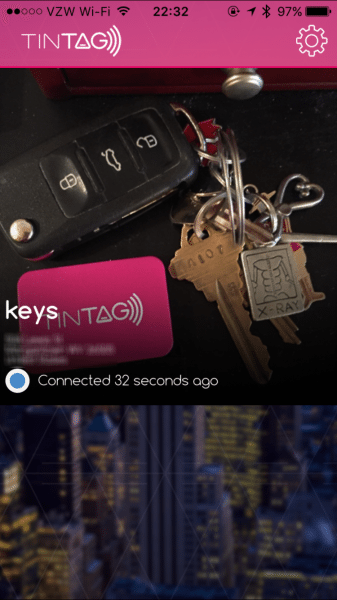 To start, you attach the Tingtag to your keys or other object. The Tintag connects to your phone through Bluetooth, and you will need to have the companion app (available for iOS and Android) installed. I was able to download the app and pair my device without much ado. You have the opportunity to snap a photo of your tracked object and label it. And that's it for set up. Nothing more to fret about–at least until you actually lose something. The app itself is basic but functional and reliable; it has not crashed on me in my 6+ weeks of use.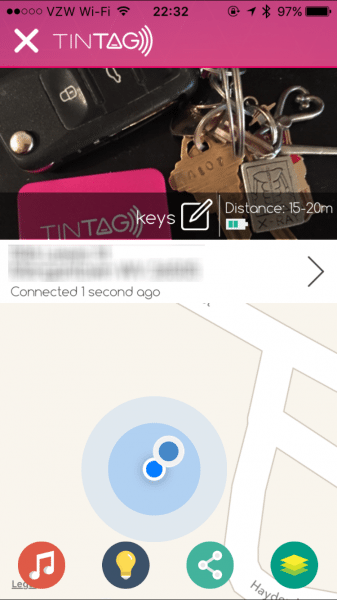 If you misplace your item and know it's in the local vicinity (the makers claim a 100m range without obstructions; for me, it worked well anywhere in my apartment), Tintag works brilliantly. Using the app, you can trigger the tracker to emit a light or sound that will easily guide you to it. While not particularly loud, the chime is high-pitched and can easily be heard from anywhere in the room and probably the next one over. This funcitonality also works in reverse, and you can trigger an alert on your phone by pushing the "G" button. The app will give you a rough idea of how far you are from your object, and it also displays a map showing your location as well as the tracker's. In my tests, the rangefinder was remarkably accurate while the map was not. Nevertheless, Tintag was overall very consistent in chiming or flashing whenever I triggered it, and I could effectively locate any lost object in my apartment with ease. I should note that this was not the case with the other trackers I've used in the past.
Where Tintag is less effective is if you lose your item completely and have no idea whether it's in the same building or halfway across town. How it works is that the tracker connects with your phone periodically, updating its location. If you then lose your keys, it will show you prior locations so you can retrace your steps. I do not know how frequently or when the tracker connects, but in my tests, I found the lists of prior locations to be incomplete and inconsistent. You can also mark any object as lost in the app, and purportedly this will allow other Tintag users' phones to pick up on the signal for your tracker so you can be alerted of its location if someone else within the Tintag community is nearby. This could potentially be useful if Tintag becomes popular, but for now, it was expectedly ineffective.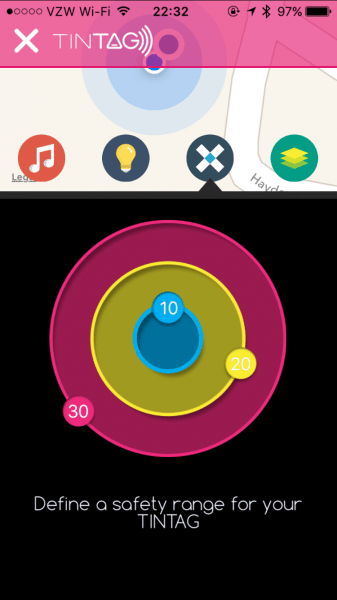 You can also activate a "digital leash" whereby you set a maximum range between your phone and the tracker. If you walk away without your keys and exceed that distance, your phone will alert you. This functionality was unpredictable, and the alarm would sound even though I was obviously within range. I rarely activated this feature for fear that it would suddenly go off at an inopportune moment.
One final note is regarding battery life. Other notable trackers advertise roughly 1 year of use before needing to be discarded and replaced. Tintag reports only a 4 month battery life but is rechargeable. I have had my Tintag for almost 2 months, and the indicator in the app still shows 2 of 3 bars, so I have no concerns regarding the veracity of the claim. Thanks to the wireless charging base, recharging is a snap.
Tintag is a worthy entrant to the field of lost-and-found trackers. Despite its shortcomings, I have found it to be the most consistent in its connectivity and range. When it comes to misplaced or hidden objects within the vicinity, Tintag can be relied on to help you find them. I continue to await that tracker which can effectively locate lost items wherever they are, regardless of distance. In the meantime, I do recommend Tintag and will continue to use it.
Source: The sample for this review was provided by Tintag. Please visit their website for more info.

Product Information
Price:
29.00 Euro (currently 32.73 USD)
Manufacturer:
Tintag
Retailer:
Tintag
Requirements:

Apple or Android smartphone

Pros:

Form factor
Build quality
Effective sound and light alerts
Wireless charging
Battery life/rechargeable
Reliable connectivity within range
Accurate rangefinder

Cons:

Inconsistent results when displaying prior locations
"Digital leash" unpredictable and alarms inappropriately
Community finding feature not useful until device becomes more widespread