We use affiliate links. If you buy something through the links on this page, we may earn a commission at no cost to you. Learn more.
In this day and age, we are all aware of our impact on the planet. As a gadgeteer with gadgets galore, I often feel guilty when it comes to charging their batteries using various AC adapters plugged into sockets all over my home. So, what could be better than a way to charge these gadgets without increasing your carbon footprints every day? How about a charger that uses the sun? The Solio H1000 Universal Hybrid Charger claims to help you with this task. Let's check it out…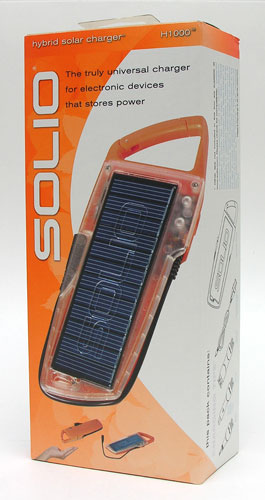 Hardware Specifications
Rechargeable battery 3.7V 1000mAh (Lithium Ion
Rated output: 1.5 to 5 watts
DC input charge range: 5-6 volts at 400mA
Solar panel output: 0.6 watts
Dimensions: 198 x 68 x 18mm
Weight: 4.6 oz.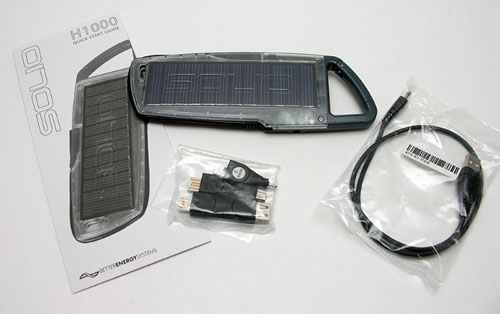 Package Contents
Solio H1000
USB Charging Cable
USB Port Replicator tip
Mini-USB tip
Nokia tip
Instruction manual
The H1000 is 5 x 1.5 inch solar panel incased in a plastic shell. The solar panel is connected to a Lithium Ion rechargeable battery. The idea is that you use the sun to charge the internal battery and then connect the Solio to other devices to charge them using that stored power.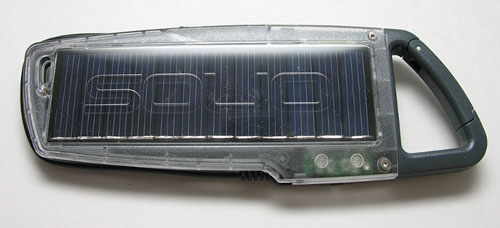 You can see the solar panel through the clear plastic on the front of the Solio. On the bottom Right corner, there are two status LEDs. One for charging and one for battery capacity information. A plastic carabiner is built into the Solio for easy attachment to a gear bag or other items.
Never miss one of our posts again. Sent MON, WED, and FRI with the latest gadget reviews and news!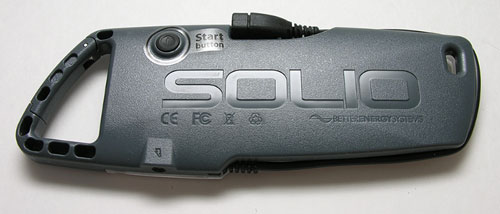 The back of the case is Grey and has a rubber button. When you press this button, the battery capacity LED on the front of the Solio will blink Green to indicate how much juice is left in the internal battery. Four flashes indicates a full charge, three flashes about a 75% charge, two flashes for 50% and one flash for a 25% charge.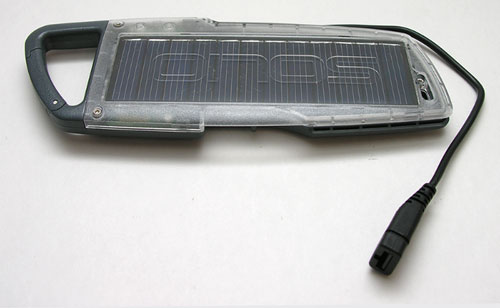 A ten inch cable is built into the Solio. This cable is used to connect to other devices to charge their batteries.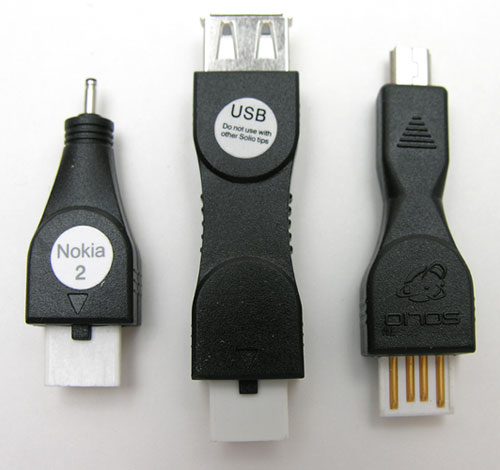 Included with the H1000 are three adapter tips. There is one for most newer Nokia devices, devices that use a Mini USB connector, and then a universal USB connector so that you can connect the USB cable for an iPod or another device that you own that uses a USB cable for charging. You can purchase additional tips through the Solio website for around $10 per tip.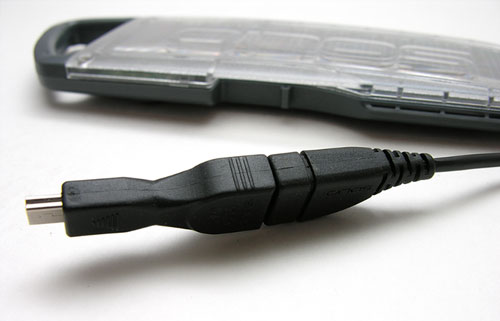 The tips are easy to install and remove.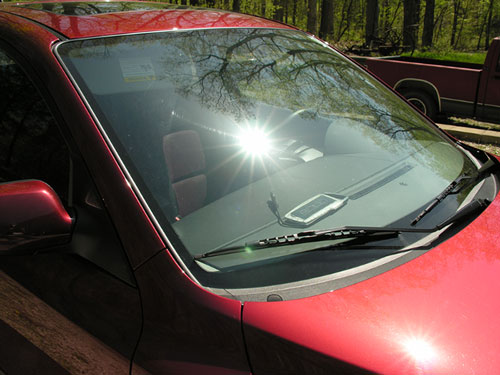 To charge the internal battery in the Solio, you have to place it in the sun. Big surprise right? Before I even received the Solio, I envisioned placing it on the dash of my car during the day and then using it to charge my devices at night. So every day while I was at work, it would be collecting power for me to use. Great plan… At least I thought so at first.
The first afternoon after receiving the H1000, I ran right outside and placed it on my dash. It was a perfect cloudless, sunny day and the charging status LED immediately started glowing Red, indicating that it was charging. Yay!!! This was going to be great. I ran inside to get my camera to take a picture for the review. By the time I got back with the camera, the charging light had turned off. Hmmmmmm….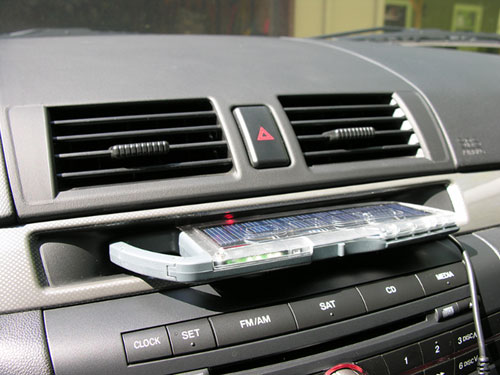 So I found another place to put it in my car and yay the charging light came back on again. Before I had started the charging process, I'd checked the battery status and it was at 50%. Five minutes later the sun had drifted a bit, causing the charging LED to go off again. So I placed the Solio on the sidewalk in full sunlight. Back on went the Red charging LED. A few hours later, I had a full charge.
I brought the Solio indoors, connected the universal USB adapter and then connected a Treo charging cable. I had a completely dead Treo 680, so I expected the Solio's 1000 mAh battery to at least charge the Treo's 1200 mAh battery to around 75-80%. A couple hours later when I checked, charging had stopped and the Solio's battery capacity was down to 25% (1 flash). Checking the Treo's battery showed that it had only charged to 26%. Hmmm… By this time, it was night time, so I didn't have time to recharge the Solio by the sun, but included with the Solio is a USB charging cable. With it, you can charge the Solio's internal battery with your computer. So I fully charged it and then once again connected it back up to my Treo 680. A couple hours later, the Treo was up to 53% and the Solio was back down to 25% capacity.
The next day I took the Solio with me to work and left it on the dash of my car all day long. It was a bright sunny day, so I thought it would probably charge up to at least 50-75%. Unfortunately it did not charge at all. I later came to learn that the Solio is extremely picky about any shadows falling over the solar panel. Even the tiniest shadow will cause charging to stop. I also found that tint in windshields will pose a problem with charging. As will a dirty window. I quickly came to the realization that my fantastic idea to charge the Solio during the day and then have it charge my devices during the night was not going to turn out as planned.
The Solio will work as advertised, but to charge it with the sun, you need to be very proactive. You need to put it in a place where there are no shadows and where the sun hits it directly. For most people this will probably make this device more trouble than it is worth. At least for me, I found that the be true. According to the people at Solio, their classic version of the charger is much easier to charge as it has 3 solar panels instead of just the 1 in the H1000. It's more forgiving of shadows and other issues that I experienced.
As far as recharging your devices with the Solio, it will work depending on the battery capacity of the device you connect to it. Most of my devices have batteries that are larger than the Solio's 1000 mAh battery. So, the best way to use the Solio is as a top-off device. Don't allow your devices to go completely dead and then expect the Solio to recharge them to 100%.
Although the Solio didn't quite live up to my expectations, I still think it's a product that I hope we see more and more of. I want a more robust version of the Solio that I can put on my car dash and not worry about the tint in the window or if a cloud floats past the sun. Until there is a convenient way to be green, I'm afraid I'll to continue to be … another color. :o)
Product Information
Price:
79.95
Manufacturer:
Solio
Pros:

Compact
Collects free power from the sun
Can hold a charge for up to 1yr

Cons:

Hard to find the right location to collect sunlight
Won't completely recharge most devices