We use affiliate links. If you buy something through the links on this page, we may earn a commission at no cost to you. Learn more.
When you think of satellite radio, you probably think of car audio. But your car isn't the only place to listen to XM and Sirius. Although portable satellite receivers have been around for a few years, recent models have matured considerably compared to some of their predecessors. In this review, we'll be covering the Pioneer Inno, XM's top of the line portable receiver.
A Closer Look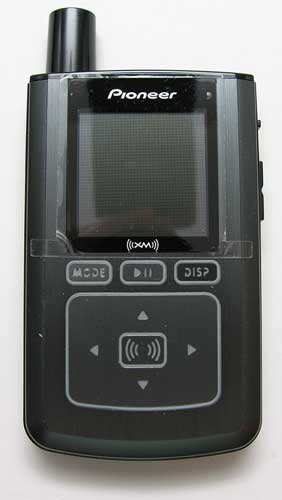 The Inno is roughly the same size as other portable music players. It feels quite solid and has a nice heft to it without feeling unusually overweight. The only flaw in the Inno's construction is that the edges of the brushed metal bezel on the front are sharp, not smoothed down to the level of the surrounding case. At first I thought this only affected my Inno, but I've seen it mentioned in other reviews too. All in all, it's quite portable and I have no qualms about dropping it into a pocket without a case.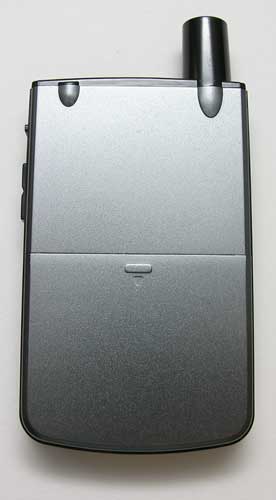 The back of the Inno is featureless except for the battery cover and a small bump near the antenna, and a corresponding bump on the other corner which allows the Inno to not be lopsided if you lay it on its back.

The docking connector is on the Inno's left side. It doesn't come with any kind of cover, so look out for small objects and dirt if you don't keep the Inno in a case. The docking connector is the only way to power the Inno externally, so for charging on the go the Inno comes with a short cable adapter that has a docking connector on one end and a power jack on the other. I wonder how much trouble it would have been to include a proper power jack, instead of giving us another small (and probably impossible to buy separately) item to lose?

The Inno's right side has the volume controls and power switch. You can click the power switch up into the "hold" position to lock the buttons, whether the Inno is on or off.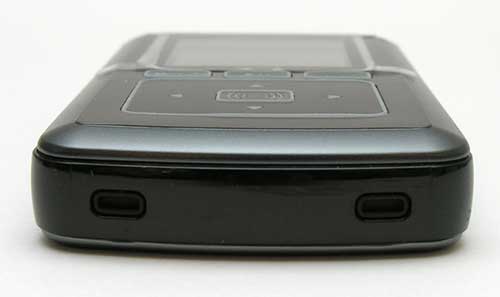 I'm not sure what these holes on the bottom of the Inno are for — probably to clip into a case.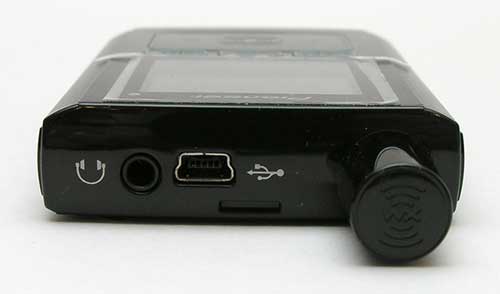 On top of the Inno, we see the XM antenna protruding from one corner, and beside it the headphone jack and USB port for connecting to a PC.
What's In The Box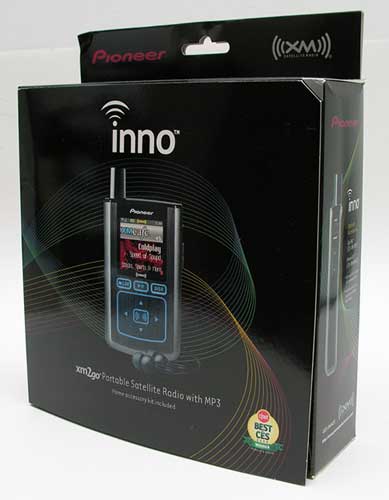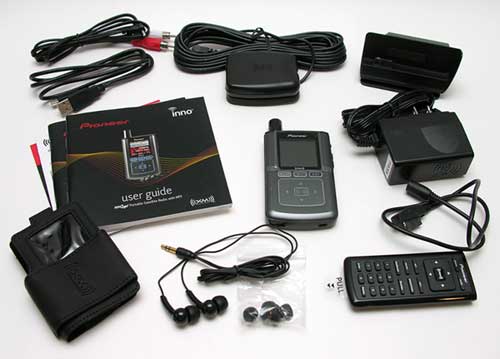 Unlike most XM radios, the Inno comes with a home docking kit instead of a car kit, probably because they expect you to carry it around and charge the battery at home. The complete list of accessories in the box is:
Battery
Home docking cradle
Infrared remote control
AC adapter
Home XM antenna
Earbuds with extra rubber tips
Belt clip carrying case
Travel power adapter
1/8-inch to RCA audio cable
USB-B to Mini USB cable
XM+Napster software CD
Users guides in English and Spanish
Quick setup guide
XM channel guide
The car kit is available for around $70 and includes everything you need to set up the Inno in your vehicle, including a cradle, antenna, remote, cassette adapter, 12V power adapter, and mounting hardware.
Here's a closer look at the Inno's remote and case. The case design seems a bit unusual to me, with magnetic clasps on both the side and the top.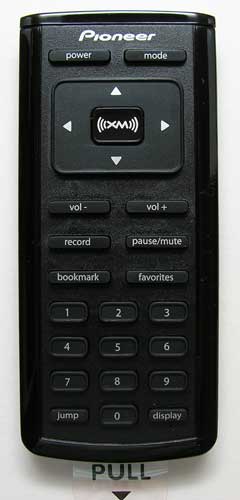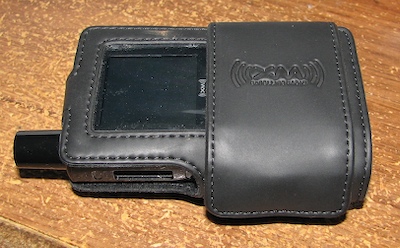 When you put the Inno in its cradle, the screen and keypad rotate to match. This picture shows the Inno docked on my desk, taken in somewhat dim light to show the blue-green illumination of the keys: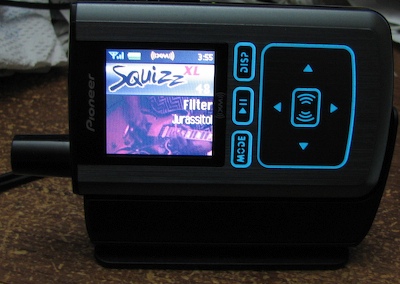 Using the Inno
The Inno is very easy to use; even without reading the manual it shouldn't take more than a few minutes to figure out most of its functions. Its bright color screen is a departure from the rest of the XM hardware lineup; instead of monochrome text, the Inno has full color channel logos and background images. Navigating XM's 170 channels is easy: press the up or down arrow key to scroll through the list of all channels, the left arrow to enter a channel number, or right to see your favorite channels and navigate by category. In all of the channel lists, you can press the DISP button to cycle through channel logos, artist names, and track titles.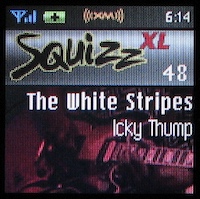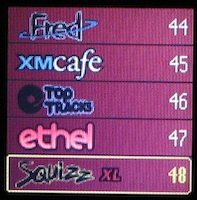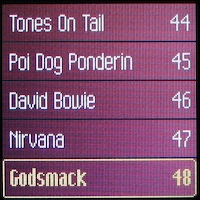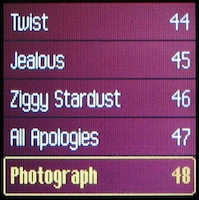 From the presence of a play/pause button (above the arrow keys, center) you might expect to be able to pause live XM, but unfortunately you can't, and pressing that button just mutes the output instead. The Inno does have a 10 minute buffer for live XM, but it is used only for recording.
Instead of the numbered presets most satellite radios have, the Inno has a list of favorite channels which always shows up first when you press the right arrow key. In case your definition of "favorites" includes almost every channel XM has, you can also hide individual channels from the full list.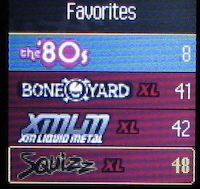 Like most XM radios, you can "TuneSelect" a particular artist or song. When one of your selected artists or songs is played anywhere on XM, the Inno will beep (an actual beep from the device, not a sound in the headphones) and let you know, and you can switch directly to it. You can also bookmark tracks for later purchase in the XM+Napster software (which I will explain in more detail below). Another common XM feature shared by the Inno is the live sports and stock tickers, which you can configure for your favorite teams and stocks.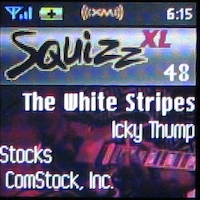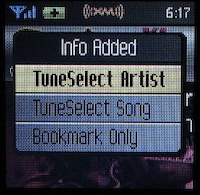 Portability
Unlike some portable satellite radios, the Inno is entirely self-contained; it does not even require the special antenna headphones that some previous models did. As long as its stubby little antenna is exposed to the southern sky, you should be able to pick up live XM. I've been carrying the Inno around for a few weeks now and it works well outdoors as long as I'm holding it in my hand, and only slightly less well if it's clipped to my belt. It's even possible to pick up the XM satellite signal a short distance indoors, if there is a south-facing window nearby. I haven't managed to run the battery down yet, but power consumption on live XM seems like it is in line with the quoted 4-5 hours of listening. Although I'd certainly like it if they could improve on those numbers, it's hard to consider it a real disadvantage given the current state of the technology.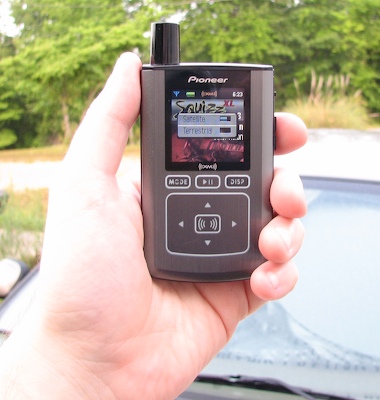 In most cities, XM operates a network of terrestrial repeaters to provide better coverage indoors and in satellite-unfriendly places like parking garages and between tall buildings. If you are within the repeater coverage area you should be able to use the Inno almost anywhere, indoors or not. Although I spend most of my time outside repeater coverage I tested the Inno in the city and it worked well even while sitting in offices and walking around a mall.
It is, unfortunately, hard to predict how a device like the Inno will work in any particular location until you actually try it. However, I was pleasantly surprised with how sensitive it seems to be, so that I can still listen to XM with few or no dropouts even in places I would have expected to be quite marginal.
Recording
One of the Inno's killer features, or at least one it doesn't share with most other XM radios, is the ability to record from live XM. The Inno has 1GB of flash memory, and if you dedicate it all to XM it holds up to 50 hours of recorded programming. You can also partition it 50/50 for XM and your own music, so you get 25 hours of XM and 512MB of your own MP3s, WMAs, or Audible books. Unfortunately those are the only two choices — the Inno doesn't balance memory usage automatically — and changing the allocation wipes out everything in the memory. This is definitely something that needs improvement, although personally I just set my Inno memory partition to entirely XM and forgot about it.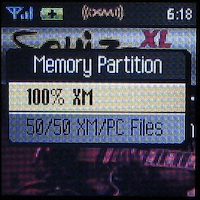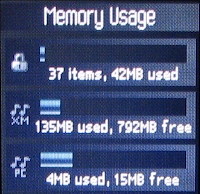 The Inno has several ways to record live XM. The simplest is to click the select button three times in a row (for the "Record Song" menu option) while listening to a song you like, and the Inno will record the song and stop automatically when it's over. Don't worry about pressing it right at the beginning of the song, because the Inno has a 10 minute buffer and as long as the beginning of the song is in it, you'll get the whole thing regardless of when you start recording.
Another quick way to record on the Inno is to select the "Record Channel" menu option, which records the current channel until you tell it to stop (or it runs out of space). When it saves the recording, it even breaks up the tracks for you, based on the title information sent by XM.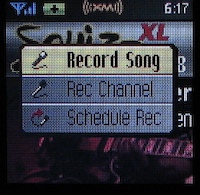 The final way to record on the Inno is to set up a timed recording selection. This is more like programming a VCR (remember those?) than a Tivo; you need to specify the time, date, and channel number of each one, as there is no way for the radio to find out what shows are going to air at what time. Unfortunately, timed recording on the Inno seems rather incomplete and seems to be missing a lot of rather obvious features.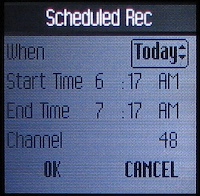 One of the biggest annoyances about the Inno's timed recordings is that you can't have one repeat only on certain days of the week — you can record the same time every day or on a specific date, and that's all. For shows that air Monday through Friday you will end up having to delete unwanted weekend recordings, and for weekly shows it's easier to just reschedule it every week (or put in a month or two at a time).
I also think the scheduling interface needs work. The Inno has a nice XM channel browser, so why should we have to pick channels by number only when setting up a recording? One final quirk in timed recordings is that they will only happen if the Inno is docked in a home dock — not a car dock, not portable with a strong signal and a full battery. Since the Inno has upgradeable firmware, I can only hope they address some of these shortcomings in time.
When playing back recordings, you can browse by artist, title, XM channel, or XM genre. Sessions you recorded with "Record Channel" or a timer are broken up into individual tracks, but you can also browse the sessions and listen to them in their original order or delete them as a unit. Although I find the menu structure to browse recorded music a bit cumbersome (I'd like to see something more iPod-like), I like that the Inno makes good use of the XM track and channel information like this. It even shows the channel logo and background for recorded songs, just like on live XM with the addition of a progress bar at the bottom of the display.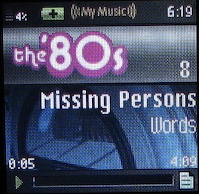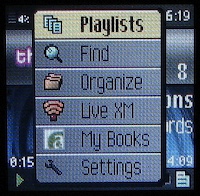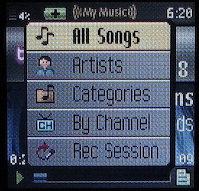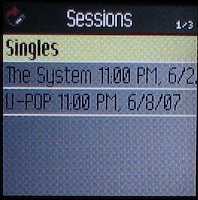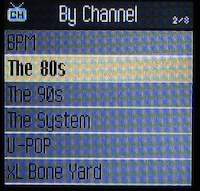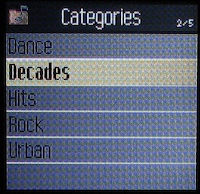 PC Connectivity
The Inno has a USB port for PC syncing, and comes with a special version of Napster made just for XM. Like regular versions of Napster you will need an account to use it, and can choose either a free account which lets you purchase individual tracks or a Napster monthly subscription. Whichever you choose, the Napster software lets you organize the contents of the Inno, and easily purchase copies of tracks you recorded from XM. It also has convenient access to XM's Internet streams, so you can listen at the computer too.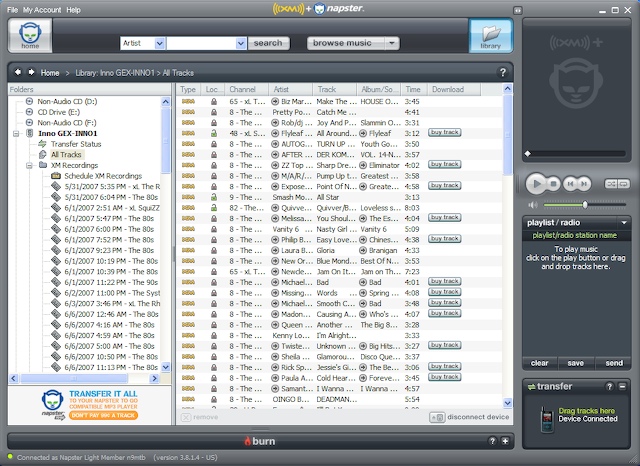 Not surprisingly, there is no way to get XM recordings off the Inno. The XM+Napster software will organize them, create playlists, and even set up timed recordings, but it cannot play XM recordings directly from the Inno or copy them to your PC. If you plug the Inno into a PC without the software, you can load MP3s into the portion of the memory set aside for your music, but the XM partition will be completely invisible. (Another restriction on XM recordings is that if you don't listen to live XM for at least 8 hours a month, they will stop working… so don't try loading your Inno up and canceling your subscription.)
Unfortunately, XM+Napster is Windows-only; if you have a Mac there is no way to organize your Inno's XM tracks, although you can still load your own music through USB. A somewhat larger disadvantage to this is that the firmware updaters for the Inno also only run on Windows, so you'll probably want to set up Parallels or borrow a PC at least once even if you have no need for the full software suite.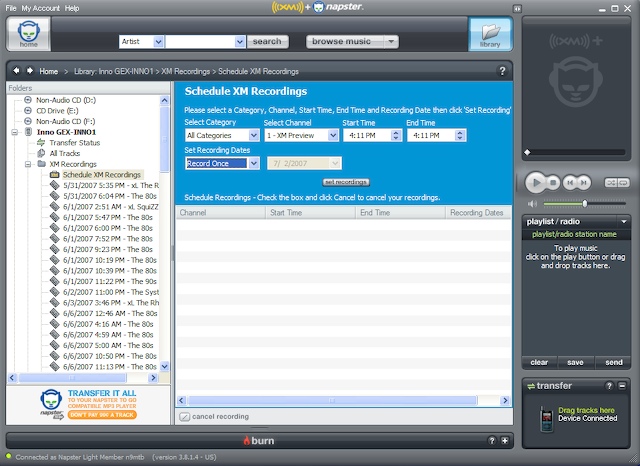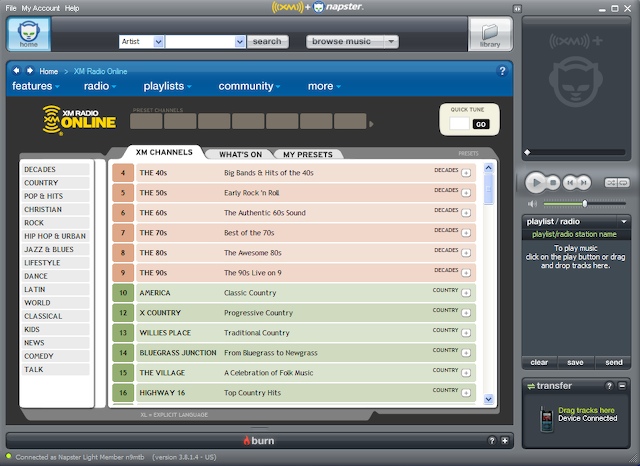 Conclusions
Portable satellite radio is a mixed bag of both good and bad, and the Inno is no exception. The Inno is a solid, comfortable device which is for the most part easy to use, and it is probably the best portable XM receiver made to date, but it still suffers from the battery life and reception limitations imposed by the use of satellites. Its recording features are unmatched among XM radios, but inconveniences in timed recording keep the Inno from being all it could be as an XM timeshifting device. Its software support for Windows is excellent, but there is nothing for the Mac.
Overall, I like the Inno and it works quite well as my only XM receiver, doing everything the other models do and more, with an attractive user interface and easy pocketability. Although the lack of Mac software and the limitations on timed recording are disappointing, in my opinion they aren't enough to keep me from recommending the Inno to anyone interested in XM radio.
The Inno is available from most XM radio dealers for $199 to $249, and new subscribers to XM may be able to get a rebate of some of their purchase.
Product Information
Price:
249.0
Manufacturer:
Pioneer
Requirements:

XM satellite radio subscription
Windows PC for music management (optional)

Pros:

Compact and quite portable
Good reception outdoors and in XM repeater coverage
Attractive color display with channel logos
Plays your own music and audio books
USB connection to PC for music management

Cons:

Limited memory for your own music
Only 4-5 hours of battery life for live XM reception
Not enough options for timed recording
No Mac support