We use affiliate links. If you buy something through the links on this page, we may earn a commission at no cost to you. Learn more.
Is it weird that as a girl, I like tools? I mean, I don't have a job that requires tools… I'm a corporate america techie that sits in a cube all day long pecking away on a PC and answering / making phone calls for my CAD and data management user support job. Not exactly the type of career that requires me to carry around a pair of pliers, screw driver or saw. But I have always loved pocket knives and small pocket type tools. I guess it comes from my Dad who had a wonderful little pocket knife collection, that I would 'play with' whenever my parents would leave my sister and I unattended.
Just to give you a clue to the fact that it takes so little to please me, this past Christmas, my Dad gave me a tiny folding pocket box cutter from Craftsman. I love that little thing and use it all the time given how many boxes I receive. So, when the fine folks at SOG Specialty Knives asked if I would like to take a look at their SOG S63 EOD PowerLock w/V-Cutter Multi-tool, I didn't have to think about my answer.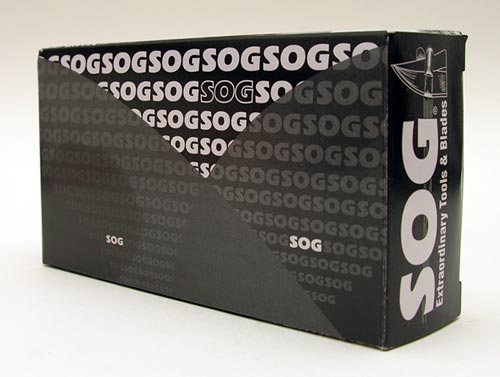 I'll admit that I hadn't heard of SOG before they contacted me. A quick look at their website while I was waiting for the sample to show up, let me learn a little more about them. First of all the name SOG originally stood for Studies and Observation Group. This was an elite joint services military group designed for covert operations in the Vietnam War. This group was sanctioned to develop and purchase their own equipment, SOG created a knife for use in one of the harshest environments in the world. It is in the spirit of this elite group that SOG Specialty Knives was founded.
A few days later the S63 PowerLock arrived in the mail. Available in polished stainless steel or Black Oxide finishes, I was sent the stainless steel version to review.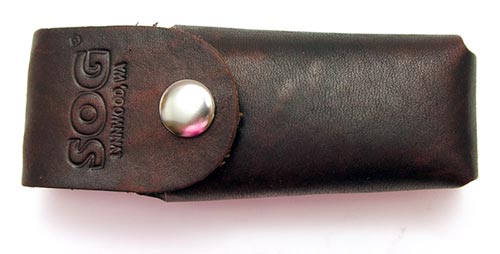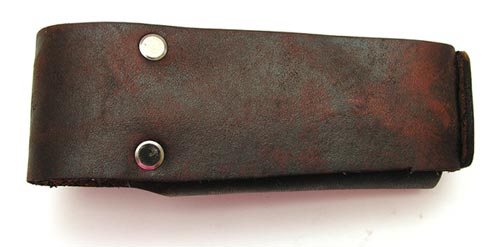 The tool arrived packed in a wonderfully protective heavy duty leather belt case with a snap flap and metal rivet design.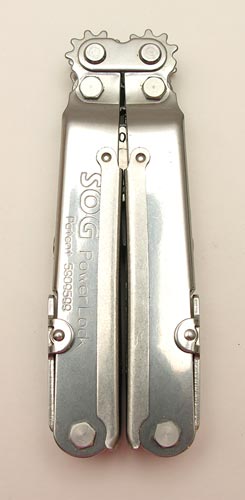 Upon removing the S63 from its leather case, I knew I held a quality multi-tool in my hand. I've reviewed a few other multi-tools over the years, so I am familiar with them. I've actually kept a Gerber tool from a past review in my computer room tool drawer for several years now. The SOG definitely feels different the tools I've used / reviewed in the past.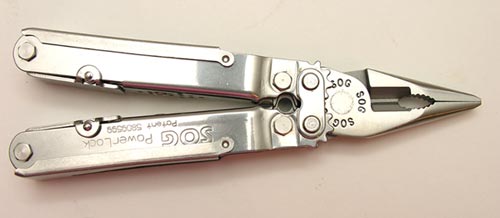 The differences are quite evident when you swing open the handles to reveal the pliers. The swing action is so smooth, quiet and easy that it made me actually say "wow", the first time I did it.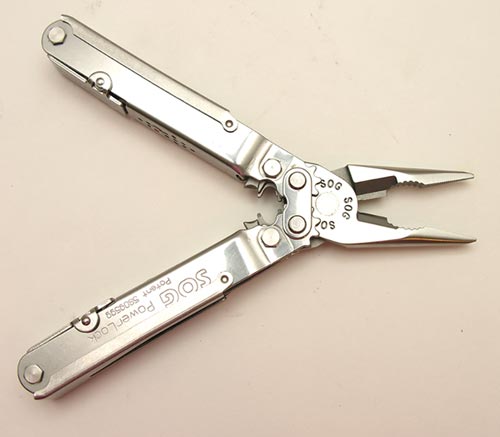 The S63 PowerLock is 7″ long while fully open and 4.6″ long when closed. It weighs in at 9.6 oz.
In the regular open position, you see the needle nose pliers and wire cutter. Below the gears between the handles, you can also see the feature that gives this tool the EOD moniker. EOD stands for (Explosive Ordnance Disposal) which translates to a blasting cap and demolition cord crimper. A feature which I doubt that I'll ever get the chance to try out, but hey, if I need it, I'll have it! ;o)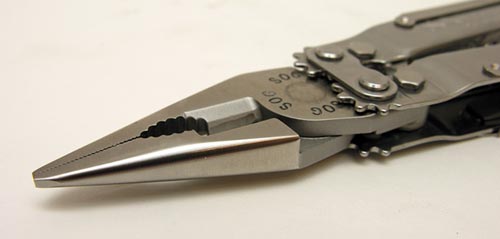 Most plier type tools have a 1 to 7 leverage ratio. The S63 has a 1 to 14 ratio which can allow you to cut through a quarter with one hand. I tried this myself, but I guess I have a wimpy grip, because I couldn't quite do it. I could cut a penny, but not a quarter.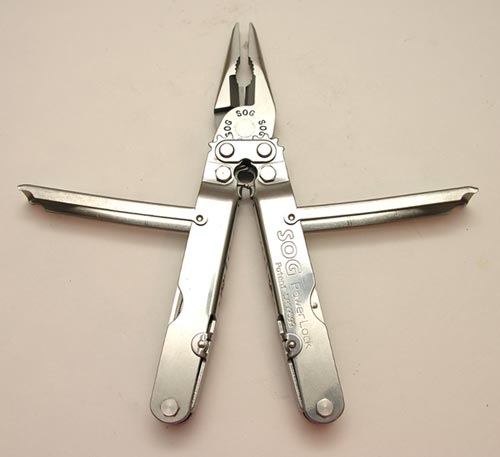 The rest of the tools are housed in each handle. Pivoting metal 'doors' cover the tools and make the handles comfortable to grip while you're using the tools.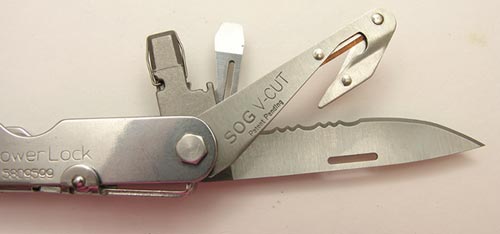 The Left handle houses a 1/2 inch serrated blade, V-cutter, bottle opener / medium flat screw driver and a 1/4 inch socket driver.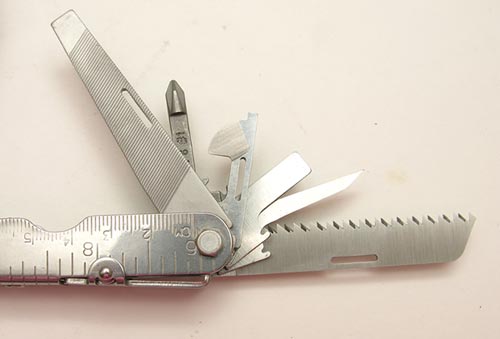 The Right handle has a double tooth saw, awl, can opener / small screw driver, large flat screw driver, Phillips screw driver, and 3 sided file.
All of the tools are easy to fold out from the handle and click securely into place when fully extended. You can then close the 'door' over the handle and use the extended tool. When extended the tools are solid and do not wiggle around like some multi-tools that I've used. Each individual tool feels very rugged and sturdy.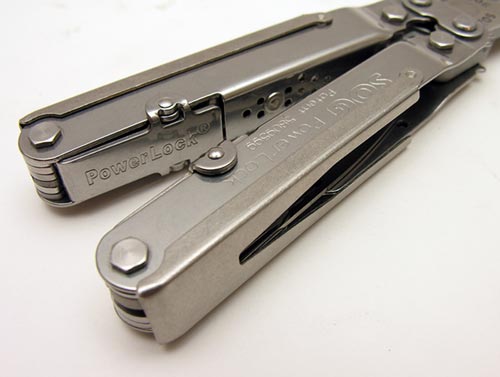 The PowerLock feature is what holds each extended tool in place while it's extended from the handle.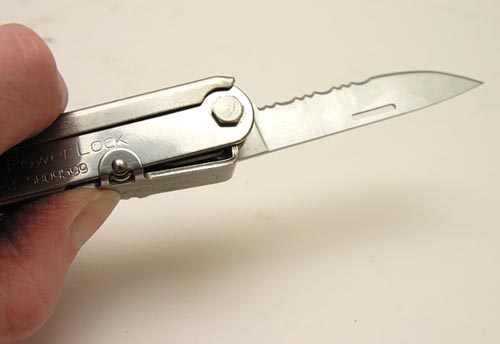 To unlock the tool, press the PowerLock spring loaded lever under then handle and fold the tool back into the handle. It's easy!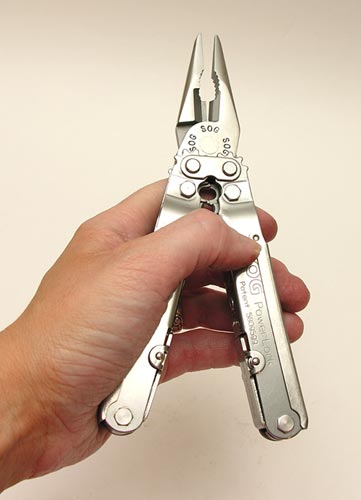 In hand, the S63 PowerLock is very comfortable. There are no sharp edges or ridges that dig into your fingers or palm of your hand. Even when you are squeezing the handles, I didn't feel pain or discomfort. The weight and balance of this tool also makes it comfortable to use.
The S63 has one unique feature that I've not seen in other multi-tools. You can actually open it using one hand. Think butterfly knife…
See it in action…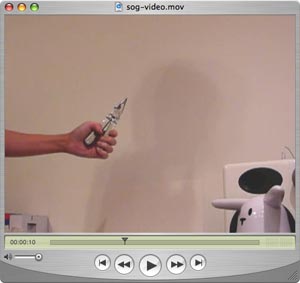 Click on image to play the QuickTime video (30sec,
3mb). The video is encoded in the H.264 codec. You will need the latest version of
Quicktime to view it.
VLC is another free viewer.

Yeah, I'm not as good at closing the S63, as I am at opening it with one hand. ;o) But it's a cool maneuver none the less.
This SOG multi-tool is the best made multi-tool that I have had the opportunity to review so far. The construction is excellent and ease of use is wonderful. It has replaced the Gerber tool in my gadgeteer tool drawer.
Product Information
Price:
105.0
Manufacturer:
SOG Knives
Retailer:
SOG Knives
Pros:

Smooth handle action
Compound leverage
Comfortable

Cons: