We use affiliate links. If you buy something through the links on this page, we may earn a commission at no cost to you. Learn more.
"Don't worry honey, I just fed the dog for today"
"Um.. I already fed the dog two hours ago!"
This type of conversation is a common one in my household. From feeding the dog to cleaning out the fridge, it can be complicated to keep track of it all. When I saw the DaysAgo timer, I knew that I had try one as soon as possible, so that we could stave off potential canine obesity in my household.
Initial impressions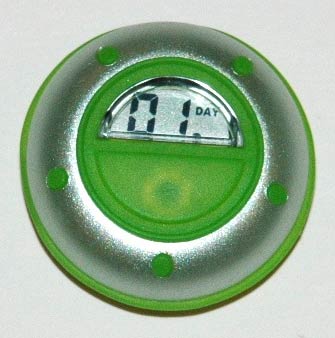 The DaysAgo timer is so simple it's brilliant. Originally designed to track the number of days since opening a jar of baby food, this product quickly was utilized for a variety of applications. Measuring just 4 centimeters in diameter, the face of the timer is divided into two parts, display and a single button. The display is easy to read and depicts the number of days it has been since it was last set.
In each package there are two small timers.There are two types of timers available: magnetic and suction.

Both work by the same interface mechanism and come in four colors. They are also water resistant, but should not be submerged in water.
Product Testing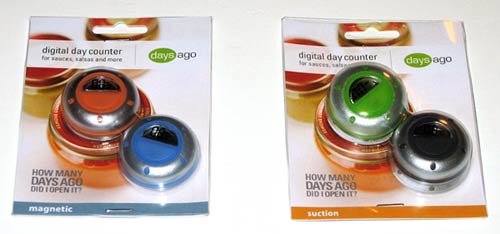 The packaging of the DaysAgo timer is simple and easy to open. The clear molded plastic stapled to a cardboard back creates minimal waste to throw away.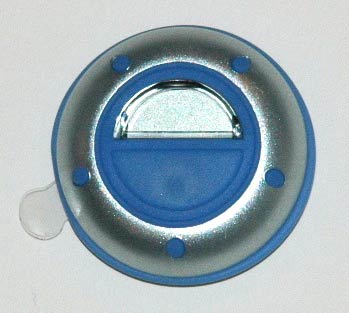 To activate the timer for the first time, simply pull the clear plastic tab on the side. This creates a circuit between the battery and the timer. This is a great idea so that batteries are not wasted prior to your first use.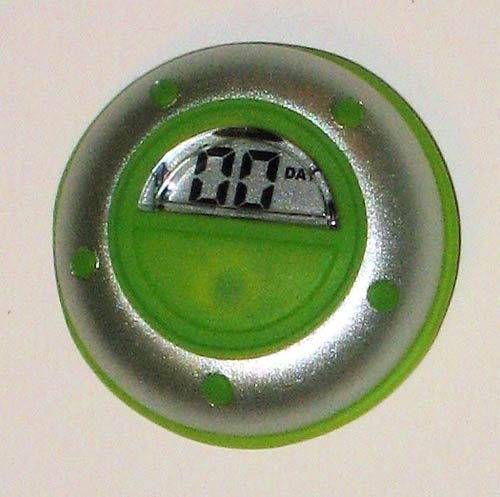 To set the timer press the the semi-circle shaped button on the bottom of the timer for 5 seconds. The display will bank out and then read "0". The DaysAgo will keep track of up to 99 days in between resets. If you want to know how many hours (in addition to days) it has been since the last reset, press the button for one second.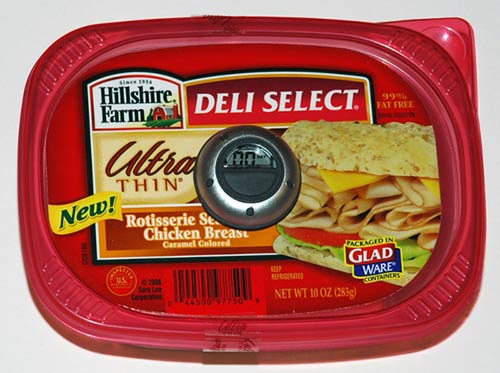 Attaching the magnetic timer is completely self-evident you just stick it to any surface that usually attracts a magnet. I have have found a that applying a small drop of water to the center of the suction-cup version of the timer gives it a much more secure hold. This is really helpful for surfaces that are handled frequently such as medicine bottles or tupperware.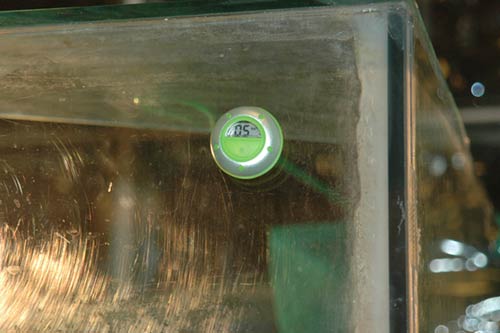 Although I haven't had the need to replace the battery in the 3 months that I have been using the DaysAgo timers (each battery lasts about 18 months) the size G8 watch-type battery is fairly common and appears to be easy to replace.
This is one product that I can say that I want to purchase in bulk. They are visually appealing, easy to set and reset. The more I used the timers, the more uses I found around my house. I have used them for leftovers, feeding my dog and turtles, taking vitamins, and timing cleanings of the turtle tank. It's useful for pretty much anything you ask yourself "How many days ago did I?"