We use affiliate links. If you buy something through the links on this page, we may earn a commission at no cost to you. Learn more.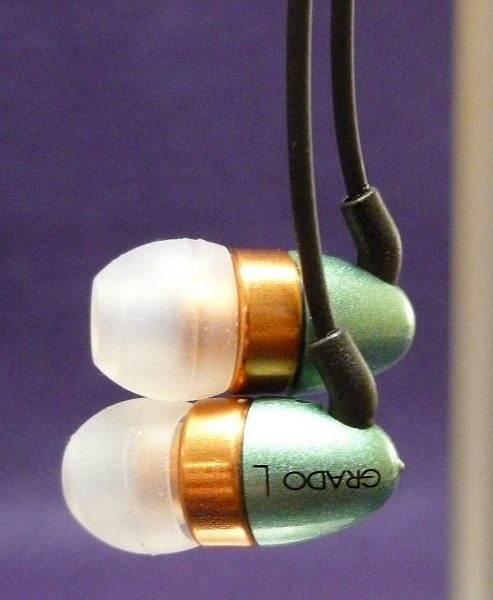 It's almost comical. One of the best in-ear headphones (earphones) available at any price comes in a package that isn't nearly as nice as some of the cheapest headphones available. Not only that, there's an embarrassing selection of only three pairs of tips, no mic and … no case? Are you kidding me? Okay, they do (finally) offer a case—for 15 extra bucks! It's not included in the box. And therein lies the irony of Grado's GR10e earphones—so few accessories, so much goodness. I wouldn't hesitate recommending the GR10e earphones, because they are absolutely terrific—end of story. But not end of review.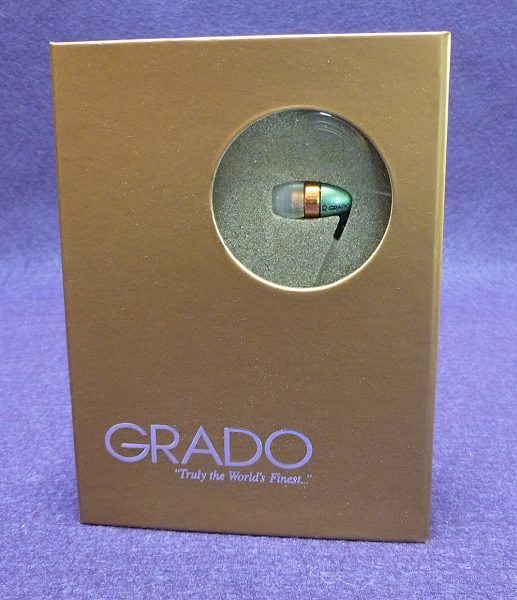 Grado is one of those companies that is purely an American success story. What began as a small phono cartridge company on the site of the Grado family grocery business evolved into a premier audio company that offers handmade headphones and turntable cartridges for demanding audiophiles. However, Grado does not manufacture their line of earphones. The GR8e ad GR10e earphones come from Japan and are tuned to Grado's specifications to get that "Grado sound."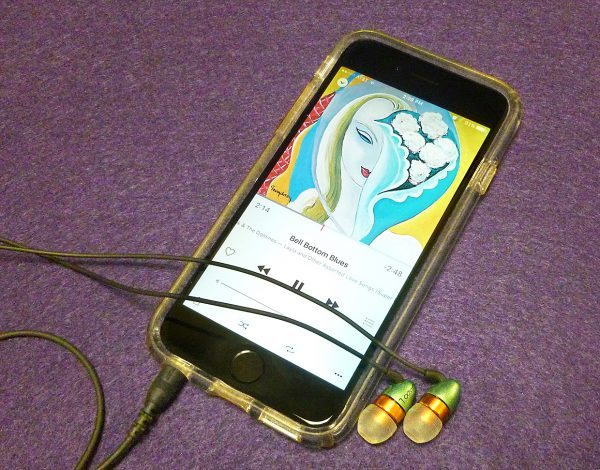 So what is the "Grado sound," anyway? All I can say after owning the original GR10, GR8 earphones and 325is headphones is that Grado strives for accuracy above an artificially enhanced bass-like sound. Some argue that Grado headphones are too bright. While there may be some validity to that argument, I prefer to think of Grado phones as more true to the recording than many more popular, cheaper-made and less accurate headphones. Are there better sounding headphones and earphones? Sure, but they are going to cost a lot more—in fact, some of those better models are made by Grado themselves.
But this review is about the successor to the GR10 earphone, the GR10e. Let's get this out of the way right now: If you already own the original GR10, save your money on an upgrade. As good as the GR10e earphones are, they are only marginally better than the original. Some may not notice a difference at all. However, if your original GR10 or GR8 earphones are wearing out or you're thinking about a major upgrade from other earphones or if you're just looking at Grado for the first time, read on.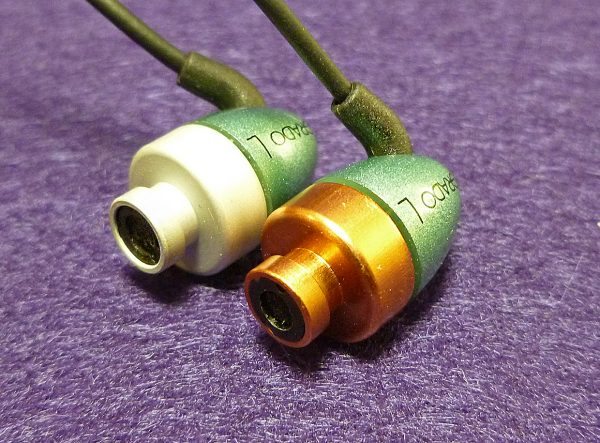 The GR10e's exterior is an exact copy of the GR10, with one visible difference; the silvery aluminum band near the ear tip is now copper-colored. Grado has kept the same metallic teal green color for the shell. I've never been a fan of the color, but when paired with the copper band, I like it even less. Heck, even the less expensive and same size GR8 earphones look better with their Darth Vader-like metallic blue-black color. However, the GR10e earphones are small and subtle looking, so who cares.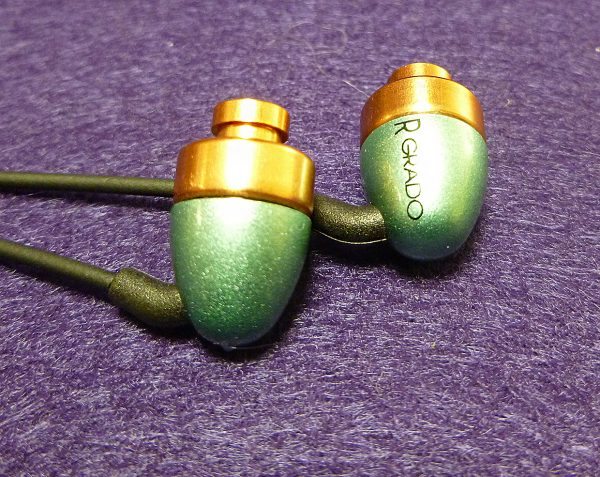 None of the three pairs of supplied ear tips fit my ear, which unfortunately, is normal for me. I just raid my collection of ear tips and grab what fits. Understand that Grado's supplied ear tips will most likely fit you fine. The problem with fit is because of my ears.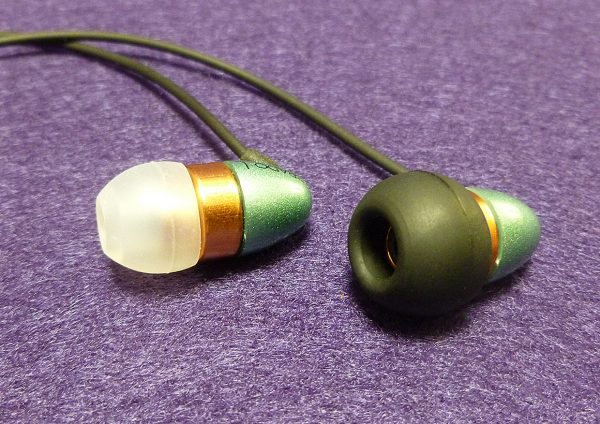 As with the original GR10, the fit is near perfect (with my ear tips). The GR10e earphones are small, weigh almost nothing and will stay in your ears for hours with little or no discomfort. My wife calls the GR8 earphones her jellyfish—don't ask. The GR10e earphones can be finicky trying to achieve the proper seal, but with practice, it becomes second nature and can be done quickly. Note: A proper seal with the ear tips is important to get accurate bass. As with all earphones, no seal equals little to no bass. However, once the seal is achieved, oh my!
The Grado GR10e earphones are technologically similar to the Klipsch X10i earphones as both use what is called a moving balanced armature. Armatures are the technology used in hearing aids. This type of speaker is known for its accuracy, but they're not big in the bass area. While this may be generally true, Grado has coaxed a good amount of bass from the speaker in the GR10e. In fact, only bassheads will be disappointed—all others will be more than happy with the GR10e's accuracy and distortion-free bass. Distortion-free everything for that matter.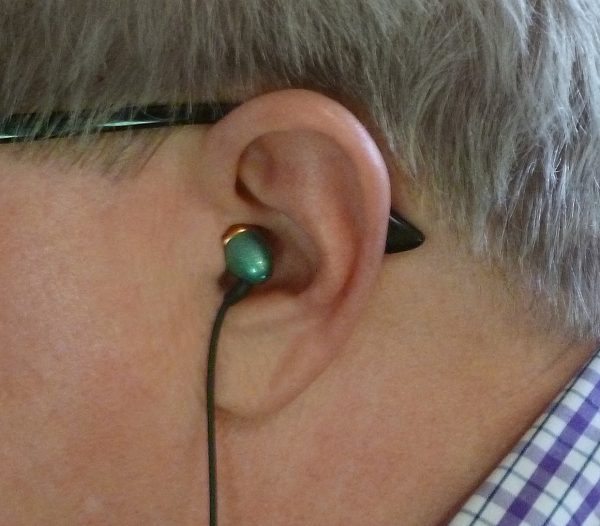 My go-to bass tester song, "Silent Shout" by The Knife showed no distortion, even when cranked to painful levels. This proves that other music that relies less on bass should sound good. Great is more like it.
Dave Brubeck"s classic "Take Five" is a phenomenal jazz masterpiece with its breathy sax and tight drumming. Listening with the GR10e earphones evokes an impression of being in the room while it was being recorded. Granted, you don't feel the sense of space you get with Grado's open-backed headphones, but it's close. Couple that with the pristine quality of the recording itself and it becomes a sonic treat. Every tap of drum stick and every breath on the saxophone mouthpiece can be heard clearly. The cymbals shimmer without a hint of harshness. "Blue Rondo a La Turk" from the same album features a piano attack that flies furiously up and down the frequency range. You can hear each key being struck no matter how fast the playing gets. It's this clarity and ability of the GR10e earphone's speaker to replicate the nuances in this song that make the GR10e earphones so good.
Sometimes, the GR10e's accuracy is not always a good thing. If an album isn't recorded carefully to begin with, the GR10e earphones will not forgive such sloppiness. Many great songs from the 60s and 70s weren't great recordings. For instance, music from the Dave Clark Five bear this out. While never as good as the Beatles, they did have massive hits during the British Invasion of the early to mid sixties. Their songs sound a bit better on dynamic speaker earphones because dynamic technology is (usually) more forgiving of less than stellar recording techniques—but at the expense of detail. You can't have it both ways unless the original tape is expertly mastered. However, feed the GR10e earphones music that is well recorded with wide dynamic range and the result is astounding.
Moby's (Drop the Lime-Heavy Bass Remix) of the song, "Alice" features a bass drum that will shake your eardrums at a loud volume. This is coupled with an a cappella intro, and you get a kick in the gut along with that vocal clarity—always a good combination. This song is not to my personal tastes but even so, it becomes kind of addictive listening with the GR10e earphones.
Modern digital recording techniques are great for testing earphones, headphones or speakers, since there is no frequency restrictions like there are in the analog world. When you listen with earphones like the Grado GR10e, you can appreciate everything sonically available that's hidden within any song you care to enjoy. And enjoy you will.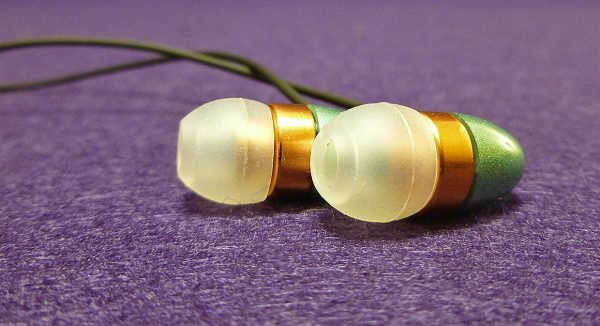 The Grado Gr10e earphones are not cheap. While you may wonder what you paid for when you see them in the box, with no case and only 3 choices of ear tips, you won't wonder anymore once you insert them into your ears. When you hear them, you will know exactly where your money went. The Grado GR10e earphones sell for $399 and are available now.
Source: The sample for this review was provided by Grado. Please visit www.gradolabs.com for more information and Amazon to order.