We use affiliate links. If you buy something through the links on this page, we may earn a commission at no cost to you. Learn more.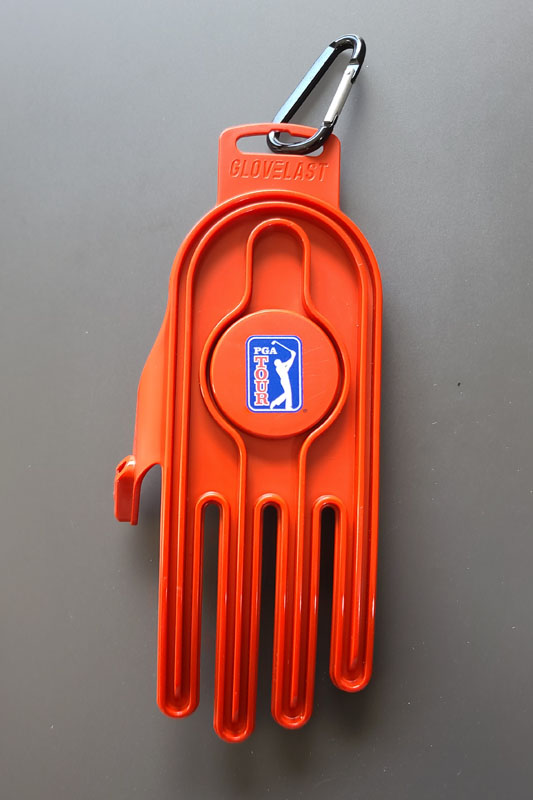 REVIEW – If you're a golfer, you know the horror of trying to put on a crinkly, dry, cracked golf glove.  How do they get this way? When you golf, your hand sweats, and that golf glove absorbs it, allowing you to keep that correct grip and par the hole.  After your round, you crush your glove into a ball and shove it into your glove bag so the sweat can marinate properly, and turn the leather on the glove into cardboard.  Glovelast wants your glove to last and offers this gizmo to help with that preservation effort.  Let's see if it is up to par.
What is it?
Glovelast is an analog for your hand, giving you a place to store your glove in its natural position, promoting natural drying and preserving the glove.
What's in the box?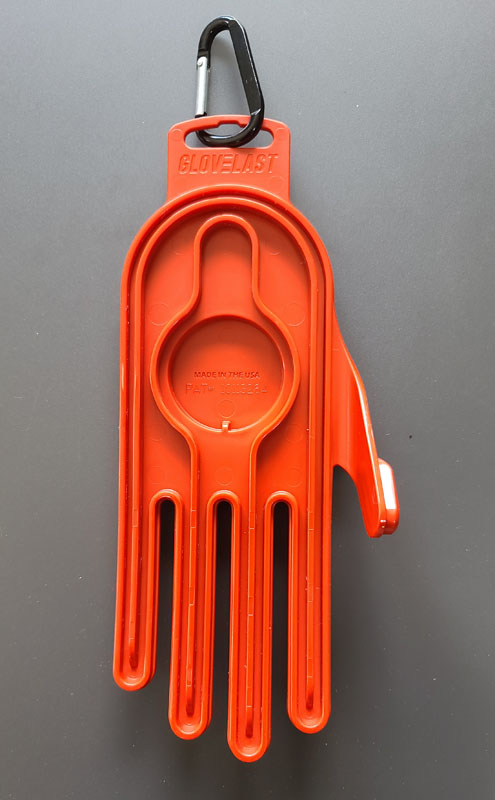 Glovelast glove preserver
Carabiner for attaching the Glovelast to your golf bag.
Design and features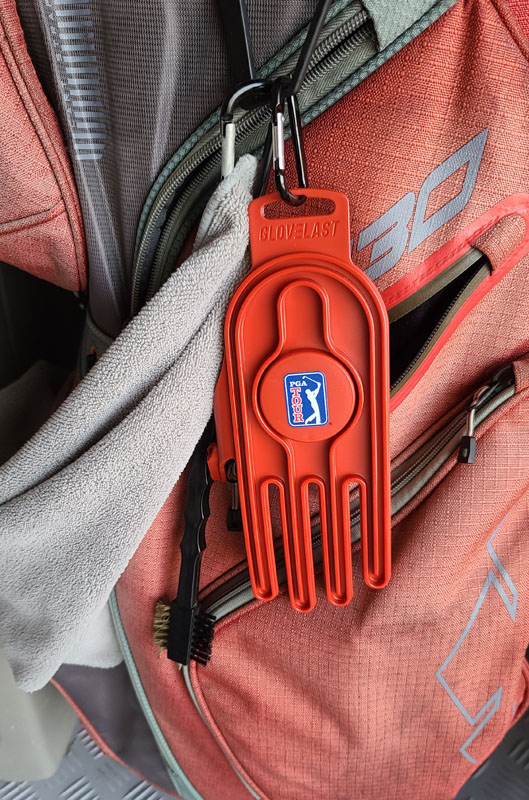 This is a deceptively simple device.  it looks like a plastic hand.  It comes in several colors as well as branding for the PGA Tour and several Tour events.  Those special editions add $3 to the price. I was sent the PGA Tour edition.
Performance
So, why would I need something like this?  Here's why.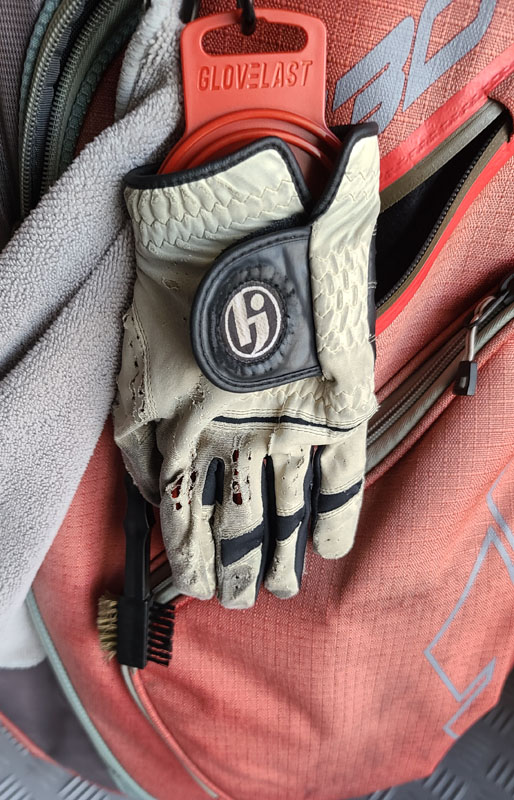 That's my nasty, crappy old glove that has been wadded up.  Here's another look.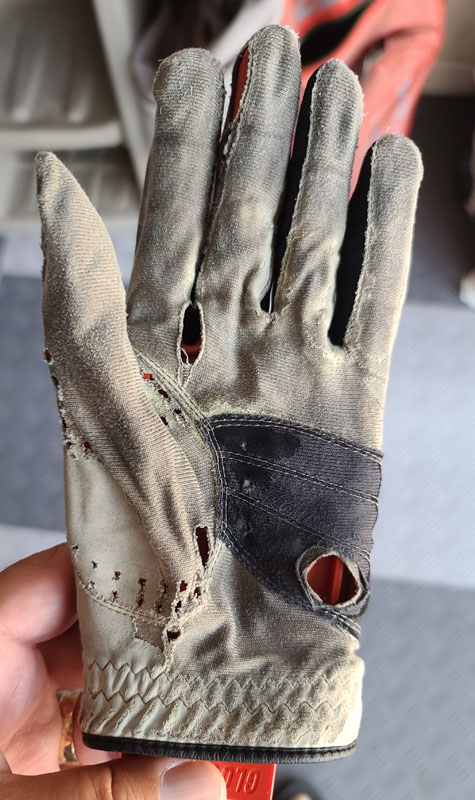 Some of those holes are simply from use.  But, a lot of the damage came from improper drying between rounds because I either shoved it in my bag or just stuck it to a velcro pad on my bag.  Either way, it wasn't spread out and didn't dry properly.  Even putting it on Glovelast couldn't save it at this point.
Here's my new glove, installed on Glovelast.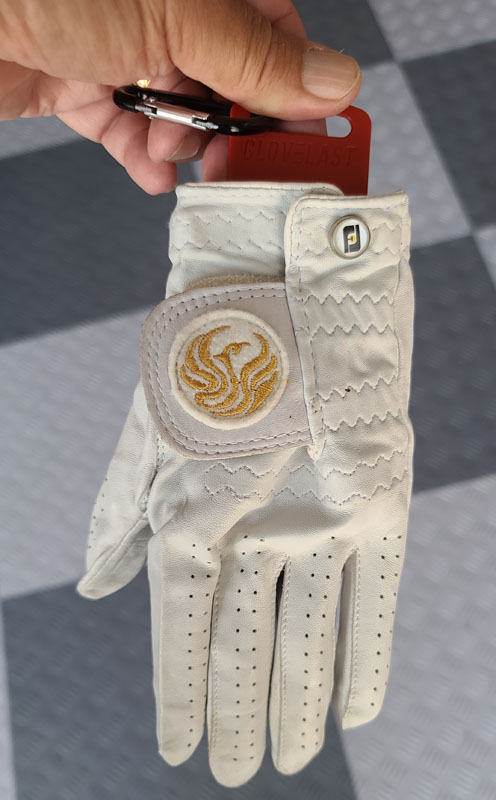 I'd love to tell you that it was after 100 rounds, but that would be a lie.  I haven't been playing a lot of golf lately for a variety of reasons.  If you look at the photo below, you can see how Glovelast does its thing.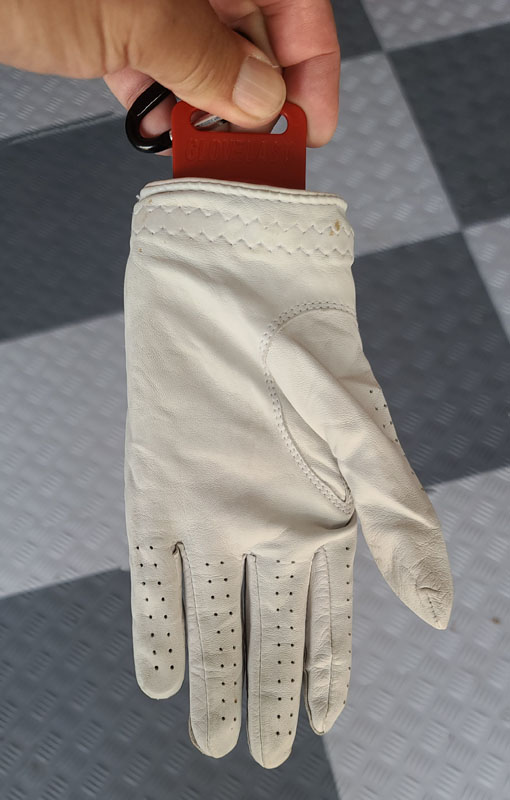 See how the Glovelast's fingers spread out the fingers on the glove, letting air circulate and dry the leather?  There's simply no way that this won't help extend the life of a golf glove.
What I like
Smart, simple design
Easy to use
Handy carabiner included for hanging on your golf bag
What I'd change
Final thoughts
With a cost equaling somewhere between 1.5 and 2 quality golf gloves, if this can double the life of your glove, it will pay for itself in no time. This has found a permanent home on my golf bag.
Price: $19.99 (Glovelast branded); $22.99 PGA and PGA tour branded
Where to buy: Glovelast; Amazon (Glovelast); Amazon (PGA Tour); other Amazon  links exist for other models
Source: The sample of this product was provided by Glovelast.