We use affiliate links. If you buy something through the links on this page, we may earn a commission at no cost to you. Learn more.
Do you keep a daily diary or journal? If you do, is it paper, PDA or computer based? I have several diaries from when I was a kid. Little hardbound 'blank' books as they used to call them. I found a couple the other day when I was looking for a book on one of my book cases. I spent a hour or so flipping through them, laughing at silly things I had written and doodled on those pages. Keeping a diary was important to me back then. I remember diligently writing in it every night and then hiding it so my sister wouldn't find it and read it. ;o) Nothing I wrote in those books was all that important, but looking back on them now is amusing, insightful and fun.
As an adult, I've not been able to sustain more than a few days of writing at a time. I've tried keeping a diary on my PDA and in books like the Moleskinne that you see pictured below that I purchased last year in hopes of reviving a desire to log my life.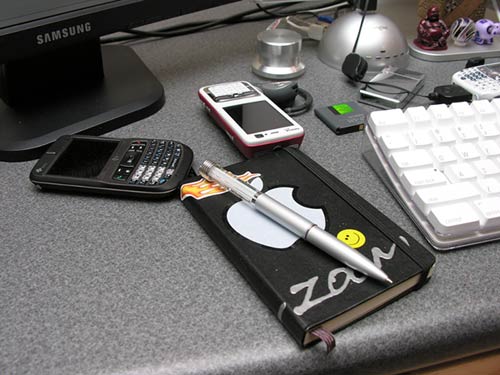 For me, writing with a pen in a physical book appeals to me more than typing an entry on a computer. Besides writing down the mundane details of my day, I also like to doodle something after each entry. While I find that having entries on a computer makes it easier to search the text for keywords so that I can easily find a passage, it's not so easy if you also want to include little drawings. I do have a Watcom tablet though… So I guess my question for all of you is: If you keep your journal on a computer, what method of capture do you use? I'd especially like to hear from people like myself that enjoy doodling and attaching 'stuff' to their entries. Is paper that only way to go?