We use affiliate links. If you buy something through the links on this page, we may earn a commission at no cost to you. Learn more.
When I first saw this product advertised on one of the many gadget news sites that I surf every day, I almost blew Diet Coke out my nose. What moron would actually buy this thing?! Then I came home a few days later to find one of them in my mailbox staring at me! ACK! Now I would have to review it… Me thinks that SpeckProducts is not going to be too happy with me this time around.
So what is it? The iGuy is a white rubber Gumby suit for your 4th Generation iPod. Awww, look at the cute little butt…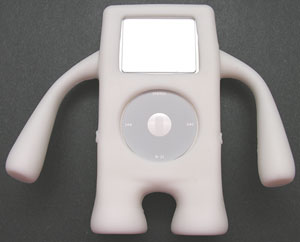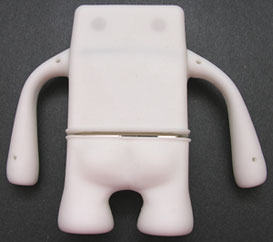 There are cutouts for the main scroll wheel, earphone jack and hold switch. A clear plastic window covers the display.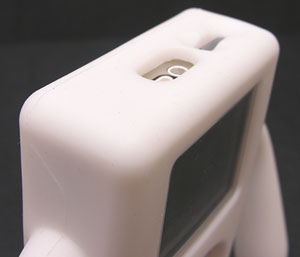 The iPod slides into the suit through the rear area. It can fit the all 4th gen versions (20 – 60gb) by employing a hard plastic spacer insert.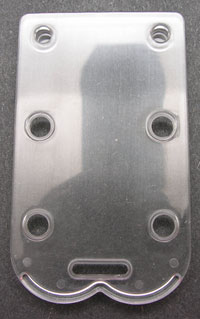 So what cool features does the iGuy have? Wellllll, its arms are bendable. Not really easily bendable though. You may actually need a freaking pair of pliers to bend them. Ok, I'm exaggerating a bit. Besides having posable arms, you can make the iGuy sit down on your desk or the dock. Wheeeeeeee!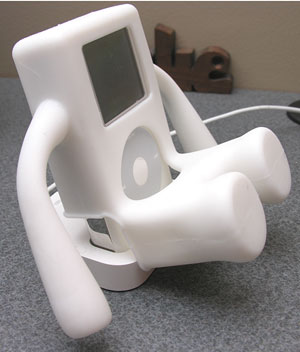 Never miss one of our posts again. Sent MON, WED, and FRI with the latest gadget reviews and news!
That's it. Yes folks, all this can be yours for the amazing price of $35! Am I being a big stick in the mud for not seeing the point of this product? Is there something wrong with me for being annoyed at it? Maybe… I think this video pretty much sums up my feelings on the subject.
If you have actually purchased the iGuy, I want to hear from you! Be sure and comment through the review comment area link below.
Price: $34.95
Pros:
I really can't think of any…
Cons:
Expensive
Useless
Product Information
| | |
| --- | --- |
| Price: | 34.95 |
| Manufacturer: | Speck Products |
| Pros: | I really can't think of any... |
| Cons: | |