We use affiliate links. If you buy something through the links on this page, we may earn a commission at no cost to you. Learn more.
I'm back, and what a week it was! We went to Kansas City, Missouri and spent
a wonderful week with Steve's sister and her family. While there, we visited the
Botanical Gardens and the Zoo, and I got some great impromptu shots of the
animals with my i550's built-in camera.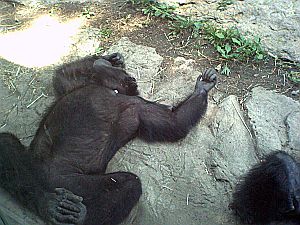 Back in the real world, I came home to an email stating that a pair of
SCOTTeVEST
lounge pants
are on their way to me. I have a feeling that I will be living in these on the
weekends…
I also received word that Graham with
nSignia Cases has sent me just
about every iPAQ 4700 case (for the slim and extended battery!) 
that they are making in all of the new skins, including

stingray,

eagle ray,

cowhide,

ostrich, crocodile,

kangaroo…and

tilapia! How many of you eat tilapia all the time and never knew that
its skin could be used to make accessories? Before I get deluged with requests,
the answer is no, I don't get to keep them. But having them all in my possession
as I write the review will give me an opportunity to really take some great
shots of the various exotic skins and talk about each case's features.
Traveling is fun and I love seeing family, but Dorothy said it best – "There's
no place like home."