We use affiliate links. If you buy something through the links on this page, we may earn a commission at no cost to you. Learn more.
I've always been a huge fan of very small computers and have had several such devices throughout the years. A few notable ones come to mind… Remember the REX PC Companion? It was a PDA in a PCMCIA card form factor. What about the hard to find IBM PC110 palmtop computer? Then there was the  Toshiba Libretto. I had those devices over 5 yrs ago or so. In more recent years, I've had the Sharp Zaurus C750 and then the Fujitsu Lifebook. The Lifebook was my travel computer, going with me to trade shows and on vacations.
Last year, I took another trip down PowerBook lane, and bought a PowerBook. At that time, I ended up giving the Lifebook to my sister. After I sold the PowerBook, I was without a travel computer. Since then, I've been on the look out for the perfect travel companion. One that wouldn't weigh me down while jogging through an airport, but would be able to handle all the tasks I could throw at it without complaining.
When I saw the Sony Vaio U71, I knew I had to get my hands on one as it looked to be the perfect combination of size and power. Unfortunately, they were only available in Japan (at one point I thought Sony was going to sell these in the US, but a look at their site doesn't show them…). Lucky for me, the folks
at GeekStuff4U were able to provide one to me for review.
Hardware Specs
CPU: Pentium M Dothan 1.1 GHz
OS: Microsoft Windows XP Home (SP2)
RAM: 512mb
Hard Disk: 30 GB (ultra ATA)
Video: Integrated 855GM chipset, 64mb shared with main memory
Display: 5″ TFT (800 x 600) / External Resolution: 1600 x 1200
Sound: PCM 16bit audio, integrated speaker
Networking: 802.11b/g WiFi, LAN (100BT)
Integrated Ports: Internal USB 2.0 x 1 / External (through docking station) USB 2.0 x 4
AC Adapter: 100~240V / 50-60 Hz
Dimensions: 6.58 x 4.25 x 1.04in (167 x 108 x 26.4mm)
Weight: 1.22lbs (550 grams)
Package Contents
Sony Vaio U71P
Standard Battery
USB Keyboard (2 extra eraser heads)
Docking Station
AC Adapter
Stylus
Earbuds (2 extra sets of ear pads)
Computer Pouch
Keyboard Pouch
External Monitor Adapter
Audio Remote
Manual
Windows XP Home CD
The Vaio is small… Almost PDA small. Ok, it's not really that small, but it is about the size of a paperback book. Given all the features packed inside, its size is pretty impressive. As far as weight, when you first pull the Vaio out of the box, it feels very light. Adding the battery pack to the back brings the overall weight up
to 1.3 lbs on my electronic scale.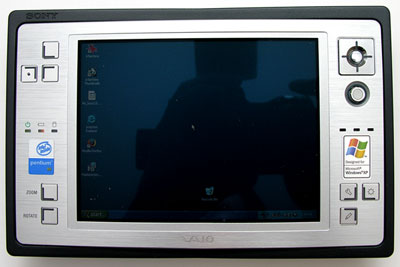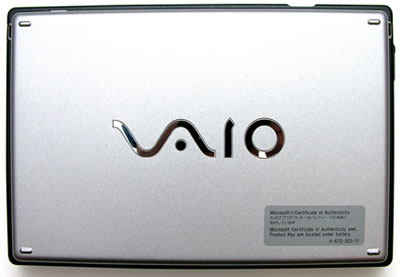 Back side of Vaio, which is the battery pack
In hand the device is relatively comfortable to hold between two hands for a moderate length of time. The Vaio is a bit slippery though… The back (battery) and sides could use some rubber strips to help add some friction to your grip. That said, I've never dropped the Vaio <shudder>.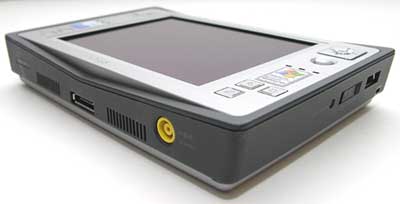 A quick Gadgeteer squeeze test yielded no flexing, creaking or cracking. You can tell that this is a solid and well made device from the first time you handle it. Sony, like Apple knows how to build quality hardware.

The left side of the Vaio has a lanyard attachment eyelet, an combo earphone / remote jack, hold switch, and power switch. The power switch on this device is a slide and hold type of switch.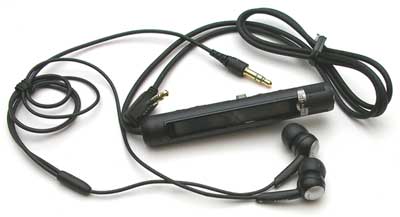 This computer ships with some of Sony's better in-ear earbuds and a clip-on remote that is similar in design to the one that ships with Sony's Network Walkman. You don't have to use the remote, but if you do, you just plug it into the end of the remote.

The right side has a full sized USB 2.0 port, WiFi power switch, and reset switch.

If you look at the top side of the Vaio, you will find a Compact Flash slot and Memory Stick Pro slot. In the middle is a heat vent, and on the outside edges are the battery latches. There is also a standby button that will quickly take XP into and out of standby mode. Putting the device into standby takes about 3 seconds once you press the button. Bringing it out of standby takes approximately 5-6 seconds. Not bad at all really! You can also use the standby button as a power button if you have shut the computer completely down.

On the bottom of the device, there are 2 sets of heat dissipation vents / speaker grills, the I/O port and AC adapter connector. The I/O port allows you to plug the Vaio into the included docking station. This port also allows you to send video to an external monitor by using the included short adapter cable.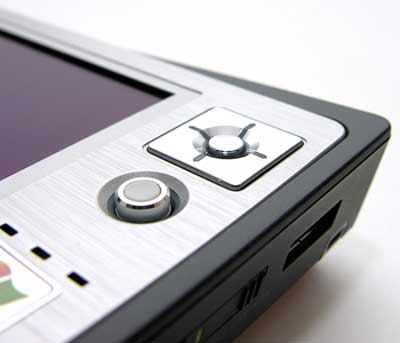 The face of the Vaio is constructed of brushed metal. Surrounding the 5 inch display are a collection of buttons and LEDs. In the upper right corner is a square 4-way scroll button with an enter button in the center. You use this button to scroll up and down in most applications like web browsers. The button is somewhat stiff, and has great tactile feedback.
The round button below the 4-way button is the spring loaded pointer. Think of it like the eraser that is built into some keyboards (including the one that ships with this Vaio). The pointer is metal with a rubbery tip on the top that keeps your thumb from slipping off.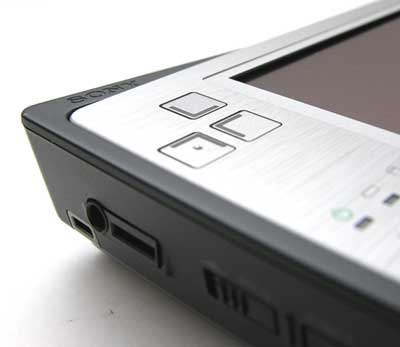 On the opposite side of the face are the mouse buttons. You have a left, right and even a middle mouse button. Having the buttons in these locations really facilitates holding the Vaio between your two hands and using it like a tablet computer instead of like a notebook computer.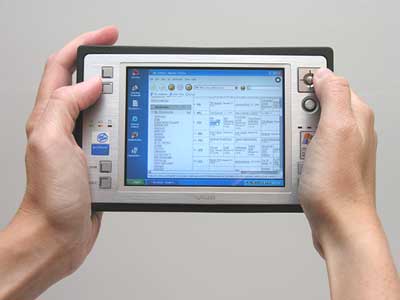 LEDs on the left side middle of the face show the status of power, battery and hard drive. There appears to be a matching set of LEDs on the right side, but I'm not sure I've ever seen them light up…
The display on the U71 is really quite nice. At the brightest setting it is clear and easy to read. Text is crisp and colors are rich. At half brightness, you can still comfortably view the screen and save battery life at the same time. The surface of the display is easy to clean if it gets smudged.
At the bottom of the face on both sides are more flat metal buttons. On the left side there is a zoom and a rotate button. Zoom allows you to cycle resolutions: 640×480, 800×600, 1024×768, 1280×1024, 1600×1200. I set mine up at 800 x 600 to avoid scrolling around to see the entire desktop. The rotate button does just that, it rotates the display so you can hold the Vaio in portrait mode. I never really used it in this orientation much during the review period. I can see how it might be good if you wanted to read e-books on this device…
There are 3 buttons on the other side. One brings up a set of tools (mute toggle, volume adjust, brightness adjust, external display toggle, and mega bass toggle). One button just brings up the brightness adjust tool, and the bottom button toggles the on-screen keyboard.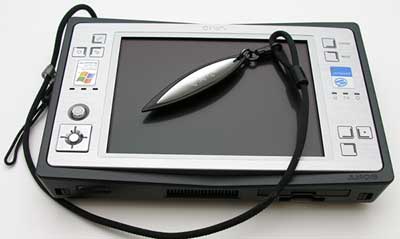 In case you weren't aware, the Vaio has a touch screen. And if you also didn't notice, it doesn't have a physical keyboard attached to it. So, if you want to input data, you can either attach the folding keyboard, or use the on-screen keyboard and stylus combo. The stylus the comes with the Vaio sort of looks like a leaf. At first I didn't like the design, but as I used the device, I began to like it. It is easy to hold on to and use.
I don't much like using a stylus to tap a keyboard for inputting more than a minimum amount of text. I prefer a physical keyboard. The USB keyboard that comes with the Vaio folds for travel, but opens up to a comfortable size.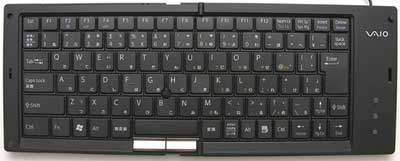 The key pitch is pretty shallow though, so some people may not like the action.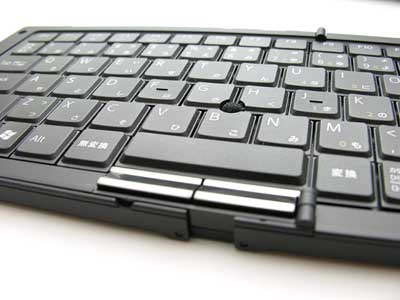 I didn't have much trouble touch typing with it, except that key placement was off for some keys. Although the U71 comes with an English version of Windows XP Home and English keyboard drivers, the keyboard still has Asian characters and extra keys on it. The only problems I had were with the backspace and quotes
keys. Otherwise, I had no real problem with it. There is even an eraser head pointer that you can use instead of packing a mouse.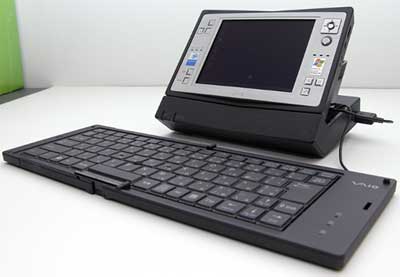 If you do want to use a mouse and keyboard with the Vaio (like I do), then you'll need to use the included docking station because the U71 only has 1 USB port on the computer itself. The docking station has 4 more, for a total of 5. Wow!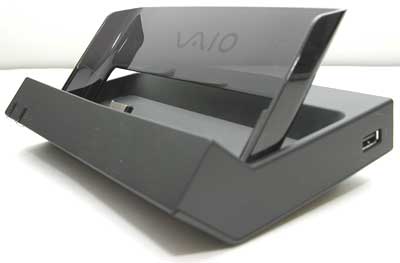 The dock is actually comprised of 2 parts. A back rest for the Vaio, and the base unit. The Vaio easily slides into place and sits at a perfect notebook-like viewing angle. On the right side of the dock is one USB port.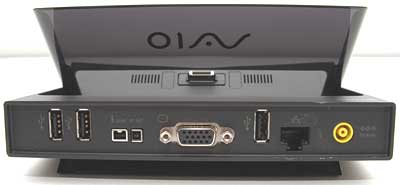 On the back of the dock are the other 3 USB ports, 4 pin Firewire (non-powered), iLink power port, VGA, Ethernet jack and AC adapter.
I found using the dock with the Vaio to be the most comfortable way to use this computer for any real length of time. Especially when doing actual work instead of just surfing the web. So the thing is that if you think you'll be using the Vaio in this configuration more often then not, you'll want to bring the dock with you whenever you travel. Not a big deal you say? Well, when you add the dock and the keyboard to the Vaio itself, you have a handful of items that while only totaling up to about 3lbs, are a bit bulky to carry. After
taking the U71 with me on vacation, I started to wonder if maybe a regular sub-notebook might be more convenient for me.
I used the U71 for an entire week as my one and only computer while I was on vacation. I was surprised at how well it performed with all the tasks I threw at it. Granted, I don't do rocket science on my computers, but I do some photo editing, which isn't anything to sniff at. Boot up times were no problem, application loading times didn't bother me. Surfing and emailing were fine via WiFi, and photo editing was doable. The 1.1GHz process in this little puppy, along with the 512mb of RAM really make this a usable travel computer.
Speaking of the built in WiFi, it really saved my butt while I was on vacation. For some reason, I had it in my head that the port on the back of the docking station was for a modem… the place where I was staying on Sanibel Island, Florida only had dial up access… So I get there and realize that I don't have a modem, and my Verizonized Treo 650 doesn't have the best signal (1 bar), so I can't depend on it for use with PDAnet as a modem. Soooo, as I start to sniffle about my plight, I just turn on WiFi and look to see if there are any access points nearby. I didn't expect to see any, but there were 2 and they were unsecured! So I click on one, connect and voila! I have free high speed internet access for the entire week! Yay me!  Then on the way home, I discover that the Fort Myers airport also has free WiFi. :o) Life is good!
All in all, this device served me well for that week while I was away from my primary desktop PC. My only gripes were with the non US keyboard and the fact that I wouldn't mind the display being a couple inches larger. But I can't really complain much at all, this device packs a lot into such a small package.
As far as software, the device came from GeekStuff4U with the English version of Windows XP Home. Also installed are  Open Office 1.1.3 (an open source MS Office clone that is Word, Excel and PowerPoint compatible) and the Mozilla web browser, along with a couple Japanese applications for sound and Kanji input. If you want the U71P to have English handwriting recognition, you'll have to install a 3rd party application. There are several available if you search around.
You're probably wondering about battery life at this point. The standard capacity battery that ships with the Vaio is rated for 2.5 hrs. I found this rating to be pretty accurate. A higher capacity battery is available for a  lot of cash, that doubles the battery life (5.5 hrs) and looks to double the thickness as well. 2.5 hrs isn't a long time, so this device really wouldn't work as a PDA like some people might think it would.
When it is all said and done, I have found that the U71P makes a decent travel PC for me. The docking station might make my load a little bulkier than I would like, but it isn't completely necessary to take along if you have something else to use to prop it up with when using the keyboard with it. Having the built in CF slot was a real convenience for me when offloading digital camera pix. I didn't have to bring along a separate card reader.
Yes, the Sony U71P is expensive. That really isn't anything new when it comes to Sony products though is it? If you have been looking for a itty bitty touch screen Win XP device with WiFi, and aren't scared away by the price, this device could be your next travel buddy.
Price: $2152.88
Pros:
Extremely portable Win XP device
Decent performance
Docking station adds 4 USB 2.0 ports
CF and Memory Stick slots
Cons:
Expensive
Manual is in Japanese
Carrying the AC adapter and docking station increases the bulk quotient
Product Information
Price:
$2152.88
Manufacturer:
Sony
Pros:

Extremely portable Win XP device
Decent performance
Docking station adds 4 USB 2.0 ports
CF and Memory Stick slots

Cons:

Expensive
Manual is in Japanese
Carrying the AC adapter and docking station increases the bulk quotient