We use affiliate links. If you buy something through the links on this page, we may earn a commission at no cost to you. Learn more.
Product Requirements:
SonicStage
is compatible with the following Windows operating systems:
Windows 98 Second Edition, Millennium Edition, 2000 Professional,
XP. Browser:
Internet Explorer 5.5 or later.
CPU: Pentium II 400 MHz or higher (Pentium III 450
MHz or higher is recommended). Hard
Disk: 400 MB or greater of available space.
CD-ROM drive (supporting Digital MusicCD playback
capabilities using WMD). To create original CDs or to back up audio CDs a CD-R/RW
drive is required.
I will start this review with a confession: I am probably the last
gadget person on the face of the earth to get serious about ripping my CD
collection to a hard drive in order to carry at least a portion of that
collection on a dedicated digital music player. I really don't know why it took me
so long to do it. It's not like I didn't realize the benefits of being able to
carry a room's worth of music on a pocket-size device. It's not like I didn't
always keep several gigabytes of MP3s on my computer anyway, and it's not like I
didn't enjoy being able to load music onto my PDA. Perhaps a small part of the
reason I never ripped my entire collection was that I knew it would be a
monumental task and for what? I could only load a couple of GB at most to my
PDA's memory cards, and I didn't want to carry a separate device when my PDA
could play music just fine. Of course, listening to MP3s is such a drag on any
PDA's battery life that I wound up not doing it…at all.
That's not to say that I did without music, of course. When I was in my
office I had access to a TV with digital cable and 46 music channels,

streaming Sirius radio over the PC, and a full sound system to listen to
CDs. When I was in my car I had

Sirius radio, a six disc CD changer and one single CD slot in the dash.
Since I couldn't possibly carry my entire collection of CDs in the car, I made
do with abbreviated selections stored in bulky cases. Or I listened to favorite
channels on Sirius – hoping that the songs I wanted to hear would make the
rotation. Even though this method was working, I can admit that it had its
downsides and compromises.
When Julie got her first iPod, I
thought it was a neat gadget. I liked the size of the device, the intuitive
interface and the idea of cramming so much music into such a tiny slice
of vanilla ice cream. But to Julie's bewilderment, I did not succumb to her
proselytizing and become a Pod Person. For some reason, the whole iPod wave left
me cold. When complaints began to surface about the iPod's lackluster battery
life, the Grinch in me felt vindicated.
Time passed by, and Julie got her newest
iPod.
When she was trying to decide if she should upgrade or not, she said something
to me about taking her old one if I wanted it. I wound up not taking it, but in
the process I began to rethink my stance on whether or not I wanted to own a
dedicated digital music player, or whether one would be wasted on me. I also felt I should
consider the fact that my daughter Sarah was beginning to amass her own CD
collection, and she was still carrying around a 1990s-looking portable CD player
and its accompanying CD case. I figured I needed to set a better example!
Then came several summer trips and the accompanying boredom of their long
flights. For the first time, I began to really see the benefit of carrying a
dedicated digital music player. I began to reconcile myself to the idea of taking the time
to rip my entire collection…not that I was looking forward to it.
In case you haven't figured it out by now, I am not a jaded expert in the
mega-GB digital music player arena. While I have fiddled around with Julie's
iPod on trips and have used many smaller Flash driven MP3 players, as well as
the music player on every PDA I have ever owned that had the capability, I was
basically like a blank slate waiting for my first real digital music
player experience.    
When Brando approached Julie and
me about reviewing the new Sony

Network Walkman NW-HD1, I was ready.
Opening Sony boxes always gives me a small thrill. For the last couple of
years, a new Sony box meant a new CLIÉ, but this time it was a miniscule 20GB
walkman. Included in the box were the player itself, a backlit remote control, earphones, USB cradle, AC power
adapter, USB cable, black velvet carrying porch and the "SonicStage
Ver.2.1" CD-ROM as well as a manual…in Japanese! Well that's
all right – I don't need no stinkin' manual!
Never miss one of our posts again. Sent MON, WED, and FRI with the latest gadget reviews and news!
Did I mention that Brando is in Hong Kong? He had sent me the Japanese
version. Not to worry, though; it was easy enough to change the player's
language under Menu/Language/English. Since I had no English instructions, I
gave myself a crash course on its operation through trial and error. We'll get
to that in just a moment, but first let's take a look at the hardware itself.
The Hardware:
Billed as "the world's smallest 20GB hard drive-based portable music
player" (as of June 2004),   the NW-HD1 measures a diminutive
3.5" (8.9cm) wide x 2.4" (6.2cm) tall x 0.5" (1.3cm) thick,
and it weighs just 3.9 ounces (112g).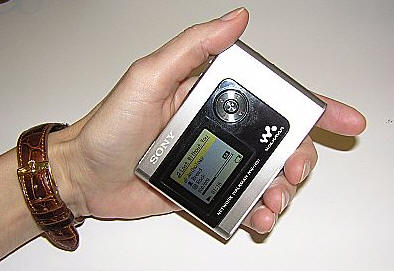 The Walkman is small enough that it fits nicely in my hand, but not so small
that it feels fragile or slippery. Supposedly it gets up to 30 hours of battery life. 30 hours!?
Is that even possible? We'll get to that later…
Playable Music Formats: ATRAC3plus/ATRAC3, On SonicStage as for corresponding possible speech
compression system ATRAC3plus/ATRAC3/WAV/MP3 (32-320kbps) /WMA* 3
Storage: 20GB built-in hard drive, up to 13,000 tracks at 48kbps when
using Sony's ATRAC3plus™ audio format.
Remote Included: Yes
Inputs/Outputs: Headphone jack
Power Source: Internal Li-ion battery, rechargeable via USB cradle,
Quick charge feature allows battery to be charged to 80% capacity in one hour.

Software: SonicStage version 2.1
USB 2.0
Indicatory Language: Japanese, English, French, German, Italian and Spanish

Accessories: Backlit remote control, earphone and USB cradle, AC power
adapter and the USB cable, carrying porch and application software
Display: 1.5" 7-line Backlit LCD
Display with 4 Modes depending on the mode chosen, display will
feature track number, bit rate, elapsed time, song title, artist name,
spectrum analyzer, play mode and bass/AVLS/battery life indicator.
Being as steeped in PDA background as I am, I can't help but call the Sony a
landscape mode player since it has a more horizontal orientation. Compare this
to most other players such as the iPod, which I look at as being portrait mode
players, since they have more of a vertical orientation. For comparison's sake,
I have listed the measurements and advertised battery life of a few other small
sized 20GB players. To keep all things relative, I will measure them in the same
orientation – portrait. The winner of each measurement is highlighted:
NW-HD1: 2.4" wide x
3.5" tall x
0.5" thick and weighing
3.9 ounces, up to
30 hours battery life

iPod: 2.4"
wide x 4.1" tall x .57" thick and weighing 5.6 ounces, up to 12 hours battery
life
iRiver:
2.4" wide x 4.1" tall x 0.75"
thick and weighing 5.6 ounces, up to 16 hours of battery life
To be fair, I should mention that the iRiver is the only
model of these three that also includes a built-in FM tuner.


Frontier Labs F1: 2.6" wide x 3.9" tall x 0.9" thick and weighing 6.7
ounces, up to 8 hours battery life

Rio Karma: 2.7" wide x 3.0"
tall x 1.1" thick and weighing 5.5 ounces, up to 15 hours of battery life
Judging by these figures, the Sony is the smallest overall digital music player. I have
to say that I am glad I didn't have to start this review by shooting down an ad
exec's hyperbole.

The player itself is a solid little package. The
case does not flex or creak and as a former CLIÉ owner, the brushed aluminum
body with smoked plastic display greatly appeals to me. The styling reminds me
quite a bit of Bang and Olufsen
back in the day. The only aggravating thing is that the smoky display is prone
to showing every fingerprint and smear. I have found myself obsessively buffing
it, as if I had nothing better to be doing. <I am rolling my eyes as I type
this>
Let's take a look at the body of the case…
The front side is quite simple, a 1.5" diagonal display and a four direction
joy-pad with a center button. Once again, this harkens back to PDA styling, so
it seems comfortable and intuitive to me. I found that the middle button was
easy to push either with the flat of my thumb or the tip of a nail. It is
actually much easier to hit correctly than the middle button on my HP iPAQ
1945's joy-pad. For shame HP!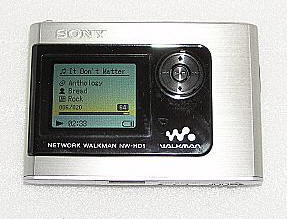 In standard display mode you will see the title of the song, its album, the
artist's name, genre, song number in album, recorded kbps (in this instance
ATRAC3plus 64kbps), song length remaining status bar, song timer and battery
status. Not bad for seven short lines.
The display can be inverted to a black screen with gray letters, or viewed as
a gray screen with black letters.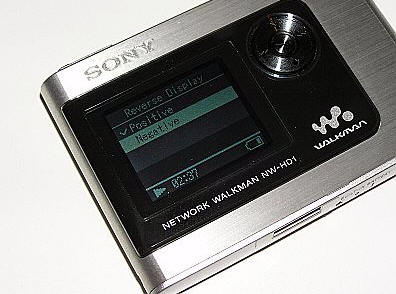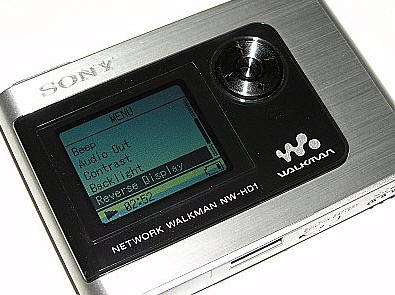 The backlight is green – once again harkening to PDA days of yore.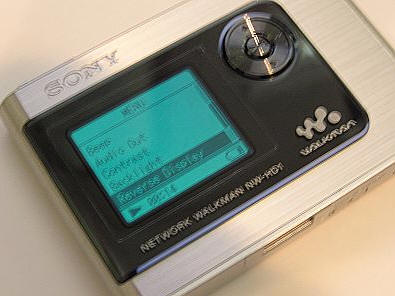 Please forgive the blurry photo – it was taken without flash
The back of the player is plain, except for the brand and serial number
embossing…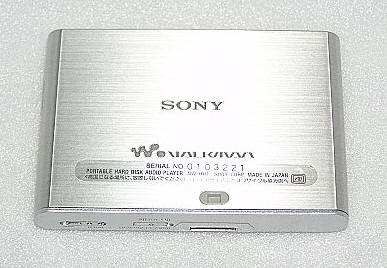 The right side has two lanyard holes, for those of you that would like to
wear the player on your wrist or around your neck. The left side is exactly like
the right, but without the lanyard holes.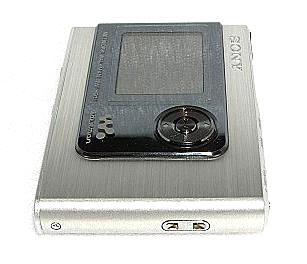 The bottom has the charging and syncing port which fits into the included
cradle, as well as the on and off switch for the built in battery (which I never
use) and the Hold slider. The on/off switch is difficult to slide, and I think
the only time it would be practical to use is when you are storing the player
and you don't want it to accidentally turn on. I generally will turn the Walkman
off by hitting Stop upon which it pauses the song then turns itself off within a
minute or so. The Hold slider is easy to operate, but I have found that I use
the one on the remote control more often.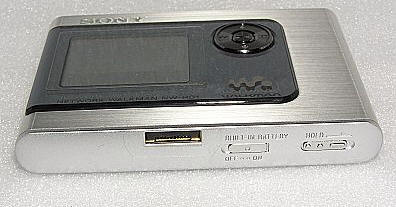 The top of the Sony holds the headphone's plug that is made to accept either
a traditional 3.5mm mini-jack or the proprietary Sony headset jack which allows
the use of the remote control. The Menu button, Mode button and Volume rocker
are also situated on the top of the player.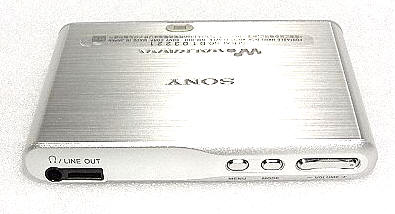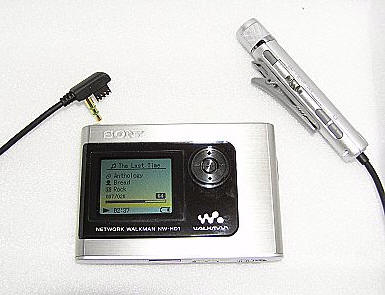 The Menu button allows the user to choose from the following options: Repeat,
Play Mode, Sound, AVLS, Beep, Audio Out, Contrast, Backlight, Reverse Display,
Language and Format. These options break down in this manner:
Repeat: Off or On
Play Mode: Normal, 1 Track, Play Unit, Track Shuffle, Unit Shuffle
Sound: Off, V-Surround which includes Studio, Live, Club and Arena
presets and Sound EQ which includes Pops, Jazz, Unique, Custom 1 and Custom 2 EQ
presets. You can adjust the graphic equalizer to set Custom 1 and 2.
AVLS (Automatic Volume Limiter): Off or On (which helps to conserve
batteries)
Beep: On or Off
Audio Out: Headphone or Line Out
Contrast: Features seven varying degrees from which the user can choose
Backlight: Auto, 10 seconds, 30 seconds and Off
Reverse Display: Positive and Negative
Language: Japanese, English, French, German, Italian and Spanish
Format: For resetting the player back to factory specifications – erases
the hard drive
Choices are selected by using the joy-pad – up, down, into (right) and back
(left).
The Mode button allows you to select music from the following choices:
Artist, Album, Genre, Group, and Others which includes newly loaded tracks and
Bookmarked songs. These options allow you to select your music by the chosen
field.
The Sony cradle is great for setting the player on your desk for
charging…that's about it, though. It is not something I look forward to
bringing on a trip, as it is yet another bulky charger. Measuring approximately
4.75" long x 1" tall x 1" thick, it has a proprietary port which plugs into the
bottom side of the player. A silver release button disengages the catch when
charging is complete. To indicate charging phases, there is an LED light that
will glow red while the battery is charging and go dark when the battery is
full.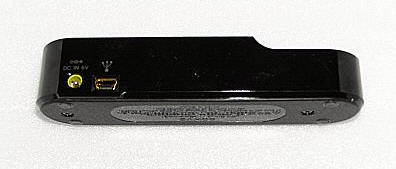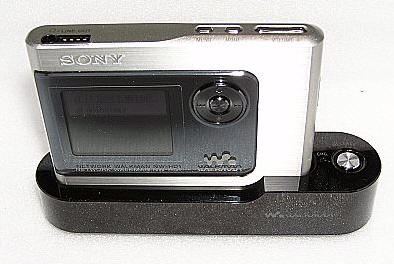 The back of the cradle has the 6v DC in plug and a miniUSB
port
When the player is sitting in the charger and the USB cable is attached, the
player becomes a drive on the PC. This would have been the perfect way for Sony
to allow moving MP3 files directly to and from the player, but that would have
been too simple and non-proprietary now, wouldn't it? I'll get more into it
later, but sufficed to say music can not be loaded in this manner. Files
can be though, so if you would like to use your player as a portable drive, that
is possible. You'll just need to lug your cradle along to accomplish that.
Measuring 3.25" long x 0.5" thick, the silver plastic cylindrical remote
control is jam-packed with just about all of the features found in the body of
the player. Let's take a look at this little magic-stick…
The top has the 2" long LCD screen which displays all of the information
pertaining to your menu selection or the song playing…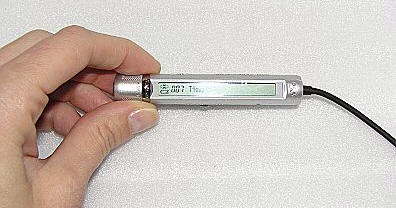 The top side has the Hold slider, the Display button which scrolls through
the information that is displayed on the full sized screen of the player, the
Play Mode button which serves the same function as the Play Mode button on the
player, and the Sound button which scrolls through the selections you chose on
the main unit and offers different visualizations as it does so.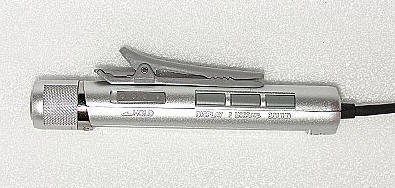 The bottom side has a Stop button, a song Back/song Forward slider with a
Play/Pause button in it's center. There is also a folder up and folder down
button which allows you to switch between albums.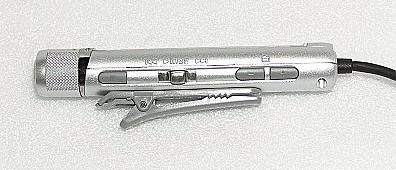 The back of the remote has a integrated gator clip to allow fastening it to
an easily accessible area. This makes it convenient to secrete the main body of
the player in your pocket or bag.
The left end has a Volume knob which allows you click the sound up or down,
depending on how quickly you would like to go deaf. At the very end is the
headset plug.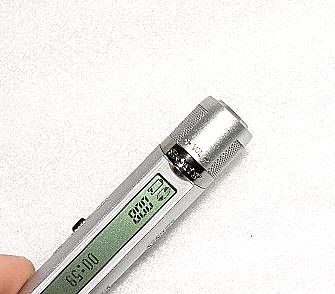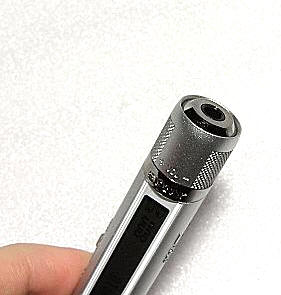 The earbuds are the standard crappy ill-fitting ones that everyone includes
because they know you are going to replace them the first chance you get. It
doesn't matter how hard I try, I just can't make these fit my ears. Because of
Julie's glowing recommendation, I bought a pair of
Bang & Olufsen Earphones…much
better!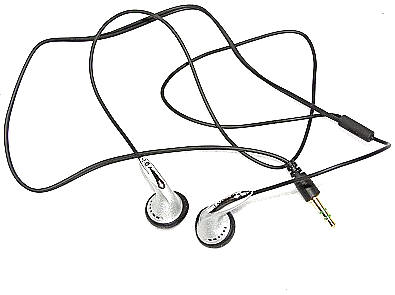 Music playback sounds good, but it is not overly loud even when turned up all
the way. Your mother would approve.


The black velvet slipcover is nothing to write home to mother about. It holds
the player and will protect it from smudges, but that's about it. Depending on
whether or not this player captures the aftermarket manufacturers' eye, perhaps
there will be better alternatives available in the future.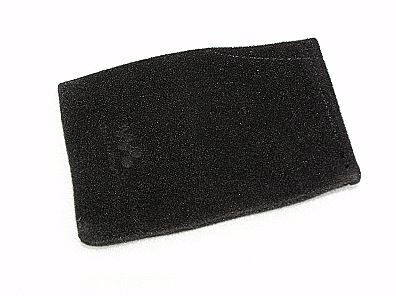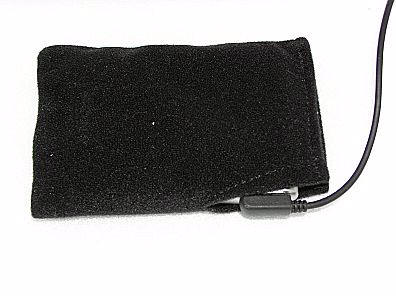 This is where I should mention that the player has G-Sensor™ Shock
Protection to provide impact protection and Skip Free
G-Protection Technology to provide quick recovery from both
horizontal and vertical shock. With that said, I don't recommend rough
treatment for the Walkman at all. Treat it like a PDA without a case – use it,
but be gentle and mindful of the fact that it is not a ruggedized  item.
Battery Life:
I was having trouble believing the advertised claim of 30 hours of battery
life, so I decided to conduct my own non-scientific testing. I set the volume at
medium level with the AVLS set to Off. My battery testing began Sunday at 5:00pm.
When full, four bars are displayed in the battery icon. By 10:00pm, the battery
had dropped by one bar. That was a little bit worrisome, but by 8:30am the
following morning there was still only one bar missing. The second bar dropped
at 9:30am this morning (Monday). By 1:16pm, the battery had dropped to one bar
remaining. As I write this, it is now 5:30pm – 24.5 hours from when my test was
first began…and I still have one bar remaining!
The battery finally began
blinking at 7:00pm and I ended the test – at 27 hours! I realize that I
am still a bit short of the 30 advertised hours, yet I must say that I am
pretty impressed. Maybe if I hadn't been doing all the backlight-fiddling and
menu-messing-with that I had to conduct for the review, I could have reached it.
The Software:
When I first got this Walkman, I almost had a heart attack when I realized
that the software that came with it would not run on my English version of
Windows. Luckily, I could read its name and after Googling, I found that it was
the software that comes for free from
Sony Connect, Sony's own music store. Derrr!


Yes, just like Apple, Sony has set up their own music store. This actually
makes sense since Sony is a huge recording label. According to their site,
Connect allows you to "download music to your Sony portable audio
device and select from an extensive library of over 650,000 songs with new
tracks added each week. Install the Connect music store/Sonic Stage software
on your PC and access music from your favorite artists. Browse, listen to
samples and download songs for 99 cents or entire albums for $9.99 and up."
With that said, I could already see that there were going to be some
proprietary issues with purchasing and downloading music in this manner…much
less downloading the music I already owned to the Walkman. Before I get into
that, I'll talk about the software set up…
After the software was run and the icon clicked, I was prompted to set up an
account with Sony Connect.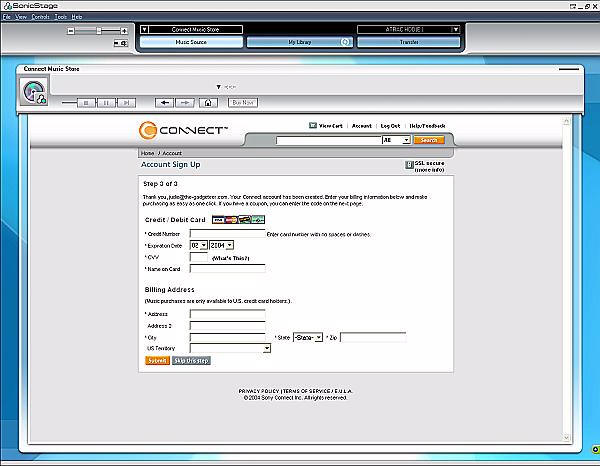 Once this was done, I could go to a main page that listed my account info and
allowed access to any of my future downloads.
Now it was time to connect my player and see if it would work. I held my
breath as I popped it in the cradle, but right away, the following screen popped
up…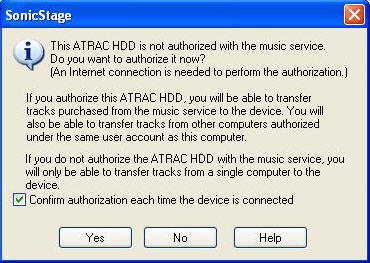 Yah, the ATRAC talk threw me off. But this was a good thing – it meant that
my Japanese player had truly learned to speak English. So I clicked Yes, and the
following screen appeared telling me to wait as my player was registered…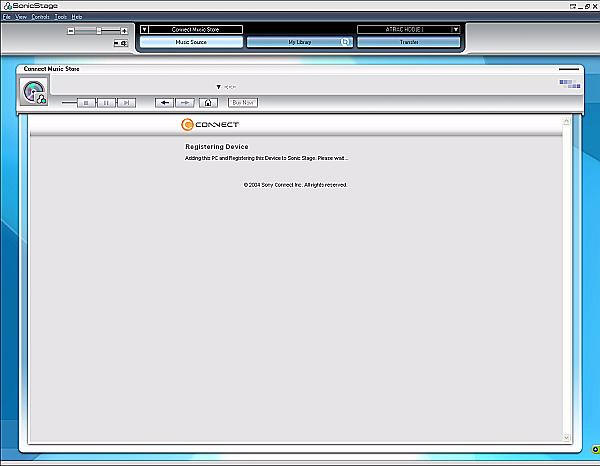 Success! I got the screen that showed my library and the files that were on
my Walkman. Since I had purchased the 99¢ Macy Gray
"Walk This Way" single It automatically transferred over. Then I went to
File/Import/Folder and started moving over MP3 files.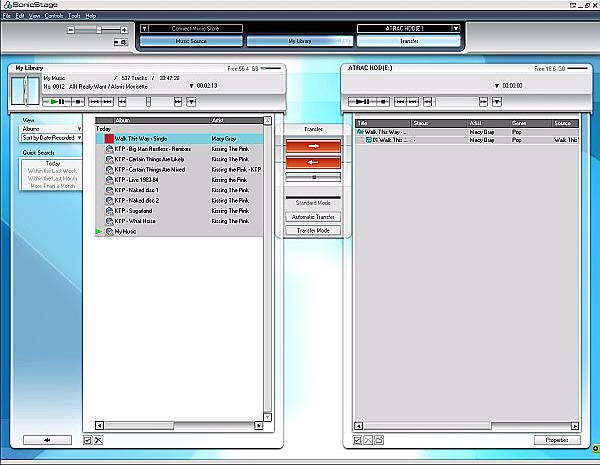 My 99¢ experiment went off without a hitch, so I
bought a couple of additional albums. They downloaded perfectly, and I was able
to keep up with the transfer by watching a progress bar. Once complete, i then
had the option of playing them or transferring them to my Walkman.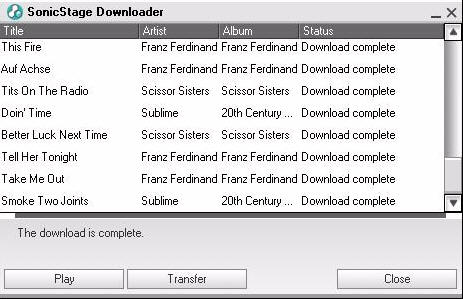 I promised myself before I wrote this review that I would avoid getting into
a huge side rant about why we (used as an all-encompassing term) can't just pick
a music format, agree on it, and use it in every player. I really am going to
stick to my guns on this.  With that said, my MP3s could not be transferred
to the player in that format. Each had been ripped at 192kbps, but when I went
to transfer them to my Walkman, they were transferred as ATRAC3plus 64kbps.
I fooled around with the settings and found that this could be changed.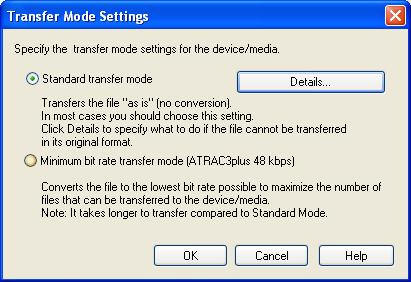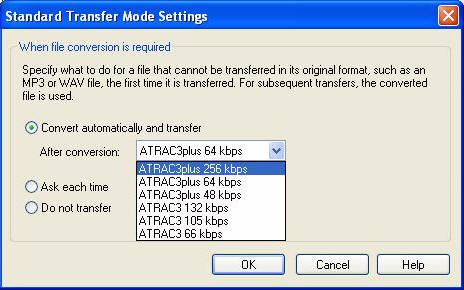 Surprisingly enough, I did not notice a big drop in quality between the
192kbps and ATRAC3plus 64kbps, so I left it alone. At this rate of compression I
will be able to squeeze even more music on the player. Speaking of which, after
ripping CDs for what seems like eons, I now have 2,586 songs loaded, but
I still have 13.4GB free! This is crazy! Steve got in on the act the
other day and started helping me rip CDs, I think he saw that I was getting
overwhelmed.
SonicStage will play the ATRAC music you have loaded on your Walkman when it
is in the cradle and connected via USB, or it will play the MP3s, WMA3 and WAV
files you have stored on your computer.
For the most part, the software worked well enough and was intuitive, but
there were a couple moments when I got frustrated with it. Since you have to go
into your files and import the folders you want to transfer to the player, it is
possible to accidentally import a folder twice – especially if you are like me –
doing ten things at once with your mind elsewhere. Once the music is in the
library section more than once, it will download just as many times to
your player. Why isn't there some kind of software check built in that can spot
duplicates and at least ask if you intended to load Cabaret Voltaire's
Microphonies album five times? <sigh>
My next major source of frustration came when I decided to make hardcopy
backups of the music I had purchased from Sony Connect. According to the site, "With
SonicStage, you can listen to music on your computer, transfer songs to your
compatible portable device, or burn it to CD. The choice is yours."
Guess what? I found out that this is a damn dirty lie. I apologize for the
French, but I am really steamed about this! Here is what happened when I tried
to create a CD backup of the Franz
Ferdinand album that I purchased for $9.99…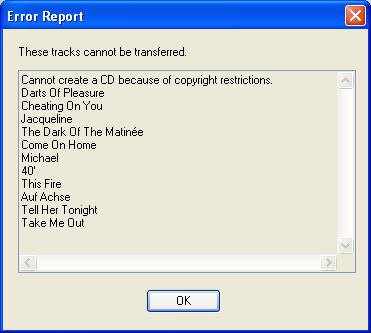 The same thing happened with
Paul's
Boutique, a 1989 Beastie Boy's
release and "Walk this Way," the new Macy
Gray single.
I was able to burn CDs of four other albums I had purchased, but I have gotta
tell you – this puts a major damper on my making any future purchases – unless
Sony is willing to tell me which ones I will or will not be able to save to CD.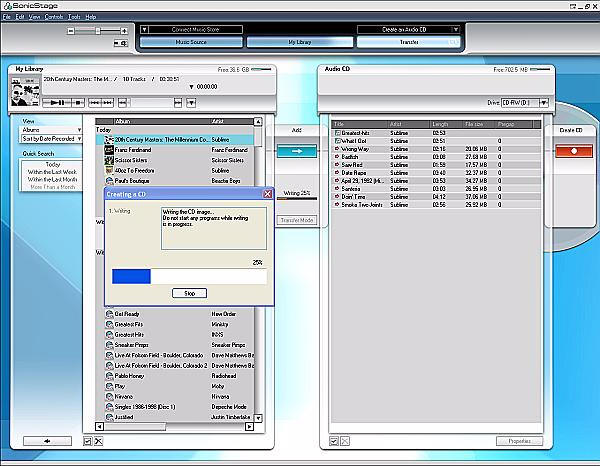 SonicStage has been a learning experience. I am using it to burn CDs and for
managing songs on the Walkman. It makes a handy desktop jukebox and its editor
makes changing track and album information easy enough. I don't use it to rip
CDs though, for that I am actually using
iTunes because I like the way it files and saves my music.
So, what do I think after using the Sony Network Walkman NW-HD1 for the last
couple of weeks? I think that I need to finish ripping every CD I own,
just to see how many it takes to actually fill this device! The Walkman is small
enough that its no bother to bring it along when I go out; it easily fits in a
pocket or my bag. The battery life is simply amazing…truly! This player
is so easy to operate that I didn't need the manual.
With this type of battery life, I am not even worried that there isn't a car
power adapter available. I am a little concerned that there may never be
much in the way of aftermarket accessories if the Sony doesn't catch on with
consumers, but since there isn't much I would add, I am not too
concerned. One future future improvement I would like to see, even if it meant a
slightly larger version, would be the addition of a buitl-in FM transmitter.
With that said, there will be those that won't give the Sony Walkman a chance
because SonicStage must be used to manage downloaded music and because it has to
its convert files to ATRAC. There will be even more that pass on the Sony simply
because it isn't an iPod. Those that are willing to try something new will be
pleasantly surprised. As for me? I don't need no stinkin' iPod!


The Sony Network Walkman NW-HD1 is available from
Brando
and other retailers.
Price: $399
Pros:
Incredible battery life – I got 27 hours!
Smallest digital music player available (as of June 2004)
Solid metal body
Easy to navigate
Classic style
Cons:
Prices higher than other 20GB players (Typical Sony move)
Must use SonicStage to manage music
Must convert music to ATRAC format when transferring to player
Not all songs purchases through Sony Connect can be burned to CD
Product Information
Price:
399.0
Manufacturer:
Sony
Pros:

Incredible battery life - I got 27 hours!
Smallest digital music player available (as of June 2004)
Solid metal body
Easy to navigate
Classic style

Cons:

Prices higher than other 20GB players (Typical Sony move)
Must use SonicStage to manage music
Must convert music to ATRAC format when transferring to player
Not all songs purchases through Sony Connect can be burned to CD