We use affiliate links. If you buy something through the links on this page, we may earn a commission at no cost to you. Learn more.
Well, here is an update on my Samsung i550 saga for those of you that have been writing to ask:
I called SPCS yesterday to get my service switched over from the i500 to the i550. I already had the lock code for the handset – I just needed to get things set up on their end – or so I thought.
After giving my eight digit hex number, I was told "That's a Samsung i550? When did that come out?" I felt guilty and a bit sqeamish as I told the CS rep that it wasn't technically out yet, but would hopefully be soon. Of course I didn't mention that the phone was never and probably will never be a supported Sprint device – even though it is branded nine ways to Sunday with "Sprint PCS" markings. Anyway…
We recently had an area code change in my town, so I was erroneously told that my PCS number and MSID numbers should be the same, when in fact the MSID number needed to be set to the old area code. This kept my phone from being recognized by the PCS network, even though when I called back I was assured that everything was working "perfectly."
This morning, I finally admitted that I was getting nowhere and went to the local PCS store. The assistant manager was all set to say "no" about helping me figure out what was wrong with the phone,until he saw all of the "Sprint" branding as well as the Sprint startup screen. That's when he decided it should work and he would help me. Not even five minutes after walking into the back, he came back out with the fixed unit – and explained the dual number issue.Well, that solved 1/2 of the problems I have been having – yay!
The other 1/2 is trying to get the i550 to hot-sync. I had read in an i550 devoted forum that one user had gotten his to sync by using the i500 cradle and software. Well, I tried many times, and in many different ways, but I couldn't get it to work. :0(
If anyone out there can think of anything I should try to get the phone recognized by my computer, it would be much appreciated. For the record – the i500 will even sync in the i550's cradle, but not the i550. It is definitely a driver problem, not a hardware issue.
In the meantime, I have beamed all the programs that I needed from the i500 to the i550. I was even able to bypass the lack of a hot-sync user ID with a clever little freeware application – Change Name. It has been a little bit frustrating, but I feel that getting this i500 will ultimately be worth it, as I now have the coolest phone I have ever owned…one that Sprint PCS evidently doesn't want anyone to have.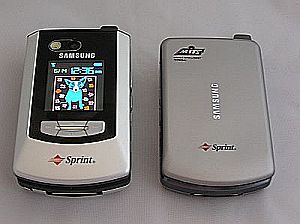 On the left is the i550, on the right is the i500 – as if you couldn't tell. ;0)