We use affiliate links. If you buy something through the links on this page, we may earn a commission at no cost to you. Learn more.
I have been using a
ProStrap on my
Olympus for about a year now, and I thought that I was quite happy with
it. However, about a month ago I was sent a product which I have since decided
is superior, the CooLanyard Digital
Camera Wrist Strap.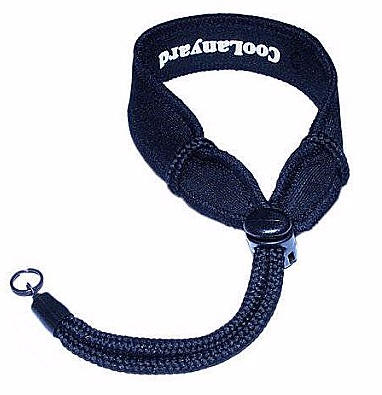 Photo courtesy of CooLanyard
The CooLanyard is a combination of a comfortable 1" wide neoprene wrist
softener coupled with a thick corded end. Measuring approximately 10" from the
spring ring to the top of the loop formed by the wrist softener, the CooLanyard
is long enough to fit a larger wrist, but because of its adjustable cord lock it
can also be made to fit one that is much smaller.
I am very happy with the construction of the construction of the CooLanyard.
The wrist softener is thick enough that it feels substantial, yet not so heavy
as to feel hot on warmer days. The cording used is almost 0.25" thick when
squashed flat, and it seems to be about indestructible. I like using a spring
ring to secure my camera, because it just feels like a more secure
connection.
Out of the package, the CooLanyard is ready to be attached to any camera with
a larger lanyard connection port, such as this Olympus.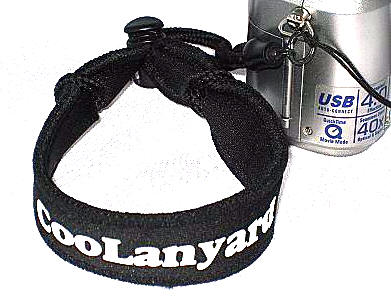 The spring ring is simply threaded through the opening, and viola – the strap
is ready to go.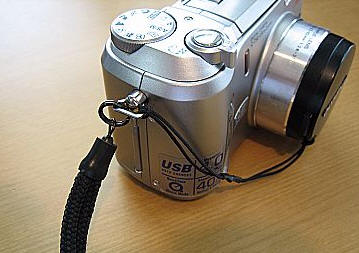 However, not all cameras come with such an accessible opening. For those,
there is an included Spring Ring Adapter.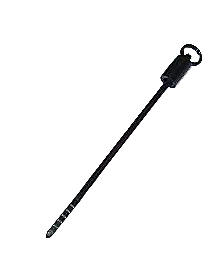 In order to install the adapter, the end of the ratchet tie is passed through
the lanyard port. Detailed directions for its installation are
here.
Once the CooLanyard is attached to the camera, an adjustable cord lock will
allow the user to adjust the wrist strap for comfort and security.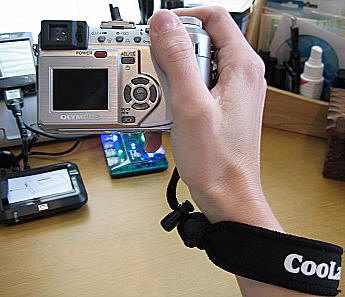 I have been using the CooLanyard for over a month, and during that time I
have been quite satisfied with its performance. It survived four-wheeler rides
across the ranch, wrapped about my wrist while gripping the camera, and it has
performed very well in its more daily capacity, wrapped about my wrist as I take
review photos. I can recommend the CooLanyard Digital Camera Wrist Strap to
anyone that is looking for an inexpensive, secure and comfortable means of
securing their camera.
The CooLanyard Digital Camera Wrist
Strap is available here.
Price: $5.95
Pros:
Inexpensive
Easy to apply
Adaptable to any lanyard port
Well made
Will fit any wrist
Cons:
None
Product Information
Price:
5.95
Manufacturer:
CooLanyard
Pros:

Inexpensive
Easy to apply
Adaptable to any lanyard port
Well made
Will fit any wrist

Cons: