We use affiliate links. If you buy something through the links on this page, we may earn a commission at no cost to you. Learn more.
Product Requirements:
Either a wall outlet or a car's power
port
There are lots of things that you can keep in the trunk of your car (or
behind the seat of your pickup) that will make life easier when there is a
roadside emergency. Some examples that come to mind are gloves, a flashlight,
jumper cables, and maybe even a small air compressor. But what if you are
pressed for space and you don't want to have to keep up with a bunch of loose
accessories? That is when a product like

Convenient Gadgets'
Auto Power
Seven-in-One might come in handy.
The Auto Power (AP) is a convergent item that packs seven (well, six –
but I digress) different devices into one gadget. As it's shape alludes, it is
indeed a vacuum cleaner. It is also an automobile battery charger, a power
supply capable of recharging mobile phones and other items, an air compressor, a
flashlight and a flashing warning light. The seventh feature is that there is a
power indicator light to let you know how much power is left in its reserve. I
am not sure that I would consider the indicator light to be a true feature, but
I guess it is better to know exactly how much juice you have left, rather than
to be surprised.
The Auto Power's main body is constructed of blue plastic with black accents,
including the removable accessory tray that attaches to the bottom. Without the
tray, it measures approximately 15" long x 6.5" tall x 3.5" wide. All
measurements were taken from it's bulkiest points. The AP weighs approximately 3
pounds 12 ounces (also without the tray). So while compact, that doesn't mean
that it is lightweight or "cheap" feeling – it does have some heft to it. When
squeezing or twisting of the AP's body is attempted, there are no creaks and the
shell does not give.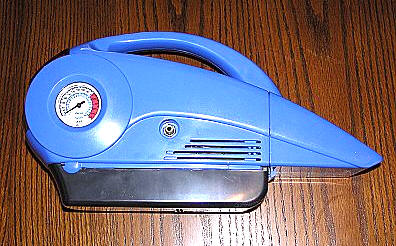 The right side of the Auto Power shows the air pressure gauge and there is an
outlet for attaching the air compressor's included hose. The air pressure gauge
shows pounds/square inch as well as kilograms/square centimeter and kPax100.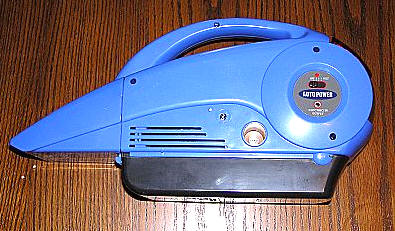 The left side of the AP contains (from left to right) the recharging status
indicator LED, the power adapter recharging input for the DC wall adapter, the
auto power recharging socket where the included power port adapter attaches, and
what I call the electricity pod. This pod is the round area on the left side of
the picture which holds (from top to bottom) the voltage indicator LED light
which shines red when the voltage switch is anywhere but the off position, the
voltage switch which can be set at 3, 6 or 9 volts, and the power outlet socket
which is where the included accessory power adapter will be inserted.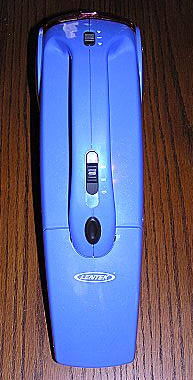 Looking at the unit's vacuum end, there is a button to press which will allow
access to the vacuum cleaner's filter. Directly above that is a slider that can
be set in one of three positions: forward – which turns on the vacuum cleaner,
middle – which is the off position, and the rear – which turns on the
compressor.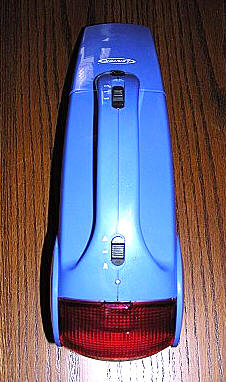 The front of the AP houses the flashlight area. There is a red sliding
plastic hood that can be raised or lowered to allow either a white flashlight
beam or a red blinking hazard light, depending on its placement. The black
slider above allows for the following actions: hazard lights, off and
flashlight. Directly below the slider is a small LED power indicator.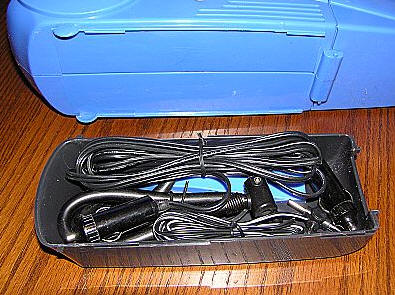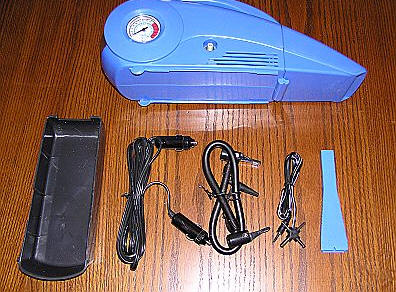 The black storage compartment unsnaps from the Auto Power's body to reveal
all of the portable cords needed to operate while in a vehicle. There is a ten
foot cigarette lighter connector plug cord, an air compressor hose, an accessory
power adapter and a vacuum cleaner extension. The included DC charging cord does
not fit in this area.
Initial and subsequent recharges should be for ten hours. Once full power is
achieved you should stop the charging to prevent damage to the AP's battery.
So without further ado, lets take a look at this device's individual
features. We'll find out if it is possible to effectively pack so many
components into one compact unit…or we shall see if the Auto Power is a "jack
of all trades, but a master of none."
Vacuum Cleaner: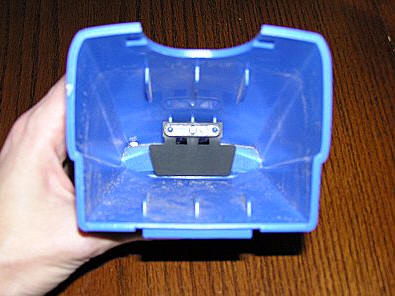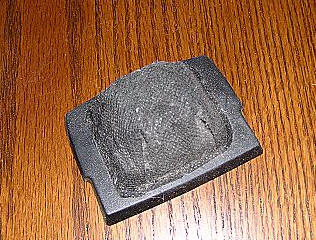 When you press on the previously mentioned vacuum dust filter access button
at the rear of the unit, the plastic housing will drop down, allowing the rubber
and cloth filter to be exposed for removal and cleaning. There is a small
plastic catch to keep dirt and debris from escaping back out of the casing once
it has been collected. The vacuum actually has quite a bit of power when turned
on and after using it on dogs' bed, I was impressed by the amount of funk it
picked up. Yuck!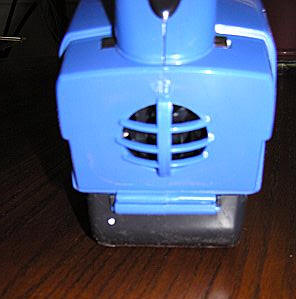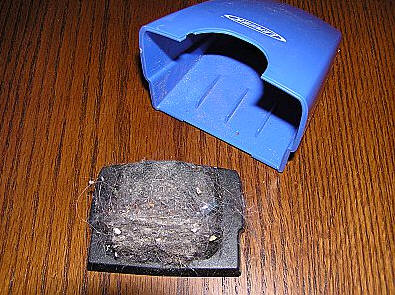 Left: The vacuum motor exposed   
The vacuum extension can be inserted into the front of the vacuum's hood to
reach hard to get areas.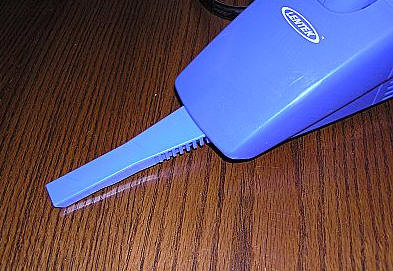 Overall, I was not disappointed with the vacuum portion of this device. While
I certainly wouldn't recommend it for large cleanups – mainly because of the
small size of the filter and the collection area, it was more than adequate for
spot cleanups in the car and the suction seemed quite good.
Automobile Battery Charger: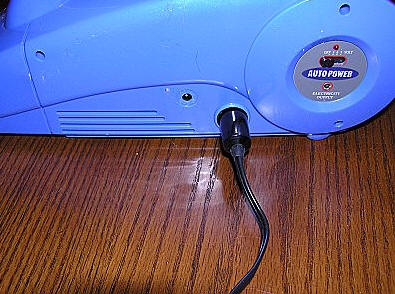 Here is the deal: My car battery didn't die while I was testing this device.
I wasn't about to allow that to happen, so I can only tell you how this feature
is meant to be used. The idea is that if your car is dead and needs a
jump-start, you don't have to wait for a good Samaritan to pull up next to you
on the road to share jumper cables. Instead, you take the connector plug cord
and insert one end into the auto power recharging socket and the other into your
vehicle's cigarette lighter. After waiting at least ten minutes, your car should
be able to start.
There are a couple of caveats: The first is that if the AP is not fully
charged then it may not be able to provide enough juice to get your vehicle
started, so you need to make sure that you always keep it ready to go. The other
is that if your car battery has discharged below 10 volts then the Auto Power
will not be able to bring it back – you'll need that good Samaritan after all.
If at a later date I actually get to use it for its intended purpose, I will
come back and post my experience. With that said, I think that you should
probably leave the jumper cables in the vehicle – just in case.
Power Supply: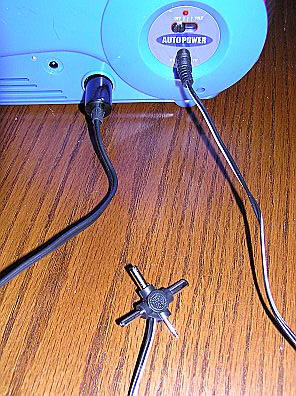 Once the Auto Power has been charged, it is now capable of charging other
accessories. The only catch is that your accessory must fit one of the four
heads on the outlet wheel. If one of the heads will fit your device, then you
can select 3, 6 or 9 volts to ensure proper charging. Unfortunately, neither my
cell phone nor my PDA will work with any of these heads.
There is good news, though! If you have a car charger cord for your cell
phone or other accessory, then you can plug it into the port on the side of the
AP and it will charge your battery – even when away from the car. I can think of
several scenarios where this might come in handy.
Air Compressor: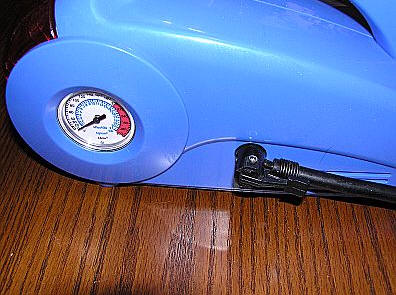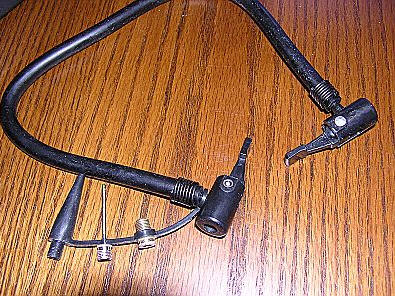 No car should be without a portable air compressor, and this one is pretty
decent. It comes with two metal and one plastic attachments. I tested the
compressor on a flat bike tire, and was pleased to see that it worked properly.
I also hooked it up to Steve's car's tire, and it raised the pressure. The
300Lb/inch² motor is strong, and while it
might take a good ten minutes for it to actually inflate a flat vehicle tire, I
believe that it would be capable of doing so. I should mention that the AP must
be plugged into the car's lighter for the compressor to operate. The AP should
work fine on passenger cars, but I would hesitate to use it on a larger vehicle.
Flashlight: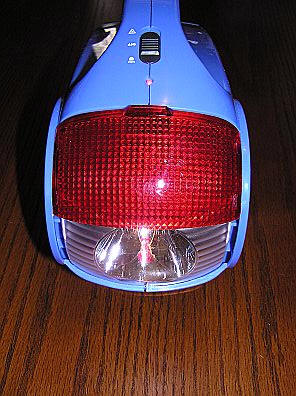 Sliding the front power switch forward, and making sure that the red plastic
visor is in the lifted position, reveals the flashlight. When running, the power
indicator light will glow red, green or yellow – depending on the remaining
charge. While this is by no means xenon headlight bright, the flashlight should
be sufficient for emergency use. The handle on the top of the AP makes it easy
to carry the flashlight around. Of course, if you need to go hiking in the woods
and don't want to kill your night vision, you could probably leave the red visor
in the lowered position.
Warning Light: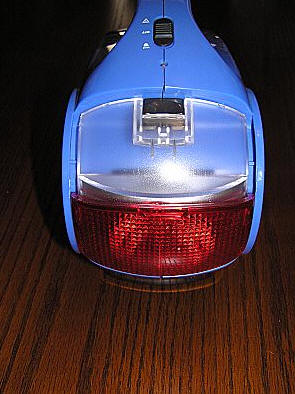 Sliding the power switch to the rear, and making sure that the red plastic
visor is in the lowered position, activates the warning light. This should be
helpful if you are stuck on the side of the road somewhere – waiting for a good
Samaritan. ;0)
Power Indicator:
The power indicator is the LED light above the lamp portion of the Auto Power
device. When you slide the power switch to the flashlight setting, It will glow
red if the AP has under 30% power remaining, yellow if it has 30-50% remaining
and green if it has full power and can be operated normally. Remember that it
takes ten hours to fully charge the AP. This is not an area that you should
scrimp on. The good news is that you can charge the AP from your vehicles
cigarette lighter when the auto is running.
The Auto Power has several qualities which make it a handy tool to keep in
the trunk. It is always smart to keep an air compressor handy, and the warning
and flashlight are both useful safety features. Adding the vacuum cleaner was a
nice touch, and as long as your car battery is low – but not completely dead –
you could benefit from the auto battery recharging feature. The power bank is a
handy feature, but will only benefit those who either have a cigarette lighter
adapter for their device or who can fit one of the four adapter plugs to their
item.
How about the cost? Let's add of what these items would be individually:
    -Rechargeable vacuum cleaner: Approx $20, if you get
one like

this.
    -Flashlight: Up to $55, if you get a
cool one.
    -Warning light: $15, if you get one like
this.
    -300Lb/inch² air
compressor: $16 for one like
this.
    -Power Supply/Car charger: Approx $31…I found
one for
$62, and I figure the AP is probably half as strong, so we'll say it is worth
half as much.
    -Total: $137
So not only would you have all of these individual items rolling around in
the back of your car – think about how much room those appliances would take up!
Then you have to pay approximately $137 to have that privilege. Hmmmm….the
price of the Auto Power Seven-in-One is looking pretty good! If you are a parent
about to send your child off to college – this might make a great back to school
gift. Slip the AP in the trunk of your kid's car – after fully charging it of course. I
bet that they will put it to good use.
The Auto Power Seven-in-One is available from
Convenient Gadgets
and other retailers.
Price: $59
Includes a one year warranty through

Lentek
Pros:
Conveniently packaged six in one device
Fairly decent automobile tire compressor
Portable power supply
Good device to keep in the trunk of your car
Cons:
Tire compressor is probably not strong enough for larger vehicle tires
Charger feature only works if vehicle battery has not fallen below 10 volts
Product Information
Price:
59.0
Manufacturer:
Lentek
Pros:

Conveniently packaged six in one device
Fairly decent automobile tire compressor
Portable power supply
Good device to keep in the trunk of your car

Cons:

Tire compressor is probably not strong enough for larger vehicle tires
Charger feature only works if vehicle battery has not fallen below 10 volts