We use affiliate links. If you buy something through the links on this page, we may earn a commission at no cost to you. Learn more.
Product Requirements:
Device:
PalmOne Zire 71
If anyone out there owns a Zire 71, they know why a replacement stylus is pretty much a must. The stock stylus is nothing but a plastic stick, and it's very flexible. Not only that, but it doesn't even reset the PDA. In short, there is no upside to the stock stylus.
JAVOedge is a company similar to Proporta or Brando, in that they make PDA accessories. They make a line of replacement styli called the Stylograph. I was sent two different versions: a rubberized black version and a silver aluminum one that is not rubberized. I must commend JAVOedge now. They do use the common plastic retail packaging, however theirs is not melted together. Instead, it snaps apart very easily. This alone makes me already place JAVOedge very high, even without feeling their product yet.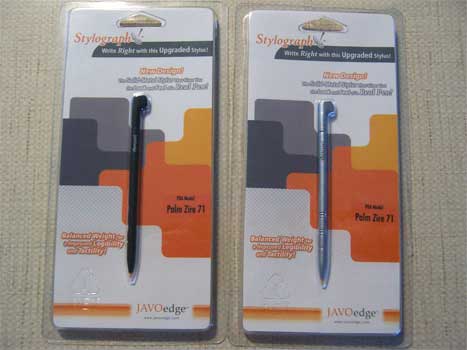 These styli both have a few things in common. One, they are both weighty. In fact, they weigh about as much as 2-3 alkaline AA batteries. Two, their tops unscrew to reveal reset pins. Three, they have the JAVOedge insignia on them. Four, they have notches taken out of the shafts on the bottom. This makes an excellent grip. Five, they have a bright orange tip. The orange tip is superb. It feels like a hot knife through buttah when sliding across the screen. I have never used any premium styli that Julie or Judie review often, but I would bet this tip either meets or surpasses the quality of those styli. Whichever model you choose to complement your Zire, you will have a quality product!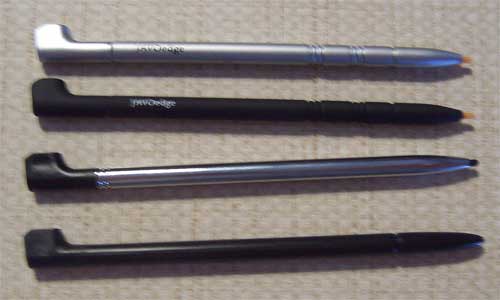 Top to bottom: silver Stylograph, Black Stylograph, off-brand replacement stylus available on ebay, and the stock stylus.
Black Rubberized Model:
I will now focus on the black model especially. I will confess this is my favorite of the two. The rubberized surface makes gripping it so much easier. It slides into the stylus silo with a great click, but the rubber creates some resistance. Also, it is pretty hard to get out. I'm sure with time and wear, it will be easier. Don't let this resistance keep you from buying it if you're tempted, this is an excellent stylus.
Price: $11.95 from JAVOedge.com
Pros:
Rubber makes it very easy to grip
Notches add to gripability
Reset pin built in
Price
Weighty (may be a con for some, I happen to like weighty styli)
Cons: 
Resistance when going into the silo
Difficult to remove
Silver Non-rubberized model:
This version feels heavier to me. I don't know why, but it just does. Like the black version, it does click when inserted in the silo, but there is noticeably less resistance. It is also easier to remove. The silver tone blends in perfectly with the silver of the Zire.
Price: $11.95 from JAVOedge.com
Pros:
Silver blends in perfectly with Zire
Notches make it very easy to grip
Reset pin built in
Price
Weighty (again some may not like this)
Cons: 
None

Product Information
Price:
11.95
Manufacturer:
JAVOEdge
Pros:

Silver blends in perfectly with Zire
Notches make it very easy to grip
Reset pin built in
Price
Weighty (again some may not like this)

Cons: