We use affiliate links. If you buy something through the links on this page, we may earn a commission at no cost to you. Learn more.
REVIEW – Learning to play guitar, and getting to a point where others might want to listen, can be a very large gap. Even when you sound really good, the required repetition to nail a lick can take a toll on anyone listening. Headphones have long been a great solution for this, but without good amp tone and possibly some effects, it can be hard to get motivated. Fender's new Mustang Micro solves all this in a compact little package about the size of a Matchbox car.
What is it?
The Mustang Micro from Fender is a guitar headphone amplifier, an amp and effects modeling processor, a recording interface, and a Bluetooth audio receiver/mixer. Oh, and it plugs directly into your guitar and weighs practically nothing.
What's in the box?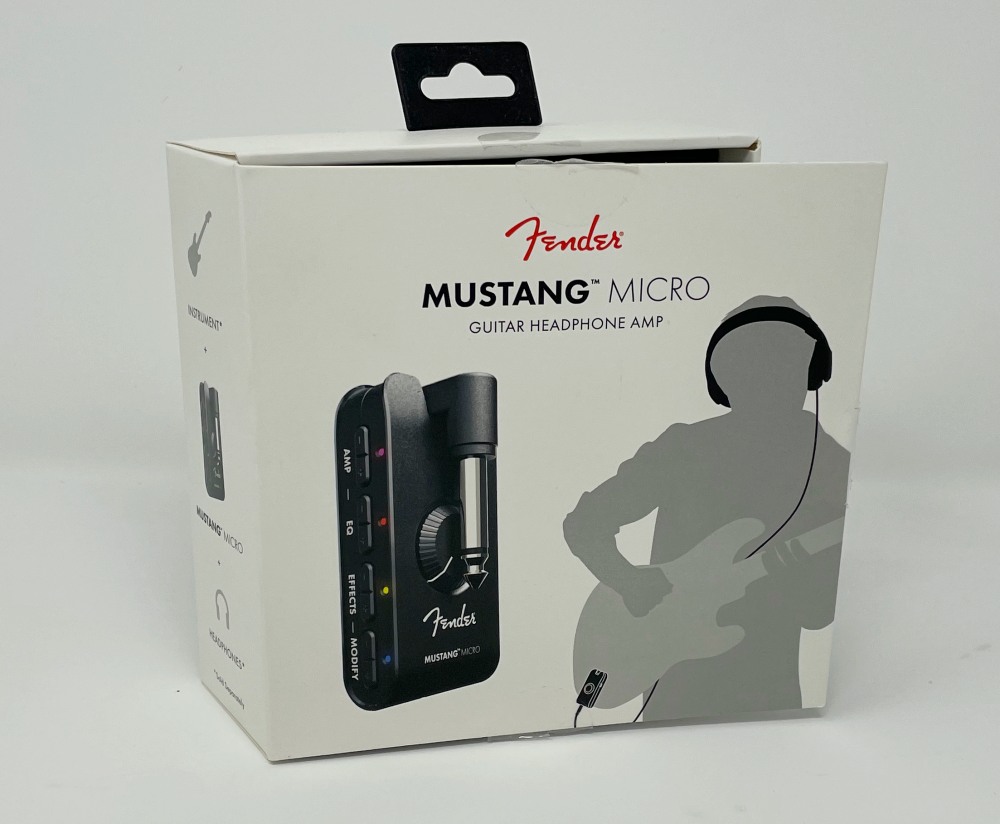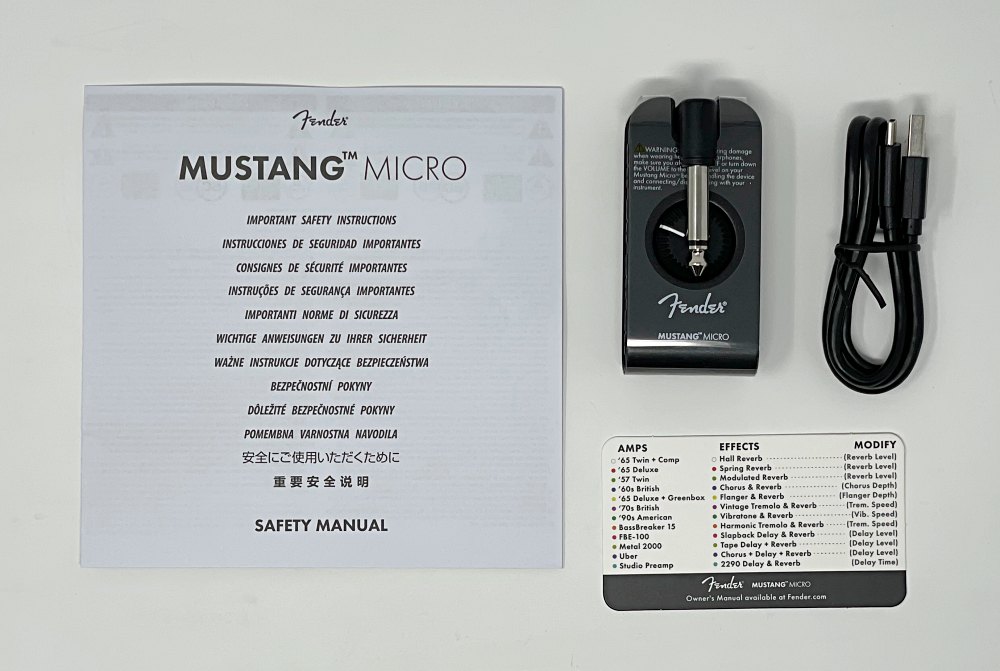 Fender Mustang Micro
USB-C to USB-A data/charge cable
Quick Reference Card
Safety Manual
Hardware specs
Controls: Amp Select, EQ Control, Effects Select, Modify Control, On/Off/Pair, Volume Control
I/Os: Rotational 1/4″ instrument jack, 1/8″|3.5mm stereo headphone jack, USB-C port
Bluetooth: Receiver only for streaming music to Mustang Micro
Power: Lithium ion battery ~ 4hrs continuous playing time (if run full tilt)
Design and features
What design and features set this headphone amp apart? What's worth mentioning?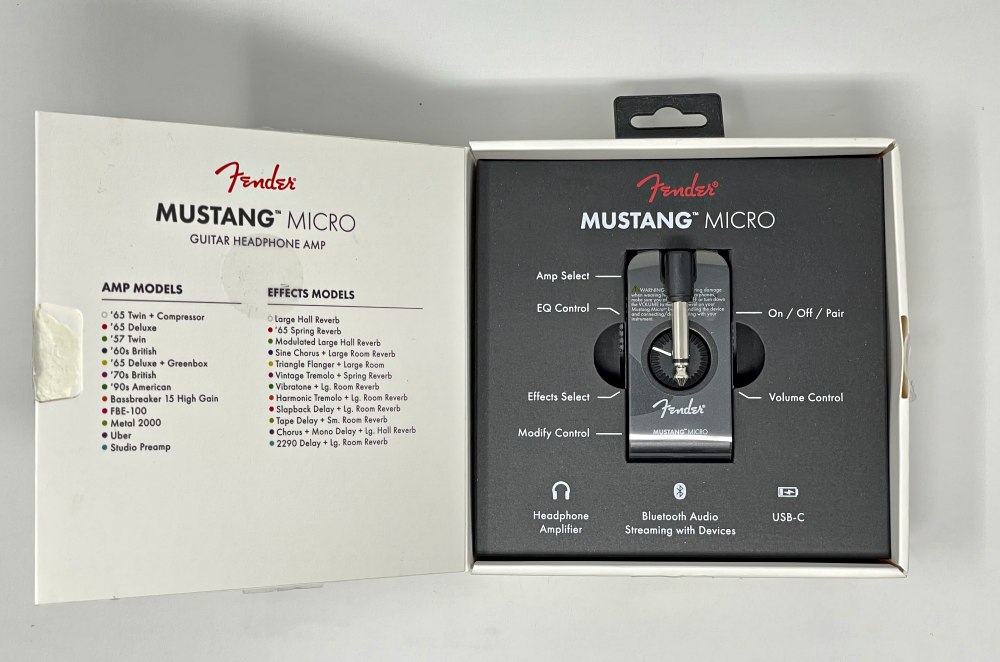 There are 12 amp models and 12 effects models to choose from along with EQ and modification controls. Stream music to Mustang Micro via Bluetooth from your phone and jam along, and/or plug into your computer and record directly into your favorite program without having to mic your instrument.
The 1/4 instrument jack is on a cool pivot allowing it to rotate around as necessary to see controls while in use…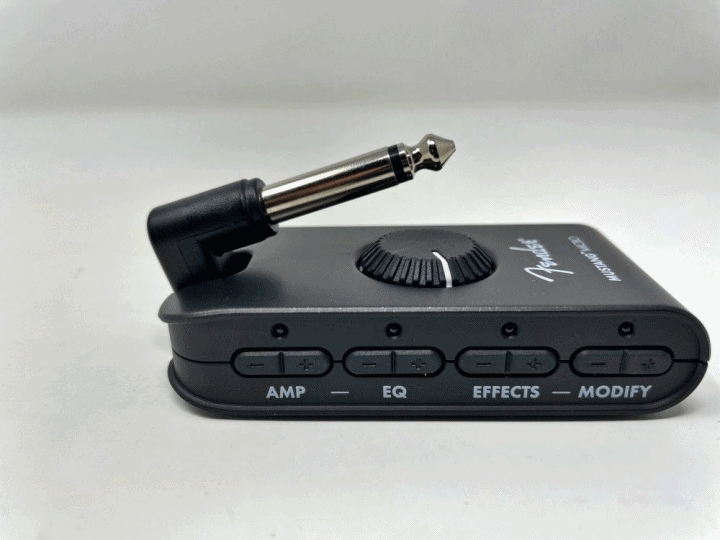 Or fit about every possible guitar jack location. It fit everything in our house.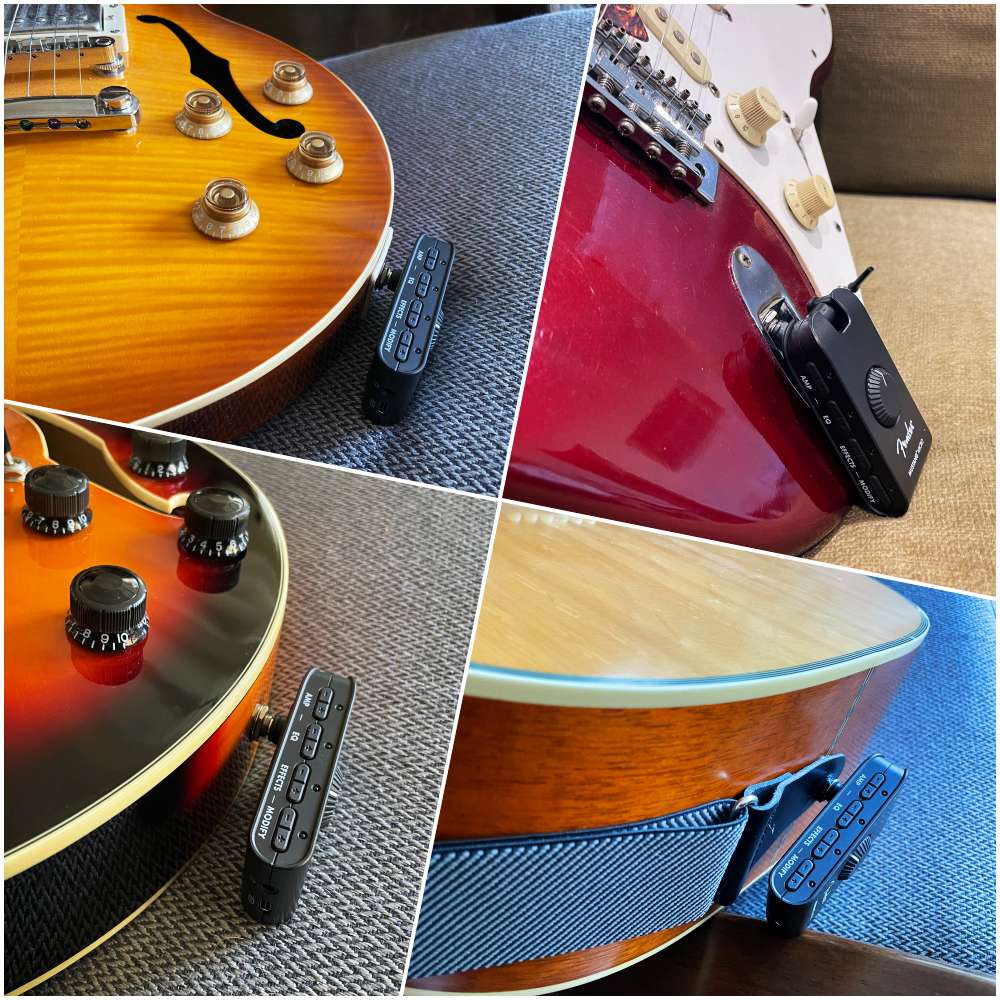 Setup
First, you'll want to connect the Mustang Micro's charging cable to a power source to top off its internal battery. That connector is on the end with the headphone jack. Probably best just to show you all sides.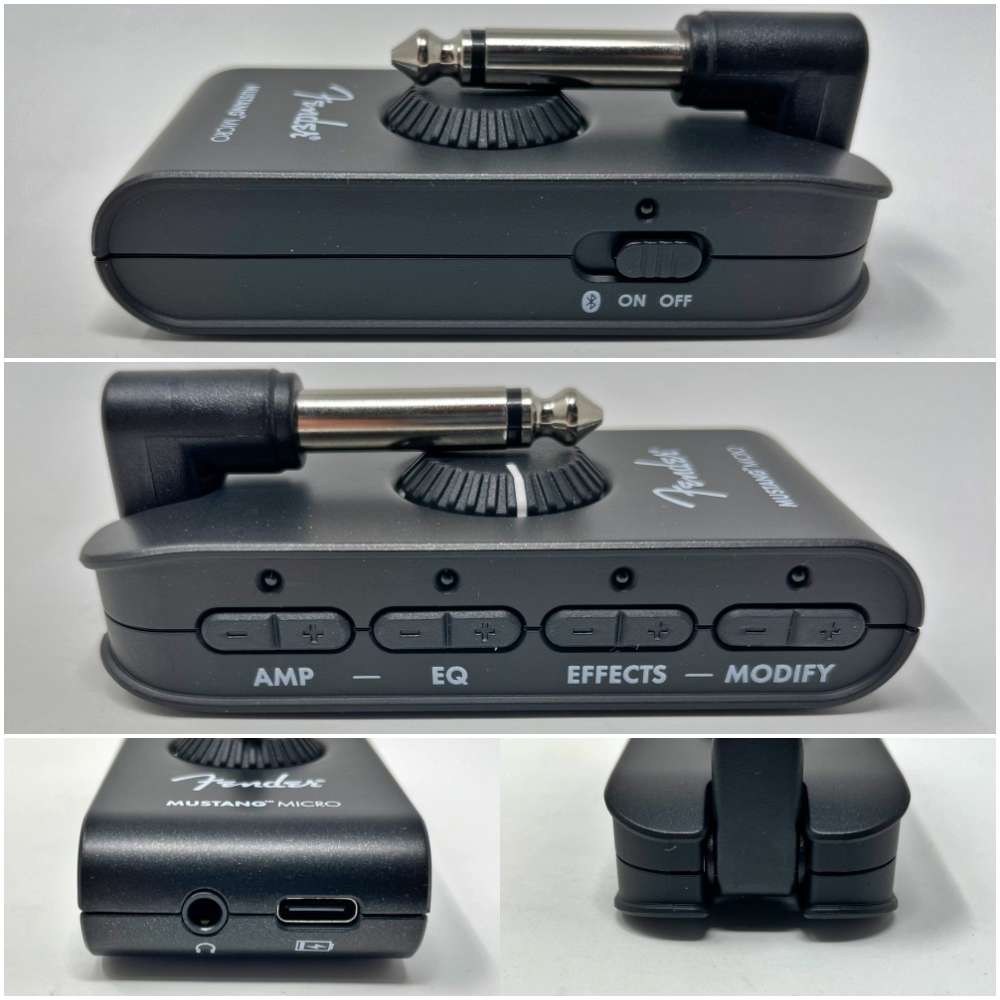 For headphone amp use, connect your favorite headphones to the headphone jack, and make sure the volume knobs on your guitar and on the Mustang amp are set low or even off. Like using any amplifier, you'll want to play a note or chord on your guitar, then turn up the volume on the amp slightly, and then switch to the volume on your guitar. Adjust as needed for a comfortable volume level and guitar presence. The volume knob on Mustang Micro has about 3/4 total rotation for the full range, so here's your zero to full reference positions.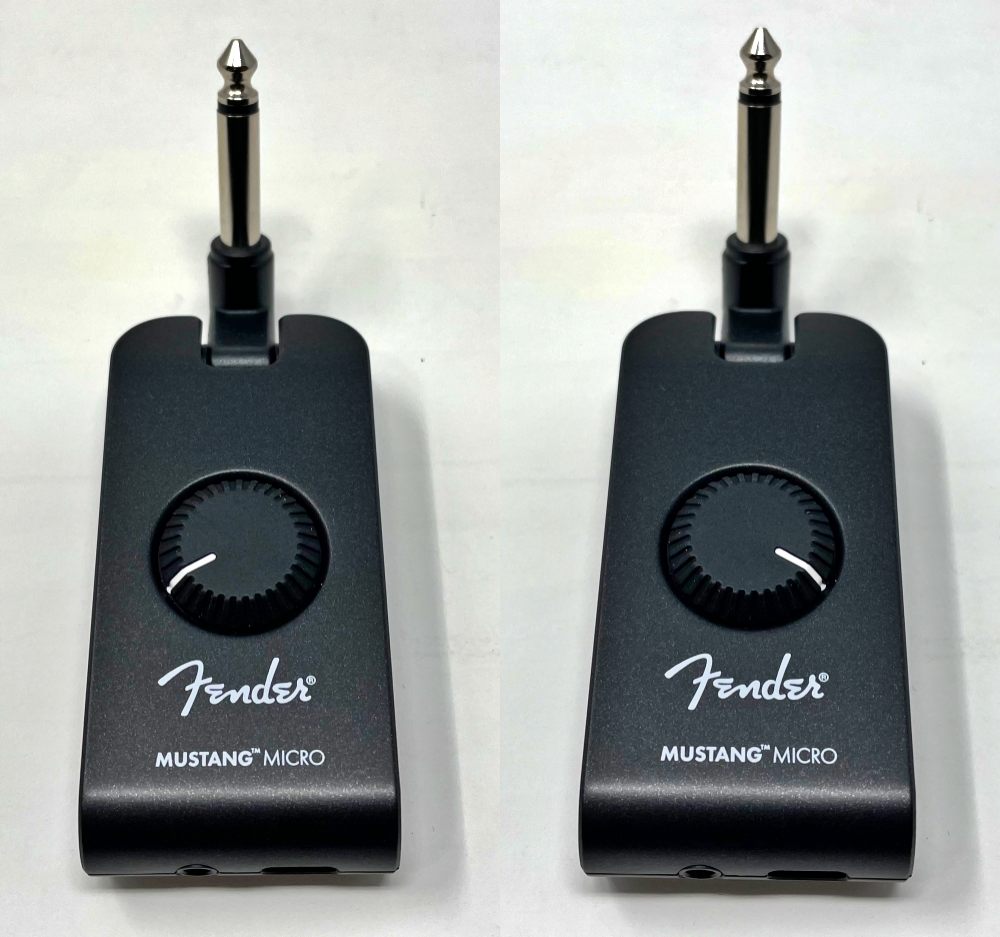 Use the +/- controls seen in the below image to toggle through the different settings; AMP for the modeled Amps, EQ for EQs, EFFECTS for Effects, and MODIFY to change a specific effect's value.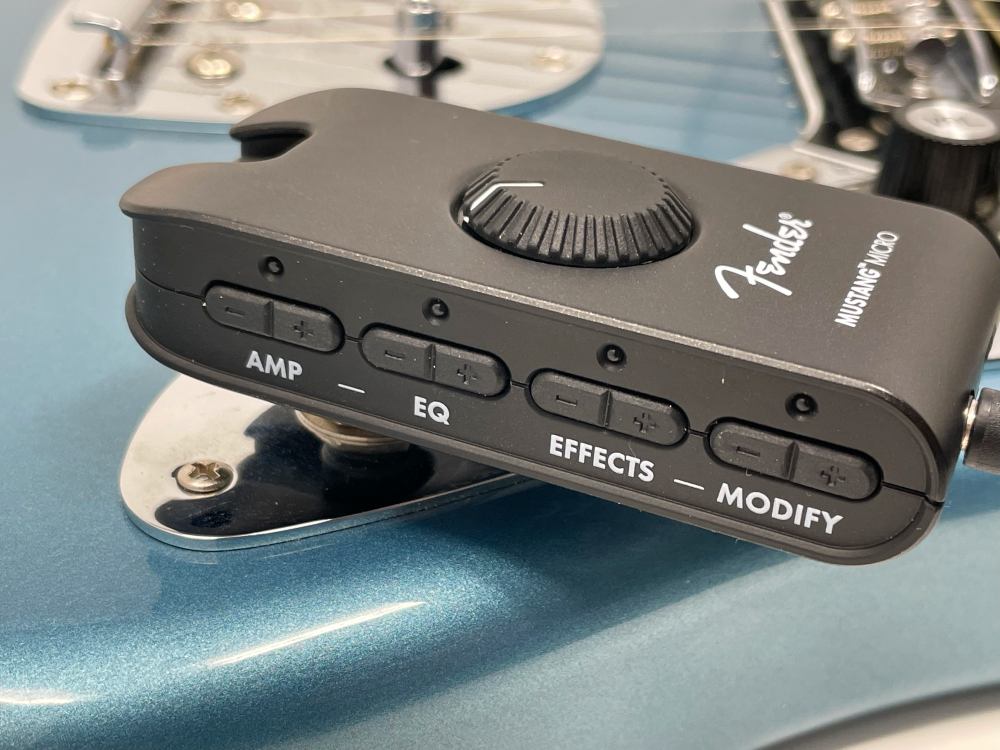 There's a lot to click through and even more when you start mixing and matching. The included cheat sheet helps you find what you like quickly. To prevent accidental changes, the controls time-out after a few seconds so a first press wakes the setting up and illuminates the LED, the next press switches to the next option.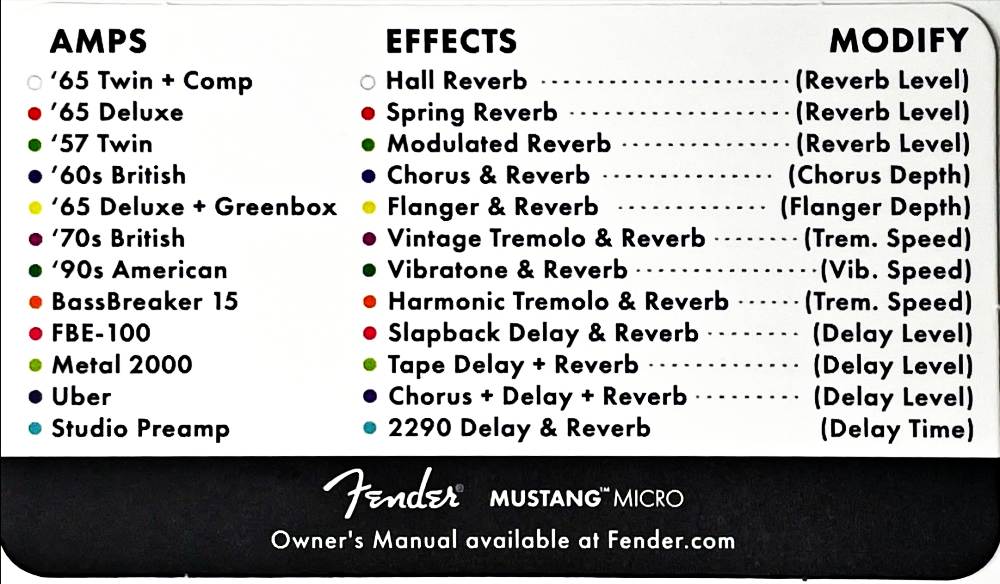 If you want to stream music to the Mustang Micro, slide and hold the power button over to the Bluetooth logo for a few seconds until the green LED flashes blue. Select Mustang Micro in the Bluetooth settings of the device you want to stream from and pairing should be complete.
You can now stream music directly into the amp and play along through your headphones. You'll control the volume of your music from the streaming device, but the volume knob also raises and lowers your guitar and music together so you may need to mess around a little to find the right balance.
Now if you want to record some tracks, connect the USB-C port of the Mustang Micro to your computer with the included cable or your own if you want something a little longer. Mustang Micro is a digital interface so your favorite recording app should recognize it as an available input right away. If not, refer to support for your app. When recording it will also capture any music you're streaming and playing along with, so keep that in mind.
Performance
So I used to play a lot of guitar. And then life kinda happened (all good). My son plays a lot and he's better than I'll ever be, but it does inspire me to want to play again. The challenge has been that I like a good crunchy sound to my guitar and without an amp and usually volume I just haven't been able to hear what I want to hear.
As soon as I connected the Mustang Micro to the Fender Jaguar hanging in my office that all changed. I connected a pair of semi-open over hear headphones and immediately got lost in trying the different amps and effects. Between those and the controls on the guitar itself, there's an entire world of options; more than I'll ever need. I was already hooked.
Then I paired the Mustang to my phone and started jamming along with Rage, Metallica, Jawbreaker, ACDC, Jimmy Eat World, and before I knew it three hours had gone by. I haven't played a single session that long in years.
Two things happened next… ONE… I took a bunch of photos before unhappily boxing it up to send down to my son to use and record with (since I don't record)… And TWO… I bought another one for myself since I knew I wouldn't be getting that one back.
Here are my takeaways…
The unit itself is built well and feels sturdy. It's small enough to leave connected to your guitar (depending on your jack location and how you store your guitar).
It goes loud enough that you'll want to be careful with headphones to avoid damaging your hearing.
Battery lasts plenty long and charges pretty quickly.
Controls are easy to use and you'll end up having your favorite couple of configurations which you'll identify by ear instead of trying to decode the LED colors. Fender organized sounds and colors in a way where similar ones have something different between to help differentiate. I think it worked out pretty well.
From clean tones to rockabilly, jazz to rock, even metal; There's plenty to sift through.
Stoked they used a USB-C port, but if you plan on recording much you'll end up wanting a longer cable.
Being able to stream music in is the best possible way to feel connected to the music you're trying to learn, and to find the right amp/effects combo to fit.
My son has been writing music a lot lately. The first thing he said to me after using the Mustang Micro was that being able to take something in his head and then quickly play it with an amp tone or effect was incredibly helpful. He's also living the dorm life, so being the Mustang being Micro, and being able to use headphones are clear wins. Better to let him relay his thoughts and sounds. Here's Satch.
What I like
The only guitar accessory I need. I bought another!
Great amp modeling, effects, and headset amp all in one
Let's me jam along with my music making learning songs even easier
Can record directly to a computer without background noise
Absolutely makes me pick up my guitar even more
Great price for the functionality
What I'd change
Swap out for a much longer USB cable
Final thoughts
If you play guitar, want to learn, or just have a guitar player in your life, the Fender Mustang Micro guitar amp is a must-own piece of guitar tech that doesn't break the bank and is almost guaranteed to make you pick up your guitar more often. It's easy to use and replaces 3-4 different pieces of expensive equipment.
Price: $99.99
Where to buy: Fender and Amazon
Source: The sample of this product was provided by Fender