We use affiliate links. If you buy something through the links on this page, we may earn a commission at no cost to you. Learn more.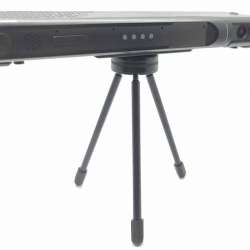 REVIEW – I'm what you might call an early adopter.  Many years ago, when our kids were little, we bought three television-based video conferencing units – one for us and one for each set of grandparents.  I wish I could remember the name of the units, but alas, I cannot.  You looked them up to your landline telephone line and your TV. When you wanted to place a video call, you dialed the other party.  Once they answered, you hit a sequence of keys on your phone that woke up the video systems.  They then negotiated a connection and in about 30 seconds, both parties showed up on each other's TV.  The connection was slow, the video was extremely pixelated, especially with any motion, and the audio was barely passable.  But, for distant grandparents and young grandkids, it was amazing to regularly be able to see each other.
Oh, how the times have changed. Facetime, Google Duo, Zoom, and such, have made video conferencing ubiquitous. Video and audio quality are stellar.  Still, it can be a little complicated for the tech-not-so-savvy, especially when it involves holding a cellphone or laptop and keeping oneself centered in the frame.
I've always thought that my 75″ TV would be a perfect video conferencing platform if only there was a way to hook up a camera to it.  Enter Mecool, a manufacturer of an array of video conferencing tools.  Their new Mecool Now Android TV platform is designed to do just that, and more.  Let's take a look at the Mecool Now, now.
What is it?
Mecool Now is an Android TV-based video platform.  Now is a fully-featured Android TV platform supporting a wide variety of streaming services along with video conferencing tools.
What's in the box?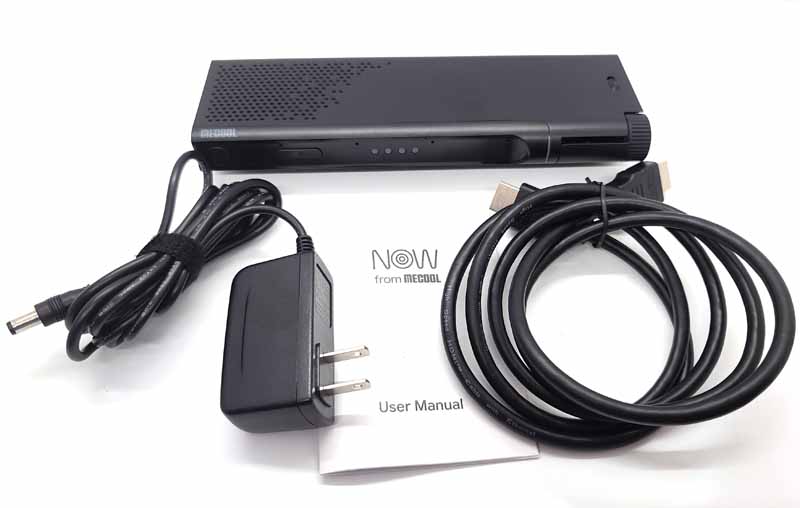 Mecool Now
Power cord
6′ HDMI cable
User manual
Remote control (will be pictured below)
Hardware specs
Dimensions: 200 x 66 x 22 mm
Weight: 210g
CPU: Amlogic S905X4 Quad-core ARM Cortex-A55

GPU: ARM G31 MP2 GPU

Power: DC 5V/2A power plug with cord
Power consumption: Pmax <8W, Standby ≤1.5W
Operating system: Android TV 10, Google certified
System memory: 2GB LPDDR4(4GB Option)
Storage: 16GB EMMC ( 64GB Option)
Video output – HDMI 2.1 up to 4Kp60 with HDCP 2.2 support
Video input: HDMI 2.0 input up to 4Kp60
Camera: 1080p HD camera, 2MP, 1920 x 1080 FHD, 100° view
Video codecs: AV1,VP9,H.265,H.264
Speaker: 3W RMS speaker
Microphone: build-in two linear microphone array far-field capable
Connectivity:

10/100 ethernet
WiFi 2.4G/5G 2T2R MIMO WiFi Support IEEE 802.11 b/g/n/ac
Bluetooth 5.0 (for the remote)
USB3.0/USB 2.0 port

Control: Bluetooth remote with voice control and dedicated buttons for Google Duo, TikTok & YouTube
Design and features

Mecool Now is a slick little device.  In the photo above, it is mounted on a TV using its integrated mounting bracket.  More on that in a minute.
From left to right, you can see the power switch, infrared receiver, and dial/answer button.  Just above that is one of the far-field microphone ports.

Continuing along, we find the four colored status LEDs and the remaining two microphone ports.

Rounding out the front panel on the right in the camera.  It has a rolling shade that can be closed to ensure privacy.

Just to the left of that camera is the camera status LED. Unfortunately, I cut it off in these detailed photos, but if you look back up to the full view, you can see it glowing red as the camera shade was closed.  In a call, it glows green when the shade is open.
Referencing that photo above once again, on the left half of the top of the device, you can see perforations for the built-in speaker. On the right, you can see the microphone switch.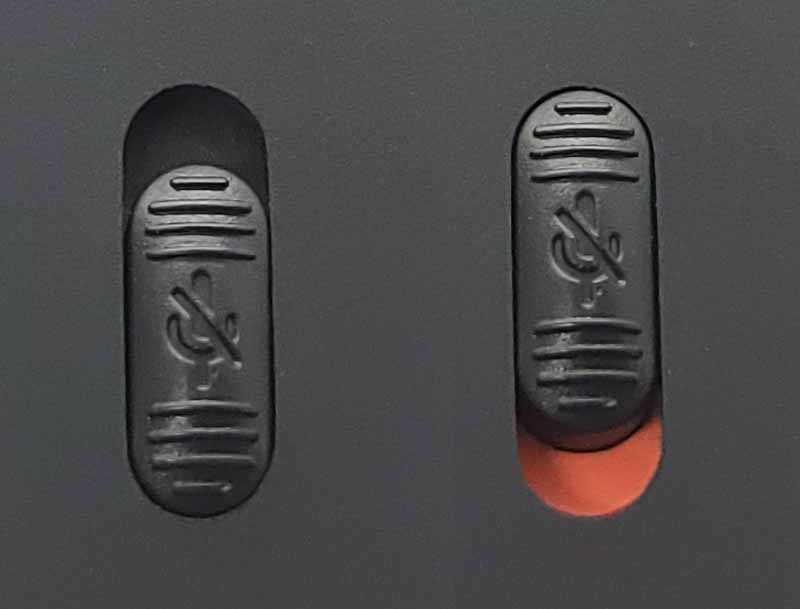 For those that are heavily concerned with privacy, along with closing the shade on the camera, you can use this switch to shut off the microphone.  In the photos above, the left one shows the microphone-on position and the right is the microphone-off position.
There is a USB-A port on the right side.  Nothing on their website and nothing in the documentation explains what that is used for.  Nice.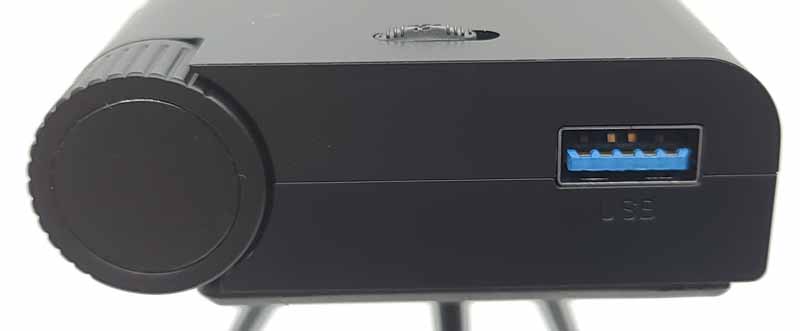 I confirmed with the manufacturer that the USB port is for connecting external storage for displaying photos or other media on the TV.  It can also be used for product upgrades that cannot be offered via download.
Here's a look at the underside.

Along the bottom (which is the rear edge of the device) from left to right are the power input port, HDMI-in and HDMI-out ports, and the ethernet RJ45 network port.
Let's talk about the HDMI ports for a moment.  The purpose of the two ports is so that this can be placed between your cable or satellite box and your TV.  You plug the box into the HDMI-in on the Mecool Now and then plug the HDMI-out into your TV.  When the Mecool Now is off, it will pass the signal from the HDMI-in through to the HDMI-out and to your TV, just as if the Mecool Now wasn't there.  But, when you turn the Mecool Now on, the HDMI-out will carry the signal from the Mecool Now.  If your TV only has a single HDMI input, you can still use both boxes without any issue.
The Mecool Now Android TV device has a standard tripod socket located smack-dab in the middle. If your installation doesn't work well with a TV-mounted camera, you can install your own tripod and place the camera where it makes sense.  As you will see, I had to do that.  The tripod is not included.
On the left and right edges, there are fold-out legs that form part of the mounting bracket.  That horizontal bar in the middle with the fingernail slot is the other part.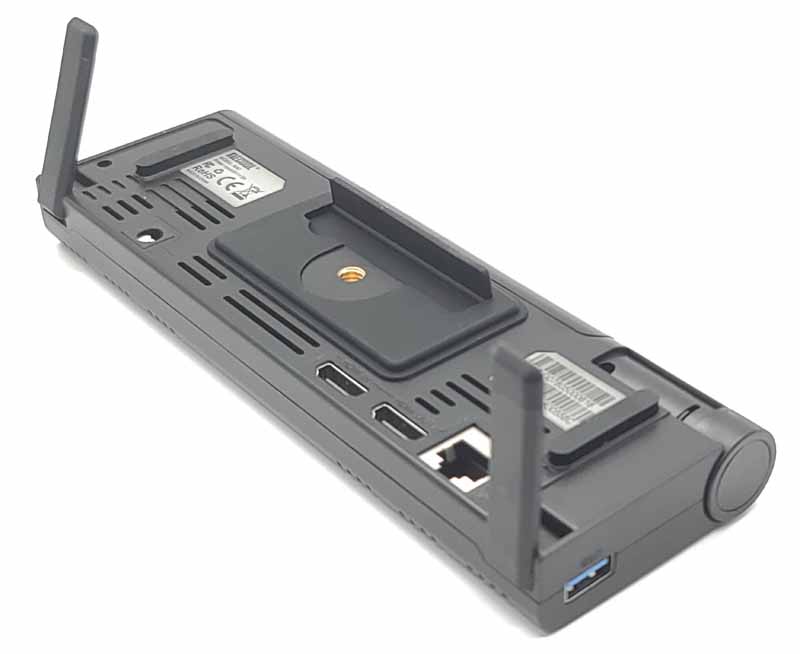 The long legs slide down on the back of the screen and the short, wide tab slips in front of the screen. The two wide rubber pads toward the left and right edges side on top of the screen.  It is a really simple yet effective system and it secures the Mecool Now nicely on top of a flat-screen TV.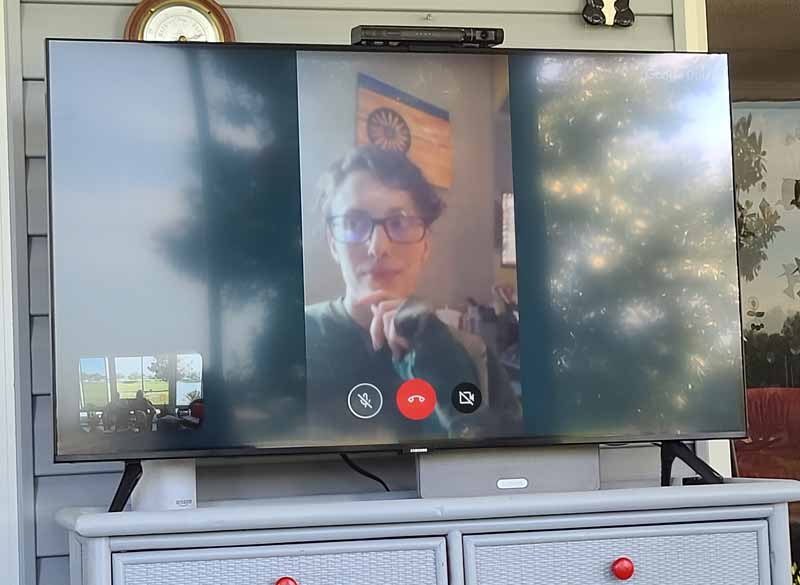 For size reference, that's the Mecool Now perched atop a 43-inch TV.  It fits nicely and doesn't affect any design aesthetic you might be going for.  Our patient daughter played along with dad as I started testing.  More on that below.
As promised, here is the included remote.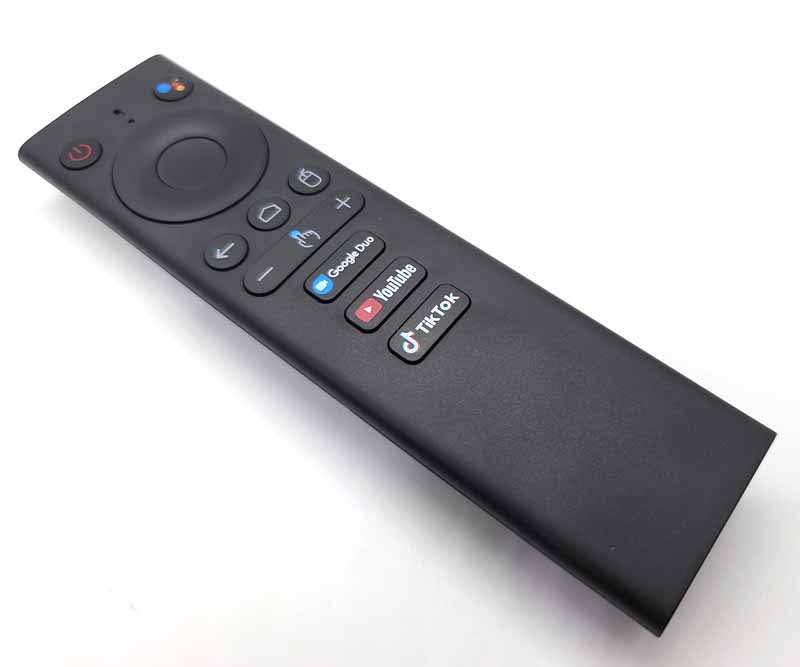 It is styled much like a Samsung One remote control.  From left to right and top to bottom, the controls are:
Power button
Microphone & indicator light (the two small holes
Google Assistant button
Navigation rocker with center OK/select button
Back/return
Home
Mouse toggle
Volume down – mouse select – volume up wide rocker
Dedicated app buttons

Google Duo
YouTube
TikTok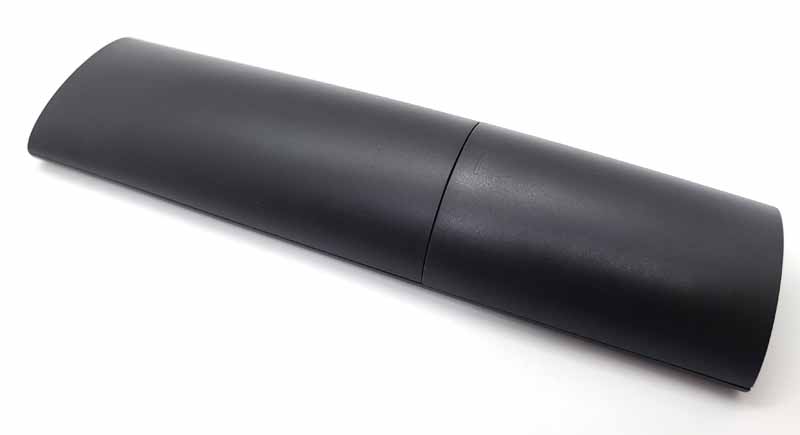 The underside of the remote is rounded – and brings me to a pet peeve.  Please, please, please – designers – design remotes so that they can be used in the hand as well as when they sit on a table.  Rounded backs mean the remote tips over.  Thank you.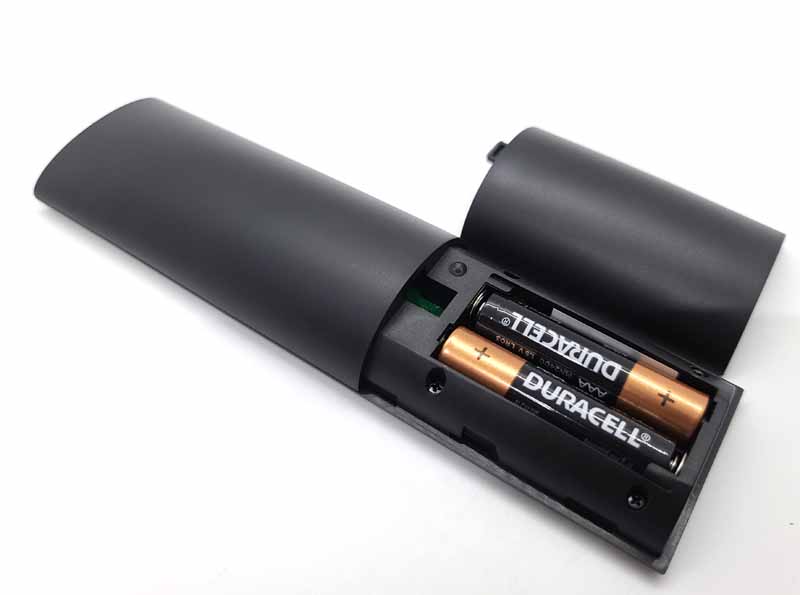 The battery door slides off.  Pretty amazing that they included name-brand batteries, huh?  Let me explain/complain.  Let me quote from the manual.
Before you begin, locate the 2 AAA batteries for the MECOOL NOW Remote. 
Do you know where I located the batteries?  In my desk drawer. Because they weren't included.  Rant over.
Setup
The setup was surprisingly simple.  After locating AAA batteries (I guess I'm still not over it…) and installing them in the remote, I was ready to get this thing hooked up. I plugged in the HDMI cable and power cord and then plopped the unit on top of the TV in our lanai. I turned on the TV, switched to HDMI-1, and turned on the Mecool Now.
The welcome screen came on and prompted me to press the Vol- and OK buttons until the lights flashed.  I did, and the remote paired with the device.  Then it wanted to attach to my network.  I planned to use WiFi, not ethernet, so no cable was needed.  The device asked if I had a QR code for the network.  My Eero mesh network app can display a network QR code, so I said I did.  Then screen prompted me to put the QR code close to the camera.  As soon as I did, the camera capture the QR code, read the information, and the Mecool Now added itself to my network.  Easy-peasy.
All that was left to do was add in my Google account and log into any of the streaming apps.
Time to see how this thing works!
Performance
As I mentioned above, this was installed on our lanai TV.  For the non-Floridians reading this, a lanai is an enclosed patio. Many Florida homes have them.  Ours has acrylic windows and screens all around, including right behind where I was sitting when I tested this.  Why is that important?  Read on.
I placed a call to our daughter.  She looked great and sounded fine, but she reported that the sound on my end was terrible and she heard herself – a lot. Plus, the picture from my end was cruddy.
I expected the picture issue, as having a brightly sunshine-lit backdrop just isn't fair to any camera.  And, I wondered if having sound-bouncing acrylic right behind my head was contributing to the poor sound quality.
This wasn't a big deal as I never intended to permanently install the Mecool Now on the lanai.  It was the easiest place to do a quick test, so that's what I did.
Next, I unplugged everything, grabbed a small tripod I had sitting around, and moved to the living room.
The reason I didn't start here is that I have a Samsung 75″ TV with the Samsung One control box.  The awesome thing about this system is that only one extremely thin optical cable is needed to connect the box to the TV and all other connections are done on the box.  The downside is that if I placed the camera on TV, I'd have to have cables hanging down my wall to the control box. The solution is to put the camera on a tripod in the entertainment cabinet that sits under the TV.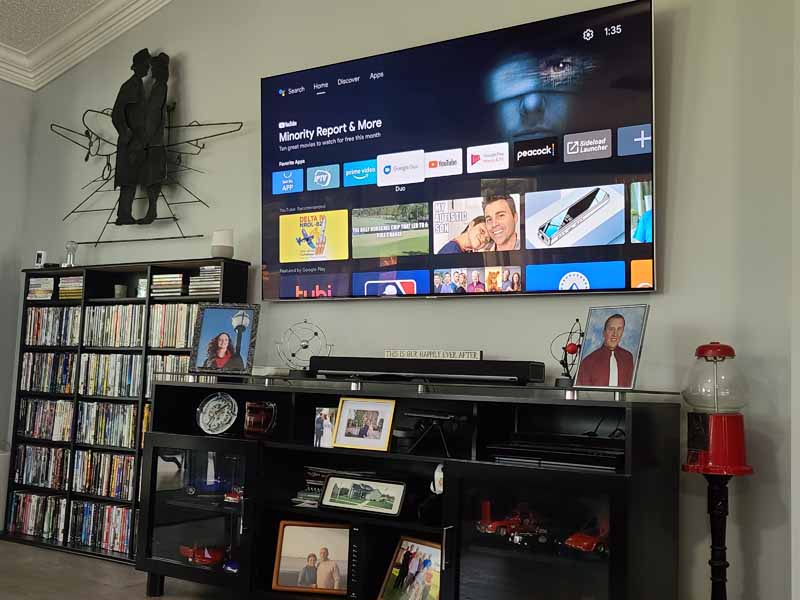 There you go – here is the permanent installation.  What?  You don't see it?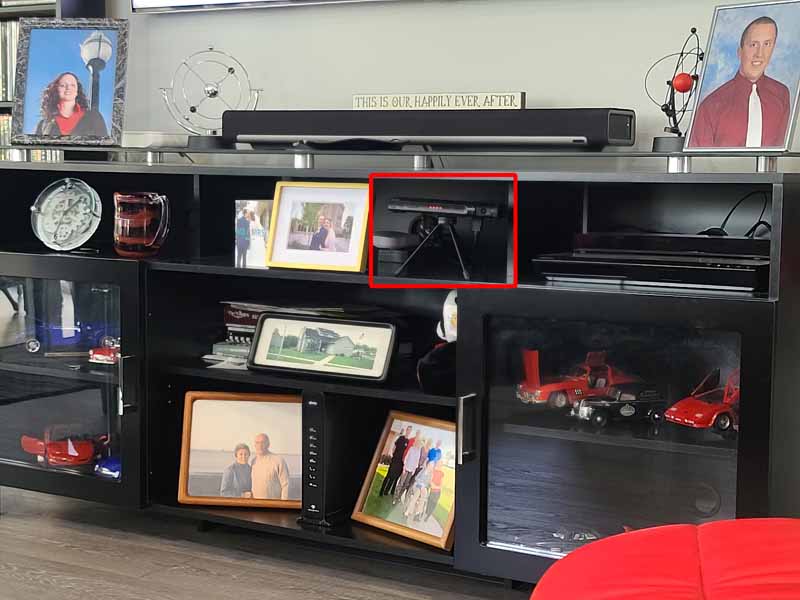 There it is, in the red box.
When I fire up Google Duo, here's what I see.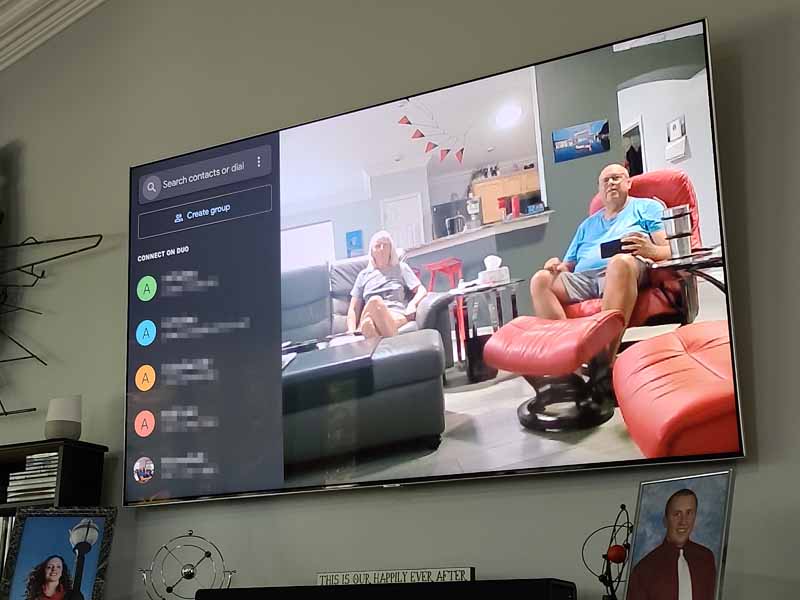 Assuming that you grant the device access to your contacts, they show up for easy browsing to place a Google Duo call.
I once again called our daughter.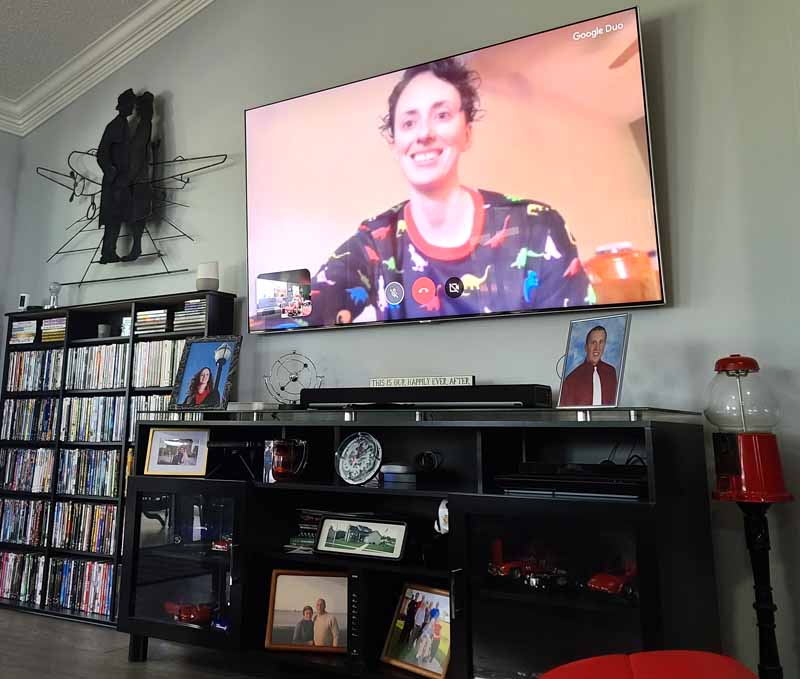 She reported a vast improvement in both sound and picture quality.  As I suspected, the poor performance in the lanai was related to the installation, not the device.  So, location is something to consider when placing a device like this.  She reported that our sound was actually quite good, so the far-field technology that Mecool includes in the microphone works well. She did report a bit of an echo where she could hear herself about a second after she spoke.  We have all hard flooring in our living room and I suspect that might play a factor.
Being able to video call from our TV is so much more convenient than using our phones or laptop, and more comfortable too.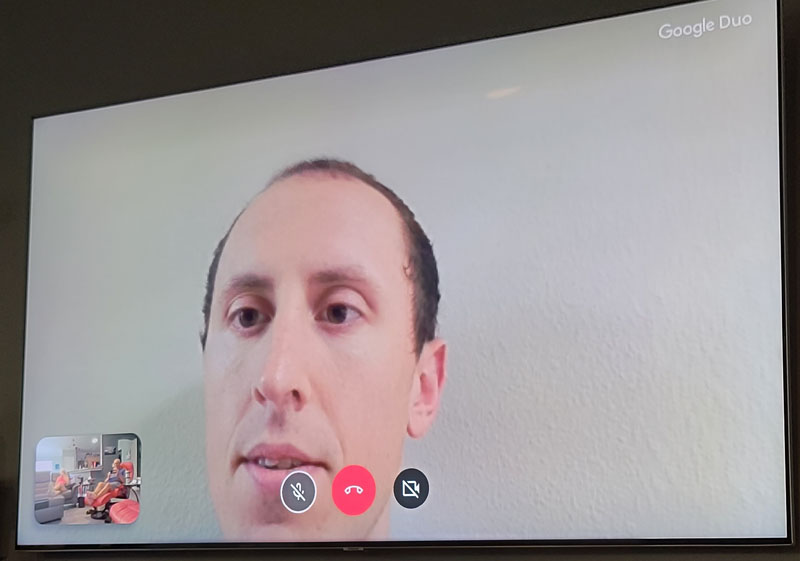 The next weekend, we did another Google Duo call with our son.  He reported the same echo issue our daughter reported.  Other than that, the video and audio were fine.
Beyond just a video call device, Mecool Now is a full Android TV platform.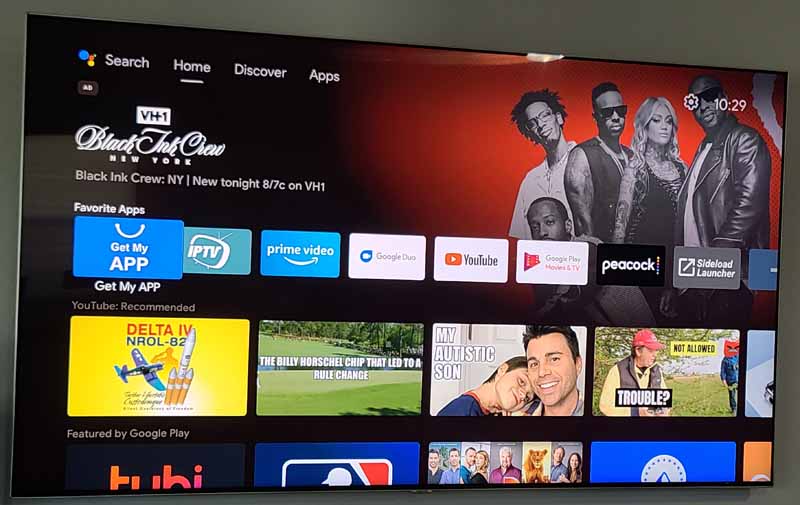 The home screen contains some default apps and links to streaming shows.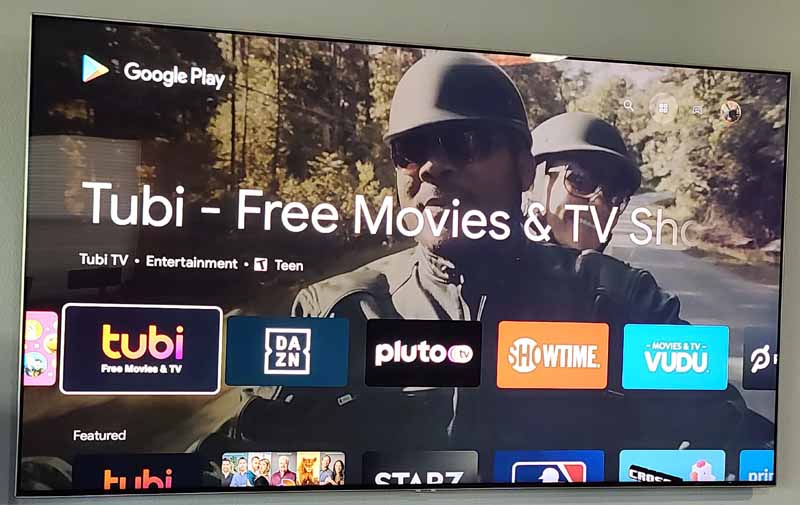 Using Google Play, you can access other streaming apps.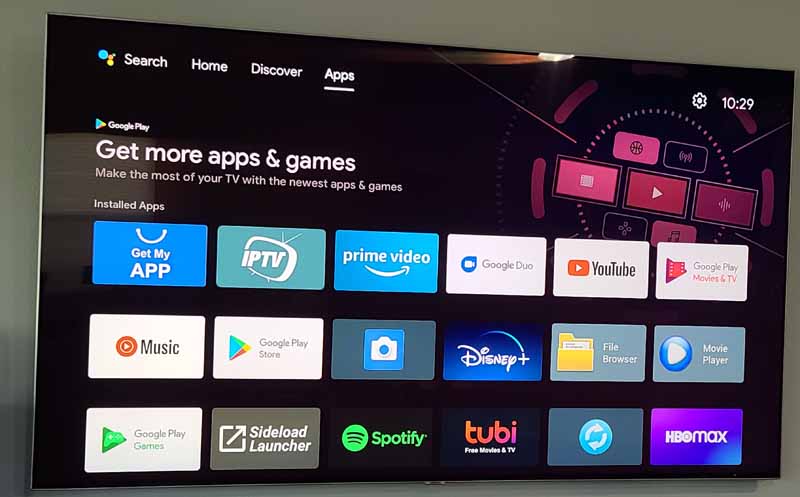 In fact, just about anything you can get from the Play store can be loaded to the Mecool Now.  Just about…
I tried downloading Zoom, and the Play store said it wasn't compatible with this device.  Wow.  Even the box said this could support Zoom calls.
Look at the bottom of the screen above.  See that "Sideload Launcher" icon?  I wonder what that does…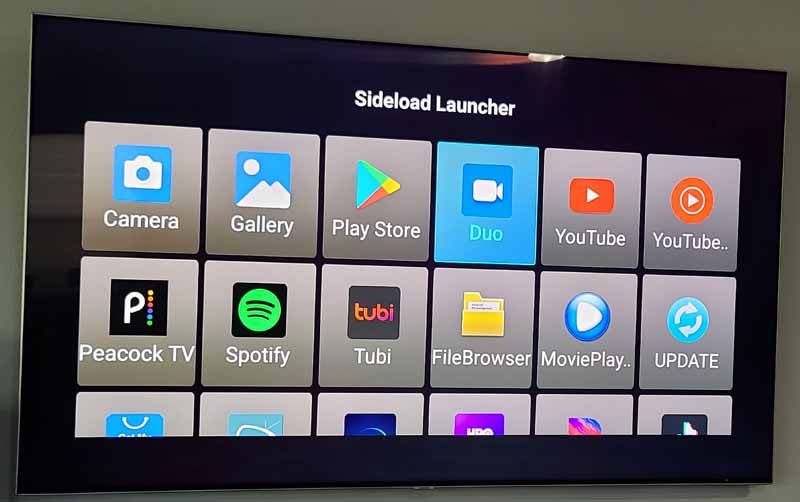 Clicking it brings up many of the same apps.  Nothing in the documentation explains it.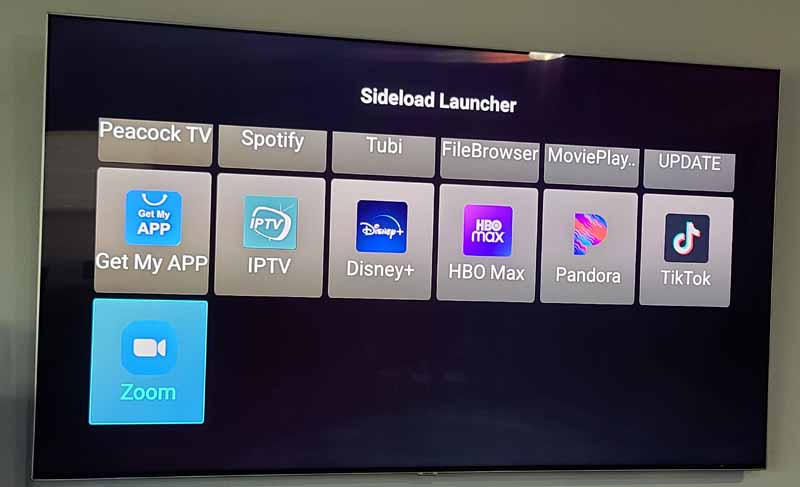 As I scrolled down, ta-da – there it was. Zoom.  Clicking it did bring up Zoom and let me join a meeting.  Why they don't explain any of this is beyond me.
The one-click app buttons on the remote are handy.  I used the Google Duo one to start a call.  Then I tried the YouTube button.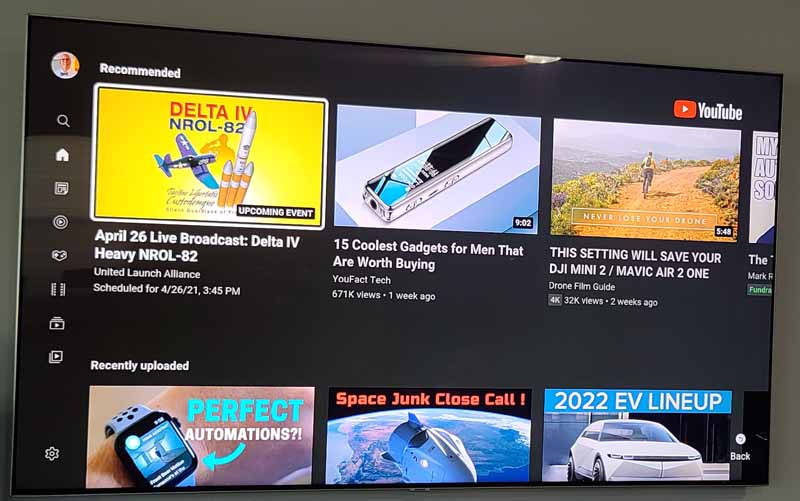 Sure enough, up came YouTube. The TikTok one works as well.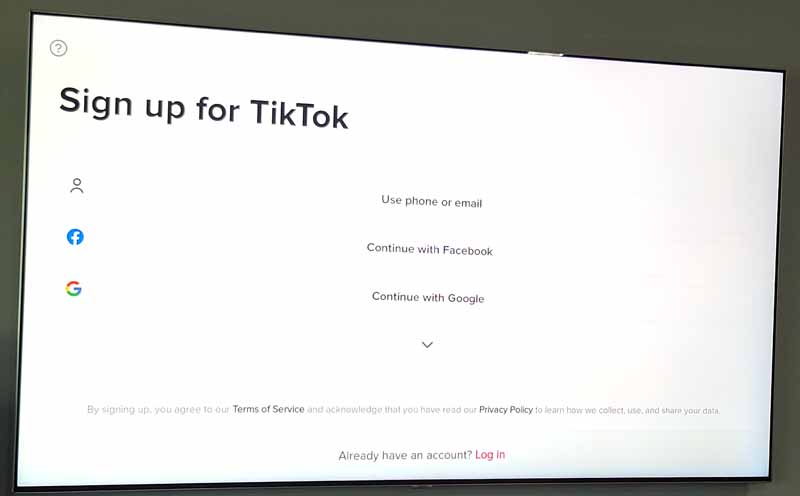 I tried a couple of the apps – everything worked as expected.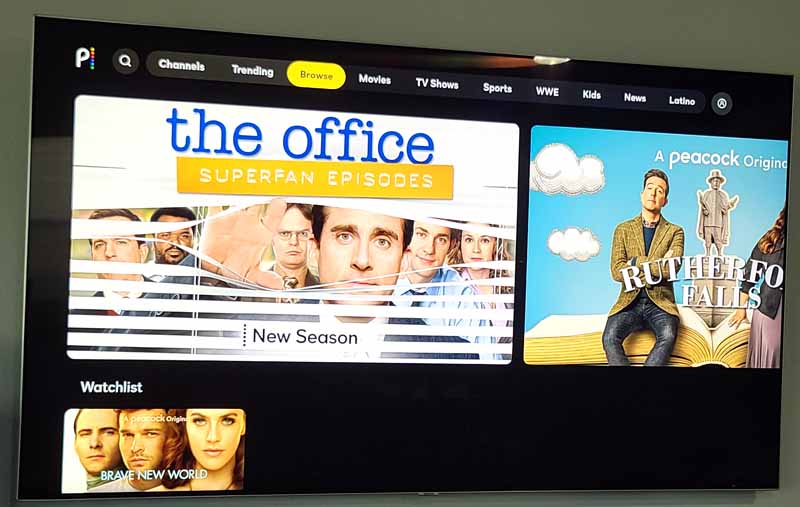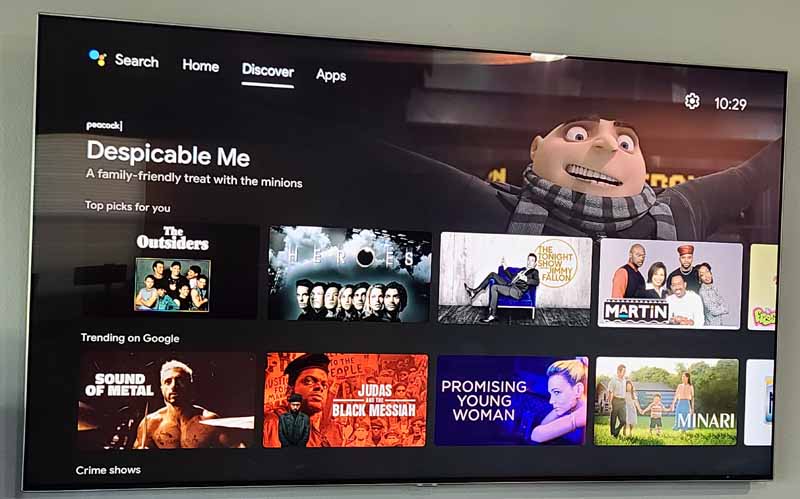 Since this is an Android TV platform, a ton of settings are available.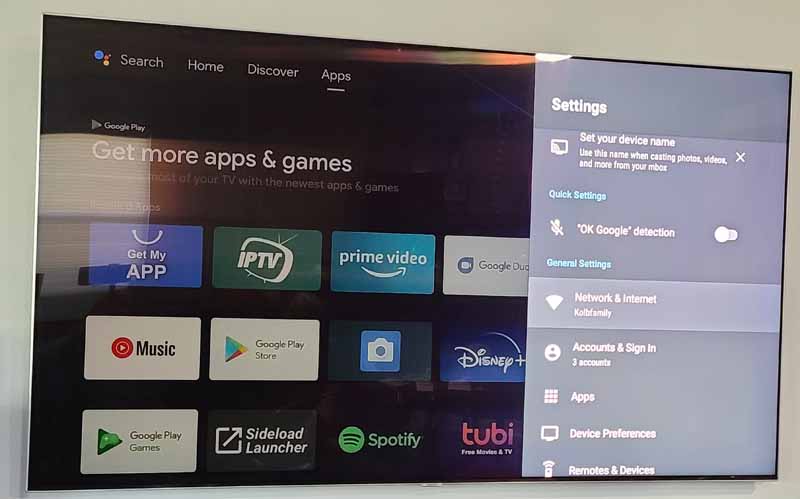 Because I have a Google Home within three feet of this, I disabled its built-in "OK Google" detection, as I didn't want the devices duking it out to see who could answer me first.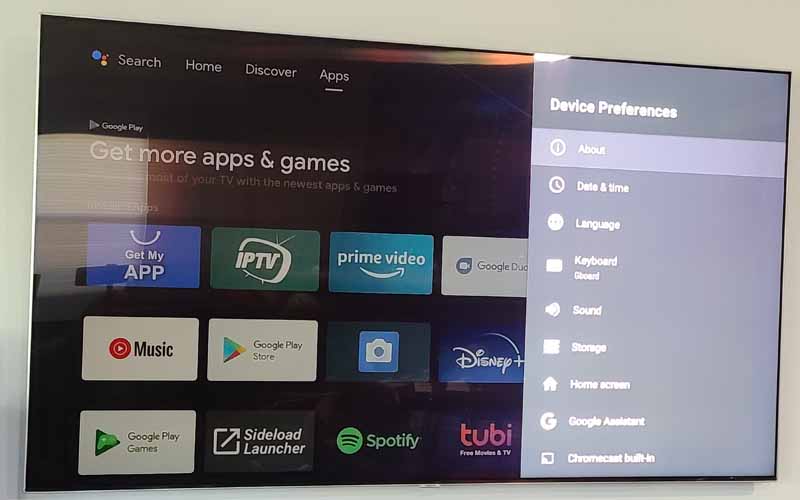 Because it is an internet-connected Android TV device, as updates become available, you will be able to download and install these updates and keep the unit up-to-date.
My living room Samsung TV is a smart TV, so the streaming apps on this aren't of much value to me.  I should say that most are not.  Since Samsung and NBC/Universal can't seem to play nice and get along, there is no native Peacock app for Samsung TVs. So I guess the apps are a bonus as I can now watch Peacock in the living room, thanks to the Mecool Now. If you have an older non-smart TV, this one device could bring video conferencing, and all the streaming services you could want to that TV.
Remember that Google Assistant button on the remote? Pressing it and speaking into the remote activates a Google search.  You see your words in an overlay on the bottom of the screen. Then the search results come up along with one-click suggestions for other searches.
Here, I asked for the weather.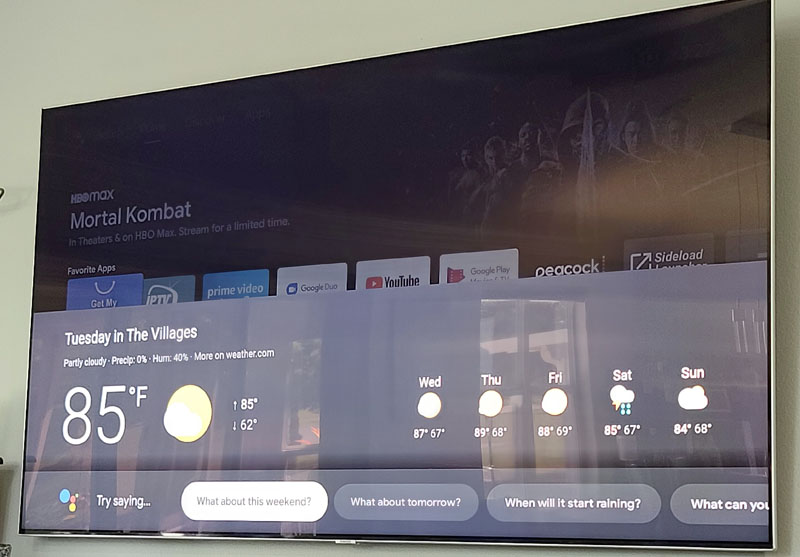 Here, I asked, "How tall was Andre the Giant?"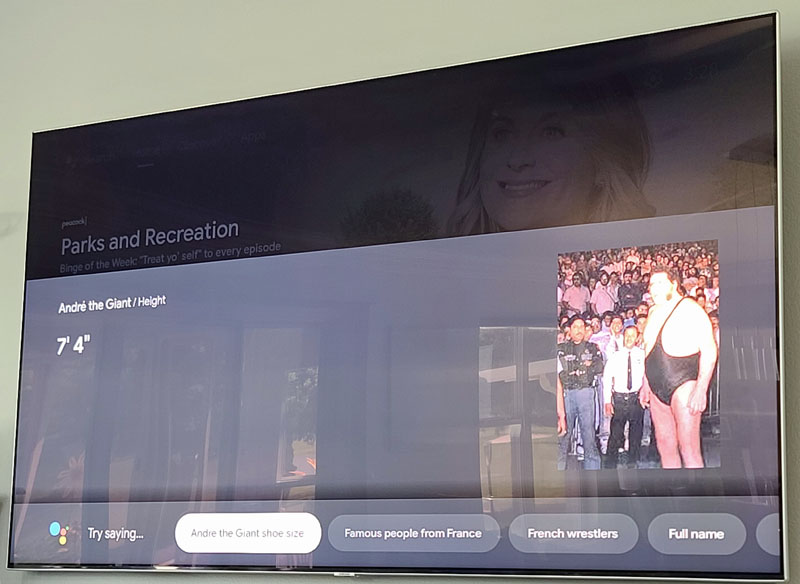 What I like
Solid video and audio performance
Easy to install and use
Nice mounting options with the built-in bracket and tripod socket
Great privacy features
Nice Google search features
What I'd change
Include the remote batteries
Flatten the back of the remote so I can press a button without picking it up
Improve the quality of the documentation
Add some logic to filter out audio feedback from the TV to eliminate echos
Final thoughts
The Mecool Now Android TV device is one slick device. It has helped me realize the dream of being able to realize the dream of video conferencing in 75″ of HD goodness as well as butt-soothing comfy seat luxury.  With our daughter living 1,263 miles from us,  our son and daughter-in-law living 638 miles (and soon to be closer to 900+ miles) from us, and my wife's dad 1,186 miles from us, video chat tools help ease that separation pain.  Being able to do that from the couch makes it that much better.  Adding in the streaming and search options is just icing on the cake.
Even though the audio isn't perfect, it is pretty good and on-par with video calls using my phone or laptop. I definitely recommend it.
Price: $129.99
Where to buy: Mecool (10% off with this code: AIBORS10%  The code expires on 5/30/21)
Source: The sample of this product was provided by Aibors.