We use affiliate links. If you buy something through the links on this page, we may earn a commission at no cost to you. Learn more.
Product Requirements:
CD's in need of an organized storage
solution
Two decades ago, when CDs were just starting to really hit the mainstream,
were you able to foresee that one day they wouldn't just hold your favorite
music? I have to admit that it didn't occur to me in 1984 that I would one day
use a CD to back up information from my computer, much less use them to store
thousands of family pictures or videos.
Of course once you are using CDs for so many functions, then you are also
faced with the dilemma of where to store your collection. The solution I want to
tell you about today is not necessarily a high tech one, but it definitely beats
what so many of us are guilty of doing: careless CD storage. Come on, admit it.
I know I am not the only one that has a drawer in which most of my computer CD
disks are haphazardly stacked. On some days, I am doing good if the CD actually
makes it back into its case – much less the drawer.
Maybe I have been watching a few too many episodes of
HGTV's
Mission: Organization lately,
because the sight of my disheveled CD drawer was starting to bother me. That's
why when Julie asked if I would be interested in reviewing
Popio Multimedia and Accessories' new
low-tech solution for CD storage, the Popio
Tray Pop up CD organizer, I was happy to agree.
The Popio Tray measures 13" long x 5.3" wide x 6.25" deep. It is comprised of
molded plastic and can hold either 24 regular or 48 slim CDs. Running along the
inside of the tray, in the middle bottom are a series of 24 spring loaded pop-up
tabs that click in or out to either accept or eject CDs as needed.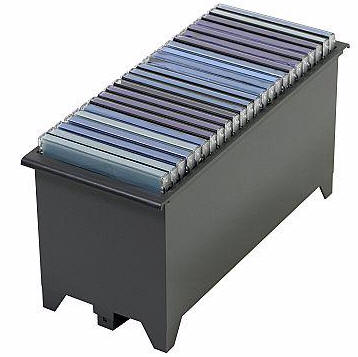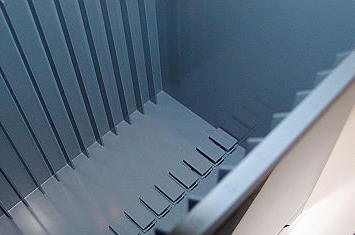 Left photo courtesy of Popio
The numbers one through 24 are present in raised plastic along the slots, in
case you have a filing system that would benefit from this feature.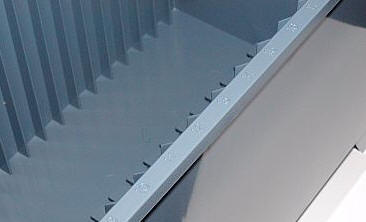 The Popio is shaped so that it can be used in a variety of ways. It can sit
on your desk like the picture above, or it can be stood on end to take up less
room…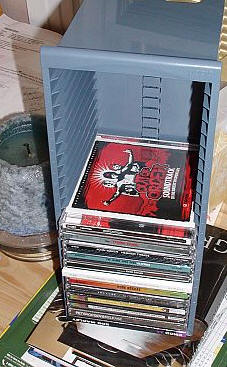 The only real con that I can find regarding the Popio is the fact that
it can't hold double disc CDs. While this probably won't be a big problem if you
are storing Data CDs, it can be an issue with the music variety. Of course,
there are also some oddly shaped music CDs with paper jackets that may or may
not need a little shoe-horning for proper insertion.
The ends of the Popio have built in hooks so that the Popio can be used
inside of a hanging file cabinet…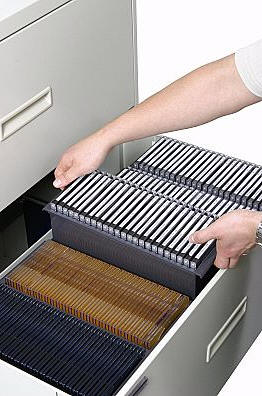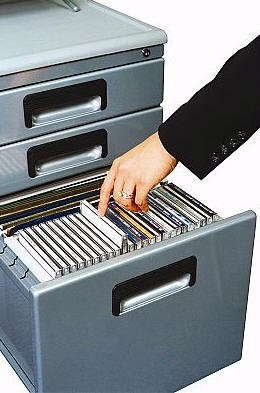 Pictures courtesy of Popio
Or you can set the Popio inside a regular drawer, where it will keep your CDs
neatly arranged. I even managed to slide two or three CDs that didn't have
typical jewel cases into the Popio. While they may not pop out like a typical
CD, they are at least kept neat and tidy…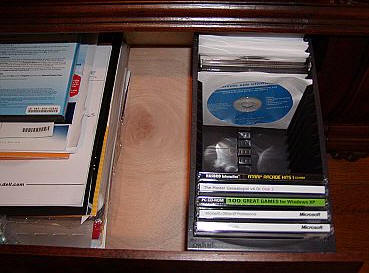 You should have seen this drawer before I straightened it out
with the Popio!
Any time you want a CD, you simply press on the one desired, and it will pop
up, or out – if you are using the Popio in a standing position.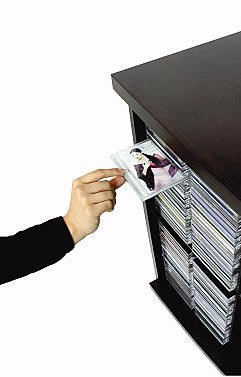 Picture courtesy of Popio
Popio also makes a variety of wooden veneered
shelving solutions that
can hold multiples of their trays. So if you are a CD connoisseur, you might
want to consider creating your own custom application.
If you have got a lot of CDs and you would like to introduce some order to
your chaos, then you should give the Popio a try. Who knows – maybe you will
remember to actually replace the CDs when you are done with them – I'm certainly
giving it a try. ☺
You can find Popio tray pop-up CD organizers at the following
here.
Price: $19.95, available in beige burgundy, dark
gray and blue
Pros:
Attractive and functional design allows multiple placement options
Can store 24 regular or 48 slim CDs
Organized storage
CDs pop out for easy removal
Cons:
You will still need to remember to pick up after yourself and use the
Popio
Can not store double disk music CDs or some oddly shaped CD jackets
Product Information
Price:
19.95
Manufacturer:
Popio
Pros:

Attractive and functional design allows multiple placement options
Can store 24 regular or 48 slim CDs
Organized storage
CDs pop out for easy removal

Cons:

You will still need to remember to pick up after yourself and use the
Popio
Can not store double disk music CDs or some oddly shaped CD jackets