We use affiliate links. If you buy something through the links on this page, we may earn a commission at no cost to you. Learn more.
Product Requirements:
Device:
Palm PDAs with the Universal Connector
88k PRC
The first thing that I think of when someone mentions PDA keyboards is the
Stowaway Folding keyboard from
Think Outside. It has been my personal
favorite from the very beginning. I have one for almost all of my PDAs. But, like
many products, there are always little things that you wish were changed or
better. The biggest wish of Stowaway users has been the ability to type on your
lap. Unfortunately the folding keyboard did just that, folded while trying to
use it on a non-flat surface. Well, Palm PDA users can now rejoice in the fact
that Think Outside listened to their wishes and has addressed them in their new
model.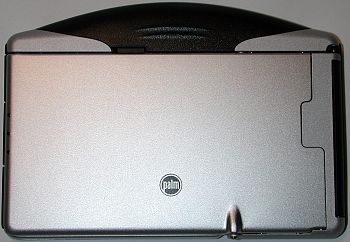 The Stowaway XT Ultra-Thin keyboard, which is currently only available for Palm
devices that have the Universal Connector, has just become available. Thinner
and lighter than their previous model, this keyboard looks great! But does it
perform as good as it looks? Let's check it out.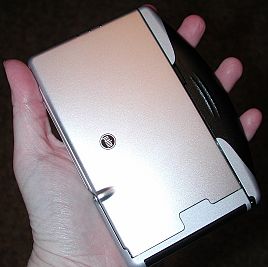 [Top to bottom: XT, original Stowaway]
The first thing I did was try to open it. This actually took me a few seconds
and I'm ashamed to say that I even had to look at the included instruction
sheet! The release button on the side blends in so well, that I didn't see it.
Once I knew what I was looking for though, the keyboard popped open
effortlessly. It is actually easy enough to open and close with one hand.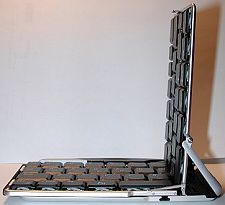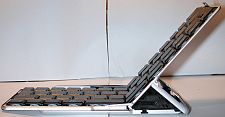 The keyboard opens left to right as if opening a book's back cover. As you
lift the top section, the bottom section slides to the left. As you pivot the
top section 180 degrees, it snaps flat in place. When the keyboard is fully
opened, it can be used on almost any surface including your lap. It feels quite
rigid and secure. A small button with near the letter
P is the release button when you want
to close the keyboard.

Never miss one of our posts again. Sent MON, WED, and FRI with the latest gadget reviews and news!
To connect the PDA, you pull out the connector / stand which pops up ready
for you to connect the PDA. I didn't have any problems connecting my
Tungsten T to the XT keyboard even
using one hand.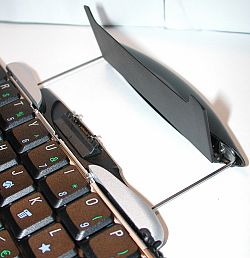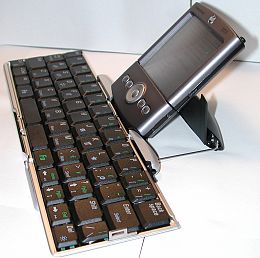 Before you can actually use the keyboard you must first install the driver. This is
a 88k PRC file that allows you to manually enable and disable the keyboard as
well as changing the repeat rate, delay until repeat rate and audible key
clicks. You also have the option to change the keyboard layout from English to
English (Dvorak), German and Japanese.
The driver will not interfere with syncing the PDA to your desktop. You can't
however use the IR port while the PDA is attached to the keyboard.
People were always commenting about the older version, that it might not be
very robust due to the folding design. I think this new design feels much
stronger and I don't have a worry that it is going to wear out from opening and
closing. Like the original, this version also has a metal outer shell. I do
think that the original version is more tank-like when closed though. The XT has some
thinner plastic parts in the connector / stand area and spine area that do flex
and bend. It is important to keep the keyboard in it's protective zippered slip
case when not in use. I wouldn't want to just throw it in the bottom of a gear
bag for fear that an object might jam itself into the connector / stand assembly
by accident.
I never had a complaint about the size of the original Stowaway, so when I
first got my hands on the XT, I was pretty much floored at the small size. WOW,
is it thin! Comparing it to the original version:
 
XT Ultra-Thin Keyboard
Original Stowaway
Folding Keyboard
Size
Closed 5.5 x 3.9 x .5 in (139 x 99 x 13 mm)
Opened 9.9 x 5.8 x .5 in (251 x 148 x 13 mm)
Closed 3.6 x 5.1 x 0.8 in (93 x 130 x 20 mm)
Open 13.8 x 5.1 x 0.44 in (352 x 130 x 11 mm)
Weight
5.6 ounces (160 grams)
7.9 ounces (224 grams)
Maybe the smaller size of this keyboard worries you..? I know that as a touch
typist, it did me. When I opened the XT and saw how small it was, I was
concerned if touch typing would still feel a comfortable as it was on the
original version. Guess what? You'll be happy to know that the keys are the same
size. At 18mm, the space between the keys is only 1mm narrower than the original
version. Key travel is the same at 3mm.


[XT on top of the original Stowaway]
Since the keys are the same size, how the heck did they shrink the overall
size so much? Well, they did it by removing the entire top row of number /
punctuation keys and the separate application launcher keys. To access them, you
have to use a function key combo. This is probably my only gripe about this
keyboard. It's not a super big deal, but it does slow you down when you need to
type a number or a punctuation character as you have to consciously seek out the
function key and associated button. Luckily, the most popular punctuation
characters still have their own keys… such as the
. , / – ? keys. International
characters are supported using a combination of CTRL, ALT key presses. Good luck
memorizing the combinations if you need to use these type of characters often.
It would be nice to have a popup window that you could scroll thru and select
the character needed.
I spent a couple days typing to get a feel of just how easy it is to go from
a regular PC desktop style keyboard to the small XT Ultra-Thin. Like the
original Stowaway, this one is comfortable and easy to touch type with. The
Enter key, Backspace, Spacebar, and Shift keys are all located exactly where my
fingers thought they should be located. So, there wasn't a learning curve. About
the only keys that I did have problems with were the
!, @ and
/ keys as they required function key combo presses.
I also found that I still needed my stylus close by. This keyboard does not
allow you to be totally stylus free unfortunately. The onscreen pointer feature
is not yet available for OS 5.
I have tried quite a few different PDA keyboards in the past few years, but I
still pick the keyboards from Think Outside as the ones that put in my gear bag
every day. They know what they are doing and keep doing it. If you touch type,
don't look any farther then the XT.
Price: $99.00
Pros:
Small, compact size
Comfortable full-sized keys
Can use on almost any surface
Cons:
Number and punctuation keys require function key combo press to
activate
International characters require combo key presses
Still need a stylus to select items
Product Information
Price:
99.0
Manufacturer:
Think Outside
Pros:

Small, compact size
Comfortable full-sized keys
Can use on almost any surface

Cons:

Number and punctuation keys require function key combo press to
activate
International characters require combo key presses
Still need a stylus to select items