We use affiliate links. If you buy something through the links on this page, we may earn a commission at no cost to you. Learn more.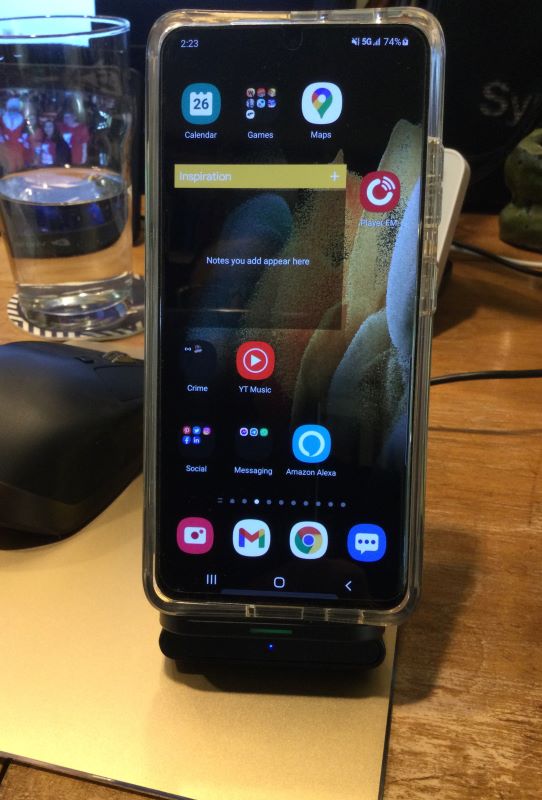 REVIEW – A wireless charger might seem like a kind of an unnecessary gadget … I mean, a cable works and you already have one of those.  That's what I kept telling myself, anyway.  Then I rolled my desk chair over my USB cable AGAIN.  It did not survive.  At that moment I decided that I was a grown up and I deserve the luxury of not having fish a cable off of the floor and roll over it every other day.  I could have a permanent solution.  It came in the form of the Aukey Aircore 2-in-1 Wireless charger.
What is it?
The Aukey Aircore 2-in-1 is a Qi wireless charger with room to charge both your phone and your earbuds at the same time.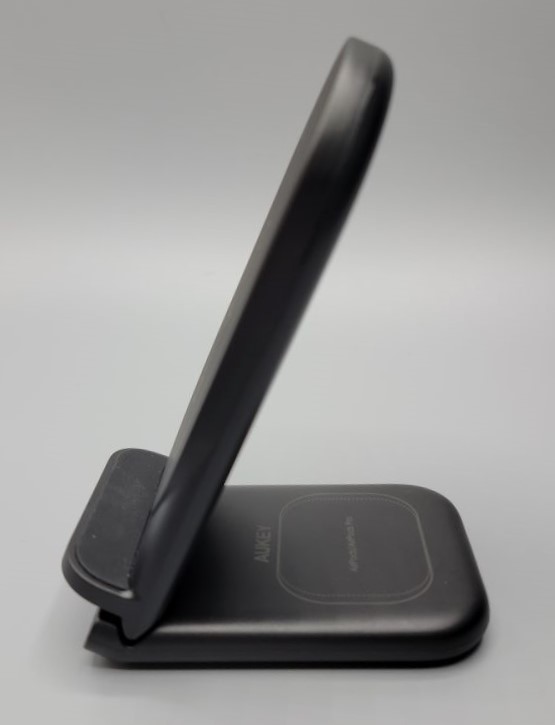 What's the in the box?
The charger in two pieces
A power cable
An instruction booklet
A warranty card.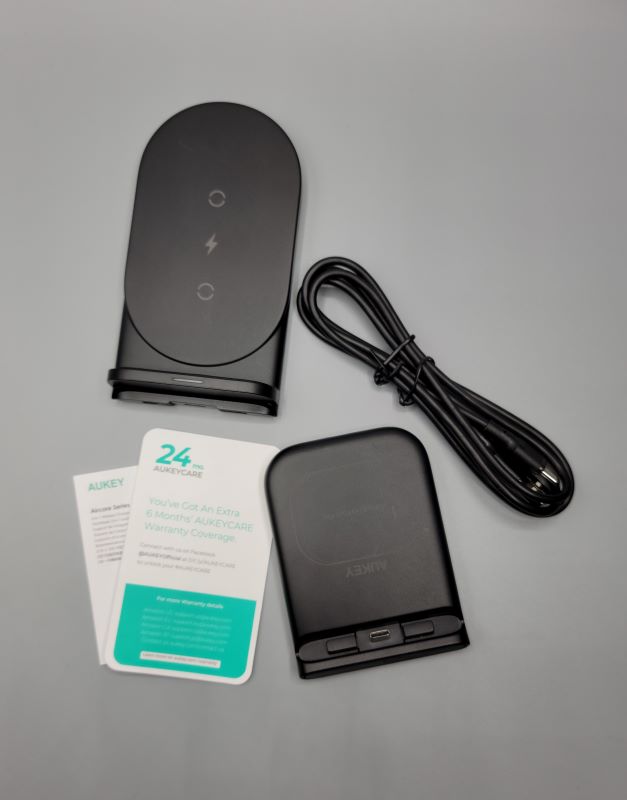 Design and Features
The Aukey 2-in-1 charger has two charging surfaces.  The phone leans against the primary charging surface and draws up to 7.5W for iPhones and up to 10W for Samsung (or other Android) phones.   I like the style of this charger because it lets you see your phone easily while you're working.  That might not seem like a big deal if you've never had a stand like this at your desk, but if you're like me and your phone buzzes with notifications all day, it lets you see what's happening with just a glance.  When the phone is lying down on a desk it seems like more of an interruption.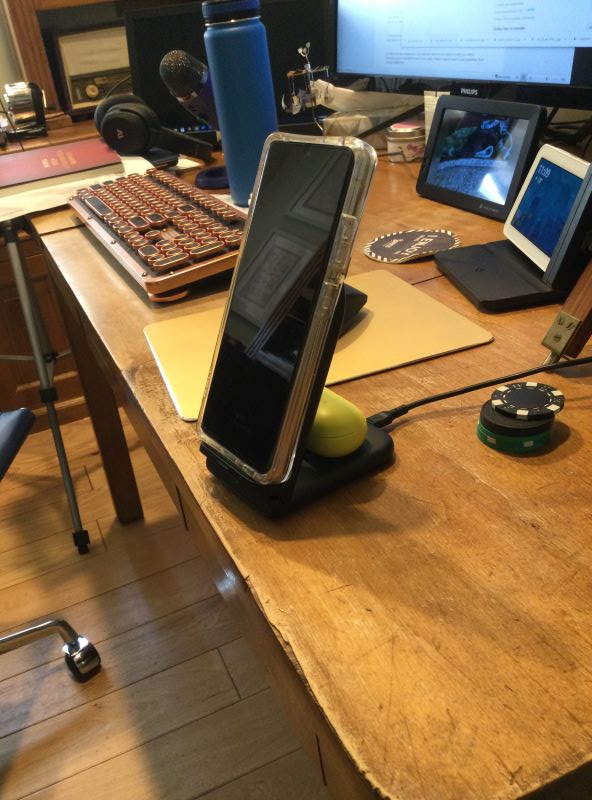 Behind the stand, forming the slanted L shape is another charging surface for airpods (max charging at 5W) or other wireless charging earbuds.  It will fast charge both devices (phone and earbuds) at the same time.
One thing to note, if you are planning on using the fast charging feature, you need to provide an appropriate power adapter, because this device doesn't ship with one of those.  You should also note that some phones, like the iPhone 12 mini, won't work with this charger because the charging coils aren't in the right position to work with that phone.  Most of today's phones that are of average size will work, though, and it will charge through most cases.  It had no problem charging through my UAG Plyo Series case.  It will also charge in both portrait and landscape orientations.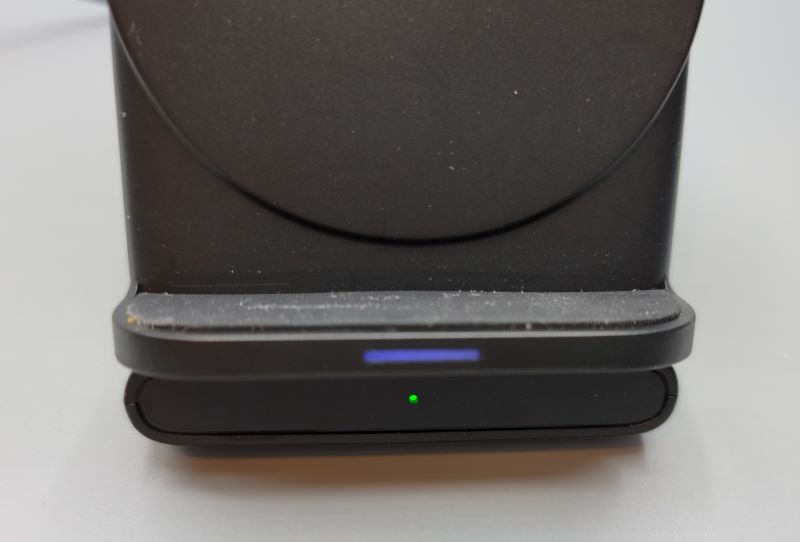 I set this charger up on my desk (you just plug the two pieces together and then attach the power cable) and it looks great.  It has little rubber  feet on the botom to protect your furniture and a little foam where your phone rests to cushion it.  It also has a couple of lights on the front that indicate the status of the rear charging surface (bottom dot) and the phone charging surface (upper light bar).  If there's a problem with charging the lights change colors (blue means your device is full of charge, green for charging, and blinking blue and green if you have a compatibility problem).
The rear charging surface worked great for my Samsung earbuds and I was curious if it would also charge my Samsung Galaxy watch, but it doesn't.  Disappointing, but it's but it's not Aukey's fault.  Curse you, Samsung, with your proprietary chargers!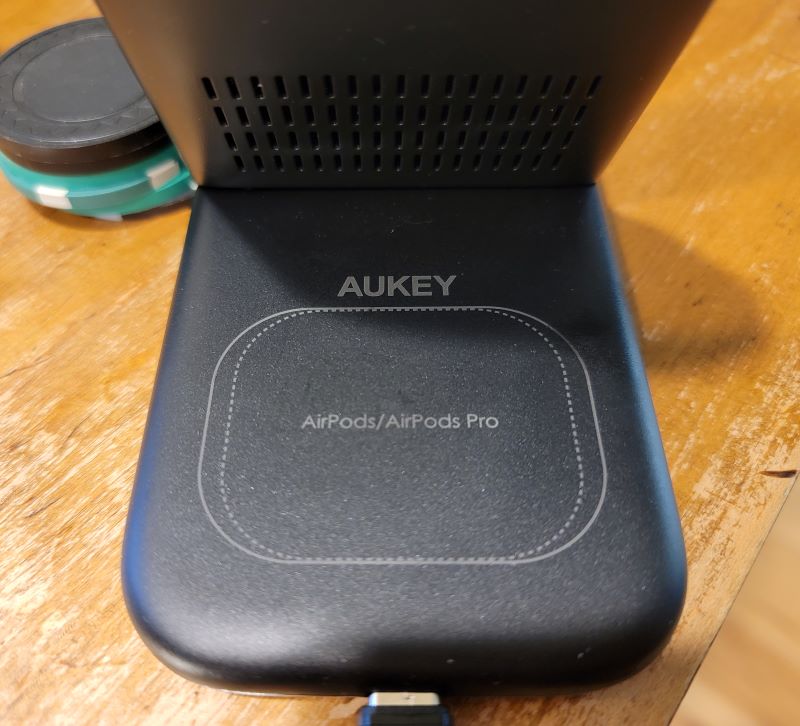 The literature mentioned that there could be a faint clicking sound or whine when charging due to coil resonance, but I didn't hear a thing.  It also mentions some overcharging and overheating protections, which is good peace of mind.  It has a 2-year warranty.
What I liked:
Being able to charge two things at once
Propping my phone upright while charging
What I would change:
Nothing, although I wish it shipped with the power adapter (then again, I wish everything shipped with a power adapter).
Final thoughts:
The Aukey Aircore 2-in-1 Wireless Charger is a great little desk accessory that you might not realize you need, but once you have it, there's probably no going back!
Price:  $29.99
Where to buy:  Amazon
Source:  The sample for this review was provided by Aukey