We use affiliate links. If you buy something through the links on this page, we may earn a commission at no cost to you. Learn more.
I don't have a home phone.
Some people look at me strangely when I give away that little fact, but more
and more folks are going this way. After my wife and I installed a cable modem,
we ditched the Ma Bell land line and are completely wireless – and we never get
telemarketer calls!!!

Because we are sans phone at home, I am always looking for some cool little
device to go along with my cell, be it face plates, cases, or you-name-it (there
are an awful lot of accessories for cell phones out there…).
So the 3-in-1 Sensor pens (one has a
laser pointer) came across my desk. Right off the bat, I was a little worried
about using these items; they seemed a little…loud. I like to think of myself as a
professional. I have an office and a title and junk like that – and part of me
just did not think that this pen would go with that image.
What does it do? Well, as you can see, the thing starts to blink when you
receive a call. There is no programming necessary, the pen simply detects a
wireless signal and will blink for about 20 seconds.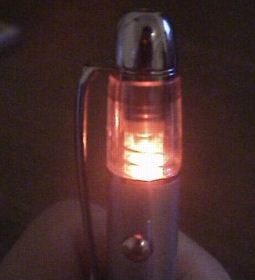 Click to see an animation of the pen in
action
This blinking seems to work with any wireless signal, and other people's
phones (sending or receiving) and even my home Airport network will set this
puppy off. Yes, you can play spy with this thing (though you will have to find
your own white Econoline Van with "Custom Interior Appliances" or "Flowers By
Ilene" printed on the side.
Actually, my wife found a great use for the pen. She is a high school math
teacher and uses it as a monitor when giving tests and quizzes. Apparently, the
two-way text messaging available on some cell phones is quite popular among teens, and not
always used to compliment cheese at parties…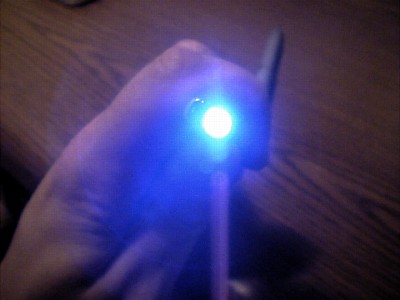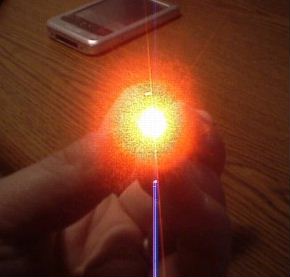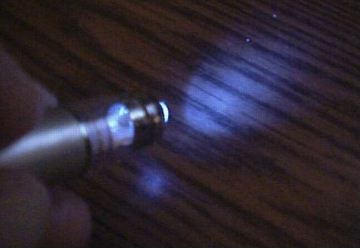 In addition to the blinkie lights, there is a button to the rear of the pen
that will activate either a small flash light or a laser pointer (depending on
which version of the pen was purchased). My wife loves the laser for pointing
out things on the board to her class, and I am always up for more lighting
options.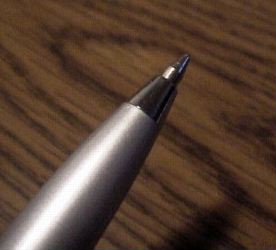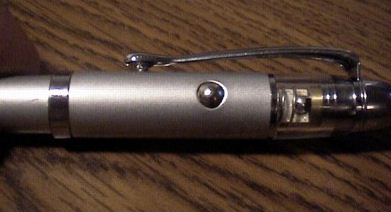 The pen tip is extended by twisting the end of the barrel and is your basic
black ball-point. There is no stylus option offered for this pen, but it all
seems pretty standard and a mildly innovative person would have no problem
Jimmy-Rigging a stylus-pen replacement.
So, where did it end up? In my car!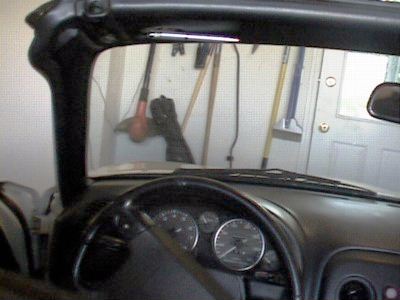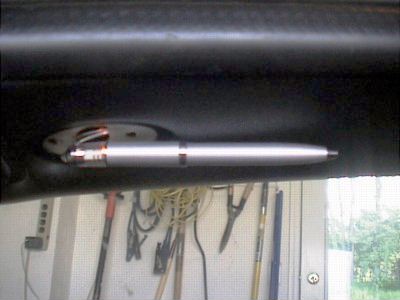 I clipped it to the sun-visor mount so that I can see when I get a phone
call, which I often miss due to sound (stereo up a little loud) and vibration
(blasting down the twisties at breakneck speeds).
Price: $9.95
Pros:
Alternative call alert
Light/Laser source close at hand
Cons:
Reacts to other wireless signals
Light/Laser Button can activate in shirt pocket
Lack of on/off switch
Product Information
Price:
9.95
Manufacturer:
2bit Software
Pros:

Alternative call alert
Light/Laser source close at hand

Cons:

Reacts to other wireless signals
Light/Laser Button can activate in shirt pocket
Lack of on/off switch