We use affiliate links. If you buy something through the links on this page, we may earn a commission at no cost to you. Learn more.
Product Requirements:
Device:
Palm i705, m515, m505, m500, m130 and m125 handhelds
Setting up a Personal Area Network (PAN) has never been easier with the new
Palm Bluetooth SDIO Expansion Card. I have
tested this product with my Sony/Ericsson T68i mobile phone and an HP DeskJet 999c printer.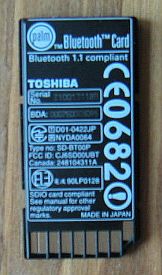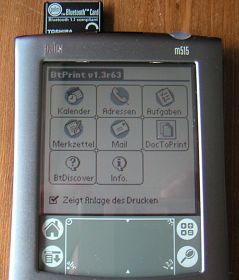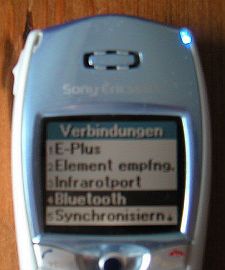 The card itself is tiny but sticks out of the PDA's SD slot just a bit. It slides in
flawlessly like all other SD/MMC cards, but like with those you have to be
careful not pull the card out but push it first slightly. Then it comes out by
itself. I have read in a review that the disadvantage of the Bluetooth card that
it occupies the slot that can not be used when the Bluetooth card is in it.
Well, I rather prefer the smallness of the card to having a free SD-card slot
that I simply do not need when I use Bluetooth.
The set up is really easy. Before you plug in the card you have to install
the software on your computer. Once you hot sync your Palm with the desktop the
following programs will be installed:
– Blue Board (send little graphics to other Palms with Bluetooth)
– Blue Chat (chat with other Palms with Bluetooth owners)
– Bluetooth (set up program)
– BT Print 995c (full version)
The Bluetooth connection will appear in your Preferences where you can turn it
on/off, enter the device name and add other Bluetooth devices with which you
want your Palm to communicate with. This is rather easy as well. I tested it first
with my T68i – by the way, the best phone available right now, at least here in
Germany. You have to make sure that your phone is set up so that the Palm
Bluetooth card will be able to recognize it. Once it shows up on your Palm you
are asked to type in a PIN code (you can choose whichever number you like) and
give the device a name, e.g. "Gadget Phone". Now you have to go to the
Preferences menu and add the connection. This is easy too, because all you have
to do is too choose the following:
– Connect to PC
– Connect via Bluetooth
– Device: the name you gave your phone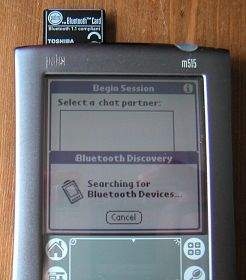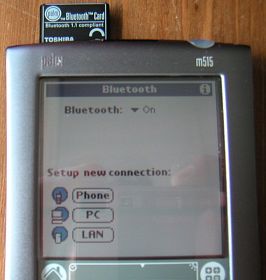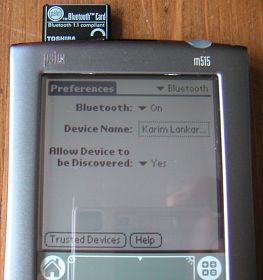 Never miss one of our posts again. Sent MON, WED, and FRI with the latest gadget reviews and news!
If you want to connect to the Internet or send an SMS you have to type in some
additional information in the network section of course (your ISP, password and
phone number), but that is it. I use Blazer, the Handspring's web browser for
Palm OS. All I have to do is to click on a bookmark or type in a new URL. Then
Blazer asks me if I want to connect to the Internet. I say yes, and in a few
seconds I am connect to the WWW with up to 57.6 kbs, thanks to HSCSD, a fast and
much cheaper service than GPRS, that is offered here in Germany by two large
providers.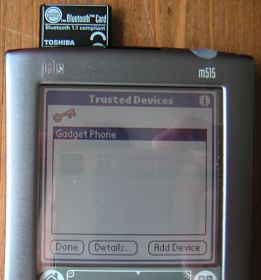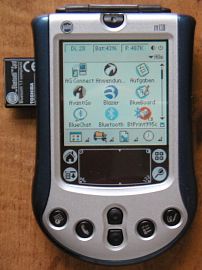 Palm's SMS program connects to the phone via Bluetooth as well, like the Multi
Mail program and the WAP browser. Unfortunately, if you are an AOL user like I
am, it is not time to say good-bye to your infrared port yet because the AOL
E-Mail-Client does not support Bluetooth yet. So not everything is perfect in
Palm's Bluetooth wonderland yet, and there are a few minor annoyances one has to
cope with. As mentioned before the Palm Bluetooth card fits well into the SD
card slot but sticks out a bit. This is a bigger problem when you want to use it
in the M130, because its SD card slot is on the left side and you will not be
able to close a carrying case for example, but even as a M515 user I wish it
slide into the slot completely because I am always afraid it might break if I
throw it into my backpack (well, not that I really throw my Palm, but still). So
I always take it out if I do not use Bluetooth. This is especially annoying when
I travel and just want to send a SMS and always have to take out one card to put
in the Bluetooth card. But I guess right now the sensors are not strong enough
so they have to stick out a bit because otherwise the range would be shorter.
Well, talking about range I have to say that my experience so far has been that
the range is in fact shorter than the 30 feet Palm and other makers of Bluetooth
devices claim. From my experience the range of the Bluetooth connection is
stable up to 25 feet.
Of course I was curious to test as many Bluetooth devices as possible and
because I did not have a printer I went shopping on eBay and found the HP
DeskJet 995c at such a good price I could not resist, knowing of course that I
do not really need a printer. Anyway, a few days later I got the printer and
while I plugged in the power cable I wondered how difficult it would be to get
the Bluetooth connection up and running. Thankfully, the previous owner had
already set up the printer, so I did not need a computer. Honestly it was so
easy to print from the Palm I could not believe it. When you install the Palm
Bluetooth software you install a little program called Bt Print (it is the fully
version) that allows you not just to print from the normal Palm applications
like address book, date book, memo pad but also Excel, Word and PowerPoint
documents, if you use Documents to Go.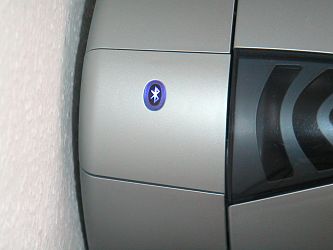 First you have to allow your Palm to communicate with the printer. You need to
turn on the printer and wait until the blue light flashes – did I tell you that
I love those cute little blue lights and wish the Palm Bluetooth card had a
light as well so one knows when a Bluetooth connection is working. In the Bt
Print program you click BT Discover and after a few seconds the Palm finds the
printer. You click on choose and you are set. Yes, it is really that easy. First
I wanted to print a word document. To get a list of all documents on your Palm
that are available to print, you click on Docs to Print. You choose the one you
want to print and there you go. Your data is flying to the printer and the
document is printed and looks exactly like it should look like.
I have to admit I had to try it a few times to believe what was happening there.
Using an infrared connection you need to at least hold the devices close to each
other so the data gets transported from one device to the other, but the whole
idea that the data somehow flies through the room to the printer and gets
printed in a way that you get read it is somehow weird I think. Yes, I have used
Wireless LAN before, but doing all this with your tiny Palm is really cool.
Unfortunately you can not print everything you have on your Palm. For example it
is not possible to print pictures from an application like Photo Suite, but I
hope this is just a matter of time.
Well, despite all my positive experiences I have to say that it is not perfect
yet. I still try to find out how to hot sync via Bluetooth, which should work
but nobody knows how. I was not able to try the Blue Board and Blue Chat
programs. I love to send funny remarks to a colleague in a meeting, but being
the first to try things out can sometimes be a lonesome experience. No Palm
owner I know has a Bluetooth card or intends to buy one soon, because it is
rather expensive and they do not know what to do with it (well, they are not a
Gadgeteer, are they?). Otherwise I think this card is a must have, it is tiny,
easy to set up and works well.
 
Price: $129.00
Pros:
Easy to setup
Small size
Works well
Cons:
Haven't learned to Hotsync via Bluetooth yet
Isn't compatible with AOL mail
Not many Bluetooth devices available yet to use with this product
Product Information
Price:
129.0
Manufacturer:
Palm
Pros:

Easy to setup
Small size
Works well

Cons:

Haven't learned to Hotsync via Bluetooth yet
Isn't compatible with AOL mail
Not many Bluetooth devices available yet to use with this product