We use affiliate links. If you buy something through the links on this page, we may earn a commission at no cost to you. Learn more.
I've been a fan of the Handspring Visor since it first came out. I like the
Springboard expansion system and own several modules. On more than one occasion,
I've found myself digging around blindly at the bottom of my gear bag trying to
find module X. After several moments of grumbling, I usually find it, but I've
often thought that there must be a better way to organize these nifty little
items. Well guess what, now there is!
The SpringWallet from
TechSynthesis is a simple case designed
specifically for holding and transporting your Springboard modules. It is a fold
up, Velcro closed, soft case that can hold 4 regular sized modules in separate
compartments.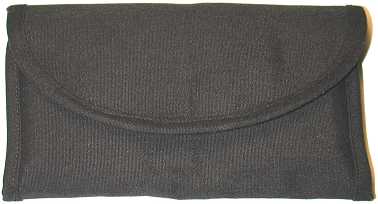 This cloth wallet is available in a variety of colors including: Black,
Mocha, Blue, or Green. Special limited edition "Pride Patterns" are also
available for an extra charge and include African inspired and rainbow prints.
The material used to create the outside of the case has a light weight canvas
feel to it, while the inside material is more stretchy.
The SpringWallet unfolds to reveal 4 Springboard pockets, 2 AA battery
pockets and 2 elastic stylus holders. The whole assemblage folds up and is held
closed by a large Velcro flap.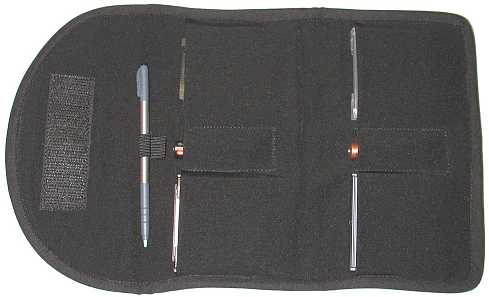 The Springboard pockets can really only accommodate regular sized modules.
Modules such as the

HandyGPS Pro or the
VisorPhone
will not fit. One thing that I did find out is that you can use the SpringWallet
as a Compact Flash card holder too. Each Springboard pocket can actually hold up
to 4 stacked CF cards. So this product would be perfect for someone with a large
CF card collection as well as a Springboard module collection.
I'll admit that this product isn't flashy or high tech. It actually has a
comforting 'homespun' feel to it. But while being simple, it is a great and
inexpensive way to keep your modules organized and in one place. I'm definitely
keeping one of these in my gear bag from now on.
Price: $19.99 (Limited edition prints $24.99)
Pros:
Convenient organizer
Inexpensive
Cons:
Can't hold oversized modules
Product Information
Price:
19.99
Manufacturer:
N/A
Pros:

Convenient organizer
Inexpensive

Cons:

Can't hold oversized modules