We use affiliate links. If you buy something through the links on this page, we may earn a commission at no cost to you. Learn more.
Product Requirements:
Device:
Compaq iPAQ 3100, 3600 and 3800 series
The FORTE Belt Clip PDA case is a
brown leather holster style case. It isn't a play thru case like the popular
Vaja and E&B slipper style offerings. Instead, you just use this case to
transport your PDA, and must remove it to use it or sync it.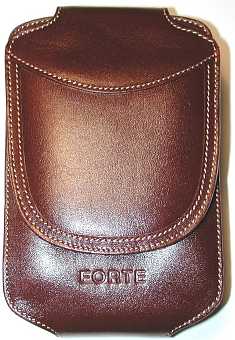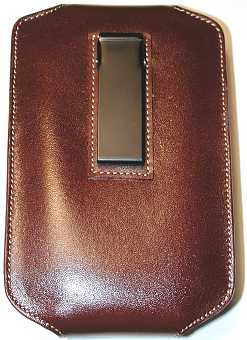 The case is marketed as an iPAQ 3100, 3600 and 3800 series case. iPAQs in the
following configurations can fit in it: Naked, with Basic Style Pack or CF Card
Expansion Pack. However, I found that quite a few other PDAs fit just fine in
the FORTE too. I tested this case with my Handspring Visor Prism, HP 565, Casio
em500, Palm III, Palm IIIc, Palm VIIx, Palm m505, and Palm V and was happy to
note that they all fit just fine.

This case is constructed of a high quality polished brown leather with a
contrasting lighter colored stitching. It has a classy look and I love the rich brown
color. The front, back and flap portions of the case are all padded and slightly
stiffened. The case is plain except for the embossed FORTE logo on the bottom
front.

The flap cover is held closed with a square of Velcro. Repeat after me….
"yuck, yuck, yuck!". I would much rather see a snap or tab and loop closure
method used instead…
The back of the case has an attached pinch style metal spring belt clip. This
clip isn't super strong, but it does have a hook on the bottom that can grab
your belt to keep it from accidentally coming off. While reviewing this case, I
never had it come off my belt of its own accord, but I didn't do a lot of
stooping, bending or squatting during the testing period. So, your mileage may
vary.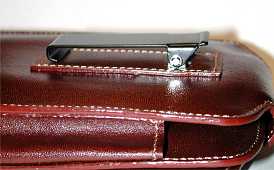 As this case has been made specifically for the iPAQ, there are a few
features that I wanted to point out that were added just for this PDA. When your iPAQ is in this case, there is
access to the headphone jack while the flap cover is closed. This is great for
using the iPAQ's MP3 playback feature while wearing the PDA on your belt. There
are also cutouts on the bottom of the case that give you access to the AC power
connector (3100 and 3600 series) and the reset switch.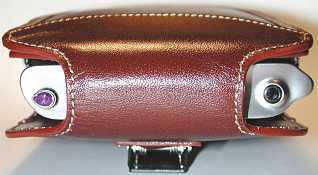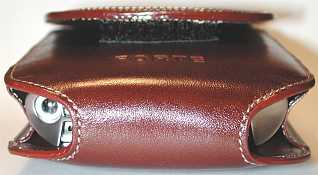 It's funny, I tried this case with a bunch of PDAs and I only found one
problem with it… It's actually harder to use this case with an iPAQ than with any
other PDA that I tried it with. This is because it is almost impossible to remove an
iPAQ from this case without pressing the RECORD button in the process. I had to
resort to remapping the RECORD button so that it would have no function when
pressed! For someone that uses their voice recorder often, this might be a real
issue to consider before buying the FORTE.
Other than that one problem, I found this case to be well constructed and
made of quality materials. The price is nice too!
Price: $24.99
Pros:
Inexpensive
Compatible with a variety of PDAs
Cons:
Inadvertent RECORD button activation when removing an iPAQ from this case
Belt clip might not be the most secure type
Product Information
Price:
24.99
Manufacturer:
FORTE
Pros:

Inexpensive
Compatible with a variety of PDAs

Cons:

Inadvertent RECORD button activation when removing an iPAQ from this case
Belt clip might not be the most secure type