We use affiliate links. If you buy something through the links on this page, we may earn a commission at no cost to you. Learn more.
Product Requirements:
Device:
Palm m500, m505,
m125
137 K free RAM
LAN:
Wireless Ethernet (802.11b compliant) network; for
email and PQA's: LAN internet access
The Xircom Wireless LAN Module for Palm
Handhelds (PWE1130) is a very cool product that I think very few people are aware of – even
the Palm site does not mention it. I had found the idea of directly connecting
my Palm m505 to my LAN compelling enough to purchase it despite the lack of
reviews. Hence, my own review here.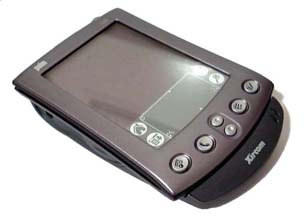 Ever since I installed wireless Ethernet in my home (e.g. Apple Airport Base
Station, Linksys Wireless Access Point), I've been looking for additional ways
to use it, and the Palm's typical connectivity to the Internet leaves much to be
desired. The Xircom Wireless LAN Module provides a much needed feature for the
latest Palm PDAs with the minimum of hassle.
Before the Xircom PWE, you either had to have a Palm VII series or an OmniSky
wireless modem – both require monthly subscription fees and have limited
availability and reliability. If you already have a wireless Ethernet network at
home or at work, this is the better way to connect to the Internet. You can
check your email, hotsync, and run most PQA's within your location's wireless
Ethernet coverage.
The PWE is surprisingly lightweight – about 3 oz – and comes with very little
documentation and surprisingly, no software on a disk. It turns out that the
software you need is built into the PWE. As a matter of fact, the software is
automatically installed the instant you dock your Palm PDA into it. This was
quite an amazing feature to discover – more peripherals should behave like this.
There's no need to go through the usual software installation and hotsync
process. Xircom engineers apparently wanted to untether the Palm from the PC as
soon as possible. This clever auto-installation feature is a clear example of
more about the PWE. The simple instructions for configuring the PWE and your
Palm to connect to your wireless LAN is also built-into the software itself –
you'll never have to remember where you stuck the manual later, or hunt online
for documentation – if you have the PWE unit, you have everything you need.
I found the instructions very clear and straightforward – in fact, there are
built-in links that take you directly to the PalmOS configuration screen. The
four main sections in the software are: Client Settings, HotSync Settings,
Status and Tips. The Client Settings let you save up to 5 different profiles for
5 different wireless LANs – very helpful if you roam between different
locations. The Status section gives you great troubleshooting data – network id,
the Palm's battery level, the PWE's battery level, signal strength, IP
information, and software version information – of both the PWE and your PalmOS.
Clearly, Xircom has really thought this through – as evidenced and necessitated
by their apparent target market – corporations and campuses. A recent search of
some online vendors shows 5, 20 and 50 packs of the PWE for sale. With a target
market like students on a university campus, tech support is a critical issue –
making this product as foolproof and self-supporting as possible is an absolute
necessity.
The only draw back I can see to having the software built-into to the
hardware is the issue of updates. When Palm updates the OS in the future and
there is a compatibility issue, it could make the PWE's out there obsolete or
very difficult to update. Though I haven't asked Xircom about it yet, I wouldn't
be surprised if they've already thought of that too.
One thing Xircom has thought of is the issue of recharging the PWE – another
clever engineering idea: use the A/C adapter that comes with every Palm PDA –
another cost and hassle savings. The PWE directly accepts the jack that normally
plugs into the hotsync/recharging cradle cable – and if your Palm is docked to
the PWE, it gets recharged too. So you could just throw away that hotsync cradle
and never have to sit in front of your computer with your Palm again.
In fact, if you don't even own a PC, the PWE makes the Palm as close to
sufficing as your primary computer as ever. And if you back up your Palm to a
memory card, you don't even need to hotsync with a PC. As I do use a PC, I
enabled network hotsyncing on my Windows computer and was able to easily hotsync
to it using the PWE. This is a great feature for my wife's Palm as she never
remembers to bring her Palm to the PC to hotsync. I just give her the PWE and
she can hotsync while sitting in front of the TV or anywhere in the house.
Clearly, if a Palm and a PWE were your only computing device, you'd most
likely be using it all day long to check your email, stock quotes, etc. Xircom
claims the PWE will operate for 8 hours on a single charge – which should be
plenty as it seems to have great power management. I haven't yet tested the
"airtime" on a single charge as I still check my email on my laptop, but I can
go for a few days before recharging. Unlike the Palm itself, the PWE's 3.7v
lithium ion battery is easily accessible for replacement – though it is stuck
down with double-sided tape to keep it from rattling around inside.
As one would expect, the speed of network hotsyncing and checking email is
quick. However, network hotsyncing by any method seems to be slower than direct
cradle syncing. For example, cradle hotsyncing directly to the PC takes 30
seconds, while network hotsyncing through a cradle connected to another PC on
the network took 90 seconds. Network hotsyncing using the Xircom PWE took 60
seconds. There are other bottlenecks that the PWE's increased bandwidth cannot
overcome – such as slow servers, network congestion, etc. This is more apparent
with PQA's – the results were mixed. PQA's that simply had slow servers or
little actual data transfer do not benefit from the increase bandwidth. PQA's
that have speedy servers and moderate to heavy data transfers (graphics, email,
etc.) benefit from the increase bandwidth. For example, I found the Yahoo! PQA
was much speedier because it has more data and color graphics transferred from a
very responsive server.
There are other technical reasons for the various bottlenecks, beginning with
the PalmOS itself. The current versions do not natively support any
communication device other than modems. Hence the Xircom actually emulates a
modem, though a very speedy one with minimal "dial-up" time. The Palm Desktop
software isn't very efficient in supporting network hotsyncing, and the lack of
support for network hotsyncing altogether in the Mac version locks out Mac-only
users from one of the PWE's main benefits.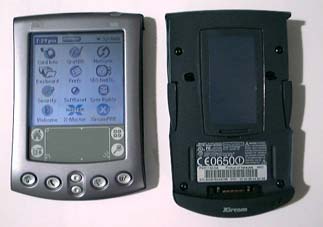 The PWE's plastic housing is solid and has a metallic finish on the back
similar to the Palm m500 series case, but the "face" is a matte grey with two
indicator lights. The back is curved with two rubber pads in the rear and fits
nicely in your palm. It's slightly narrower than the Palm m500/505 and has some
textured area for gripping on the sides. My only complaint here is that it
wobbles around too much if you are tapping or writing on the screen while the
whole thing is sitting on a flat surface – like a table top. The round shape of
the back is really optimized for being held in your hand. It would be nice to
have a detachable belt clip or a belt clip case.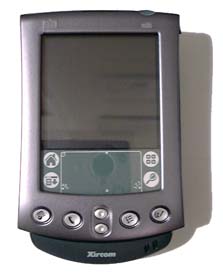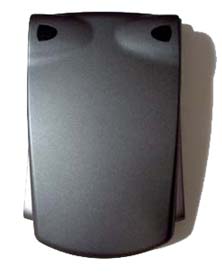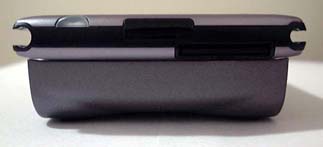 At 3/4″ thick, the PWE seems bulkier than it needs to be, but
then a thinner profile probably wouldn't be as easy to grip for an extended
time.
Recommendation:
In today's reality, if you travel, the Xircom PWE is not a viable replacement
for the wireless service you'd get from a Palm VII series or an OmniSky wireless
modem. If you usually roam around a campus or area where there is a wireless
Ethernet LAN, then the PWE will let you tap into that LAN directly from your
Palm to access email, hotsync and use many PQAs. The raw bandwidth available is
unrivaled on the Palm platform – but there are many other bottlenecks that will
limit actual results. But perhaps a stronger reason for the PWE is the freedom
it enables from the cradle and your PC.
I found the Xircom PWE easy to configure and a joy to use. After using an
OmniSky wireless modem for over a year, the PWE is light years ahead in almost
every respect. And once wireless Ethernet becomes available at airports to your
local Starbucks cafe, you may never miss any other type of network connectivity
for your Palm.
Xircom PWE product page:
http://www.xircom.com/cda/page/0,1298,1-840-1_1-1730,00.html
Price: $298.99 direct from Xircom; online
$240-250
Pros:
Easy to install and setup
Replaceable
Lithium Ion battery
Recharges with Palm A/C adapter
Charges your Palm also
Lightweight
Cons:
Expensive
Can't connect to portable
keyboard while docked to PWE
Product Information
Price:
298.99
Manufacturer:
Xircom
Pros:

Easy to install and setup
Replaceable
Lithium Ion battery
Recharges with Palm A/C adapter
Charges your Palm also
Lightweight

Cons:

Expensive
Can't connect to portable
keyboard while docked to PWE