We use affiliate links. If you buy something through the links on this page, we may earn a commission at no cost to you. Learn more.
Product Requirements:
Device:
Sony Clie PEG N-710c

One of the most frustrating things about getting a PDA when it first becomes
available, is waiting for the corresponding after-market accessories. It
seems that sometimes the manufacturers will wait for months to see if a
particular PDA will be popular enough to bother with. Well, the good news for us

Sony Color Clie owners is that this PDA appears to be a hot item, and the
accessory manufacturers are taking notice.
Since I have already managed to put several ugly scratches on the painted
silver shell of my new Clie, the first accessory I was interested in acquiring
was a protective case. I have been pleased with the Extreme Limit Body
Suit series of cases that I have reviewed in the past, so it was good
news to me when I found out that they would be offering
a Clie case, too. 
Most of the Extreme Limit cases I have seen have been a
wallet style with a flip-lid, so it was neat to see that this "leading
Japanese manufacturer of bags and cases for mobile computers" was actually
offering two styles to choose from.
I am going to tell you about what the two Body Suits have in common, then we
can discuss each case's individual properties…
Both Body Suits Have…
For those of you that are familiar with Extreme Limit's Body Suit line, this
will be more of the same. But, if you are new to this company, you are in for a
pleasant surprise.
These Extreme Limit cases are made from a thick, slightly stiff,
black, smooth-grained leather. While the leather is soft to the touch, it is not
what I would call Napa cowhide. It is also not the pebbly grained leather that
the other Body Suits I have reviewed (for the Palm
IIIc and HP 540 series) use.
This is the same leather that was used for the Casio
EM-500 case that Julie reviewed. It is much more refined and dressy than
the pebbly leather, yet not delicate in any way.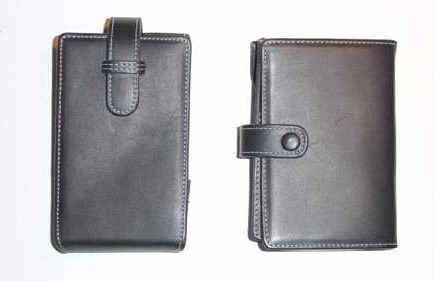 Front view of each model. Left is Vertical model, right is
Horizontal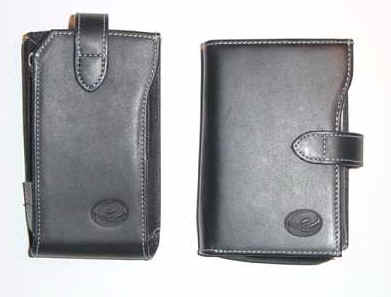 Rear view of each model. Left is Vertical model, right is
Horizontal
Both cases use contrasting light gray stitching around all of their outside
edges. As you would expect, the stitching is very professionally done.
The cases I received had no loose stitching, or funky areas where the stitching
was crooked. Stitches closest to the Clie, and on the inside of each case are
done in matching black. These cases manage to look stylish, yet professional at
the same time. In the hand, they feel substantial without being too heavy.
The interiors of each case feature a custom holster to contain the Clie
without the use of Velcro (Bravo!). Both holsters are lined in a nappy black
nylon that actually reminds me of the softer side of a piece of Velcro. You
will notice that the holster is cut to provide maximum access to the screen,
graffiti area, and the hot-button area.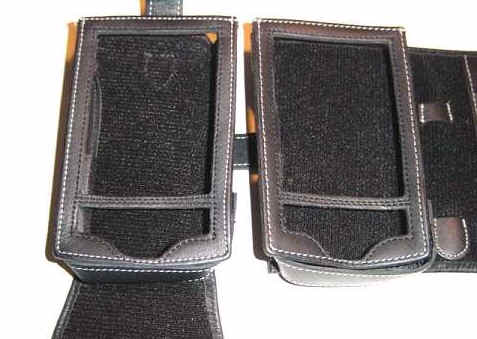 Holster view of each model. Left is Vertical model, right is
Horizontal
The only use of Velcro in either case comes from a unique Velcro-fastened
flap that covers the bottom of the Clie. By unfastening this tab, you can reveal
the charging/syncing port; useful for when you need to charge on the run,
without taking your PDA out of its case.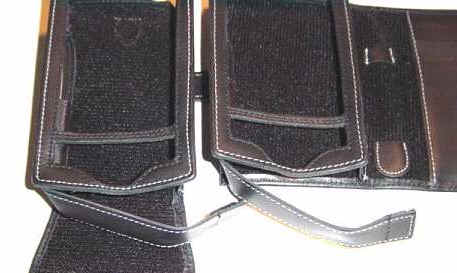 Velcro flap view of each model. Left is Vertical model,
right is Horizontal
A leather bar crosses the Clie above the hot-button area and under the
screen. I realize that it is most likely necessary to use this leather bar to
maintain the integrity of the holster. However, I really don't like it, and I
wish it were possible to not have it. It feels like it is in the way, and
makes the hot-button area feel cramped, even though there is still ample
access to the buttons. 
Both models also feature a very discreet embossed Extreme Limit logo on their
back-sides. I have always liked the fact that Extreme Limit does not clutter
their cases with a huge logo. I guess they are secure in the fact that there are
no other cases that look quite like theirs, and that they will be instantly
recognizable to they that are "in the know".

Those are the similarities, now lets look at what makes each case unique…
Vertical Model:
The Vertical
Model can also be referred to as a wallet-style case. This Body Suit is
opened or closed with a leather tab-and-loop system, and this gives the case a
very polished appearance.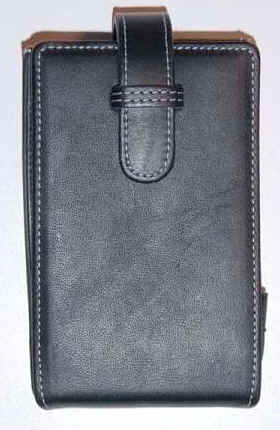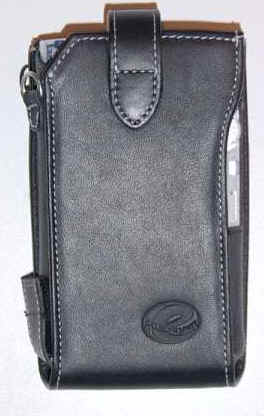 This Body Suit measures 5.2" (13.2cm) tall x 3.1" (7.8cm) wide x
1.2" (2.9cm) thick at all of its widest points (including tabs), and weighs
7.9oz (225g) when the Clie is inserted. 
When you open this Body Suit, the cradle will be on the
right side. On the left,  you will find a leather ID, business card,
or credit card area with two slots. 
The stiff leather wallet portion of this Body Suit, that covers your screen
when the case is closed, seems to provide suitable protection against ordinary
knocks and dings. However, this case is not crushproof (of course).
While it looks like there might be a deep pocket behind the card-slot area,
appearances are deceiving. So, unless you are able to get around with only the
bare necessities, this case will most likely not replace your regular
wallet.
I did have one gripe about the orientation of the card holder. On the HP case
that I reviewed, which shared the same basic layout as this case, the
card-holder faced to the right. This seemed to make more sense for actually
removing and securing my cards during real life usage. Since I would hold this
case in my left hand, it would be a more natural movement for me to move my
right hand from the right to the left as I removed cards. Keep in mind that I am
also right handed, though. A "lefty" may like this orientation much
better, so my complaint is all relative.
Another feature of this case that I am not too thrilled
about is the leather flap that covers and secures the bottom of the Clie.
I would have preferred it if Extreme Limit had just cut a slot in the
bottom of the holster (like they do in their other wallet style Body Suit
cases) that would have allowed for attaching the travel charger. 

Since this case folds up and therefore would protect the otherwise
exposed bottom of the Clie; having a permanent opening would not have
sacrificed function; and would have made the case look less cluttered when
it was necessary to expose the Clie's bottom.

An open area on the bottom of the Clie is pretty much necessary, one
way or the other, though.  It allows you an area to push the Clie out of the case when you  need
to remove it for charging or syncing in the cradle. 
On the left side of the Body Suit, are perfectly centered
cut-outs for the head-phones, thumb-wheel, Back button, and the Hold
slider.
The right side of the case has a loop, for those that like
to either attach a wrist-strap or neck lanyard to their PDA.
As with other vertical cases made by Extreme Limit,
this Body Suit will allow you to fold the bottom flap under, and tuck the tab
and loop in such a way that the case becomes a natural easel. This is a
clever way to view the screen while working at your office desk, or to
expose the bottom while attaching a charging cable.

 

 
The top of your Clie is left completely accessible, with
nothing blocking the stylus silo, memory stick, or Infrared eye.

 

 
The Vertical Model Extreme Limit Body Suit Case is available with or
without a belt-clip.
Price: $48.99 depending on daily Yen / Dollar
conversion. Also available in a belt-clip model for approx. $51.42
Pros:
Offers protection to almost every surface of the PDA
Access to all buttons, ports, and jog-wheel
Professional Appearance
Excellent craftsmanship
Reasonably Priced
Cons:

No storage for additional Memory Stick Cards
Leather bar between hot-button area and the bottom of the screen makes
everything feel cramped
Velcro-attaching leather flap under Clie seems unnecessary – could have used a
cut-out slot instead
Horizontal Model:
The Horizontal
Model is basically a book-style case. This Body Suit is opened or closed
with a leather tab-and-snap system. I prefer the tab-and-loop closure method of the
previous case, but that is a minor quibble.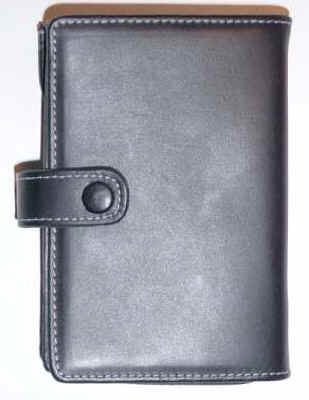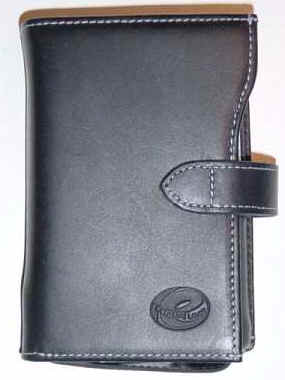 The Horizontal case seems a little bit weird at first, because you will
open it from what you might normally consider the back of a book-style
case. It takes a little while to get used to this; but it soon becomes second
nature to hold and open this case in a "backwards" manner.
This case measures 4.8" (12.3cm) tall x 3.5" (8.9cm) wide x
1.2" (2.9cm) thick at all of its widest points (including tabs), and weighs
7.9oz (225g) when the Clie is inserted. 
When you open this Body Suit, the holster for the Clie is on
the left side. On the right, you will find a leather ID, credit card, or
business card area with two slots.

I really like the fact that Extreme Limit also included two
special slots for additional Memory Sticks.

There is even a built-in additional stylus holder.

Looking at the cutout of the holster surrounding the Clie's screen in
this picture, you can see that the holster in this case was a little off
center. More of the silver on one side of the Clie showed – so it didn't
look quite as symmetrical as I would have liked. This didn't affect
functionality, but it did bug me…
Like the previous Body Suit, this case's leather wallet portion (that covers
your screen when closed), should provide suitable protection against
ordinary knocks and dings. Once again, you should not expect this case to be
crushproof.
As with the Vertical Model, it appears that there could be a deep pocket
running behind the credit card/ID area; but as with the other model – there
isn't.  
On this Body Suit, I feel that the leather flap that runs
along the bottom of the Clie is actually a good thing, as it offers full
protection to what would otherwise be an exposed port.  

Here you can see the flap as it lays open, and how it exposes
the entire underside when unfastened…
Here is the flap when it is closed, thus protecting the
bottom of the Clie…
This picture explains why I believe Extreme Limit chose to
open the case in the "backwards" manner. By doing so, they were
able to keep all of the Clie's side controls completely accessible.
As with the Vertical Body Suit, this case allows you to
access all of the Clie's top area.
I really like the storage slots for two Memory Sticks, and the space for an
extra stylus that this Body Suit offers. In fact, of the two Extreme Limit Body Suit cases, the
Horizontal Model is the one I
would have preferred, had the holster been more symmetrical – What can I say? I
am picky.
This case is not available with a belt-clip option.
Price: $52.23 depending on daily Yen / Dollar
conversion. 
Pros:
Offers protection to almost every surface of the PDA
Access to all buttons, ports, and jog-wheel
Professional Appearance
Excellent craftsmanship
Reasonably Priced
Cons:

Leather bar between hot-button area and the bottom of the screen makes
everything feel cramped
Holster on this case was not symmetrical… might have just been my sample,
though
Product Information
Price:
52.23
Manufacturer:
Extreme Limit
Pros:

Offers protection to almost every surface of the PDA
Access to all buttons, ports, and jog-wheel
Professional Appearance
Excellent craftsmanship
Reasonably Priced

Cons:

Leather bar between hot-button area and the bottom of the screen makes
everything feel cramped
Holster on this case was not symmetrical... might have just been my sample,
though