We use affiliate links. If you buy something through the links on this page, we may earn a commission at no cost to you. Learn more.
Product Requirements:
Device:
Kyocera 6035 Smartphone

UPDATED 11/08/01: All updates will appear in RED
How many Kyocera Smartphone owners out
there really like their PDA/phone, but don't like that it didn't come
with any kind of holster or clip? Well it looks like the E&B Company
may have been thinking along those same lines…
The Copilot
Cell reminds me of the cases that used to come with Ray Ban sunglasses (they
might still, for all I know). 
Made of  smooth black Nappa Cowhide, the Copilot also has matching black stitching around all of its edges. A
discreet E&B metal logo-tag is the case's only decoration. I like the simple and professional style that
the Copilot exudes.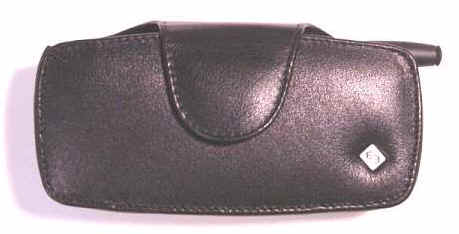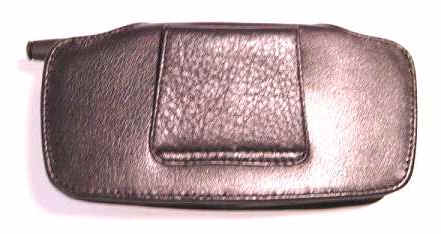 As you can see, there is an integrated belt-loop on the back of the Copilot.
This loop accepts up to a 1.5" (3.8cm) belt. What I like about this loop is
that it will lay flat if you don't want to use it. You can throw this case into
a bag, and there won't be a metal nub sticking out – hitting other items. I also
like that it probably is the type of loop that offers the most security when it
is installed on a belt – there is little chance of your Kyocera coming off your
belt – unless it is ripped off!
What I don't like as much about this method is that you have to undo your
belt to get it on and off. This is a minor inconvenience, and just me being
lazy…
Below, you can see that the flap that holds your Kyocera in the Copilot is
secured with a magnetic snap. This method seems to work very well, and since
there is no room in this case to carry credit cards or other ID that might have
a magnetic strip, there should be no compatibility concerns.
Never miss one of our posts again. Sent MON, WED, and FRI with the latest gadget reviews and news!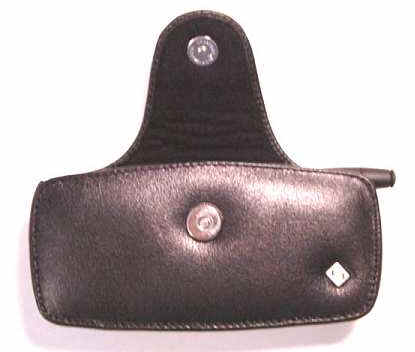 There are some nice touches to the Copilot, one is that the antenna side is
cut so that you can still see the LED light blinking, letting you know if you
have a call (when the ringer is turned off).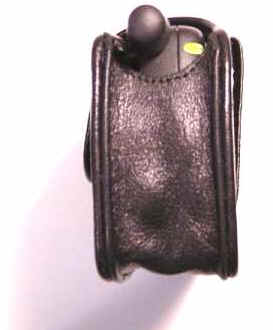 The opposite end of the Copilot is cut so that you can attach your charging
cord while the Kyocera is in the case. This should be handy when you are in the
car, commuting.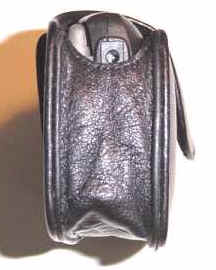 There is a hole in the middle of the bottom of the case: I presume so that
you can use a single finger to push the Kyocera up and out of the Copilot
.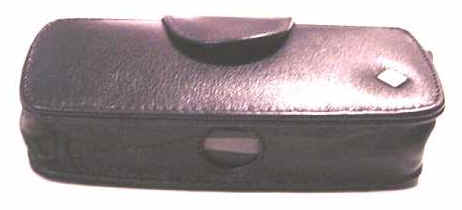 This is the only area about the Copilot that I would have changed, had I
designed it. If E&B could have possibly moved the hole just a little bit
more towards the bottom of the phone, they could have still achieved the
"up and out" finger-motion, but also – you could have attached the
hands-free head-jack to the phone. That is the only thing keeping this case from
being perfect in my opinion. 
11/08/01 UPDATE: E&B has responded! They have added a
hole for the jack, so that you can now use the Kyocera in "hands-free" mode.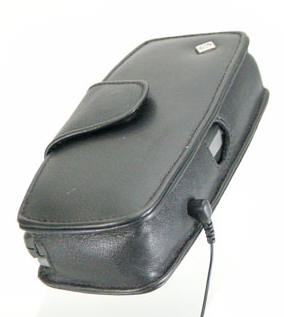 Since the Kyocera has built in, rather accurate voice-recognition, you would
almost never need to remove the phone from the case – except when you wanted to
use the Palm PDA features.
I would recommend that when you are storing the Kyocera in the case, you keep
it in "key-guard" mode. It is very easy to bump into the hard keys on the
flip-cover as you insert or extract your phone from the case. 
As far as fit, when the Copilot is worn, it is surprisingly
comfortable. Measuring 6" (15cm) long x 3" (7.6cm) tall x 1.75"
(4.4cm) thick, at it's widest points, I found that when this case was on my
belt, it offered no resistance when I was sitting, driving, or
bending. 
The Copilot stays tucked out of the way, and quite secure. This is not a case
that you will be constantly worried about hitting on everything, or worse yet –
falling off your belt.
Price:  $37.95
Pros:
Complete protection for your Smartphone
Case looks professional and is very well made
Can charge phone while in case
Can use hands-free headset with phone, while in case
Cons:

Must remove phone from case to use, unless with
"hands-free" headset