We use affiliate links. If you buy something through the links on this page, we may earn a commission at no cost to you. Learn more.
Product Requirements:
Device:
Small PDAs including but not limited to:
Palm III series (not IIIc), Palm m100 series, Palm V/Vx, Palm m500 series,
Handspring Visors, Compaq iPAQ without an expansion sleeve
PDA cases come in a variety of shapes and sizes. You've got your slim fitting
slipper style cases made for a specific PDA model. You've got your hard shell
cases made of metal or plastic. You've also got the zippered book style cases.
The Marware SportSuit IV is just such a
zippered case.

This case which is made of neoprene, comes in 6 different colors (Red,
Yellow, Blue, Black, Graphite and Olive). The SportSuit IV is a PDA generic case
because it is not made for any specific PDA. I have found that there are quite a
few smaller PDAs that work well with it including the Palm V, m100, m500, and
Compaq iPAQ (without a sleeve). There are actually quite a few other PDAs that will work fine in
this case, but these were the ones that I personally tested with it.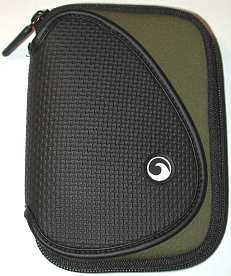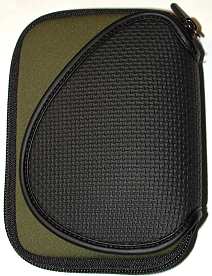 To give you an idea if your PDA can fit in this case, here are the size
dimensions of the inside and outside of the SportSuit IV.
Inside
5.0″ x 3.5″ x .8″in (12.7 cm x 8.9 cm x 2 cm)
Outside
5.25" x 3.75" x 1.0"in (13.3 cm x 9.5 cm x 2.5
cm)
As far as the materials and workmanship that have gone into this case, I'd
have to give it a thumbs up. I really like the styling and can't find anything
major to gripe about.
The majority of the case is covered with a soft rubbery neoprene grip that
wraps around the front and back. I really love the texture of the neoprene. It
allows you to keep a good hold on the PDA so that you can avoid dropping it.
And, this is going to sound crazy (typical for me huh?) but I also like the
smell of it…. :o) It reminds me of new sneakers!
Besides the neoprene grip, the SportSuit IV also comes with a detachable hand
strap. I personally never use these straps, but I know some people that love
them.
Never miss one of our posts again. Sent MON, WED, and FRI with the latest gadget reviews and news!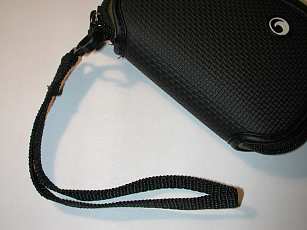 The entire case is nicely padded and reinforced with plastic inserts. The
case of course isn't crush resistant, but I think the padding would protect a
PDA from short drops with no problems.
The PDA is held in the case with Velcro which as most people know, is not my
favorite method of attachment. If you don't want to use the Velcro, you could
just use the case to hold the PDA without actually affixing it to the case. This
is what I usually do.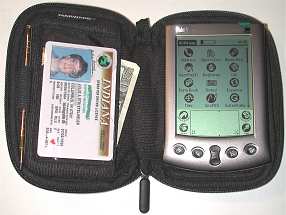 The inside of the case is lined with a really soft black knit material. The
left side of the case has an elastic stylus holder. There are also two card
slots on the left side. There is a see thru ID card slot and behind it a larger
slot. You probably wouldn't want to use the larger slot for credit cards as it
is kind of sloppy and the cards might easily slide out of it. While testing the
case, I used this slot for folded dollar bills.
The SportSuit is held closed with a zipper that goes around 3 sides of the
case. It has really smooth action and I never had problems with it jamming. I
also like the little plastic covered metal pull. 
I like this case quite a bit. Which for me says a lot because I don't normally like
zippered cases. The SportSuit IV will make a nice home for your PDA while
looking good and feeling great in your hand.
Price: $23.95
Pros:
Padded protection
Rubbery hand grip
Cons:
Not big enough to hold my iPAQ and Whitney CF Mod :o(
Product Information
Price:
23.95
Manufacturer:
Marware
Pros:

Padded protection
Rubbery hand grip

Cons:

Not big enough to hold my iPAQ and Whitney CF Mod :o(