As a long time fan of the E&B Company's
"Slipper" line of cases for the Palm platform devices, I looked forward to
seeing their Palm VII case.  As with all other new hardware releases from Palm, there
wasn't any real offerings for a case for the VII for quite some time after its initial New
York launch.  Finally, here's a proven company with a product for the VII!
Unfortunately, my expectations were a bit too high.  Just as their first Slipper III
case, I found the Slipper VII case to be a good first effort, but with some major flaws.
First of all, the workmanship is top notch and the basic case design is
impressive given that they had to figure out a way to put a case around the unit and still
allow the user to flip up the antenna on the one side of the device.  Hats off to
them for coming close to a perfect case.The case resembles the Slipper III cases, except that it has a large opening on the right
side to accommodate the antenna.  To insert the Palm VII, there's a zippered top
inside the case that you un-zip, slide the unit in and re-zip.  This zipper is a
unique departure from their standard Velcro enclosures, but brings with it a couple of
problems.
The first problem is that the top part of the zipper extends past the bottom part,
meaning that when the zipper is "closed" there is a "flap" with zipper
on it that looks out of place.  This "flap" isn't just odd looking, it also
actually overlaps the stylus bay. Although this overlap isn't enough to prevent removing
the stylus, each time you do you're scraping this piece of leather, which in the few days
I used the case caused the flap to remain bent upwards a bit…  My suggestion?
A semi-circle hole that starts where the zipper ends and gives a wide clearance to
the stylus bay.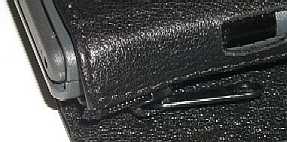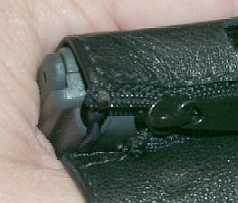 Another opening in need of being made a tad larger is the contrast wheel opening.  I
can understand the desire to make holes in the case as small as possible, but you've still
got to make them large enough to be functional. This opening would be perfect if it was
just a tad larger.  Second that motion on the hole for the power button.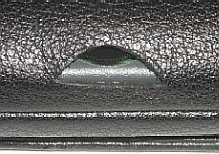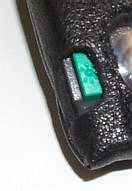 The button "opening" on the case actually isn't.  For some reason, E&B
decided to cover this opening with a piece of clear plastic.  I would imagine this
was done to strengthen that part of the case (due to the weak right side).  While
this seems a little odd to me, it actually didn't interfere with the operation of any of
the buttons, including the page up/down buttons.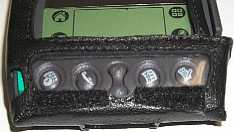 Overall, its a nice looking case with a bit of room for improvement.  I've
recommended the Slipper V ever since seeing one, and will do the same for this case if
these few concerns I have are addressed in upcoming "releases". As for now, if
you're looking for a case for the Palm VII and just *have* to have one, this is a great
case that could be perfect with a few improvements.  If you're not in a hurry for a
case, then see what E&B can do to make this great case perfect.

Price: $36.95 (Beltclip version is $39.95)
Pros:
Nice look/feel
Reasonably priced
Cons:
Zipper flap overlaps stylus bay
Openings could be larger for contrast/power
Fit could be tightened up a bit
Support The Gadgeteer
:
We may earn a small affiliate commission from purchases made from buying through links on our site. As an Amazon Associate I earn from qualifying purchases. Learn more.