We use affiliate links. If you buy something through the links on this page, we may earn a commission at no cost to you. Learn more.
The Casio E-100/105 Body-Suit case by Extreme Limit is
a play through black leather case with white stitching.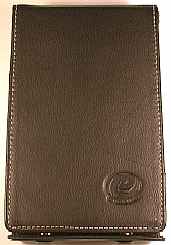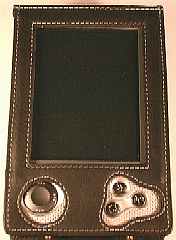 The Body-Suit has a leather holster that the Casio can easily slide into. It doesn't
require any Velcro to hold it in place. The holster is actually quite snug so that there
shouldn't be any fear of the PDA slipping out.
The holster has cut outs for all of the buttons and connectors on the E-100/105 except for
the microphone. Everything is easily accessible. There are only two things that you can't
do while the Casio is in this case. You can't easily open the compact flash slot and you
can't sync with the cradle. If you have a serial cable for your Casio, you can use it to
sync while the unit is in the case though. On my case the only cut out that was not
aligned correctly was the cut out for the joy pad. It needed to be just a bit higher.
Otherwise all the other buttons were easy to press/access while in the case.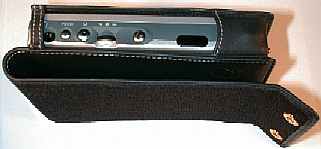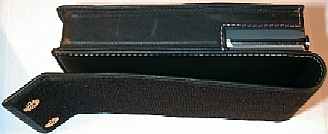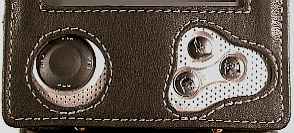 The screen cover portion of the case has a metal insert to protect the screen. The inside
of the cover is lined with a rough velvet like material. When using the case, you can
easily fold the cover back out of your way. The cover is held closed with two leather
covered brass snaps. The snaps easily secure the cover to the bottom of the case.
The Body-Suit is a very nice case. The leather and stitching are both very high quality.
It is as compact as possible while still providing good protection to the PDA. Right now
this is my favorite case for my Casio E-100. The only real problem with the case is that
it isn't easily available here in the US. Extreme Limit is a Japanese company. At this
time the only way to order it is by money order.
Price: 4,500 Japanese Yen (~ $42 US dollars)
Pros:
Play through
No Velcro
All buttons are easily accessible
Cons:
Have to remove to sync with PC
Microphone covered